The Mighty Mississippi
(Minneapolis to New Orleans, Itinerary B)
16 days with American Queen Steamboat Rating: Deluxe
Book this River Cruise Now and Save!





Enjoy free shore excursions on every sailing. Click here for eligible departures.

Offers subject to change or withdrawal, availability is limited. Some discounts are not combinable.
Day 1: Boutique Hotel - Minneapolis, MN
Enjoy your included, one-night stay at the Loews Hotel in Minneapolis. The evening is yours to get self-acquainted with this culturally diverse city steeped in natural beauty.
Our Hospitality Desk will be located in the hotel for your convenience between 3:00 PM and 7:00 PM. It is here that our friendly staff can assist with everything from general questions about your upcoming voyage to reserving Premium Shore Excursions. An American Queen Steamboat Company representative, as well as a local representative, will be readily available to provide you with dining, entertainment, and sight-seeing suggestions so that you may maximize your time in Minneapolis.
Day 2: Red Wing, MN
Departure 5:00 PM
Explore nearby Minneapolis at your leisure or consider a Pre-Cruise Premium Shore Excursion with afternoon transfer to the vessel.

Day 3: La Crosse, WI
La Crosse, named by explorer Zebulon Pike who saw a group of people playing a game with sticks that looked like a cross, is a popular destination for tourists. Filled with statues, architecture, and an exquisite view of the river, this river city is an artist's dream. Like much of Wisconsin, La Crosse became heavily involved with the lumber industry in the mid-1800's until the decline of the forests throughout much of Wisconsin took its toll. But in the wake of the vanishing lumber era, La Crosse became a city renowned for its beer making, with around five breweries operating in La Crosse near the turn of the century. Today, make note of lingering pieces of history along the streets of the city, inside local breweries, and within the floorboards of historic homes and businesses.
Day 4: Dubuque, IA
Dubuque is Iowa's oldest city and is among the oldest settlements west of the Mississippi River. The first permanent settler of the area was French-Canadian fur trader Julien Dubuque who arrived in 1785. Dubuque's location to the Mississippi and its abundant land and resources, attracted large numbers of immigrants, particularly Irish and Germans, from overcrowded cities on the east coast. Dubuque is filled with historic sites, architectural Historic Districts with well-preserved buildings and homes, history and art museums, the great Mississippi River, and a revitalized main street that invites guests with Dubuque's claim-to-fame as an "All-American City."
Day 5: Quad Cities (Bettendorf), IA
During the Civil War, the nearby river towns of Davenport, Iowa, Rock Island, Illinois and Moline, Illinois thoughtful planning and strong leaders helped them to flourish while other settlements began to fail. It was during this same time period that the three towns began to refer to themselves as the "Tri-Cities." Today, despite the name "Quad Cities," the city is comprised of five towns in total with the addition of East Moline, Illinois and Bettendorf, Iowa. Enjoy the diverse culture of this "melting-pot" city and uncover the stories of Quad Cities' past in the many museums, boutiques, and eateries!
Day 6: Hannibal, MO
Hannibal, Missouri has a rich history, diverse industrial economy, and truly remarkable arts. The city was founded in 1819 by Moses D. Bates and became a popular stop along the river for many steamboats traveling up the Mississippi. Hannibal offers more parks per citizens than most towns in the Midwest and was included in the famous "50 Miles of Art." Today, the most popular draw of this quirky town is Hannibal's very own, Samuel Langhorne Clemens, recognized world-wide as Mark Twain. Many of the popular characters featured in Twain's novels were based on people Sam had known while growing up in Hannibal. Many of the characters and influences of this American icon are weaved into the streets, shops, restaurants, and museums of Hannibal waiting to be uncovered.
Day 7: St. Louis, MO
St. Louis, Missouri, famously referred to as the "Gateway City," is known for its diverse neighborhoods and the different cultures and traditions each one brings forth. The iconic city was founded in 1764 by French explorers who settled on the east side of the Mississippi, claiming the land as their fur trading post. In 1803, the city's name began to spread as the beginning point for the famous Louis and Clark Expedition. The city is typically associated with its 630-foot stainless steel monument, The Gateway Arch, which stands proud on the banks of the Mississippi River to symbolize the westward expansion of the United States.
Day 8: Leisurely River Cruising
There is always plenty to do between dawn and dusk on the river and today is the perfect day to enjoy the many public spaces and activities that are available to you onboard. Gaze at the beautiful landscapes and small river towns as you mingle with fellow guests and discuss the unique aspects of river life. If you fancy a moment for yourself, retreat to our Gallery adorned with ornate bookcases stocked with an imaginative selection. Take hold of a literary classic, curl up on a plush chair in a cozy corner and relish every moment of serenity. Our fitness facility, business center, movie theater and grand lobby offer a more stimulating day on the river for those who wish to indulge in more energy-infused activity. However you wish to spend your day, make it your own and revel in every moment.
Day 9: Memphis, TN
Enjoy a complimentary city tour of Memphis, Tennessee. During this exclusive narrated driving tour of Memphis, you will see such landmarks like Sun Studio, The Peabody Hotel, National Civil Rights Museum and a cruise past Beale Street. Included is a Graceland Platinum ticket! After a guided tour of the Graceland Mansion, enjoy self-guided tours of the rest of the outlying museums.
Included Shore Excursions:
Experience Memphis through the eyes of The King himself on an exclusive experience through this musical southern city. Join us as we embark on a driving tour passed select landmarks such as Sun Studio, iconic Beale Street and Elvis Presley Plaza. Keep a sharp eye out for wondering musicians as this tour may have a couple musical surprises as we make our way to Graceland.
Visit this musical mecca with a Platinum Ticket to Graceland Mansion and all of the outlying museums. Enjoy a self-guided tour of Graceland and enjoy free time for lunch on your own at one of the Elvis themed eateries on the grounds. During this exclusive narrated driving tour of Memphis, you will see such landmarks as Sun Studio, the Peabody Hotel, the National Civil Rights Museum (The Lorraine Motel) and St. Jude's Children's Research Hospital.
Experience the most musical town in the world when you cruise down Beale St known as the "Home of the Blues & Birthplace of Rock & Roll." You will see Elvis Presley Plaza, BB King's Blues Club and the Gibson Guitar Factory. Included is a Graceland Platinum ticket, which is a Self-Guided tour that includes the Graceland Mansion, all of the outlying museums with extra time to treat yourself to a lunch fit for a King at one of Graceland's Elvis themed eateries. You will not want to miss this unique and authentic city tour, which pays homage to the legendary musical giants who called Memphis home.
Day 10: Helena, AR
In the Valley of Crowley's Ridge, sits the small town of Helena, Arkansas. Helena dates back to 1833, and was once a bustling, thriving southern city. Today, Helena would seem to some as a town that time forgot. While the rest of the country was building shopping centers and interstate systems, Helena struggled to stay afloat amidst all of the progress. Big changes drew small businesses away from Main Street U.S.A. and into strip malls. Convenience took over, where simplicity once stood. Today, Helena is in the throes of a revival. With quirky boutiques, unique stores and a historic musical past, Helena remains proud of the life they continue to successfully sprout from the ruins of the past. For in through the dust and rubble, new life for this determined Southern town is emerging. Helena welcomes American Queen guests to play a large part in their re-birth.
Day 11: Vicksburg, MS
Vicksburg perfectly blends Southern culture and heritage with exciting modern-day attractions. Described as the "Key to the South" by Abraham Lincoln, this southern town carries a history unlike any other Civil War city. Vicksburg was founded in 1811 and grew as a vital river port city. It was a major component to the Civil War and carries much of the history within the town. Today, Vicksburg is a popular spot for tourists to learn about the battles of the city, taste the cuisine, visit the many museums, and pick out the perfect souvenir.
Day 12: Natchez, MS
This charming river town was first inhabited by Natchez Indians and French explorers who shared the land. It was founded in 1716, making it the oldest city on the Mississippi. The city is known for its elegance, hospitality, and impressive preservation of history – found on every street corner throughout Natchez. Guests enjoy the unique shops, restaurants, museums, and historical homes located in Natchez, all of which contribute to Hugh Bayless' book, "The 100 Best Towns in America."
Day 13: Baton Rouge, LA
Baton Rouge, the Capital of Louisiana, has a deep culture and rich history. Named by French explorer, Sieur D'Iberville after a reddish pole marking two separate tribal hunting grounds, Baton Rouge has transformed into a rich cultural city. Locals speak a specific version of French in their everyday language. The city is home to Louisiana's capitol building which is the largest in the United States, as well as the Old State Capitol – a Gothic architectural monument located on the bluffs overlooking the Mighty Mississippi. Spend the day exploring all that Baton Rouge has to offer, from the museums and the architecture, to the shops and the cuisine – everyone will enjoy an exciting, busy day!
Day 14: St. Francisville, LA
Established in 1809, St. Francisville is the oldest town in the Florida Parishes. Below where St. Francisville is located currently, was a settlement called Bayou Sara in the 1790's. When this settlement was destroyed by flooding and fires, many of the structures and artifacts were hauled up the bluff into St. Francisville, where they are still standing. The town is referred to as "two miles long and two yards wide," but that definitely doesn't mean they have nothing to offer! Stop in at one of the unique shops, historical homes, beautiful churches, or breathtaking parks and you will agree with that! Spanish moss trees grow throughout the town, which creates a beautiful southern comfort to the atmosphere.
Day 15: Nottoway, LA
Nottoway is the South's largest, most glorious remaining Antebellum mansion with a rich history dating back to 1859. In a fabulous location along the great River Road overlooking the grand Mississippi River, this "White Castle" of the South transports visitors back to an era of glory and grandeur. Set amongst a natural backdrop of vibrant gardens and two hundred-year-old oak trees, Nottoway Plantation captivates all with a brilliant blend of true Southern hospitality, history and mystery.
Day 16: New Orleans, LA
Arrival 8:00 AM
Thank you for cruising with us! We hope that you had a memorable experience and look forward to welcoming you aboard in the future. Enjoy New Orleans at your leisure or consider a Post-Cruise Premium Shore Excursion with airport transfer.
Tour Map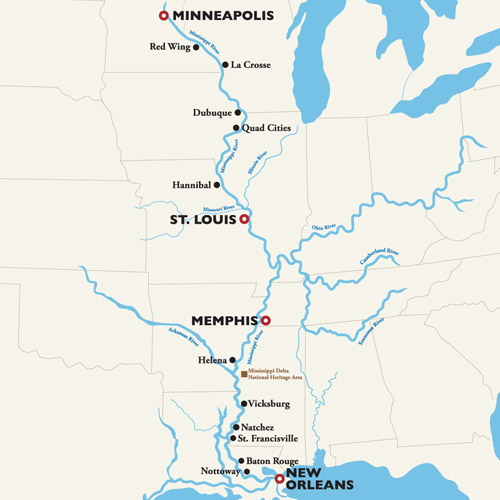 All This Included
AUTHENTIC AMERICA ON THE MIGHTY MISSISSIPPI - Have you ever wondered what this country looked like to its early explorers and pioneers? Traveling on the Mississippi and its tributaries aboard the elegant American Queen, you will be transported back in time to an era of leisurely and romantic travel. Storybook American towns and vibrant, bustling cities combine with the sweeping panoramas and deep blue lakes which inspired the works of Mark Twain. Authentic America is out there just waiting to be explored and after two weeks cruising amidst the charm and gracious style of the American Duchess, you will forever be changed.
Complimentary Hop-On Hop-Off shore excursions in each port of call
All onboard meals, including both fine dining and casual cuisine
24-Hour Room Service
Complimentary wine and beer with dinner
Complimentary cappuccino, espresso, specialty coffees, tea, bottled water and soft drinks throughout your voyage
Gracious service from a friendly, all-American staff
Daily lectures by the Riverlorian, our onboard historian
Acclaimed entertainment worthy of Broadway
American Queen Steamboat Company's own dedicated fleet of deluxe motorcoaches
Accommodations on this Tour
Cruising: Inside cabin onboard the American Duchess
Notes
Cabin upgrades are available.
Itineraries are subject to change.
Port Taxes of $358 per person are not included in the prices shown above.
Please ask your Vacations To Go travel counselor for more information.
Terms and Conditions
* The prices shown are U.S. dollars per person, based on double occupancy, and subject to availability. Prices quoted for land/cruise arrangements are subject to increase without notice. Once we have received your deposit, land/cruise prices are guaranteed. Air prices quoted via phone or email are subject to increase and are guaranteed only from the time that full payment is received. Also, air prices or air promotions mentioned on this site or on the phone do not include baggage fees imposed by airlines. Sorry, we are unable to offer air from countries other than the U.S. However, for those international customers who are able to arrange their own transportation to the trip origination city, we are able to offer the land/cruise portion of the package at the price quoted.
800-510-4002

OR

Open Mon-Fri 7am to 10pm, Sat 8am-8pm, Sun 9am to 8pm, CST
| | | |
| --- | --- | --- |
| | a division of | |