Bourbon
(Memphis to Louisville)
9 days with American Queen Steamboat Rating: Deluxe
Book this River Cruise Now and Save!





2 for 1! Companion cruises for free in certain cabin categories of this sailing when you book and pay in full. Expires June 30. Click here for eligible departures.

Enjoy free shore excursions on every sailing. Click here for eligible departures.

Offers subject to change or withdrawal, availability is limited. Some discounts are not combinable.
Day 1: Hotel Stay - Memphis, TN
Enjoy your complimentary stay at the Sheraton Memphis Downtown Hotel. The evening is yours to get self-acquainted with this city's famed eateries, unique shops and lively entertainment.
The Hospitality Desk will be located in the hotel for your convenience between 2:00 p.m. and 7:00 p.m. It is here that our friendly staff can assist with everything from general questions about your upcoming voyage to reserving Premium Shore Excursions. An American Queen Steamboat Company representative, as well as a local representative, will be readily available to provide you with dining, entertainment, and sight-seeing suggestions so that you may maximize your time in Memphis.
Day 2: Memphis, TN
Departure 5:00 PM
Today is the day you have been waiting for! Prepare to embark on an unforgettable journey down America's largest and most historical river.
If you haven't gotten your full dose of Memphis yet, visit the AQSC Hospitality Desk (Open at 8:30 AM!) for ideas about how to spend your day. The official Voyage Check-In will be open from 9:00 AM to 12:00 PM. During this fast and easy procedure, our representatives will arrange your transfer to the vessel and answer any questions you might have. The process is simple and will have you back to exploring in no time, and, if you think of any more questions, the Hospitality Desk will be at your service until 3:00 PM, when the complimentary boat transfers will begin!
It's time to start your voyage and begin a luxurious voyage down the Mississippi River, where memories will be made that will last a lifetime!
Day 3: Leisurely River Cruising
Attend daytime bourbon presentations and tastings from the Kentucky region's leading distillers to learn what makes this American spirit different from other whiskeys and explore the history and tradition that have flavored life in the Bluegrass State since the days of Thomas Jefferson.
Day 4: River Cruising/Paducah, KY
Happy Independence Day!

Today we celebrate the birth of our nation aboard a genuine national treasure, the iconic American Queen. Enjoy a leisurely day of river cruising before arriving in Paducah, where the city will be abuzz with patriotic festivities. Delight in a fabulous pre-fireworks dinner and then grab a patriotic-inspired cocktail and head up to the top deck where you will be treated to unobstructed views of the city's grand fireworks display.

Day 5: Paducah, KY
Paducah embraces their harmonious history between the European settlers and the Padoucca Indians native to the area. The city is located at the confluence of the Ohio and the Tennessee Rivers and because of this, it is often called the Four-Rivers Area due to the proximity of the Ohio, Cumberland, Tennessee, and Mississippi Rivers. This prime location has played a major role in Paducah's history, as transportation was easily accessible – the economy was strong and travelers were frequent!
Included Shore Excursions:
National Quilt Museum
Celebrating 25 years in 2016, The National Quilt Museum is the largest of its kind in the world. It is the portal to the contemporary quilt experience - exhibits and workshops by renowned quilters who are implementing creative approaches to fiber art. The 27,000-square-foot contemporary structure features three galleries highlighting a collection of contemporary quilts and changing thematic exhibitions that celebrate the talent and diversity of the global quilting community. Workshops taught by world-class fiber art instructors are offered year-round. The Museum Shop & Book Store offers Kentucky Crafted items and quilt-related instructional and collector books.
Floodwall Murals
These incredible works of art span "Wall to Wall" across 3 linear blocks of historic of Paducah. They were started over twenty years ago by Robert Dafford and his team of artists. The walls line the riverbanks of the Ohio River. The murals portray images of Paducah and the river basin's history, and create a nice backdrop for the city, where flooding once was prevalent. (mural books are sold at Yeiser Art Center at 2nd & Broad)
Lloyd Tilghman House
This historic Greek Revival house was built in 1852 for Lloyd Tilghman, a new member of Paducah's community at the time. After the house was completed, Tilghman did not purchase the property. Instead, the builder, Robert Woolfolk became the sole owner of the house and grounds. Tilghman, his wife, their seven children, and five slaves resided in the home until 1861. It was then that Woolfolk and his family moved into the home. Their family was pro-South and proudly flew a Confederate flag causing many uproars in the community and with the Federal Troops who located their headquarters just across the street from the home. Eventually Woolfolk and his family were banished from Paducah and the United States, forced to live in Canada on August 1, 1864.
Paducah Railroad Museum
The original Freight House (across the parking lot from the Museum) was built in 1925 by the Nashville, Chattanooga, and St. Louis Railway. In 1996, the Freight House was sold and the Museum moved to a building one-half block away. Here, learn the history of the railroad and those who used it, explore the authentic train models, and enjoy the memorabilia showcased for guests.
River Discovery Center
In 1988 Mayor Gerry Montgomery and her committee pursued the development of a museum to showcase the Four Rivers Region's maritime heritage. The River Heritage Center was planned in 1992 as the very beginning stages of the mayor's dream. Years later the museum was relocated by Seamen's Church Institute of New York and renamed the River Heritage Museum before finally receiving its current name, the River Discovery Center in 2008. Here explore artifacts, exhibits, and interactive displays that share the history of marine life and the history of the river. Trail Interactive exhibit
The Moonshine Company
Explore, taste, and purchase traditional and international award winning Kentucky moonshine and moonshine flavors at The Moonshine Company in historic downtown Paducah. Located only blocks from the confluence of the Ohio and Tennessee Rivers, The Moonshine Company offers complimentary guided museum tours and moonshine samples that are distilled on-site in our 108-year-old building. Get a glimpse into the rich Kentucky moonshine history with their collection of historic moonshine stills and purchase that same moonshine secretly produced and bootlegged by our family over 80 years ago to bring home with you!
Day 6: Owensboro, KY
The first European descdant to settle in Owensboro was frontiersman William Smeathers or Smothers in 1797, from whom the Riverfront park is named. The settlement was originally known as Yellow Banks from the color of the land beside the Ohio River. The Lewis and Clark Expedition wintered at what is today's Owensboro prior to departing on their famous travels. In 1817, Yellow Banks was formally established under the name Owensborough, named after Col. Abraham Owen. In 1893, the spelling of the name was shortened to its current Owensboro. There have been several distillers, mainly of bourbon whiskey, in and around the city. Owensboro is also home to famous actor Johnny Depp, as he is a member of an old and prodigious Kentucky family.
Special Bourbon Distillery Tour: O.Z. Tyler Distillery
The tour of the O.Z. Tyler Distillery covers every aspect of whiskey production, from grain to mash to beer to distillate to barrels of whiskey. A visit to the distillery includes an overview of this patented technology and how it builds upon traditional barrel aging. And after you've seen how it's made, you'll get to taste the end products—O.Z. Tyler Bourbon Whiskey, O.Z. Tyler Rye Whiskey, and O.Z. Tyler Honey Flavored Bourbon Whiskey—in their speakeasy-style tasting room. Finally, no visit would be complete without a stroll through their on-site gift shop! Featuring O.Z. Tyler whiskey products, branded hats, shirts, glassware, and much more, you're sure to find a perfect gift for any bourbon lover. (Note: Due to tour timing, guests may choose either the distillery tour or the Hop-On Hop-Off Tour listed below)
Owensboro Museum of Fine Art
The Owensboro Museum of Fine Art presents traveling exhibitions from major museum, galleries and private collections and rotating exhibitions from the permanent collection. The facility includes two structures listed on the National Register of Historic Sites: the 1909 Carnegie Library and the John Hampden Smith House, a pre-Civil War era mansion which serves as a decorative arts wing. The permanent collection features American, European and Asian fine and decorative arts dating from the 15th century to the present, a stained glass gallery of late 19th and early 20th century German stained glass windows; a collection of contemporary studio art glass; a major collection of American Folk Art with emphasis on the works of 20th century Appalachian artists and craftsmen; and a collection of works by artists and craftsmen with Kentucky connections from the early 1800's to the present.
Owensboro-Daviess County Convention & Visitor's Bureau
Owensboro, Daviess County and the surrounding region are home to an impressive array of well-known celebrities from motorsports, movies, television, sports, music, and government. The Hall of Fame is located in the Convention & visitors Bureau, where visitors can freely browse to learn more about the accomplishments of its members. Visitors may also pick up more information about the history and attractions of the area.
Day 7: Brandenburg, KY
Once in Brandenburg and Meade County, enjoy the stunning scenery of a city perfectly situated along the Ohio River. The quiet community features two golf ranges, countless outdoor activities, and hunting and fishing abound. The relaxing nature of Brandenburg has pasted its name onto tourist's maps as a quiet, rejuvenating vacation destination. While visiting, discover Brandenburg's rich history winding throughout the Civil War and pay a visit to historic Fort Knox to uncover stories from the past!
Included Shore Excursions:
Guests may choose one of the following distillery tours:
Special Bourbon Event: Jim Beam Distillery Tour
Tour the Jim Beam Distillery at the Jim Beam American Stillhouse, where they believe secrets are for strangers and treat all of their guests like family. Get a look at how their bourbon is made with a guided tour that walks guests through the entire process from their natural limestone water well through the mashing, distilling, barreling, storing and bottling. Then, join Troy Beam in the tasting room for a sample of this iconic American spirit.
Special Bourbon Event: Maker's Mark Distillery Tour
Join us as we venture to Maker's Mark distillery for a full-day bourbon whiskey experience. Our journey begins at the newly renovated visitors center, where you will hear a brief history of this family-run distillery. The tour continues through the beautiful Kentucky grounds, viewing the historic buildings and landscape, visiting the still house and the ageing warehouse, before concluding in the bottling house, where each bottle gets its signature hand-dipped red sealing wax. Enjoy tastings and a chance to dip your own bottle!
Day 8: Louisville, KY
From its frontier founding at the time of the American Revolution, to the heyday of Steamboat transport in the early 19th century, through the city's importance as a Union base during the Civil War, Louisville has always balanced a sense of history with an ability to re-invent itself as the city of originals. As the the largest city in Kentucky and in the top 30 most populated cities in the United States, this large city brings with it an authentic and original culture and diversity that visitors quickly learn to love. Discover the talent and creativity of Louisville locals in a number of art galleries, theatrical performances, and museums. Nearly everyone can find something they love here as we discover Louisville's treasures!
Included Shore Excursions:
Frazier International History Museum
As the exclusive home of the Royal Armouries USA, the Frazier History Museum is a world-class museum that provides an unforgettable journey through more than 1,000 years of history with ever-changing interactive exhibits. (Admission Additional) A world-class museum that provides an unforgettable journey through more than 1,000 years of history with ever-changing and interactive exhibits, daily performances by costumed interpreters and engaging special events and programs. The permanent collection includes items from across the globe, famous world leaders, and one of the country's largest toy soldier displays. Explore all three floors of this expansive museum! (Admission Additional)
Mark Payton Glass Center
A premier Visit this multi-use facility located in the heart of downtown Louisville that is dedicated to the art of glass. Tour the flame working and glassblowing studios and learn about the extensive variety of artistic glass working techniques through the demonstrating artists. "Be certain to mention your American Queen cabin number to receive a special surprise! Visit this glass blowing studio and tour the amazing techniques and artwork created by professional. The tour will pass by artists in action as they flamework, sculpt, cast, and blow glass. Make sure to stop in the gallery to explore finished products or the gift shop where you can purchase some unique and beautiful souvenirs. Or choose to be your own artist at the walk-in-workshop where you can flame your own art with the help of a professional, for a small fee.
Louisville's Visitor Center
Stop here to explore the visitor's center in the town named the top travel destination for 2013 by Lonely Planet®. At the visitor's center guests can learn more about this unique city and get a chance to do some last-minute shopping before heading back to the boat. Stop in the Visitor's Center to get some insight on this interesting city. Discover unique places to visit, the best places to dine, directions to attractions, and information on the Urban Bourbon Trail. Inside, shop in the gift shop to pick up an affordable Louisville merchandise or visit the Colonel Sanders Exhibit to learn about Kentucky's most popular icon.
Day 9: Louisville, KY
Arrival 8:00 AM
Thank you for cruising with us! We hope that you had a memorable experience and look forward to welcoming you aboard in the future. Enjoy Louisville at your leisure or consider a Post-Cruise Premium Shore Excursion with airport transfer.
Tour Map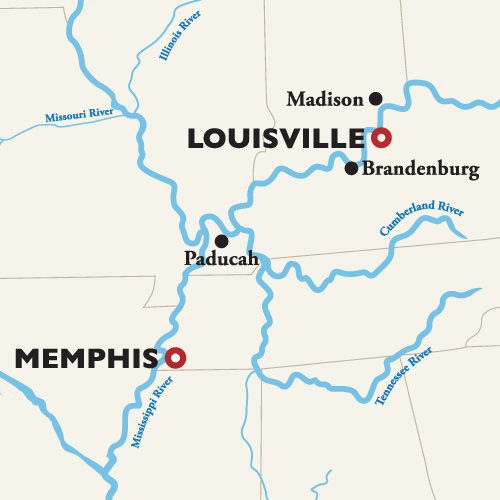 All This Included
INSIDE THE BOURBON EXPERIENCE – Learn what makes a centuries-old tradition as uniquely American as our river cruises with this rare opportunity to experience an extraordinary journey through America's Heartland and into the roots of Kentucky's bourbon region. This special themed voyage will take you behind the scenes and into the history books to show you where bourbon comes from, how it is made and the ways to distinguish the unique characteristics of different distilleries. Not only have we arranged for special tastings, treats, and cooking demonstrations, but also we are thrilled to announce an exclusive line-up of special onboard guests. Bill Samuels Jr., son of Maker's Mark founder, Bill Samuels Sr., will lead a Maker's Mark presentation and tasting. Also joining Bill Samuels will be Don Flinn of Buffalo Trace whose presentations and tastings have received rave reviews on our past Bourbon cruises. Michael Veach, a bourbon historian and member of the Kentucky Bourbon Hall of Fame, brings an unbiased opinion to any bourbon conversation and will offer tastings of some of the world's most famous and unique bourbons. Both onboard and ashore, each day presents an eclectic blend of music, creative workshops and a wealth of enrichment that can't be found anywhere else. This dynamic blend of historic discovery, toe-tapping entertainment and complimentary tours of the finest bourbon distilleries creates a uniquely American river cruise that you simply cannot afford to miss!
Complimentary Hop-On Hop-Off shore excursions in each port of call
All onboard meals, including both fine dining and casual cuisine
24-Hour Room Service
Complimentary wine and beer with dinner
Complimentary cappuccino, espresso, specialty coffees, tea, bottled water and soft drinks throughout your voyage
Gracious service from a friendly, all-American staff
Daily lectures by the Riverlorian, our onboard historian
Acclaimed entertainment worthy of Broadway
American Queen Steamboat Company's own dedicated fleet of deluxe motorcoaches
Accommodations on this Tour
Cruising: Inside cabin onboard the American Queen
Notes
Cabin upgrades are available.
Itineraries are subject to change.
Port Taxes of $179 per person are additional and not included in the prices shown above.
Please ask your Vacations To Go travel counselor for more information.
Terms and Conditions
* The prices shown are U.S. dollars per person, based on double occupancy, and subject to availability. Prices quoted for land/cruise arrangements are subject to increase without notice. Once we have received your deposit, land/cruise prices are guaranteed. Air prices quoted via phone or email are subject to increase and are guaranteed only from the time that full payment is received. Also, air prices or air promotions mentioned on this site or on the phone do not include baggage fees imposed by airlines. Sorry, we are unable to offer air from countries other than the U.S. However, for those international customers who are able to arrange their own transportation to the trip origination city, we are able to offer the land/cruise portion of the package at the price quoted.
800-510-4002

OR

Open Mon-Fri 7am to 10pm, Sat 8am-8pm, Sun 9am to 8pm, CST
| | | |
| --- | --- | --- |
| | a division of | |