Day 1 Arrive in Bucharest, Romania.
The remainder of the day is yours to begin exploring this fascinating capital city.

Day 2 Bucharest. Excursion to Transylvania–Brasov.
Head out of the city to your first stop, a visit to BRAN CASTLE, of Dracula fame. Built in 1377, it was assumed to be the home of Romanian vampires. Then continue to Brasov for the night, with a free afternoon to explore on your own. (B,L,D)

Day 3 Brasov–Bucharest.
This morning join a local expert for GUIDED SIGHTSEEING of Brasov. In the afternoon, drive into the Carpathians to Sinaia to visit PELES CASTLE, considered to be one of the most beautiful in Europe, before returning to Bucharest. (B,L)

Day 4 Bucharest–Fetesti (Embarkation).
Much recent history has taken place in Romania's capital city, and its wide, tree-lined boulevards and Arc de Triomphe—built in 1922 to honor the bravery of Romanian soldiers who fought in WWI—have gained it the name "Paris of the East." During your INCLUDED TOUR this morning, see the main sights including Royal Palace Square, the scene of riots in 1989, which led to the collapse of the communist dictatorship. Later a motorcoach ride takes you to Fetesti, where your river cruise vessel is docked. Before dinner, meet your crew at a welcome reception. (B,D)

Day 5 St. Gheorghe. Danube Delta Excursion.
This morning during breakfast, dock in St. Gheorghe, from where the excursion into the DELTA will start. A UNESCO World Heritage Site and the best preserved of Europe's deltas, this area hosts over 300 species of birds as well as 45 species of freshwater fish. From its source in the Black Forest to its delta at the Black Sea, the Danube measures 2,845 kilometers in length. The Km markings can be clearly seen on the river banks the length of the river. Depart St. Gheorghe during lunch and enjoy a small CELEBRATION to mark Km "0"—the end of the Danube's journey. This afternoon a chance to relax and to learn more about the fascinating Delta at an ONBOARD LECTURE. (B,L,D)

Day 6 Cernavoda. Excursion to Constanta.
From Cernavoda this morning, an excursion takes you to Constanta, the most important commercial center in Romania, situated on the Black Sea. A CERTIFIED LOCAL GUIDE shows you the highlights of this city and a visit of the NATURAL HISTORY & ARCHAEOLOGICAL MUSEUM is included. This afternoon, relax on board as you cruise westward towards Rousse. (B,L,D)

Day 7 Rousse, Bulgaria. Excursion to Veliko Târnovo & Arbanassi–Svistov.
Dock this morning in Rousse, Bulgaria's largest inland port. A comfortable motorcoach ride away is the ancient Bulgarian capital of Veliko Târnovo. Situated on three hills surrounding the Yantra River, the city was a natural fortress with ancient stone houses clinging to the steep slopes. The oldest part is Tsarevets Hill, home of the ROYAL FORTRESS, and the Patriarch's Church. With your Local Guide, discover this town that played an important role in Bulgaria's history. Then, journey to Arbanassi. Founded in the 15th century, the historic village of Arbanassi is best known for its examples of Bulgarian Revival architecture and its ETHNOGRAPHICAL MUSEUM, a 400-year-old house preserved as a museum. Visit the CHURCH OF THE NATIVITY, one of the oldest churches in Arbanassi, and see its outstanding collection of frescoes. If you do not wish to participate in the full-day excursion, you may choose to remain on board and join an INCLUDED SIGHTSEEING TOUR of Rousse after breakfast. At lunchtime, sail for Svistov, where excursion participants will rejoin the ship. (B,L,D)

Day 8 Vidin, Bulgaria. Excursion to Belogradchik.
Today, enjoy a leisurely morning of cruising before arriving in Vidin, an important Danube port in northwestern Bulgaria. Its medieval FORTRESS, Baba Vidin, is the town's primary landmark. It served as Vidin's main defensive installation during the Middle Ages and is the only entirely preserved medieval fortress in the country. It is now a fortress museum and has been restored to its former appearance. In nearby Belogradchik, view the eclectic group of ROCK FORMATIONS on the western slopes of the Balkan Mountains. Sculpted by natural elements for more than 200 million years and with a variety of sizes and shapes, the Belogradchik Rocks are spectacular! (B,L,D)

Day 9 Iron Gates. Excursion to Lepenski Vir, Serbia.
The most spectacular scenery must surely be the dramatic gorge of the IRON GATES, a narrow and formerly very dangerous passage dividing Europe's Alps in the northwest from the Carpathians in the southeast and forming a natural border between Serbia and Romania. After lunch dock at Donji Milanovac from where a short drive takes you to the impressive LEPENSKI VIR EXHIBITION CENTER housing archaeological artifacts found in this area and from where you have unique views of the Danube Gorge. (B,L,D)

Day 10 Belgrade.
Early today, arrive in Belgrade. One of the oldest cities in Europe, the capital of Serbia is situated at the confluence of the Danube and Sava Rivers. A Local Guide will be proud to show you its main sights, including St. Sava, the world's largest orthodox church. In your free time, be sure to check out the city's lively pedestrian area and charming outdoor cafés. (B,L,D)

Day 11 Mohács, Hungary. Excursion to Pécs.
Relax on board this morning before arriving in Mohács, the first stop in Hungary. After lunch, an included excursion takes you to Pécs. Established by the Romans in the 2nd century, this was a flourishing and important town for Christianity by the 4th century. These early Christians left behind many underground burial chambers with memorial chapels above ground. With a Local Guide, visit the UNDERGROUND TOMBS—now part of a UNESCO World Heritage Site—many of which have splendidly decorated murals with Christian themes. Later, enjoy an ORGAN CONCERT. Pécs is also a rich showcase of Turkish architecture and home to Turkish mosques, striking churches, and an enjoyable atmosphere around its restaurants and cafés. (B,L,D)

Day 12 Budapest (Disembarkation).
Early this morning, dock in the country's capital. Spanning the banks of the Danube, Budapest is one of Eastern Europe's liveliest cities. Whether you're seeing the sights, shopping for handcrafted embroidery or Herend porcelain, or basking in the coffee house culture over a rich cream cake in the renowned Gerbeaud Café, Budapest's unique energy is positively palatable. Bid goodbye to your crew before joining a GUIDED TOUR of the city with your Local Guide. See Heroes' Square as well as the massive hilltop castle complex with its remarkable Fishermen's Bastion—with spectacular views of the city—and 11th-century Matthias Church, the coronation spot of several Hungarian monarchs. Be sure to take note of the city's eight bridges—many famous sights in and of themselves—which connect ancient Buda on the right bank with Pest on the left. You may even want to walk across Chain Bridge, built in 1849 and a symbol of Budapest. (B)

Day 13 Budapest.
You have time today to explore Budapest further. Perhaps visit St. Stephen's Basilica for marvelous views of the city from its viewing platform. Or maybe you would like to join one of the optional excursions on offer. (B)

Day 14 Budapest.
Your vacation ends with breakfast this morning. (B)
Tour Map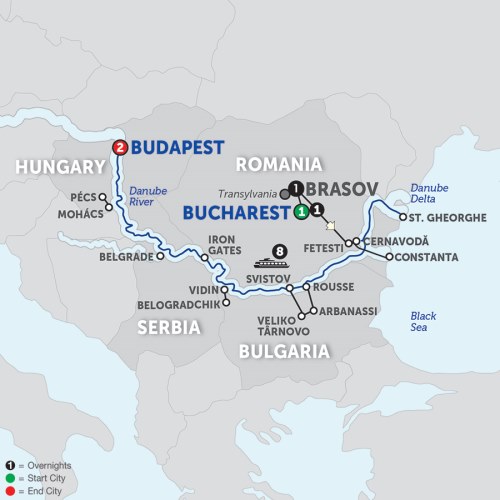 River Cruise Highlights
Bucharest: welcome to Bucharest
Bucharest. Excursion to Transylvania-Brasov: guided visit of Dracula's Bran Castle
Brasov–Bucharest: guided sightseeing in Brasov and Peles Castle
Bucharest–Fetesti (Embarkation): guided sightseeing in Bucharest, onboard welcome reception
St. Gheorghe: excursion to Danube Delta; Km 0 celebration; onboard lecture
Cernavoda: Excursion to Constanta; guided sightseeing, visit the National History & Archaeological Museum
Rousse. Excursion to Veliko Târnovo & Arbanassi: guided sightseeing, visit Tsarevet's Fortress in Veliko Târnovo, and the Ethnographical Museum and Church of the Nativity in Arbanassi; or guided sightseeing of Rousse
Vidin, Belogradchik: guided sightseeing to Vidin's fortress; excursion to Belogradchik to see the rock formations
Iron Gates: cruise through the Iron Gates gorge; visit Lepenski Vir archaeological exhibition
Belgrade: guided sightseeing
Mohács: excursion to Pécs; guided sightseeing; organ concert
Budapest (Disembarkation): guided sightseeing, see Fishermen's Bastion and Heroes' Square
Budapest: day at leisure
Budapest: your vacation ends this morning
All This Included
Begin your exciting vacation with an excursion from Bucharest to Transylvania where you'll visit the Bran Castle of Dracula fame, believed to be the home of Romanian vampires. Then, enjoy guided sightseeing of Brasov and visit Peles Castle in Sinaia, considered one of the most beautiful in Europe.
Bucharest, Romania, is known for its wide, tree-lined boulevards and historical treasures. Here, you'll see the Arc de Triomphe—built in honor of WWI soldiers—and the historical Royal Palace Square. Your river cruise will take you through the serene Danube Delta, which is home to over 300 species of birds and a UNESCO World Heritage Site. There's guided sightseeing in Constanta and Bulgaria's ancient capital of Veliko Tarnovo. Visit the Ethnographical Museum and Church of the Nativity in Arbanassi, and take pictures of Belogradchik's eclectic group of rock formations and the spectacular scenery of the Iron Gates. Visit Belgrade, the capital of Serbia, and one of the oldest cities in Europe. Continue your cultural journey on an excursion to Pécs, Hungary. Established by the Romans in the 2nd century, you'll see underground burial chambers with fascinating murals, another UNESCO World Heritage Site.
There are countless memorable moments on this fascinating river cruise through Eastern Europe, and it doesn't end until you've experienced the unique energy of Budapest. Set along the banks of the Danube River, the capital of Hungary offers an eclectic mix of activities. A local expert introduces you to the must-see sights, such as Heroes' Square, Fishermen's Bastion, and the Parliament Building. And with free time to explore on your own, perhaps walk across one or more of the city's famous bridges, shop for Herend porcelain or handcrafted embroidery, and bask in the coffee house culture with a rich cream cake in the renowned Gerbeaud Café.
Captain's welcome & farewell receptions with sparkling wine and canapés; Welcome dinner; Daily Afternoon Tea; Daily Night Fare; Farewell dinner; Complimentary sparkling wine with breakfast; soft drinks with lunch; and wine, beer, or soft drinks with dinner are included daily on board your vessel
Included excursions with Certified Local Guide; sightseeing as outlined in the day by-day itinerary; inside visits and special features are shown in UPPERCASE.
Deluxe cruise in an outside stateroom with hotel-style beds
Headsets for shore excursions
Complimentary Wi-Fi access
Personalized room options & excursions
Accommodations on this Tour
Bucharest: Athenee Palace Hilton
Brasov: Kronwell Brasov Hotel
Cruising: Cabin onboard Avalon Passion, Avalon Luminary or Avalon Illumination
Budapest: InterContinental Budapest or Hotel Sofitel Chain Bridge
Pre and Post Add-ons
Extra nights per person in Bucharest:
in single room from $145 to $225, in twin room from $75 to $125

Extra nights per person in Budapest:
in single room from $180 to $300, in twin room from $105 to $160
Notes
Cabin upgrades are available.
Port charges: $192.
Please call for single accommodation price. Triples not available.
Gratuities to Local Guides & Excursion Drivers are included.
In the event of water level problems or any problems of a technical nature, it may be necessary to operate the itinerary by motorcoach or to alter the program.
Included visits and special features are subject to change. If a change is necessary, a substitute will be offered.
Please check visa requirements with your local consulate(s); responsibility for obtaining visas rests with the traveler.
Please ask your Vacations To Go travel counselor for more information.
Terms and Conditions
* The prices shown are U.S. dollars per person, based on double occupancy, and subject to availability. Prices quoted for land/cruise arrangements are subject to increase without notice. Once we have received your deposit, land/cruise prices are guaranteed. Air prices quoted via phone or email are subject to increase and are guaranteed only from the time that full payment is received. Also, air prices or air promotions mentioned on this site or on the phone do not include baggage fees imposed by airlines. Sorry, we are unable to offer air from countries other than the U.S. However, for those international customers who are able to arrange their own transportation to the trip origination city, we are able to offer the land/cruise portion of the package at the price quoted.