Jewels of Central Europe
(Budapest to Remich, Cruise-Only)
15 days with Avalon Waterways Rating: Deluxe
Book this River Cruise Now and Save!





Save $1,000 to $1,500 per couple off this cruise. Expires April 24. Click here for eligible departures.

Avalon Journeys Club members save 5% off the cruise/land price. Click here for eligible departures.

Offers subject to change or withdrawal, availability is limited. Some discounts are not combinable.
Day 1 Arrive in Budapest, Hungary (Embarkation)
Welcome to Budapest, Hungary's lively capital spanning the banks of the Danube. The remainder of the day is free to start exploring Eastern Europe's most cosmopolitan metropolis. This afternoon, board your river cruise vessel and meet your crew at a welcome reception. (Dinner)
Day 2 Budapest–Vienna, Austria
Enjoy a day of relaxation on board and marvel at the beautiful scenery on both banks of the Danube. Hungary is on your left as you cruise upriver and Slovakia is on your right. The two countries share the Danube for a 58-mile stretch, with the border in the middle of the river. This evening, arrive in Vienna, Austria's capital. Known as the "City of Music," it inspired the creative genius of Mozart, Beethoven, and Strauss. An optional concert is available during your stay. (Breakfast, Lunch, Dinner)

Day 3 Vienna
Once the center of the mighty Habsburg Empire, Austria's magical capital on the blue Danube is a showcase of gilded architecture. This is home to the lavish Hofburg Imperial Palace complex with its Vienna Boy's Choir and dazzling Lipizzaner stallions; the neo-renaissance Vienna Opera House; and awe-inspiring St. Stephen's Cathedral—plus, countless other sights your Local Guide will show you during an included CITY SIGHTSEEING TOUR. Stroll through the delightful pedestrian Kärntnerstrasse, and be sure to take a break and enjoy a piece of decadent Sachertorte or Apfelstrudel in one of the classic Viennese coffee houses, historic institutions that helped shape Viennese culture! (Breakfast, Lunch, Dinner)

Day 4 Dürnstein–Melk
Dürnstein, known for the magnificent baroque, blue Stiftskirche built in the 1700s, is situated right in the heart of the Wachau wine region. The main street of this small town—with a population of less than 1,000 people—is lined with 16th-century residences and charming cobblestone streets. This morning your Local Guide will take you on an included WALKING TOUR and tell you the tale of England's King Richard the Lionheart, who was imprisoned in the castle whose ruins still stand above the town. During lunchtime, sail the picturesque Wachau Valley and arrive in Melk in the early afternoon. Here, enjoy a GUIDED VISIT of the magnificent 11th-century BENEDICTINE ABBEY, one of Europe's largest monasteries. The abbey houses an ornate library with over 80,000 printed books and 2,000 manuscripts. You'll be captivated by the splendor of the church with its frescoed ceilings, stunning high altar, marble statues, and 210-foot-high cupola. The view from the terrace of the abbey over the Danube and surrounding countryside is breathtaking! This evening you'll be able to sample some of the Wachau Valley's FAMOUS WINES. (Breakfast, Lunch, Dinner)

Day 5 Passau, Germany
Today, you might wish to choose from a couple of full-day optional excursions: to Salzburg taking in some of "The Sound of Music" sights or to medieval Ceský Krumlov in the Czech Republic, a UNESCO World Heritage Site. Alternatively, you may choose to stay on the ship and relax as you cruise to Passau, uniquely located where the Inn, Ilz, and Danube Rivers converge. Passau is a maze of narrow cobblestone streets lined with beautiful patrician houses and dominated by St. Stephen's Cathedral, a masterpiece of Italian baroque architecture. Take in the highlights on the included GUIDED WALK. (Breakfast, Lunch, Dinner)

Day 6 Regensburg
Dating back to the time of the Celts around 500 BC, Regensburg is one of Germany's best preserved medieval cities. Established during the Holy Roman Empire and the only German city not bombed during WWII, Regensburg has at least 1,300 listed buildings of "historic interest." Architectural highlights of your GUIDED WALK include the Altes Rathaus (Old Town Hall), built in the 13th century, and Porta Pretoria, gates to an ancient Roman fort built in 179 AD. Wander through the city's lanes and alleys to discover the many mansions with high towers. Wealthy families built these towers to emphasize their status and wealth during the Middle Ages, and many still remain today. Walk across the 12th-century Steinerne Brücke (Stone Bridge), the oldest of its kind in Germany. Grab a beer and enjoy an included SNACK at the 17th-century Historische Wurstküche (Old Sausage Kitchen), one of Germany's oldest restaurants. Here—where the locals congregate—feel the vibrant atmosphere and take in the remarkable views along the river. Before dinner, we'll introduce you to some of Germany's FAMOUS BEERS. (Breakfast, Lunch, Dinner)

Day 7 Nuremberg
Although 90% of Nuremberg's Old Town suffered extensive damage during WWII, much of it has been restored to the glory it once knew as the unofficial capital of the Holy Roman Empire. This afternoon choose a GUIDED SIGHTSEEING TOUR and marvel at this thousand-year-old city's medieval fortifications, extraordinary gothic churches, and the Kaiserburg (Imperial Castle). Alternatively, join a more specialized 'NUREMBERG RALLY GROUNDS" tour. (Breakfast, Lunch, Dinner)
Day 8 Nuremberg. Excursion to Munich
After breakfast, drive to Munich, capital of Bavaria. With its historical museums, splendid English Garden, traditional cafés, and delightful shops, Munich has plenty to see and do. A LOCAL GUIDE will show you the highlights of this fascinating city, including Nymphenburg Palace, summer residence of the Bavarian monarchs; MARIENPLATZ with its Old and New Town Halls; and the gothic Frauenkirche, a prominent landmark for Munich. Then, enjoy time on your own in this vibrant city. Watch the famous Glockenspiel, which recreates a royal wedding from the 16th century; linger at an outdoor café; visit St. Peter's, the oldest church in town; or maybe relax alongside the locals at one of the many Biergarten or breweries to sample one of the Bavarian beer specialties. Return to your ship in the afternoon. (Breakfast, Dinner)

Day 9 Bamberg
In the early morning hours, arrive in medieval Bamberg, former residence of one of Germany's most powerful imperial dynasties and today a UNESCO World Heritage Site. Your GUIDED WALK takes in its historic center, including the great 13th-century Romanesque cathedral and the fascinating Altes Rathaus (Old Town Hall)—built on an island in the middle of the Regnitz River when the bishop refused to give the townspeople land for a town hall! This afternoon, enjoy some relaxing time on board as you cruise toward Würzburg on the Main River. (Breakfast, Lunch, Dinner)

Day 10 Würzburg
Arrive in Würzburg during breakfast. Surrounded by verdant hillside vineyards, Würzburg, also known as the "Pearl of the Romantic Road," makes an immediate impression with imposing Fortress Marienberg perched above town and the 15th-century Alte Mainbrucke (Old Main Bridge). On your GUIDED SIGHTSEEING TOUR, visit the magnificent baroque BISHOP'S RESIDENZ, home to the largest ceiling fresco ever painted. This afternoon you might like to join an optional excursion to medieval Rothenburg. (Breakfast, Lunch, Dinner)

Day 11 Main River village experience
On the banks of the Main River you find cultural gems of small towns, many of them tucked away behind defensive walls and towered gates. With half timbered houses, narrow streets and medieval town centers, these picturesque Bavarian villages are a photographer's delight. Join your Local Guide to experience one of these towns on a GUIDED WALK. (Breakfast, Lunch, Dinner)

Day 12 Rüdesheim–Rhine Gorge - Boppars
Pretty Rüdesheim is the perfect example of a Rhine Valley wine town, and SIEGFRIED'S MECHANICAL MUSICAL INSTRUMENT MUSEUM is a real surprise. Enjoy a SPECIAL TREAT, then there's free time to explore the Drosselgasse and pick up some souvenirs. Downstream, the dramatic RHINE GORGE is the most beautiful stretch of river. Pass the legendary rock of the Lorelei, where sweet songs of local beauties lured enchanted sailors to their doom. (Breakfast, Lunch, Dinner)

Day 13 Bernkastel
Early this morning, you arrive in the charming wine village of Bernkastel on the Moselle River. With its fascinating narrow streets and half-timbered houses that have stood since the Middle Ages, you'll enjoy a GUIDED WALK that includes the beautiful marketplace with its renaissance-style Town Hall—built in 1608—and the "pointed house," built in 1416. The Moselle is famous for its wines, and growers in this area look after Germany's largest expanse of vineyards, the most celebrated of the vintages being the Bernkasteler Doktor. Later this afternoon, enjoy a TASTING of some of these well-loved German wines. (Breakfast, Lunch, Dinner)

Day 14 Trier
After breakfast, an excursion takes you to Trier, Germany's oldest city. Some say Trier is even older than Rome and that it was populated over a thousand years before the Romans arrived. Many Roman remains have survived, including a 20,000-seat amphitheater; the Porta Nigra, a fortified gate from the original Roman settlement, which still gives access to the town's center; imperial baths; and the Roman bridge, Germany's oldest bridge, with stone pilings dating from 144 AD—all evidence of this once-grand Roman city. Trier also offers pleasant market squares, Germany's oldest Christian church, and a cornucopia of architectural styles—Roman, baroque, neo-classicism, renaissance, and gothic. Choose from the included CITY SIGHTSEEING or the more history-focused "ROMAN TRIER" guided tour, followed by some free time, which gives you the opportunity to discover this magnificent town. Rejoin your vessel and head for the Grand Duchy of Luxembourg. (Breakfast, Lunch, Dinner)
Day 15 Remich, Luxembourg (Disembarkation)
Your vacation ends with breakfast this morning. (Breakfast)
Tour Map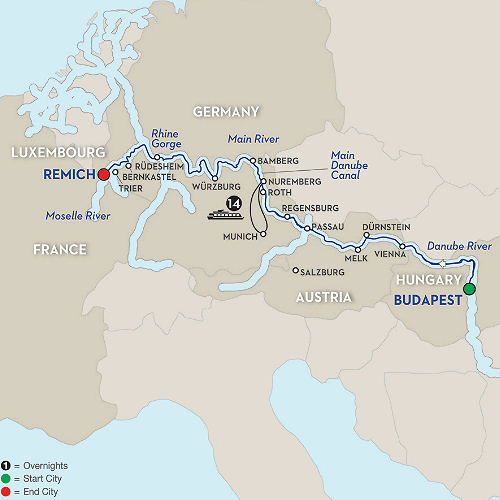 River Cruise Highlights
Budapest: onboard welcome reception
Budapest–Vienna: cruising
Vienna: guided sightseeing
Dürnstein–Melk: guided walk in Dürnstein, see the Stiftskirche; guided visit of the Benedictine Abbey in Melk; wine tasting
Passau: guided walk
Regensburg: guided walk; enjoy a snack at the Historische Wurstküche; beer tasting
Roth–Nuremberg: choice of guided sightseeing in Roth with visit to the Industrial Museum or Nuremberg Rally Grounds tour
Nuremberg: excursion to Munich, guided sightseeing, see the Marienplatz
Bamberg: guided walk, see the Old Town Hall
Würzburg: guided sightseeing, visit the Bishop's Residenz
Main River village: guided walk
Rüdesheim–Rhine Gorge: visit Siegfried's Mechanical Musical Instrument Museum; enjoy a special treat; cruise through the Rhine Gorge
Bernkastel: guided walk, wine tasting
Trier: choice of guided city sightseeing or "Roman Trier," see the Porta Nigra
All This Included
On this Europe river cruise vacation, you'll sail along the Danube, Main, Rhine, and Moselle Rivers. Board your ship in vibrant Budapest, Hungary, then see some of the most intriguing cities of Austria and Germany, before ending your cruise in Luxembourg.
Sail out of Budapest, past the impressive Parliament Building on the Danube River, to Austria's elegant capital of Vienna. There's a guided walk in the quaint village of Dürnstein, in the heart of the Wachau Valley, and a visit to the magnificent Benedictine Abbey of Melk. You'll be introduced to the treasures of Passau, Regensburg, and Nuremberg, and take an excursion to Bavaria's capital, Munich. On the banks of the Main River, you'll find small towns tucked away behind defensive walls and towered gates. These picturesque Bavarian villages are a photographer's dream. Visit Würzburg and the impressive Bishop's Residenz, then sail into the Rhine River and stop in Rüdesheim—a quintessential Rhine Valley town. Later, cruise the wide, peaceful curves of the Moselle River Valley, famous for its picturesque scenery, and arrive in the wine village of Bernkastel surrounded by Germany's largest expanse of vineyards. Before you leave, we'll introduce you to some of the famed Moselle wines. In Trier, Germany, believed to be even older than Rome—having been populated over a thousand years before the Romans arrived—a Local Guide will show you the sights, including the Porta Nigra, the only surviving fortified gate from the original Roman settlement.
Disembark in Luxembourg and take home many happy memories of this fascinating European river cruise.
Superb dining with meals on board featuring full breakfast with complimentary sparkling wine, lunch with complimentary soft drinks, and dinner including complimentary wine, beer, or soft drinks; a welcome reception, Captain's reception, and farewell dinner; one sitting with open seating arrangements
Deluxe cruise in an outside stateroom with hotel-style beds
Services of a professional Cruise Director
Onboard lectures, activities & nightly piano music
Sightseeing with Local Guides
Headsets for all guided shore excursions
Included excursions with Certified Local Guide; sightseeing as outlined in the day by-day itinerary; inside visits and special features are shown in UPPERCASE.
Accommodations on this Tour
Cruising: Cabin onboard Avalon Visionary
Notes
Cabin upgrades are available.
Please call for single accommodation price. Triples not available.
Port charges of $336 per person are not included in the prices shown above.
Gratuities to Local Guides & Excursion Drivers are included.
In the event of water level problems or any problems of a technical nature, it may be necessary to operate the itinerary by motorcoach or to alter the program.
Included visits and special features are subject to change. If a change is necessary, a substitute will be offered.
Please check visa requirements with your local consulate(s); responsibility for obtaining visas rests with the traveler.
Please ask your Vacations to Go travel counselor for more information.
Terms and Conditions
* The prices shown are U.S. dollars per person, based on double occupancy, and subject to availability. Prices quoted for land/cruise arrangements are subject to increase without notice. Once we have received your deposit, land/cruise prices are guaranteed. Air prices quoted via phone or email are subject to increase and are guaranteed only from the time that full payment is received. Also, air prices or air promotions mentioned on this site or on the phone do not include baggage fees imposed by airlines. Sorry, we are unable to offer air from countries other than the U.S. However, for those international customers who are able to arrange their own transportation to the trip origination city, we are able to offer the land/cruise portion of the package at the price quoted.
800-510-4002

OR

Open Mon-Fri 7am to 10pm, Sat 8am to 8pm, Sun 9am to 8pm, CDT
| | | |
| --- | --- | --- |
| | a division of | |