Christmastime from Vienna to Wiesbaden
12 days with Avalon Waterways Rating: Deluxe
Book this River Cruise Now and Save!





Limited-time offer! Save an additional $200 per couple off this cruise. Expires May 31. Click here for eligible departures.

Avalon Journeys Club members save 5% off the cruise/land price. Click here for eligible departures.

Offers subject to change or withdrawal, availability is limited. Some discounts are not combinable.
Day 1 Arrive in Vienna, Austria (Embarkation)
Vienna, Austria's capital, is known as the "City of Music" and inspired the creative genius of Mozart, Beethoven, and Strauss. This afternoon, board your cruise vessel and meet your crew at an evening welcome reception. (Dinner)
NOTE: Guests must be on board ship by 5 pm.

Day 2 Vienna
Once the center of the mighty Habsburg Empire, this is home to the lavish Hofburg Imperial Palace complex with its Vienna Boys' Choir and dazzling Lipizzaner stallions; the neo-renaissance Vienna Opera House; and awe-inspiring St. Stephen's Cathedral—plus, countless other sights you'll see on your GUIDED TOUR. Alternatively, we offer you a special CULINARY TOUR at the Viennese Christmas markets where you can taste all the best flavors that Austria has to offer during Christmastime. Be sure to enjoy a piece of decadent Sachertorte or Apfelstrudel in one of the classic coffee houses, historic institutions that helped shape Viennese culture! An optional concert is available tonight. (Breakfast, Lunch, Dinner)

Day 3 Melk–Grein
This morning sail through the picturesque Wachau Valley and arrive in Melk, where the magnificent 11th-century BENEDICTINE ABBEY, one of Europe's largest monasteries, dominates the town and hosts an ornate library with over 80,000 printed books and 2,000 manuscripts. You'll be captivated by the splendor of the church with its frescoed ceilings. Relax and enjoy onboard of your ship while sailing into Grein, a quaint little village, and after a WALKING TOUR, visit the oldest THEATER of Austria. (Breakfast, Lunch, Dinner)

Day 4 Passau, Germany
This morning, you may wish to join an optional full-day excursion to Salzburg to see some of the popular Sound of Music sites, find out how mice caused the composition of the famous Silent Night carol, and learn how Austrians celebrate Christmas. Rejoin your ship in Passau in the early evening or stay on board and relax as you cruise to Passau, located where the Inn, Ilz, and Danube Rivers converge. Passau is a maze of cobblestone streets, lined with beautiful patrician houses, and at this time of year, the Christkindlmarkt (Christmas market) is set up against the magnificent backdrop of St. Stephen's Cathedral, a masterpiece of Italian baroque architecture. Take in the highlights on the included GUIDED WALK. (Breakfast, Lunch, Dinner)

Day 5 Regensburg
Dating back to the time of the Celts around 500 BC, Regensburg is one of Germany's best preserved medieval cities. The only German city not bombed during WWII, Regensburg has at least 1,300 listed buildings of "historic interest." Architectural highlights included on your GUIDED WALK are the 13th-century Old Town Hall and Porta Pretoria, gates to an ancient Roman fort built in 179 AD. Walk across the 12th-century Steinerne Brücke (Stone Bridge), the oldest of its kind in Germany. Grab a beer and enjoy an included SNACK at the Historische Wurstküche (Old Sausage Kitchen), one of Germany's oldest restaurants. During free time explore on your own or visit the Regensburg Christmas market, including the ones hosted by Thurn and Taxis Palace. The tempting aromas of mulled wine, sausage, roasted almonds, and gingerbread create a memorable atmosphere. Enjoy an ONBOARD LECTURE about Christmas traditions and, before dinner tonight we'll introduce you to some of Germany's FAMOUS BEERS! (Breakfast, Lunch, Dinner)

Day 6 Nuremberg
Although 90% of its Old Town suffered extensive damage during WWII, much of it has been restored to the glory it once knew as the unofficial capital of the Holy Roman Empire. Choose from an included GUIDED SIGHTSEEING TOUR and marvel at the city's medieval fortifications, gothic churches, and Kaiserburg (Imperial Castle), or join a NUREMBERG RALLY GROUNDS tour. The Old Town is illuminated with festive lights, and the Christmas market is one of the biggest in Germany, featuring 200 stalls selling traditional wares and foods. After your free time at the Christmas market, a shuttle bus service will be at your disposal to take you back to the ship. (Breakfast, Lunch, Dinner)

Day 7 Nuremberg. (Disembarkation) Excursion to Munich. (Embarkation)
After breakfast, disembark the vessel which has brought you to Nuremberg and drive to Munich, where a local expert will proudly show you the sights of the Bavarian capital. An inspiring mix of historic buildings and impressive architecture, you'll see the Olympic Stadium, 1,000-foot-high Television Tower, Nymphenburg Palace, MARIENPLATZ in the historic heart of the city with the Old and New Town Halls, and the gothic Frauenkirche. Later, there's free time to explore on your own. The traditional Christmas market is located on the Marienplatz, with aromas of toasted almonds, roasted chestnuts, and gingerbread filling the air and the strains of alpine Christmas music coming from the town hall. At the nearby Rindermarkt, you'll find the Kripperlmarkt, one of the largest markets in Germany to specialize in mangers and other nativity accessories. And don't leave Munich without paying a visit to the famous Hofbräuhaus for a stein of beer! Return to Nuremberg in the late afternoon and embark on the ship which will take you to Frankfurt.(Breakfast, Dinner)

Day 8 Nuremberg
A day to relax and enjoy Nuremberg at your own pace. Stroll through the festively lit streets, buy those last-minute Christmas gifts, or ask your Cruise Director for suggestions of things to do. Shuttle service available. (Breakfast, Lunch, Dinner)

Day 9 Bamberg
In the early morning hours, arrive in medieval Bamberg, former residence of one of Germany's most powerful imperial dynasties. Your GUIDED WALKING TOUR takes in its historic center, including the great 13th-century Romanesque cathedral and the fascinating Altes Rathaus (Old Town Hall)—built on an island in the middle of the Regnitz River when the bishop refused to give the townspeople land for a town hall! At this time of year, especially interesting are the nativity scenes built by local residents and exhibited throughout the town. Enjoy the Christmas market, where, in addition to candles and decorations, you'll find many regional delicacies, like gingerbread and nut bread. Rejoin your ship in time for lunch. This afternoon, cruise along the Main River to Würzburg, and attend a fascinating ONBOARD LECTURE to learn more about European Christmas traditions. (Breakfast, Lunch, Dinner)

Day 10 Würzburg
Known as the "Pearl of the Romantic Road," Würzburg is surrounded by sloping hills covered with vineyards. The city makes an immediate impression with imposing Fortress Marienberg perched above town and the 15th-century Alte Mainbrucke (Old Main Bridge). On your included GUIDED SIGHTSEEING TOUR, visit the magnificent baroque BISHOP'S RESIDENZ, home to the largest ceiling fresco ever painted. This afternoon you are free to explore on your own—maybe visit the Christmas markets or join an optional excursion to medieval Rothenburg where you will have the opportunity to visit the Christmas Museum. Be sure to try a Schneeball (snowball), a local specialty not at all suitable for a diet! (Breakfast, Lunch, Dinner)

Day 11 Miltenberg
A CULINARY DEMONSTRATION will be delivered before lunch and before your arrival in Miltenberg. Tucked away behind medieval defensive walls and towered gates, the picturesque Bavarian village of Miltenberg is a cultural gem on the banks of the Main River. This afternoon's GUIDED WALK will acquaint you with the town's delightful Marktplatz (market square), which centers around a Renaissance-era fountain and features striking half-timbered buildings, cobblestone lanes, and one of the oldest inns in Germany, Haus zum Riesen (the giant's house) and the gothic splendor of the Merchant Hall. There's free time to explore before you depart for Wiesbaden before dinner. (Breakfast, Lunch, Dinner)

Day 12 Wiesbaden (Disembarkation)
Your vacation ends with breakfast this morning. (Breakfast)
Tour Map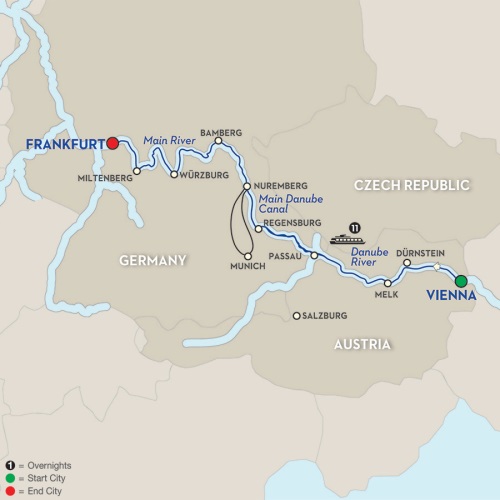 River Cruise Highlights
Cruise: deluxe 11-night cruise in an outside stateroom with Avalon's exclusive Comfort Collection BedsSM
Vienna: onboard welcome reception on Day 1; choice of guided sightseeing, or culinary tour at Christmas market on Day 2
Melk–Grein: guided visit of the Benedictine Abbey in Melk; guided walk in Grein, visit the historical theater
Passau: guided walk; Christmas market
Regensburg: guided walk; enjoy a snack at the Historische Wurstküche; Christmas market; onboard lecture; beer tasting
Nuremberg: choice of guided sightseeing or Nuremberg Rally Grounds tour; Christmas market
Nuremberg (Disembarkation). Excursion to Munich (Embarkation): guided sightseeing, see the Marienplatz
Nuremberg: day at leisure to visit Christmas market
Bamberg: guided sightseeing, see the Old Town Hall; onboard lecture; Christmas market
Würzburg: guided sightseeing, visit the Bishop's Residenz; Christmas markets
Miltenberg: onboard culinary demonstration, guided walk
Special onboard and onshore experiences presented by entertainers, artisans, and experts, designed to enrich your cruise.
Learn about local Christmas traditions at a fascinating onboard lecture.
Attend a traditional culinary demonstration.
All This Included
This holiday river cruise takes you to many beautiful and historical cities of Germany and Austria. And the views along the way can't be outdone—towns and villages decorated for the holidays as you cruise along the Danube and Main Rivers, and the Main Danube Canal.
Your Christmastime river cruise begins in Vienna, the capital and treasure of Austria, and ends in Wiesbaden, Germany. In Vienna, see the sights with a Local Guide, or opt for a culinary walk through the Christmas markets to taste some of the traditional fare. Cruise through the picturesque Wachau Valley to Melk, and visit the Benedictine Abbey, one of Europe's most architecturally-breathtaking monasteries—sure to be truly magnificent during the holiday season. In Regensburg, one of Germany's best-preserved medieval cities, see the sights with a Local Guide and savor local sausages and beer at one of Germany's oldest restaurants, Historiche Wurstkuche (Old Sausage Kitchen). On to Nuremberg where, after your guided tour, you are free to visit the Christmas market, one of the most famous in the world. A full-day excursion to Munich shows you the Bavarian capital. The traditional Christmas market is located on the Marienplatz, with aromas of toasted almonds, roasted chestnuts, and gingerbread filling the air! Continue your Christmastime river cruise to Bamberg, a UNESCO World Heritage Site, where the many nativity scenes exhibited throughout the town are sure to delight. In Würzburg, on the River Main, visit the ornate Bishop's Residenz—home to the largest ceiling fresco ever painted, then stroll through the Christmas markets while you sip Glühwein (hot mulled wine).
Your last stop is at one of the charming small towns dotted along the river—sure to be even more appealing illuminated with Christmas lights and decorations. Your delightful festive cruise ends in Wiesbaden.
Captain's welcome & farewell receptions with sparkling wine and canapés, Welcome dinner, Daily Afternoon Tea, Daily Night Fare, Farewell dinner
Complimentary sparkling wine with breakfast; soft drinks with lunch; and wine, beer, or soft drinks with dinner are included daily on board your vessel
Deluxe cruise in an outside stateroom with Avalon's exclusive Comfort Collection Beds
Special onboard and onshore experiences presented by entertainers, artisans, and experts, designed to enrich your cruise.
Included excursions with Certified Local Guide.
Sightseeing as outlined in the day by-day itinerary.
Inside visits and special features are shown in UPPERCASE.
Headsets for shore excursions.
Accommodations on this Tour
Vienna:
Intercontinental - Vienna
Cruising: Cabin onboard
Avalon Expression
and
Avalon Passion
Frankfurt: The Westin Grand Frankfurt
Pre and Post Add-ons
Extra nights per person in Vienna:
in single room $225, in twin room $125

Extra nights per person in Frankfurt:
in single room from $180 to $245, in twin room from $105 to $140
Notes
Port charges: $264
Cabin upgrades are available.
Please call for single accommodation price. Triples not available.
Prices shown above include cruise in Category E in a deluxe outside stateroom on Indigo Deck.
Christmas markets operate from late November until the third week of December, depending on the location (Prague markets are open from early December until the first days of January).
In the event of water level problems or any problems of a technical nature, it may be necessary to operate the itinerary by motorcoach or to alter the program.
Included visits and special features are subject to change. If a change becomes necessary, a substitute will be offered.
Please check visa requirements with your local consulate(s); responsibility for obtaining visas rests with the traveler.
Please ask your Vacations To Go travel counselor for more information.
Terms and Conditions
* The prices shown are U.S. dollars per person, based on double occupancy, and subject to availability. Prices quoted for land/cruise arrangements are subject to increase without notice. Once we have received your deposit, land/cruise prices are guaranteed. Air prices quoted via phone or email are subject to increase and are guaranteed only from the time that full payment is received. Also, air prices or air promotions mentioned on this site or on the phone do not include baggage fees imposed by airlines. Sorry, we are unable to offer air from countries other than the U.S. However, for those international customers who are able to arrange their own transportation to the trip origination city, we are able to offer the land/cruise portion of the package at the price quoted.
800-510-4002

OR

Open Mon-Fri 7am to 10pm, Sat 8am to 8pm, Sun 9am to 8pm, CDT
| | | |
| --- | --- | --- |
| | a division of | |