Day 1 Arrive in Côte d'Azur, France.
Welcome to France! Located between the mountains and the deep-blue Mediterranean Sea, the Côte d'Azur is synonymous with prestige and beauty with its enchanting yachts, glamorous villas, and famous events. Time at leisure lets you get acquainted with this amazing place.

Day 2 Côte d'Azur–Transfer to Arles (Embarkation).
This morning, enjoy free time to explore further or join an optional excursion. In the early afternoon, transfer by motorcoach to Arles in the Provence region, where you'll board your river cruise vessel. Before dinner, meet your crew at a welcome reception, then sail toward the mouth of the Rhône for a taste of the tranquil vistas of Camargue National Park (daylight permitting). (B,D)

Day 3 Arles.
In Arles, capital of the Provence, join your LOCAL GUIDE for a tour of the city. See the church of St. Trophime, dating from the 12th century, and visit the ROMAN AMPHITHEATER. Still used today, the amphitheater dates to the 1st century, and was constructed to hold over 20,000 spectators. Vincent Van Gogh was inspired by the special light of the Provence and spent a very productive year in Arles. (B,L,D)

Day 4 Avignon.
On your GUIDED TOUR, you may choose to join an included visit of the PALACE OF THE POPES, built in the 14th century as the sovereign popes' residence. With a living space equivalent to four gothic cathedrals, it is the largest gothic fortress in the world. Alternatively, you may opt for only city sightseeing and more free time to explore on your own, or to join an optional outing to Pont du Gard or to the famed wine cellars of Châteauneuf-du-Pape. (B,L,D)

Day 5 Cruising–Viviers.
A leisurely morning on board to relax and enjoy the passing scenery. After lunch, join your LOCAL GUIDE for a walk around the charming town of Viviers, which developed around its ROMANESQUE CATHEDRAL. The OLD TOWN has an appealing mix of Christian, Roman, and medieval influences. (B,L,D)

Day 6 Tournon/Tain l'Hermitage–Vienne.
The twin cities of Tournon and Tain l'Hermitage lie nestled among vineyards between the Rhône River and the granite slopes of the Hermitage. Enjoy a GUIDED WALK of Tournon, one of France's oldest medieval cities, with its imposing 16th-century castle and Roman ruins. Arriving in Vienne in the late afternoon, a GUIDED WALK shows you the charming little town surrounded by steep hills. Explore the town center to see the Roman Theater, which once held 13,000 spectators, and the Augustus and Livia Temple, built around 20 BC and converted into a church in the Middle Ages. (B,L,D)

Day 7 Lyon.
Lyon is France's third-largest city and its gastronomic capital. Founded by the Romans in 43 BC, the city's prosperity dates back to the 16th century and is due to commercial, industrial, and banking activities. Roman remains, many excellent museums, and much renaissance architecture delight visitors. You are joined by a LOCAL GUIDE as you survey the city from Fourvière Hill—with its splendid views over the city—and explore the Old Town, a UNESCO World Heritage Site with its maze of medieval alleyways and Place des Terreaux, a popular area with lively cafés, monuments, and the famous fountain often depicted on postcards. Be sure to sample Beaujolais, the wine of the region. (B,L,D)

Day 8 Cruising–St. Jean de Losne.
A leisurely day today as your final day on board. If you prefer to stay busy, a choice of optional excursions is available, including a visit to a wine cellar. While sailing to St. Jean de Losne, enjoy an onboard CHEESE TASTING. (B,L,D)

Day 9 St. Jean de Losne. (Disembarkation)–Beaune–Dijon–Paris (Embarkation).
After breakfast, disembark and head by motorcoach to Beaune, the unofficial capital of the Côte d'Or area and Burgundy's wine capital. Although life here centers around wine, Beaune offers much more with its ramparts, medieval houses, cobblestone streets, and historical monuments. Visit the HÔTEL-DIEU charity hospital, built in 1443 and paid for by the chancellor of Burgundy after the Hundred Years' War left many of the town's population destitute. Today, it houses Van der Weyden's painting of "The Last Judgment" and is one of France's architectural highlights. After lunch, continue to Dijon and board the TGV train to Paris, the "City of Light," where your ship is docked on the River Seine. Meet your crew at a welcome reception. Take the opportunity to meet the Avalon executives who will join this cruise to share this experience with our guests. Before dinner, your ship glides smoothly out of Paris. (B,D)

Day 10 Vernon–Les Andelys.
This morning in Vernon, choose between a guided visit of Giverny and a visit to Bizy Castle. Claude Monet lived at GIVERNY for almost 43 years (1883-1926), and viewed his flower and water gardens as works of art—just like his paintings. See his collection of Japanese prints, his charming house, and his biggest sources of inspiration. Or, after a WALKING TOUR in Vernon, visit BIZY CASTLE, built in 1740 and nicknamed "Normandy's Versailles." It is known for its famous stables—inspired by those at Versailles—and its magnificent courtyard and water garden. Alternatively, you may want to attend a PAINTING CLASS and learn how to become an artist and how to find the inspiration to paint a real masterpiece. This afternoon, arrive in Les Andelys, situated on a bend of the Seine and one of the most beautiful places in France. Join a Local Guide for a GUIDED WALK of the town, visiting the PARISH CHURCH OF LE PETIT ANDELY. Alternatively, you may wish to join your guide on a hike up to the ruins of imposing Château Gaillard, built by England's King Richard the Lionheart as a fortress in 1196. Constructed in only a year, it is a masterpiece of medieval military architecture. (B,L,D)

Day 11 Caudebec.
Make your choice today between an included full-day excursion to the historic NORMANDY LANDING BEACHES—with poignant sites, such as Omaha Beach, the Pointe du Hoc monument, and the American Cemetery—or a "TASTE OF NORMANDY" for an in-depth look at this picturesque, mainly agricultural region. The most important products are dairy, apples, and grain. Camembert cheese is a specialty, as is CALVADOS, a strong apple brandy you'll have the chance to taste at a local distillery. And for a touch of history, visit the famous BAYEUX TAPESTRY. (B,L,D)

Day 12 Le Havre.
This morning, wake up in Le Havre and join a guided excursion along the "NORMANDY ABBEYS ROUTE." More than 100 abbeys once covered this region, which has a microclimate suited to growing fruit such as apples, pears, plums, and cherries. Alternatively, explore the city of Le Havre during GUIDED SIGHTSEEING and don't miss the opportunity to take a picture in ETRETAT, one of the most suggestive panoramic views in the north of France. The afternoon is at your disposal to experience HIKING TOURS in the Regional Park La Boucle de La Seine or to visit the pretty coastal town of HONFLEUR. (B,L,D)

Day 13 Rouen.
Rouen, capital of Upper Normandy, is an important commercial city perhaps best known for its connection to Joan of Arc, who lived, was imprisoned, and burned at the stake in the marketplace of this town in 1431. Enjoy the included GUIDED WALK through the medieval quarter with its half-timbered, glazed-tile houses, and take photos of the intricate Gros Horloge astronomical clock, dating back to the 16th century. Visit the gothic CATHEDRAL, which was once the tallest building in the world and the subject of a series of paintings by Claude Monet. The afternoon is free to explore on your own. (B,L,D)

Day 14 Conflans.
After breakfast, you may either join our included guided excursion to AUVERS-SUR-OISE, the quaint little town where Vincent Van Gogh lived and died, or to Napoleon and Josephine's CHÂTEAU DE MALMAISON just outside Paris. Requiring extensive renovations, this large country estate was purchased by Josephine Bonaparte in 1799 while Napoleon was fighting in Egypt. It was her aim to make it "the most beautiful and curious garden in Europe, a model of good cultivation." After lunch, visit the unique PALACE OF VERSAILLES, and learn about Louis XVI and his kingdom. Tonight, dress up for a gala dinner on board and delight in the special menu the chef has created just for you! (B,L,D)

Day 15 Paris.
Known as one of the world's most romantic and lively cities, Paris delights the senses. Choose from a choice of GUIDED WALKS through Paris' history and habits. In your free time, stroll down the Champs-Elysées with its lavish cafés, or perhaps join one of our included excursions and visit the world-famous LOUVRE or MONTMARTRE with its gleaming white Sacré Coeur Basilica and bevy of artists on Place du Tertre. This evening, end your cruise with an unforgettable panoramic view of the "City of Light" from the EIFFEL TOWER. (B,L,D)

Day 16 Paris (Disembarkation).
Your vacation ends with breakfast this morning. (B)
Tour Map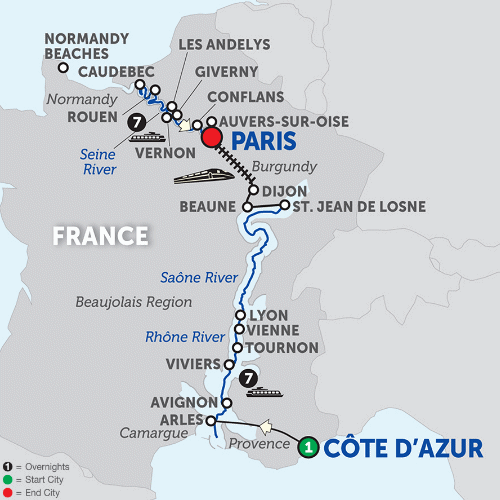 River Cruise Highlights
Côte d'Azur–Transfer to Arles (Embarkation): onboard welcome reception; sail into the Camargue region (daylight permitting)
Arles: guided sightseeing, visit the Roman Amphitheater
Avignon: guided sightseeing, visit the Palace of the Popes
Cruising–Viviers: guided walk, visit Old Town and the cathedral
Tournon/Tain l'Hermitage–Vienne: guided walk in Tournon; guided walk in Vienne

Lyon:

guided sightseeing, picture stop on Fourvière Hill

Cruising–St. Jean de Losne:

day at leisure; cheese tasting
St. Jean de Losne (Disembarkation)–Beaune–Dijon–Paris (Embarkation): visit the Hôtel-Dieu in Beaune; TGV train from Dijon to Paris; onboard welcome reception
Vernon–Les Andelys: choice of excursions to Giverny or Bizy Castle or painting class; guided walk in Les Andelys, visit the Parish Church of Le Petit Andely
Caudebec: choice of excursions to Normandy landing beaches or "A Taste of Normandy"
Le Havre: choice of excursions along the "Normandy Abbeys Route" or Le Havre and Etretat; choice of hiking routes or Honfleur

Rouen:

guided walk, see the Astronomical Clock and visit the cathedral

Conflans:

choice of excursions to visit Auvers-sur-Oise or Napoleon and Josephine's Château de Malmaison; visit the Palace of Versailles; gala dinner onboard
Paris: hoice of Paris walk experiences; choice of included excursions; ascend the Eiffel Tower
All This Included
This river cruise highlighting the best of France is certainly grand! Begin your adventure on the captivating French Riviera, also known as the Côte d'Azur. Explore this elegant area and relax along the remarkably blue water of the Mediterranean Sea. On the Rhône River sits Arles, France—famous for inspiring the paintings of Van Gogh—and its 1st-century Roman Amphitheater, which hosts plays and concerts to this day. On a guided tour of historical Avignon, see the 14th-century Palace of the Popes—the largest gothic fortress in the world. The twin cities of Tournon and Tain l'Hermitage are beautifully nestled among vineyards, and you'll go on a guided walk of Tournon—a medieval treasure with plenty of Roman ruins and a fascinating 16th-century castle. Lyon, France's gastronomic capital, sits at the junction of the Rhône and Saône Rivers and is a showcase of medieval and Renaissance architecture. On the Seine River, you'll have the choice of seeing the historic Normandy Landing Beaches, including Omaha Beach, the Point du Hoc monument, and the American Cemetery; the delightful Les Andelys, Joan of Arc's Rouen, Vincent Van Gogh's Auvers-sur-Oise, or Napoleon and Josephine's Malmaison.
On this French river cruise, you'll enjoy wine, cheese, beautiful scenery, and stops in the most charming parts of France. And your adventure would not be complete without a stay in Paris—one of the world's most romantic and vibrant cities! The "City of Light" has Notre Dame Cathedral, the Eiffel Tower, and the Louvre Museum with its elegant glass pyramid contrasting its ancient architecture. Enjoy a guided walk through historic Île St. Louis with its narrow streets and Île de la Cité where medieval Paris was founded.
Buffet breakfast in Côte d'Azur; superb dining with meals on board featuring full breakfast with complimentary sparkling wine, lunch with complimentary soft drinks, and dinner including complimentary wine, beer, or soft drinks; a welcome reception, Captain's reception, and farewell dinner; one sitting with open seating arrangements
Deluxe cruise in an outside stateroom with hotel-style beds
Included excursions with Certified Local Guide; sightseeing as outlined in the day by-day itinerary; inside visits and special features are shown in UPPERCASE.
Headsets for shore excursions
Complimentary Wi-Fi access
Personalized room options & excursions
Accommodations on this Tour
Côte d'Azur:
Fairmont Monte Carlo
Cruising: Cabin onboard
Avalon Tapestry II
and
Avalon Poetry II
Paris:
Paris Marriott Opéra Ambassador
Pre and Post Add-ons
Extra nights per person in Paris:
in single room from $400 to $440, in twin room from $200 to $225
Notes
Cabin upgrades are available.
Port charges: $336.
Gratuities to Local Guides & Excursion Drivers are included.
Please call for single accommodation price. Triples not available.
In the event that the TGV is unavailable due to strikes or technical reasons, the transfer from Dijon to Paris will be operated by motorcoach.
In the event of water level problems or any problems of a technical nature, it may be necessary to operate the itinerary by motorcoach or to alter the program.
Included visits and special features are subject to change. If a change becomes necessary, a substitute will be offered.
Please ask your Vacations To Go travel counselor for more information.
Terms and Conditions
* The prices shown are U.S. dollars per person, based on double occupancy, and subject to availability. Prices quoted for land/cruise arrangements are subject to increase without notice. Once we have received your deposit, land/cruise prices are guaranteed. Air prices quoted via phone or email are subject to increase and are guaranteed only from the time that full payment is received. Also, air prices or air promotions mentioned on this site or on the phone do not include baggage fees imposed by airlines. Sorry, we are unable to offer air from countries other than the U.S. However, for those international customers who are able to arrange their own transportation to the trip origination city, we are able to offer the land/cruise portion of the package at the price quoted.