Day 1 Arrive in Amsterdam, Holland (Embarkation).
Welcome to Amsterdam! Holland's sophisticated, modern capital has a rich and fascinating history. This delightful 700-year-old city with its elegant and classic architecture, cafés, and restaurants has a distinct ambiance. The streets, squares, and canals—not to mention the bike paths throughout the city—make for a vibrant atmosphere, and with over 60 museums, Amsterdam has the highest museum density in the world. Perhaps you would like to take an optional excursion to Zaanse Schans with its traditional houses and Dutch craft workshops. This afternoon, board your river cruise vessel and meet your crew at an evening welcome reception.

NOTE:
Guests must be on board ship by 5 pm.

Day 2 Amsterdam.
There is no better way to see Amsterdam than by CANAL BOAT, cruising through the elegant grachten lined with stately homes dating back to Amsterdam's "Golden Age." There's free time in the city this afternoon. Later, bid tot ziens (farewell) to Holland and set sail for Germany. (B,L,D)

Day 3 Cologne, Germany.
Today, enjoy a peaceful morning of cruising before reaching Cologne in the afternoon. One of Germany's largest cities and capital of the Rhineland, Cologne straddles both sides of the Rhine and is known for its soaring, twin-steepled gothic cathedral. Choose between an included GUIDED CITY WALK or a JEWISH HERITAGE WALK. The Old Town abounds with cafés, shops, and taverns. Be sure to try a Kölsch pale lager, locally brewed in Cologne for over a hundred years! (B,L,D)

Day 4 Koblenz–Rhine Gorge–Rüdesheim.
Situated at the confluence of the Rhine and Moselle Rivers, 2,000-year-old Koblenz is the cultural and business center of the Middle Rhine region. Here, join a Local Guide for a WALKING TOUR of the city that reveals an eventful past through its castles, fortress walls, towers, squares, and monuments. The dramatic RHINE GORGE is the most beautiful stretch of river, with ancient castles standing sentry on lofty cliffs rising 400 feet above the waters. Cruise past the legendary rock of the Lorelei, where echoes of enchanted siren song lured unwitting sailors to their doom. In Rüdesheim, the quintessential Rhine Valley wine town, visit SIEGFRIED'S MECHANICAL MUSICAL INSTRUMENT MUSEUM to see and hear a large collection of self-playing calliopes and music boxes from the 18th to the early 20th centuries. Enjoy a SPECIAL TREAT before returning to your ship for dinner. (B,L,D)

Day 5 Mainz. Excursion to Heidelberg.
Strategically located at the confluence of the Rhine and Main Rivers is Mainz, with "civilized" origins dating back to around 38 BC. Today, this is Germany's largest and most important wine market. Join your Local Guide for a GUIDED WALK through the Altstadt (Old Town) with its many intriguing shops and the whimsical Fastnachtsbrunnen (Carnival Fountain) on the Schillerplatz, a tribute to the jesters at the city's annual Carnival celebration. Gutenberg, father of modern printing, was born here, and you'll visit the captivating GUTENBERG MUSEUM. After lunch, travel to Heidelberg, home to the oldest university in Germany. With a LOCAL GUIDE, visit the imposing ruins of HEIDELBERG CASTLE, towering magnificently over the city and among the most important Renaissance structures north of the Alps. You'll also see the famed GREAT VAT, the "World's Largest Wine Barrel." At nearly 23 feet high and 28 feet wide, the cask holds over 58,000 gallons of wine and has a dance floor built on top of it! (B,L,D)

Day 6 Strasbourg, France.
Situated on the border of France and Germany, Strasbourg blends the cultures of both countries in a delightful way. As capital of the Alsace region and seat of the Council of Europe and European Parliament, it is without a doubt an important city that manages to retain its historic charm. On your GUIDED SIGHTSEEING TOUR, visit the monumental red-sandstone GOTHIC CATHEDRAL with its ancient murals, stained-glass windows, and fascinating astronomical clock, as well as the magical LA PETITE FRANCE district, home to half-timbered houses, quaint shops, inviting bistros, and a waterfront promenade. Also, spend time exploring Place Kléber, a large historic square in the heart of the city, and Place Gutenberg in the heart of medieval Strasbourg, which features a statue of the inventor of the printing press. An optional excursion into the Alsace wine country is available today. After dinner tonight, enjoy an onboard WOODCARVING demonstration. (B,L,D)

Day 7 Breisach, Germany. Excursion to the Black Forest.
Located at the foot of Kaiserstuhl Mountain on the French-German border, Breisach is the gateway to Germany's BLACK FOREST, an area of unrivaled natural beauty. The region got its name because the forests are so dense that local residents described them as black. Surely, the most well-known products from this region are Black Forest ham, Black Forest cherry cake, and cuckoo clocks. You may opt for a visit to the workshop of a local woodcarver who produces clocks and other carvings, or to the open-air Museum of Vogtsbauernhof to see how life was lived in this area centuries ago. (B,L,D)

Day 8 Basel, Switzerland (Disembarkation)–Beaune, France–St. Jean de Losne (Embarkation)–Seurre.
After breakfast, say goodbye to the crew of the Avalon Tranquility II, cross the border into France, and head for Beaune, the unofficial capital of the Côte d'Or area. Beaune owes its wealth to the production, aging, and selling of fine wines. Although life here centers around wine, Beaune offers much more. Visit the HÔTEL-DIEU charity hospital, built in 1443 and paid for by the chancellor of Burgundy after the Hundred Years' War left many of the town's population destitute. Today, it houses Van der Weyden's painting of "The Last Judgment" and is one of France's architectural highlights. Alternatively, you can join a TASTING of some of the region's famous Burgundy wines. Continue to St. Jean de Losne, where you'll board the Avalon Poetry II. Before dinner, meet your crew at a welcome reception as your ship departs for Seurre. (B,D)

Day 9 Seurre–Mâcon.
Enjoy some leisurely cruising this morning. In the afternoon, you might choose to participate in one of the optional excursions on offer, such as to a Chardonnay wine cellar, before your ship arrives in Macon. A Master of Wine will join you on board and will introduce you to some of France's wines in the coming days. (B,L,D)

Day 10 Lyon.
A leisurely morning on board to relax and enjoy the passing scenery. As you cruise, our Master of Wine will tempt you with a tasting of CHEESE and WINE. In the early afternoon, arrive in Lyon, France's third-largest city and its gastronomic capital, was founded by the Romans in 43 BC. The city's prosperity dates back to the 16th century and is due to commercial, industrial, and banking activities. Roman remains, excellent museums, and renaissance architecture delight visitors. A LOCAL GUIDE joins you as you survey the city from Fourvière Hill and explore the Old Town with its maze of medieval alleyways and Place des Terreaux, a popular area with lively cafés, monuments, and the famous fountain often depicted on postcards. (B,L,D)

Day 11 Lyon.
Enjoy a free morning to explore at leisure. Early risers might like to visit the local produce market. Perhaps wander through one of Lyon's parks, discover some of the murals (there are over 100 of them), or select one of the available optional excursions. This afternoon, an excursion takes you to sample BEAUJOLAIS, the wine of the region; wine connoisseurs know the grapes must be hand-picked. Your Cruise Director will have suggestions for things to do. This evening, enjoy a special onboard FOOD AND WINE PAIRING DINNER hosted by our Master of Wine, who has specifically chosen the wines for this occasion. (B,L,D)

Day 12 Tournon/Tain l'Hermitage–Viviers.
The twin cities of Tournon and Tain l'Hermitage lie nestled among vineyards between the Rhône River and the granite slopes of the Hermitage. A LOCAL GUIDE will show you Tournon, one of France's oldest medieval cities, with its imposing 16th-century castle and Roman ruins. In the afternoon, while cruising to Viviers, enjoy a tasting of CHOCOLATE AND WINE. Here, too, our Master of Wine will guide you through this wonderful experience. Once in Viviers, an included GUIDED WALK shows you this charming town that developed around its ROMANESQUE CATHEDRAL. The OLD TOWN has an appealing mix of Christian, Roman, and medieval influences. (B,L,D)

Day 13 Avignon.
The fortified city of Avignon is the capital of the Vaucluse region—the most picturesque part of Provence with its intact ramparts encircling the entire city, cobblestone streets and squares, and private mansions built in the 18th and 19th centuries. Known as the "City of Popes," it was the center of the Catholic Church in the 14th century. Your GUIDED TOUR includes a visit of the PALACE OF THE POPES, built in the 14th century as the sovereign popes' residency. A photo of the famous Pont Saint Bénezet (Saint Bénezet Bridge), of the popular song Sur le Pont d'Avignon, is a must. In the afternoon, an excursion takes you to the famed cellars of CHÂTEAUNEUF DU PAPE to learn about and to taste this famous wine. (B,L,D)

Day 14 Arles.
This morning, wake up early to the tranquil vistas of Camargue National Park (daylight permitting) before arriving in Arles after breakfast. Located on the northern tip of the Camargue, Arles is capital of the Provence region. Your LOCAL GUIDE will show you highlights of the city and you'll visit the ROMAN AMPHITHEATER. Still used today, it dates to the 1st century and was constructed to hold over 20,000 spectators. (B,L,D)

Day 15 Arles (Disembarkation)–Aix-en-Provence.
Leave your Avalon vacation upon disembarkation in Arles, and take the included transfer to Aix-en-Provence to join your Monograms package. Your guided walking tour takes in 17th-century Cours Mirabeau boulevard, a lively area with fountains, elegant homes, and famous cafés. Admire the Mazarin Quarter, City Hall, the Jewish Quarter, and visit the CATHEDRAL OF THE HOLY SAVIOUR, known for its interesting combination of architectural styles and The Burning Bush triptych art masterpiece by Nicolas Froment. (B)

Day 16 Aix-en-Provence.
Your Local Host can suggest some wonderful options for your day at leisure in Cézanne's hometown—like a visit to the artist's studio; a French cooking lesson; where to sample Côte-de- Provence wine and boeuf-en-daube; and the best places to shop for faience pottery and colorful Provençal cloth. (B)

Day 17 Aix-en-Provence–Nice.
Travel by HIGH-SPEED TGV TRAIN (first class) to Nice. Your guided sightseeing features the PROMENADE DES ANGLAIS, originally built in the second half of the 18th century and the most famous boulevard in Nice. Walk through the OLD TOWN to admire fine examples of the Belle Époque. See Cours Saleya with the Kings of Sardinia Palace and flower market; and lovely Palace Square with Palais de Justice and PALAIS RUSCA. (B)

Day 18 Nice.
Your Local Host has recommendations for your full day at leisure on the beautiful Côte d'Azur, such as an excursion to picturesque Êze and Monaco, a round of golf in beautiful Cannes, a visit to the Marc Chagall Museum, or the best place to relax on the beach. (B)

Day 19 Nice.
Your vacation ends with breakfast this morning. (B)
Tour Map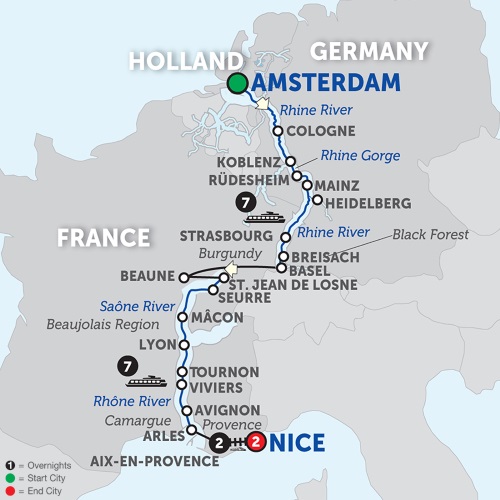 River Cruise Highlights
Amsterdam (Embarkation): welcome reception; canal cruise on Day 2
Cologne: choice of guided city walk or Jewish Heritage walk
Koblenz–Rhine Gorge–Rüdesheim: guided sightseeing in Koblenz; cruise through the Rhine Gorge; visit Siegfried's Mechanical Musical Instrument Museum in Rüdesheim; special treat
Mainz. Excursion to Heidelberg: guided walk, visit the Gutenberg Museum in Mainz; excursion to Heidelberg, guided visit of the castle, see the Great Vat
Strasbourg: guided sightseeing, visit the La Petite France district and the gothic cathedral; onboard woodcarving demonstration
Breisach. Excursion to the Black Forest: visit a local woodcarver's workshop or visit a Black Forest open-air museum
Basel (Disembarkation)–Beaune–St. Jean de Losne (Embarkation)–Seurre: transfer to Beaune, visit Hôtel-Dieu or wine tasting; onboard welcome reception
Seurre–Mâcon: leisurely cruising; free time in Mâcon
Lyon: on board cheese and wine tasting; guided sightseeing in Lyon, picture stop on Fourvière Hill
Lyon: a morning to explore this fascinating city at leisure: excursion to Beaujolais; on board food and wine pairing dinner
Tournon/Tain l'Hermitage–Viviers: guided walk in Tournon; on board chocolate and wine tasting; guided walk in Viviers, visit the Old Town and the cathedral
Avignon: guided sightseeing, visit the Palace of the Popes and a winery in Châteauneuf du Pape
Arles: cruise into the Camargue region (daylight permitting); guided sightseeing in Arles, visit the Roman Amphitheater
Arles (Disembarkation)–Aix-en-Provence: transfer to Aix-en-Provence
Aix-en-Provence & Nice: 4 nights hotel accommodation with buffet breakfast (B); Monograms Local Host Service & Destination Guides with city maps; guided sightseeing, inside visits and special features are shown in UPPERCASE; high-speed TGV train (first class) from Aix-en-Provence to Nice; transfers from ship to Aix-en-Provence hotel and to/from train stations.
All This Included
This mesmerizing journey begins with a river cruise along the Rhine River, and you'll continue river cruising along the Saône and Rhône Rivers. Enjoy a canal cruise in splendid Amsterdam, as well as guided sightseeing in Cologne, Koblenz, and Strasbourg. Delight in excursions to Germany's Black Forest and to Heidelberg—Germany's oldest university town with its imposing castle. Also sail through the dramatic Rhine Gorge, see the legendary Lorelei rock, and visit the Gutenberg Museum in Mainz. A motorcoach transfer takes you into France's Burgundy region to fascinating Beaune for a visit to Hôtel-Dieu. Next, board your ship in quaint St. Jean de Losne and set sail for Macon, France's gastronomic capital of Lyon, as well as medieval Tournon, charming Viviers, Avignon, and Arles. Before disembarking your ship in Arles, sail into the peaceful Camargue area (daylight permitting).
Transfer to Aix en Provence for two nights and the start of your Monograms extension. Enjoy guided sightseeing with an expert Local Guide, walk along the 17th-century Cours Mirabeau, a lively area with fountains, elegant homes, and famous cafés, and visit the Cathedral of the Holy Savior, known for its mishmash of architectural styles. This was Cézanne's hometown, so in your free time, you may want to take a tour following in his footsteps. Perhaps take an excursion to Cassis with an included cruise, soak in Aix-en-Provence's healing thermal baths, or shop for lavender and other local specialties.
Finally for the conclusion of this fabulous river cruise and land vacation, we'll whisk you via high-speed train to Nice for your last two nights in France. Here, guided sightseeing includes a walk through the Old Town and the Promenade des Anglais, Nice's most famous boulevard. In your free time, you may want to take an excursion to Monaco, to St. Tropez, or to Cannes, known for its famous film festival. In both cities, we provide the services of Local Hosts®—a "friend in the city" to answer questions, share inside information, help arrange your activities and excursions, and provide you with suggestions for the best places to sample the local specialties. Transfers to and from your hotels and the train stations, as well as hotel reservations with daily breakfasts, are included.
Captain's welcome & farewell receptions with sparkling wine and canapés
Welcome dinner
Farewell dinner
Daily full buffet breakfast with made-to-order egg station, hot and cold menu items
Early and Late Riser breakfast
Daily lunch buffet with pasta or carving stations
Alternative light lunch or (weather permitting) grill fare at the Sky Bistro on the Sky Deck
Daily four-course à la carte dinner in the main dining room
Alternative dinner of petite portions or regional specialties with wines, in the Panorama Bistro
Daily Afternoon Tea
Daily Night Fare
Complimentary sparkling wine with breakfast; wine, beer, or soft drinks with lunch and dinner are included daily on board your vessel
Panoramic windows throughout the ship
Elegant, contemporary design & decor
Friendly, English-speaking crew & Cruise Director
Complimentary Wi-Fi throughout the ship
Avalon FreshSM healthy cuisine options
Complimentary wine, beer and soft drinks at lunch & dinner
Avalon Choice® cruising experience
Included sightseeing with headsets by Certified Local Guides
Complimentary Nordic walking sticks
Complimentary bicycles available for time on shore
Local FavoritesSM - onboard cultural & artisan experiences
Sky Deck shade system & premium lounge chairs
Well-stocked library with books, cards, and games
Comfort Collection BedsSM
Egyptian super-combed cotton linens
Bathrobes & slippers
Premium L'Occitane bath products & hairdryer
Large bathroom featuring shower with glass door
Flatscreen satellite TV with free movie channels
Individual climate control
Complimentary bottled water daily
Club Lounge with 24-hour, self-serve beverage station
Premium coffees, cappuccinos, lattes, hot chocolate & teas
Cookies & fresh fruit available throughout the day
Accommodations on this Tour
Cruising: Avalon Poetry II or Tranquility II
Aix-En-Provence: Grand Hotel Roi Rene
Nice: Ellington
Pre and Post Add-ons
Extra nights per person in Amsterdam:
in single room from $185 to $355
in twin room from $115 to $245

Extra nights per person in Nice:
in single room from $105 to $206
in twin room from $61 to $112

Notes
In the event of water level problems or any problems of a technical nature, it may be necessary to operate the itinerary by motorcoach or to alter the program.
Included visits and special features are subject to change. If a change becomes necessary, a substitute will be offered.
Gratuities to Local Guides & Excursion Drivers are included on Avalon portion only.
Please call for single accommodation price. Triples not available.
Prices shown include cruise in Category E in a deluxe outside stateroom on Indigo Deck.
Please ask your Vacations To Go travel counselor for more information.
Terms and Conditions
* The prices shown are U.S. dollars per person, based on double occupancy, and subject to availability. Prices quoted for land/cruise arrangements are subject to increase without notice. Once we have received your deposit, land/cruise prices are guaranteed. Air prices quoted via phone or email are subject to increase and are guaranteed only from the time that full payment is received. Also, air prices or air promotions mentioned on this site or on the phone do not include baggage fees imposed by airlines. Sorry, we are unable to offer air from countries other than the U.S. However, for those international customers who are able to arrange their own transportation to the trip origination city, we are able to offer the land/cruise portion of the package at the price quoted.