Rhine & Rhône Revealed with 2 Nights Aix-en-Provence & 2 Nights Nice
19 days with Avalon Waterways Rating: Deluxe
Book this River Cruise Now and Save!





Save 5% off all trips when you pay with an AMEX Gold or Platinum card . This discount is combinable with all other promotions. Click here for eligible departures.

Offers subject to change or withdrawal, availability is limited. Some discounts are not combinable.
Day 1 AMSTERDAM, HOLLAND (EMBARKATION)
Welcome to Amsterdam. Your Suite Ship® is Ready for Boarding.

Flights into Amsterdam must arrive by 3:30 pm.

Guests must be on board ship by 5 pm.

Your day in Amsterdam is free explore at your leisure.

During tulip season, you may take a Guided Optional Excursion to Keukenhof gardens—with more than seven million tulips, daffodils and hyacinths, as well as other bulbs, planted each year.

Outside of tulip season, join a Guided Optional Excursion to Zaanse Schans to see historic windmills and charming Dutch houses.

OVERNIGHT DOCKING IN AMSTERDAM (D)

Day 2 AMSTERDAM
Colorful Amsterdam—with Canals, Crooked Houses, and Cuisine of a Golden Age

CLASSIC Explore the iconic waterways of Amsterdam on a Guided Canal Cruise past stately homes of Amsterdam's "Golden Age."

Join a Guided Optional Excursion to Muiderslot Castle—Holland's most beautiful, best-kept medieval castle.

You may choose to spend some free time this afternoon visiting one of Amsterdam's many fascinating museums or galleries.

AFTERNOON/OVERNIGHT CRUISE TO COLOGNE (B,L,D)

Day 3 COLOGNE, GERMANY
Prost! Celebrate in the Rhineland's Capital City

CLASSIC Take a Guided City Walk of Cologne—with its soaring twin-steepled gothic cathedral, OR:

DISCOVERY Choose a Guided Walking Tour of Cologne's important Jewish heritage sites.

Don't miss the chance to enjoy free time over a glass of Kölsch pale lager—locally brewed for over 100 years!

Later, local musicians will join us on board for live entertainment.

OVERNIGHT SAILING TO KOBLENZ (B,L,D)

Day 4 KOBLENZ—RHINE GORGE
Travel Through 2000 Years of Monumental History

CLASSIC Take a Guided City Walk amid ancient fortress walls, towers, squares and monuments.

Relax on the Sky Deck for an afternoon cruise through the Rhine Gorge to Rüdesheim. Sail past the legendary rock of the Lorelei—where the siren of mythology sang songs to lure ill-fated sailors.

RÜDESHEIM

Eat, Drink, and Be Merry in Wine Country

DISCOVERY Take a Guided Tour of the incredible Mechanical Music Museum for a one-of-a-kind instrumental experience.

DISCOVERY Based on your departure date, enjoy either a Coffee Tasting or a Wine Tasting.

Enjoy live entertainment on board your ship this evening.

OVERNIGHT DOCKING IN RÜDESHEIM (B,L,D)

Day 5 MAINZ. HEIDELBERG EXCURSION
Printing Halls, Castle Walls, and the World's Biggest Barrel of Wine

CLASSIC Enjoy a Guided City Walk including a visit to the Gutenberg Museum to see the captivating history of printing.

CLASSIC Enjoy a Guided Tour to Heidelberg Castle to see the ruins of the magnificent renaissance treasure towering above the city, and its famed Great Vat, the "World's Largest Wine Barrel," OR:

ACTIVE Join your Avalon Adventure Host for an afternoon Hike up Philosophers' Way for an inspiring view of the city below.

EVENING CRUISE TO STRASBOURG (B,L,D)

Day 6 STRASBOURG, FRANCE
Gothic Giants, Military Marvels & Varietal Vintages

CLASSIC Join a City Sightseeing Tour, including Strasbourg's gothic, stained-glass cathedral with its celebrated ancient murals and astronomical clock, as well as the magical La Petite France District.

You may also choose to join a Guided Optional Excursion to the historic Maginot Line—an impressive installation of pre-WWII defensive fortifications designed to protect the eastern border of France, or visit Alsace's wine country today.

Alternatively, enjoy a free afternoon shopping or sampling the local cuisine in Place Kléber, or pay a visit to one of Strasbourg's many wonderful museums.

EVENING CRUISE TO BREISACH (B,L,D)

Day 7 BREISACH, GERMANY. BLACK FOREST EXCURSION
History, Artistry, and the Beautiful Black Forest

CLASSIC Visit the charming village of Colmar on a Guided Tour of its half-timbered medieval and early renaissance buildings, OR:

DISCOVERY Join a full-day Guided Visit to the magical Black Forest to experience the Vogtsbauernohf open-air-museum, visit an authentic water mill, and see a traditional Bavarian butter-making demonstration.

Explore on your own this afternoon with a bike from the ship or with a hike up to St. Stephan's Cathedral.

EVENING CRUISE TO BASEL (B,L,D)

Day 8 BASEL, SWITZERLAND (DISEMBARKATION)—BEAUNE—ST. JEAN DE LOSNE (EMBARKATION)—SEURRE
After breakfast drive to Beaune

CLASSIC Visit the Hôtel-Dieu Charity Hospital, built in 1443, today home of the Van der Weyden's painting of the Last Judgement.

This afternoon, travel to St. Jean de Losne to board your Suite Ship® on the Saône for a brief evening cruise to Seurre.

OVERNIGHT DOCKING IN SEURRE (B,D)

Day 9 MÂCON
Wine and Cheese on the Stunning Saône

Enjoy leisurely cruising en route to Mâcon along the majestic Saône River.

DISCOVERY Later, enjoy a delicious Cheese Tasting on board your ship.

Consider a Guided Optional Excursion to the Castle of Cormatin.

Enjoy live entertainment while sailing for Trévoux this evening.

OVERNIGHT DOCKING IN TRÉVOUX (B,L,D)

Day 10 LYON
Adventures in Food and Wine in the Gastronomy Capital of France

Sail for lovely Lyon this morning for French fare.

CLASSIC Join a Guided Sightseeing Tour to survey Lyon, with its numerous churches, from Fourvière Hill. You'll also explore the Old Town with its maze of medieval alleyways, and the lively cafés, monuments, and famed fountain of Place des Terreaux.

Spend free time biking through Lyon's town squares, over bridges, and along the banks where the Rhône and Saône rivers meet.

Later on board your ship, be our guest for a WWII & French Resistance Lecture, and enjoy live entertainment after dinner.

OVERNIGHT DOCKING IN LYON (B,L,D)

Day 11 LYON
French Food and Wine—La Vie En Rose in Lyon

Enjoy a free day in Lyon, or choose a Guided Optional Culinary Walk through the city to discover why it is known as the gastronomic capital of France!

Your day is free to explore, relax, or shop in France's third largest city. Take a bike from the ship and explore local produce markets and parks, or take a leisurely tour of the city's more than 100 murals.

EVENING CRUISE TO TOURNON (B,L,D)

Day 12 TOURNON/TAIN L'HERMITAGE
A Rendezvous with Castle Views and Vineyards

CLASSIC Take a morning Guided Walking Tour to explore Tournon—one of France's oldest medieval cities. See its 16th-century castle, and Roman ruins between the Rhône River and the granite slopes of the Hermitage.

VIVIERS

World History in a Charming French Country Village

CLASSIC Explore the pale-stone buildings of Viviers on a late afternoon Guided Walking Tour of this charming village. You'll see its Romanesque cathedral and Old Town with a mix of historical Christian, Roman, and medieval influences.

EVENING CRUISE TO AVIGNON (B,L,D)

Day 13 AVIGNON
The City of Popes in Picturesque Provence

CLASSIC Take a Guided Sightseeing Tour of the fortress city of Avignon—with its ramparts encircling the city—and a visit to the amazing Palace of the Popes.

Guided Optional Excursions include a visit to the ancient Roman aqueduct of Pont du Gard, or a trip to the famed wine cellars of Châteauneuf-du-Pape for a true taste of the Rhône wine region.

Explore Avignon on your own for the city's art and culture, theatre, and museums. Be sure to snap photos of the captivating countryside, historic monuments, and the medieval Pont Saint-Bénézet.

Later, enjoy onboard live entertainment.

EVENING CRUISE TO ARLES (B,L,D)

Day 14 ARLES
Inspiring Sights and Avant-Garde Lights

CLASSIC Enjoy a Guided Walking Tour of Arles—the captivating city of the Provence region. You'll visit the Roman Amphitheater in this visually stunning city that inspired the works of Vincent van Gogh, OR:

DISCOVERY Attend a Painting Workshop to learn the style and techniques of Vincent van Gogh. You'll create your own painting in the style of the classic master who took inspiration from the Provence light and landscape in Arles.

Consider a Guided Optional Excursion to the Carrières de Lumières (Cathedral of Images) to immerse yourself in a truly unique experience of art, sound, and light in the old quarries of Val d'Enfer.

Take advantage of any free time remaining with a stop in Café Van Gogh for a glass of wine.

OVERNIGHT DOCKING IN ARLES (B,L,D)

Day 15 ARLES (DISEMBARKATION)—AIX-EN-PROVENCE
Leave your Avalon vacation one day early upon disembarkation in Arles, and take the included transfer to Aix-en-Provence to join your Monograms package. Your guided walking tour includes a visit the Cathedral of the Holy Saviour, known for its interesting combination of architectural styles and The Burning Bush triptych art masterpiece by Nicolas Froment. (B)

Day 16 AIX-EN-PROVENCE
Enjoy a full day at leisure in Cézanne's hometown. Your Local Host will help you get the most out of your stay. (B)

Day 17 AIX-EN-PROVENCE-NICE
Travel by high-speed TGV train (first class) to Nice. Your guided sightseeing features the Promende des Anglais, originally built in the second half of the 18th century and the most famous boulevard in Nice a walk through the charming Old Town. (B)

Day 18 NICE
Your Local Host has recommendations for your full day at leisure on the beautiful Côte d'Azur. (B)

Day 19 NICE
Your vacation ends with breakfast this morning. (B)
Tour Map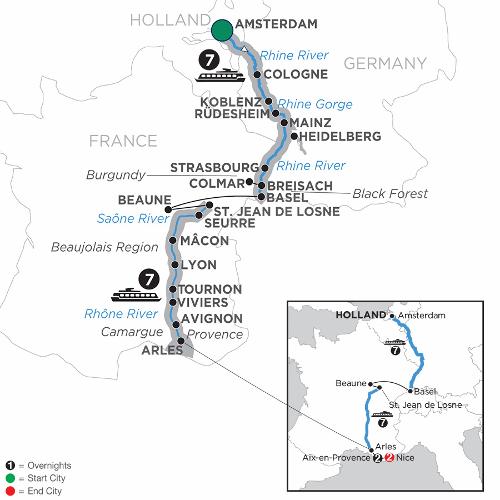 River Cruise Highlights
Day 1 Amsterdam (Embarkation): onboard welcome reception
Day 2 Amsterdam: canal cruise
Day 3 Cologne: choice of Cologne highlights walking tour or Jewish Heritage walking tour
Day 4 Koblenz–Rhine Gorge–Rüdesheim: guided sightseeing in Koblenz; scenic cruise through the Rhine Gorge; visit Siegfried's Mechanical Musical Instrument Museum in Rüdesheim; special treat
Day 5 Mainz. Excursion to Heidelberg: guided walk, visit the Gutenberg Museum in Mainz; guided tour of Heidelberg Castle, see the Great Vat
Day 6 Strasbourg: guided sightseeing, visit the La Petite France district and the gothic cathedral
Day 7 Breisach. Excursion to the Black Forest: choice of excursion to Black Forest, or guided tour in Colmar
Day 8 Basel (Disembarkation)–Beaune–St. Jean de Losne (Embarkation)–Seurre: transfer to Beaune, visit Hôtel-Dieu; onboard welcome reception
Day 9 Seurre–Mâcon: leisurely cruising; free time in Mâcon; onboard cheese tasting
Day 10 Lyon: guided sightseeing, picture stop on Fourvière Hill
Day 11 Lyon: day at leisure
Day 12 Tournon/Tain l'Hermitage–Viviers: guided walk in Tournon; guided walk in Viviers, visit the Old Town and the cathedral
Day 13 Avignon: guided sightseeing, visit the Palace of the Popes
Day 14 Arles: choice of guided sightseeing in Arles, visit the Roman Amphitheatre, or painting workshop; sail into the Camargue region (daylight permitting)
Day 15 Arles (Disembarkation)–Aix-en-Provence: transfer to Aix-en-Provence; guided walking tour; visit Cathedral of the Holy Saviour
Day 16 Aix-en-Provence: day at leisure
Day 17 Aix-en-Provence–Nice: travel to Nice by private car, minivan, or motorcoach; guided walking tour with Promenade des Anglais and the old town
Day 18 Nice: day at leisure
Day 19 Nice: your vacation ends this morning
All This Included
This mesmerizing journey begins with a river cruise along the Rhine River, and you'll continue river cruising along the Saône and Rhône Rivers. Enjoy a canal cruise in splendid Amsterdam, as well as guided sightseeing in Cologne, Koblenz, and Strasbourg. Delight in excursions to Germany's Black Forest and to Heidelberg—Germany's oldest university town with its imposing castle. Also sail through the dramatic Rhine Gorge, see the legendary Lorelei rock, and visit the Gutenberg Museum in Mainz. A motorcoach transfer takes you into France's Burgundy region to fascinating Beaune for a visit to Hôtel-Dieu. Next, board your ship in quaint St. Jean de Losne and set sail for Macon, France's gastronomic capital of Lyon, as well as medieval Tournon, charming Viviers, Avignon, and Arles. Before disembarking your ship in Arles, sail into the peaceful Camargue area (daylight permitting).
Transfer to Aix en Provence for two nights and the start of your Monograms extension. Enjoy guided sightseeing with an expert Local Guide, walk along the 17th-century Cours Mirabeau, a lively area with fountains, elegant homes, and famous cafés, and visit the Cathedral of the Holy Savior, known for its mishmash of architectural styles. This was Cézanne's hometown, so in your free time, you may want to take a tour following in his footsteps. Perhaps take an excursion to Cassis with an included cruise, soak in Aix-en-Provence's healing thermal baths, or shop for lavender and other local specialties.
Finally we'll take you by private car, minivan, or motorcoach to Nice for your last two nights in France. Here, guided sightseeing includes a walk through the Old Town and the Promenade des Anglais, Nice's most famous boulevard. In your free time, you may want to take an excursion to Monaco, to St. Tropez, or to Cannes, known for its famous film festival. In both cities, we provide the services of Local Hosts®—a "friend in the city" to answer questions, share inside information, help arrange your activities and excursions, and provide you with suggestions for the best places to sample the local specialties. Transfers to and from your hotels and the train stations, as well as hotel reservations with daily breakfasts, are included.
Ship Amenities - Avalon Expression:

Wall-to-Wall Panoramic Windows
Sky Deck with premium lounge chairs, whirlpool, shade awnings, & outdoor deck game area
State-of-the-art fitness center
Non-smoking staterooms & ship interior
Convenient Elevator Service
Elegant, contemporary design
Outside viewing deck
Headsets for guided shore excursions
English-speaking friendly crew, staff & professional Cruise Director
Sightseeing with Expert Local Guides
Onboard lectures, activities & entertainment
Complimentary room service for Continental breakfast
Sky Deck whirlpool
Complimentary Wi-Fi access
Biking excursions available in Amsterdam and Durnstein
Onboard Adventure Center with active gear, bikes, Nordic walking sticks, watercraft & maps
Casual dinner in the Panorama Bistro
Behind-the-scenes galley tour
Choice of Classic, Active or Discovery excursions so that you can experience your cruise your way
Nordic walking sticks available onboard for complimentary check-out
Onshore & Onboard experiences with regional customs, cultures & tastings with local artisans, experts & entertainers
Flatscreen satellite TV with English-speaking channels & over 100 free movie options
Onboard assistance is available to recommend, reserve and further personalize your cruise
Linger over several selections from the Panorama Bistro's tasting menu for a less formal "sit-down" atmosphere
Self-serve beverage station with complimentary tea, hot chocolate & premium coffees, including decaf options
Well-stocked library with books, cards, and board games
Complimentary bottled water, fresh fruit, and cookies available throughout the day
Full-size closet mirror

Ship Dining - Avalon Expression:

Avalon FreshSM healthy cuisine options at every meal
Self-serve beverage station with complimentary tea, hot chocolate & premium coffees, including decaf options
Welcome & farewell cocktails with sparkling wine & canapés
Spacious, open-seating Panorama Dining Room
Daily early-riser breakfast
Daily late-riser breakfast
Full buffet breakfast with sparkling wine and made-to-order egg station
Healthy Corner options including low calorie, low fat, high fiber, low cholesterol, and high energy choices
Vegetarian options at every meal, as well as vegan and allergy-free selections
Lunch buffet with carving and pasta stations
Al fresco lunch in the Sky Grill
Cocktails with a view on the Sky Deck
Afternoon Tea featuring tea, coffee, and sweet treats
Happy Hour every evening including featured drink specials
Seasonal cuisine featuring the freshest local ingredients
Chef-prepared onboard meals with regional cuisine and familiar favorites
Four-course dinners with choice of appetizers, soups, salads, entrées and desserts or cheese
Complimentary wine, beer, or soft drinks with lunch and dinner
Complimentary room service for Continental breakfast
Panorama Lounge & Bar with premium spirits, cozy seating, panoramic windows & dance floor
Healthy meal options
Casual dinner in the Panorama Bistro
Linger over several selections from the Panorama Bistro's tasting menu for a less formal "sit-down" atmosphere
Tastings - sample the destination's famous delicacies
Coffee or tea after dinner
Light lunch in the Panorama Lounge
FlexDining flexible dining times with menu & venue options
Accommodations on this Tour
Cruising: Cabin onboard Avalon Expression, Avalon Poetry II
Amsterdam: Moevenpick Amsterdam City
Aix-En-Provence: Grand Hotel Roi René
Nice: Aston La Scala
Pre and Post Add-ons
Extra nights per person in Amsterdam:
in single room from $204 to $387, in twin room from $132 to $227

Extra nights per person in Nice:
in single room from $133 to $574, in twin room from $75 to $288
Notes
Cabin upgrades are available.
In the event of water level problems or any problems of a technical nature, it may be necessary to operate the itinerary by motorcoach or to alter the program.
Included visits and special features are subject to change. If a change becomes necessary, a substitute will be offered.
Please check visa requirements with your local consulate(s); responsibility for obtaining visas rests with the traveler.
Additional Price Details: Port charges: $364.
Gratuities to Local Guides & Excursion Drivers are included.
Please call for single accommodation price. Triples not available.
Please ask your Vacations To Go travel counselor for more information.
Terms and Conditions
* The prices shown are U.S. dollars per person, based on double occupancy, and subject to availability. Prices quoted for land/cruise arrangements are subject to increase without notice. Once we have received your deposit, land/cruise prices are guaranteed. Air prices quoted via phone or email are subject to increase and are guaranteed only from the time that full payment is received. Also, air prices or air promotions mentioned on this site or on the phone do not include baggage fees imposed by airlines. Sorry, we are unable to offer air from countries other than the U.S. However, for those international customers who are able to arrange their own transportation to the trip origination city, we are able to offer the land/cruise portion of the package at the price quoted.
800-510-4002

OR

Open Mon-Fri 7am to 10pm, Sat 8am-8pm, Sun 9am to 8pm, CST
| | | |
| --- | --- | --- |
| | a division of | |