Active & Discovery on the Rhône with 2 Nights Paris & Journeys Club Celebration
10 days with Avalon Waterways Rating: Deluxe
Book this River Cruise Now and Save!





Save 5% off all trips when you pay with an AMEX Gold or Platinum card . This discount is combinable with all other promotions. Click here for eligible departures.

Travel with Avalon Waterways and receive a Welcome Back Credit of $100 to $250 per person after your trip. The credit can be applied toward a subsequent trip with Avalon Waterways or its sister brands Globus, Cosmos and Monograms. Click here for eligible departures.

Offers subject to change or withdrawal, availability is limited. Some discounts are not combinable.
Day 1 ARLES, FRANCE (EMBARKATION)
Bienvenue en France! Your Suite Ship® is Ready for Boarding.

Flights into Marseille must arrive by 3 pm.

Guests must be on board ship by 5 pm.

OVERNIGHT DOCKING IN ARLES (D)

Day 2 PORT–SAINT–LOUIS
Oysters and Flamingos in the Rhône Delta

Join us on the Sky Deck for a Morning Stretch with a view with your Avalon Adventure Host while cruising to Port-Saint-Louis

ACTIVE Join a Guided Walk through the Camargue Regional Nature Park. You'll see its lush marshland habitat at the mouth of the Rhône—home to a wide variety of flora and fauna—in one of France's most protected and natural reserves, OR:

ACTIVE Take a Guided Bike Ride through the Camargue Natural Park with an eye out for more than 400 bird species—including pink flamingos—along the trails of the Mediterranean's Rhône delta, OR:

DISCOVERY Enjoy a taste of local life with a visit to an oyster farm in the Camargue Natural Park on a Guided Tour, and enjoy an oyster tasting and learn how this delicacy is farmed.

Cruise back to Arles to prepare for tomorrow's exciting activities.

OVERNIGHT DOCKING IN ARLES (B,L,D)

Day 3 ARLES
A Master Class, Mysterious Images, and a Matador in Provence

ACTIVE
Experience the legends of Val d'Enfer with a Guided Hike; an area taking its name from the unique white limestone rock formations. The excursion includes an unforgettable audio/video experience of light, images, and music at the Carrières de Lumières, OR

DISCOVERY Attend a Painting Workshop to learn the style and techniques of Vincent van Gogh. You'll create your own painting in the style of the classic master who took inspiration from the Provence light and landscape in Arles, OR:

CLASSIC Join a Guided Sightseeing Tour of Arles to get to know this charming town, including a visit with a local bullfighter to learn about the secrets and traditions handed down through generations.

You may choose to join a Guided Optional Excursion to the natural salt marsh at Salin d'Aigues-Mortes, to discover the magic of the pink waters of the Camargue.

Alternatively, enjoy free time to shop, stroll, or just relax in a lovely park along Arles' Boulevard des Lices.

Later, enjoy onboard live entertainment.

EVENING CRUISE TO AVIGNON (B,L,D)

Day 4 AVIGNON
Essential Oils, and Ancient Roman Aqueducts

ACTIVE Join a leisurely Guided E-Bike Ride through Gard region. After the tour, enjoy a Wine Tasting in a local cave; after all, no need to pedal on the way back, OR:

DISCOVERY Experience the French art of fragrance with a Guided Tour of the Musée des Arômes et du Parfum where aromatic herbs and essential oils in this museum will inspire your senses and help you create your own unique scent, OR:

CLASSIC Take a Guided Sightseeing Tour of Avignon, including a visit to the world's largest gothic fortress—the 14th-century Palace of the Popes. Also, explore Les Halles' covered market.

This afternoon, you may choose to join a Guided Optional Tour of the famed wine cellars of Châteauneuf-du-Pape for a wine tasting, as well as the chance to learn about wine blending, or you may opt for a Guided Optional Excursion on a kayak through the waters of Pont du Gard—the highest of all elevated Roman aqueducts.

You may choose to spend free time to explore Avignon—known as the heart of Provence. Take a leisurely stroll or a bike ride through the tree-lined streets and leafy squares within Avignon's medieval walls.

OVERNIGHT DOCKING IN AVIGNON (B,L,D)

Day 5 VIVIERS–LOCK BOLLÈNE
River Gorge Canoes, Underground Wines, and Nighttime Ghost Stories

Start your day with sunrise view, joining a Morning Stretch with your Avalon Adventure Host before cruising through the soaring walls of the Lock Bollène on your way to Viviers.

ACTIVE Immerse yourself in the scenery with a Guided Kayak Trip in the Gorges de l'Ardèche in the spectacular canyons of this Rhône tributary, OR:

ACTIVE Find inspiration from the amazing landscape of the region with a Guided Hike through the Natural Reserve of Cirque d'Estre, OR:

ACTIVE Join a Guided Excursion for a surprising underground wine tasting—under the direction of an expert Speleologist (cave guide) and an oenologist (wine-making expert), OR:

DISCOVERY See a surprising side of local culture with a visit to a Crocodile Farm and discover the wonderful world of reptiles—not only crocodiles, but also snakes, turtles, iguanas and an amazing botanical garden, OR:

CLASSIC Visit the awe-inspiring water facility at Bollène and tour the power plant of this immense lock along the Rhône.

DISCOVERY This evening, take a nighttime Guided Tour of Viviers , discovering the legends, tales and ghost stories of this enchanting town.

OVERNIGHT CRUISE TO TOURNON/TAIN L'HERMITAGE (B,L,D)

Day 6 TOURNON/TAIN L'HERMITAGE
Chocolatiers and Railway Engineers in the Twin City Gorge

ACTIVE For a unique experience and panoramic views, join a Guided Excursion this morning on a rail-bike along the descent of the Gorges du Doux, OR:

ACTIVE Join a Guided Hike in the picturesque vineyards surrounding the twin cities of Tournon and Tain-l'Hermitage, OR:

DISCOVERY Have a true "chocolate experience" with a tour of the Valrhona Chocolate Factory and Museum, OR;

CLASSIC Take a Guided Sightseeing Tour of Tournon—twin city to Tain-l'Hermitage and one of France's oldest medieval cities. You'll see its imposing 16th-century castle and Roman ruins.

DISCOVERY Join a Cooking Demonstration and learn how to prepare Lyonnaise specialties while sailing to Lyon.

LYON

An Evening Drive through the Heart of Lyon

DISCOVERY Join a Guided Tour for an evening drive of Lyon, lined with incredible landscapes from Fourvière Hill for a city bird's eye view, to Presqu'île district, for catching the heart of Lyon and its ever-changing river bank view.

OVERNIGHT DOCKING IN LYON (B,L,D)

Day 7 LYON
A Festival of Colors, Aromas, and Taste

ACTIVE Jump-start your day in Lyon by joining your Avalon Adventure Host for a Morning Walk

ACTIVE Take a Guided Urban Hike through Lyon's secret passageways (Traboules) for a glimpse into the city's 19th-century silk trade, OR:

DISCOVERY Take a Guided Culinary Walk through Lyon to discover architecture and local specialties in a festival of colors, aromas and taste—exclusive for Avalon guests, OR:

DISCOVERY Join our Cooking Class to learn to make your own Lyonnaise specialty.

This afternoon, you might take an off-the-beaten-path Guided Optional Tour through private and public terraces for panoramic views of Lyon, starting on the roof of the Basilica de Fourvière, or you may opt for a Guided Optional Mountain Bike Excursion through the Beaujolais wine country.

This evening, enjoy Lyon's vibrant nightlife on your own after a gala farewell dinner on board.

OVERNIGHT DOCKING IN LYON (B,L,D)

Day 8 LYON (DISEMBARKATION)–PARIS
This morning, say goodbye to your crew and board the TGV train to Paris. The rest of the day is free to explore the City of Lights at your leisure. Consider browsing along Paris' classic shopping avenues and literary cafés for a true Parisian experience. (B)

Day 9 PARIS
Join a Guided Sightseeing tour which will show you magnificent must-see sights. Alternatively, join a Guided Biking Tour which will reveal some of the highlights of Paris—such as the Eiffel Tower and Place de la Concorde—from a different point of view; enjoy a peaceful break on the Seine river banks. (B)

Day 10 PARIS
Your vacation ends with breakfast this morning. (B)
Tour Map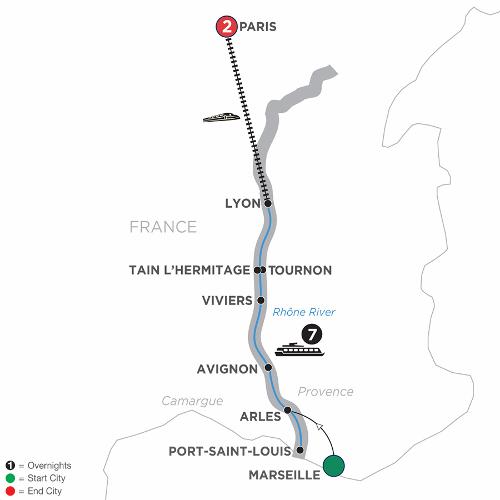 River Cruise Highlights
Day 1 Arles (Embarkation): onboard welcome reception
Day 2 Port-Saint-Louis: choice of excursion to a local oyster farm with tasting, or either guided walk or bike tour through the Camargue Regional Natural Park
Day 3 Arles: choice of guided tour in Arles, meet a local bullfighter, or guided hike through the Hell Valley and visit Carrière de Lumières, or painting workshop
Day 4 Avignon: choice of guided tour in Avignon, or guided bike tour with wine tasting, or visit the Museum of Aromas and Perfume
Day 5 Viviers: choice of guided kayak trip down the Gorges de l'Ardèche, or guided hike in the Natural Reserve of Cirque d'Estre, or visit lock Bollène and its power plant, or guided speleological excursion with wine tasting in the caves, or visit the Crocodile Farm; evening guided tour of Viviers
Day 6 Tain l'hermitage/Tournon–Lyon: choice of rail-bike tour, or guided hike in the vineyards, or guided tour of Tournon, or visit the Valrhona factory and museum; onboard cooking demonstration; evening guided tour of Lyon
Day 7 Lyon: choice of culinary tour, or Lyonnaise culinary workshop, or Urban Hike through Lyon's Traboules; Food and Wine pairing dinner onboard
Day 8 Lyon (Disembarkation)–Paris: transfer to Paris
Day 9 Paris: choice of guided tour, or bike tour
Day 10 Paris: your vacation ends this morning
All This Included
Join us for a special departure of your Active & Discovery Rhône River cruise. You'll sail with other Avalon enthusiasts to share an incredible experience with all the Avalon Choice inclusions to make your journey personal to you. As a thank you for joining us, you'll receive included pre-paid gratuities to your ship's crew and Cruise Director. You'll also enjoy an exclusive wine-pairing dinner hosted by a Master of Wine on board. This Journeys Club Celebration also includes an added two nights in Paris! Whether you are a Journeys Club member or first-time river cruiser, we invite you to enjoy this special departure.
Of course, your Active & Discovery river cruise is full of Avalon Choice inclusions for each port you visit along the Rhône River. Choose the Active, Classic, and Discovery included excursions that speak to you—from leisurely to adventurous. Visit an oyster farm, bike through Camargue Regional Nature Park to spot flamingos, or take a painting class in Van Gogh's Arles. Take a kayak excursion or linger in a corner café; stroll Avignon's papal palace or attend a wine tasting in an underground cave. Take in the French countryside, join a culinary walk to discover architecture and local dishes. You'll find the perfect way to spend your day—from a ghost tour in Viviers to a cooking class in Lyon, or a guided bike ride through the Gard region. Visit a chocolate factory or a perfume museum.
Celebrate a fantastic French river cruise with a high-speed train trip to the "City of Light." You'll spend two nights in Paris to explore the romantic city your way. Spend your first day at leisure to stroll the iconic Champs-Élysées or wandering through the legendary artists' streets of Montmartre, with a selection of included excursions the following day. Select a guided sightseeing tour of the must-see sites, or take a guided biking tour through Paris' highlights, including the Eiffel Tower and Place de la Concorde—with a peaceful rest along the Seine River. Our Active & Discovery Rhône River cruise and Paris vacation include activities and excursions to experience the Rhône River and the "City of Light" your way and at your pace!
Ship Amenities - Avalon Poetry II:

Wall-to-Wall Panoramic Windows
Sky Deck with premium lounge chairs, whirlpool, shade awnings, & outdoor deck game area
Non-smoking staterooms & ship interior
Convenient Elevator Service
Elegant, contemporary design
Outside viewing deck
Headsets for guided shore excursions
English-speaking friendly crew, staff & professional Cruise Director
Sightseeing with Expert Local Guides
Onboard lectures, activities & entertainment
Complimentary room service for Continental breakfast
Sky Deck whirlpool
Complimentary Wi-Fi access
Biking excursions available in Amsterdam and Breisach
Onboard Adventure Center with active gear, bikes, Nordic walking sticks, watercraft & maps
Casual dinner in the Panorama Bistro
Avalon Choice® cruising experience
Behind-the-scenes galley tour
Choice of Classic, Active or Discovery excursions so that you can experience your cruise your way
Nordic walking sticks available onboard for complimentary check-out
Onshore & Onboard experiences with regional customs, cultures & tastings with local artisans, experts & entertainers
Flatscreen satellite TV with English-speaking channels & over 100 free movie options
Onboard assistance is available to recommend, reserve and further personalize your cruise
Linger over several selections from the Panorama Bistro's tasting menu for a less formal "sit-down" atmosphere
Self-serve beverage station with complimentary tea, hot chocolate & premium coffees, including decaf options
Well-stocked library with books, cards, and board games
State-of-the-art fitness center
Complimentary bottled water, fresh fruit, and cookies available throughout the day
Full-size closet mirror

Ship Dining - Avalon Poetry II:

Avalon FreshSM healthy cuisine options at every meal
Self-serve beverage station with complimentary tea, hot chocolate & premium coffees, including decaf options
Welcome & farewell cocktails with sparkling wine & canapés
Spacious, open-seating Panorama Dining Room
Daily early-riser breakfast
Daily late-riser breakfast
Full buffet breakfast with sparkling wine and made-to-order egg station
Lunch buffet with carving and pasta stations
Al fresco lunch in the Sky Grill
Cocktails with a view on the Sky Deck
Healthy Corner options including low calorie, low fat, high fiber, low cholesterol, and high energy choices
Vegetarian options at every meal, as well as vegan and allergy-free selections
Afternoon Tea featuring tea, coffee, and sweet treats
Happy Hour every evening including featured drink specials
Seasonal cuisine featuring the freshest local ingredients
Chef-prepared onboard meals with regional cuisine and familiar favorites
Four-course dinners with choice of appetizers, soups, salads, entrées and desserts or cheese
Complimentary wine, beer, or soft drinks with lunch and dinner
Complimentary room service for Continental breakfast
Panorama Lounge & Bar with premium spirits, cozy seating, panoramic windows & dance floor
Healthy meal options
Casual dinner in the Panorama Bistro
Linger over several selections from the Panorama Bistro's tasting menu for a less formal "sit-down" atmosphere
Tastings - sample the destination's famous delicacies
Coffee or tea after dinner
Light lunch in the Panorama Lounge
FlexDining flexible dining times with menu & venue options
Accommodations on this Tour
Cruising: Cabin onboard Avalon Poetry II
Pre and Post Add-ons
Extra nights per person in Marseille:
in single room from $229 to $288, in twin room from $144 to $173

Extra nights per person in Paris:
insingle room from $374 to $702, in twin room from $217 to $381
Notes
Cabin upgrades are available.
In the event of water level problems or any problems of a technical nature, it may be necessary to operate the itinerary by motorcoach or to alter the program.
Included visits and special features are subject to change. If a change is necessary, a substitute will be offered.
Please check visa requirements with your local consulate(s); responsibility for obtaining visas rests with the traveler.
Gateway city for arrivals is Marseille.
Port charges: $182
Gratuities to Local Guides & Excursion Drivers are included.
Triples not available.
Please ask your Vacations To Go travel counselor for more information.
Terms and Conditions
* The prices shown are U.S. dollars per person, based on double occupancy, and subject to availability. Prices quoted for land/cruise arrangements are subject to increase without notice. Once we have received your deposit, land/cruise prices are guaranteed. Air prices quoted via phone or email are subject to increase and are guaranteed only from the time that full payment is received. Also, air prices or air promotions mentioned on this site or on the phone do not include baggage fees imposed by airlines. Sorry, we are unable to offer air from countries other than the U.S. However, for those international customers who are able to arrange their own transportation to the trip origination city, we are able to offer the land/cruise portion of the package at the price quoted.
800-510-4002

OR

Open Mon-Fri 7am to 10pm, Sat 8am-8pm, Sun 9am to 8pm, CST
| | | |
| --- | --- | --- |
| | a division of | |