Day 1 HONG KONG, CHINA.
Welcome to Hong Kong! Your hotel room is available for a mid-afternoon check-in.

Day 2 HONG KONG.
Your sightseeing tour begins with a ride on the popular STAR FERRY from Kowloon Island to Hong Kong Island. On arrival, take a CABLE-CAR RIDE up Victoria Peak for panoramic vistas. Then, explore the old Sheung Wan neighborhood and visit the DRIED SEAFOOD MARKET. Savor a DIM SUM feast for lunch before traversing the Central District aboard the historic DOUBLE DECKER TRAM, commonly referred to as the "Ding Ding," due to the sound of its bell. The remainder of the day is at your leisure. (B,L)

Day 3 HONG KONG.
Enjoy free time for independent exploration. (B)

Day 4 HONG KONG.
Fly to Shanghai, China's largest city and center of trade. Enjoy the rest of the day at leisure. (B)

Day 5 SHANGHAI.
Sightseeing this morning includes a stroll through the Old Town and the beautiful YU YUAN GARDENS, a place of peace and tranquility in this bustling city. Walk along the famous Bund with its colonial architecture and explore Nanjing Road, the city's main pedestrian and shopping area. Enjoy your afternoon at leisure before dinner at your hotel tonight. (B,L,D)

Day 6 SHANGHAI–WUHAN.
Visit the SHANGHAI MUSEUM, where superb antiquities and fine arts dating back 6,000 years are on display, before flying to the port city of Wuhan, one of China's oldest metropolitan cities, located on the mighty Yangtze River. (B,D)

Day 7 WUHAN–YICHANG (EMBARKATION)–YANGTZE RIVER CRUISE.
This morning visit picturesque EAST LAKE, before time at the HUBEI PROVINCIAL MUSEUM. The well-known museum contains over 200,000 cultural relics, including pottery, jades, lacquerwares, and ancient calligraphy, paintings, and coins. Hear musicians perform beautiful music using a replica of the ancient bronze chime bells. This afternoon, board a BULLET TRAIN for Yichang. Upon arrival, board your 4-night CRUISE through the breathtaking Three Gorges of the Yangtze. (B,L,D)

Day 8 CRUISING: THREE GORGES DAM.
Start your day with a visit to the THREE GORGES DAM site. Afterward, watch endless dramatic vistas unfold before you as your ship passes through the serenely beautiful Xiling Gorge, the Yangtze's longest. (B,L,D)

Day 9 CRUISING: WU GORGE–QUTANG GORGE.
Today, disembark for a BOAT EXCURSION down Goddess Stream. Along the way, see picturesque scenery and the mysterious hanging wooden coffins. Before returning to your ship you will also board a wooden boat on a smaller section of the stream, where the crew will sing songs as you glide across the stunning deep emerald-green waters surrounded by densely forested hills. Later, sail through two of the three gorges—Wu Gorge, known for its forest-covered mountains, and Qutang, the shortest but most dramatic gorge. (B,L,D)

NOTE:
Depending on river conditions, the boat excrusion may be on the Shennong Stream.

Day 10 CRUISING: SHIBAOZHAI.
Today, take a WALKING TOUR of Shibaozhai with its 400-year-old, 12-story, red wooden pagoda perched high on a cliff side. (B,L,D)

Day 11 CRUISING: CHONGQING (DISEMBARKATION)–XI'AN.
Disembark your cruise in Chongqing, where you will visit a local ZOO to see pandas. Enjoy time at leisure in the old town area of Cikikou before your flight to Xi'an. Upon arrival, the evening is free to enjoy one of the great ancient capitals of China. (B)

Day 12 XI'AN.
Today, enjoy a visit to the first emperor's funeral vault to see the amazing TERRCACOTTA WARRIORS. Nothing will prepare you for this incredible display of 8,000 life-sized model warriors, chariots, and horses. Later, visit the ancient CITY WALL, built in 1378 and surrounding the city, then visit the XI'AN ART, CERAMICS & LACQUER EXHIBITION CENTRE. (B,L)

Day 13 XI'AN–BEIJING.
Take a WALKING TOUR through the lively Muslim Quarter to explore the Islamic food markets. This afternoon, fly to Beijing, the capital of China and the country's political, social, and historical hub. (B)

Day 14 BEIJING.
Sightseeing today includes a stroll through TIAN'ANMEN SQUARE past Chairman Mao's Mausoleum. You'll also visit the treasure-filled FORBIDDEN CITY, the largest and best-preserved collection of ancient buildings in China. During the Ming and Qing Dynasties, it was home to emperors as well as the center of politics. (B,L)

Day 15 BEIJING.
The GREAT WALL OF CHINA once stretched 4,000 miles across China's barren northern terrain from the Bohai Sea to the Gobi Desert. Head north to a village where the Great Wall is well preserved and walk along the wall to enjoy sweeping vistas of this mammoth fortress. This evening your dinner features the local delicacy, PEKING DUCK. (B,L,D)

Day 16 BEIJING–ULAANBAATAR, MONGOLIA.
Today, fly to Ulaanbaatar, capital of Mongolia. After some time in the hotel, enjoy a city tour that includes Sukhbaatar Square and the NATIONAL HISTORY MUSEUM with a rich collection of exhibits covering the history and people of Mongolia. (B,D)

Day 17 ULAANBAATAR–GOBI DESERT.
Early this morning, fly to the Gobi Desert. Covering most of southern Mongolia, the Gobi is the world's fourth-largest desert. Visit EAGLE VALLEY NATIONAL PARK and marvel at stunning mountain scenery and the Gobi Glacier. The Gobi supports more than 300 varieties of flora and fauna and several endangered species, including the Snow Leopard and the Bactrian Camel. (B,L,D)

ACCOMMODATIONS IN THE GOBI DESERT
You will be staying in a traditional ger, a round dwelling with a wooden frame. Your ger is comfortably furnished with twin beds and furniture. A natural ventilation system helps it stay cool in the heat of the day, and a stove provides heat at night. Please note – shared bathroom and shower facilities are located in a separate building.

Day 18 GOBI DESERT.
This morning, stop at the largest SAND DUNES in the region en route to Bayan Zag. Here, explore the CEMETERY OF DINOSAURS, where the world's best-preserved dinosaur skeletons and their petrified eggs were excavated. Then, visit a CAMEL BREEDERS CAMP to learn about the nomadic lifestyle and culture, and to try some traditional food. (B,L,D)

Day 19 GOBI DESERT–ULAANBAATAR.
Fly back to Ulaanbaatar early this morning. Upon arrival, visit the BOGD KHAN WINTER PALACE, the GANDAN MONASTERY, and Zaisan Hill, offering sweeping views of the city. This evening, enjoy a MONGOLIAN FOLKLORE PERFORMANCE featuring traditional musical instruments, throat singing, and dances. (B,L,D)

Day 20 ULAANBAATAR–BEIJING.
Today, return to Beijing and enjoy the rest of the day at leisure. (B)

Day 21 BEIJING.
Your tour ends with breakfast this morning. (B)
Tour Map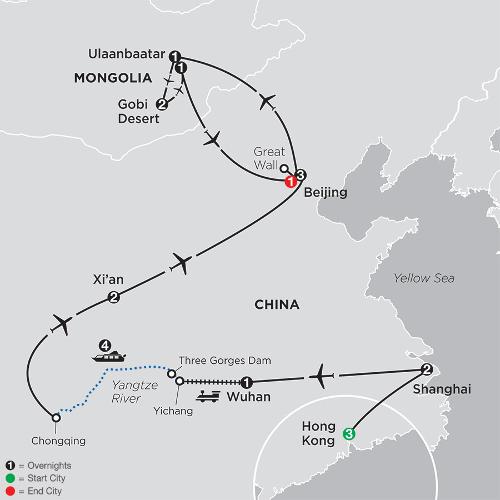 River Cruise Highlights
HONG KONG Ride on Star Ferry; cable car ride to Victoria Peak; visit the dried seafood market; dim sum lunch; Host service during your stay
SHANGHAI Sightseeing with a Local Guide including headsets; visit Yu Yuan Gardens and the Shanghai Museum
WUHAN Visit East Lake and the Hubei Provincial Museum; travel by bullet train from Wuhan to Yichang
YANGTZE RIVER CRUISE Four-night cruise through the Three Gorges, including a tour of the Three Gorges Dam Site, a boat excursion on Goddess Stream, and a walking tour in Shibaozhai
XI'AN Sightseeing with Local Guide including headsets; visit the Terracotta Warriors, city wall, and a lacquerware factory; walking tour through Muslim quarter
BEIJING Sightseeing with a Local Guide including headsets; visit Tian'anmen Square, the Forbidden City, and the Great Wall; Peking Duck dinner
ULAANBAATAR Visit the National History Museum, Sukhbaatar Square, Bogd Khan Winter Palace, Gandan Monastery, and Zaisan Hill; Mongolian folklore performance; Host service during your stay
GOBI DESERT Visit Eagle Valley, Cemetery of Dinosaurs, and a camel breeders camp; Host service during your stay
All This Included
Embark on a 21-day odyssey to explore fascinating landscapes of China and Mongolia on your affordable vacation in Asia. Begin in the fascinating city of Hong Kong for a journey through China's spectacular destinations. Your affordable China vacation delivers a wealth of experiences, including a ride on Hong Kong's Star Ferry, a cable-car ride up panoramic Victoria Peak, and culinary discoveries, including a delectable dim sum lunch. Climb aboard Hong Kong's historic 1920s-style double-decker tram for an authentic look at the city's living history.
Your value vacation in China continues in the exciting city of Shanghai on the Yangtze River delta. You'll marvel at the exquisite Yu Yuan Gardens and the Shanghai Museum—with works of art dating 6,000 years old. In Wuhan, explore beautiful East Lake—China's second largest freshwater urban lake.Discover 200,000 cultural relics in the Hubei Provincial Museum, including ancient pottery, jades, artwork and coins. Next, board the bullet train to Yichang to embark on your 4-night cruise on the legendary Yangtze River. The Three Gorges Dam, Goddess Stream, and dramatic forested mountain views will mesmerize you, as will Shibaozhai's cliff side, 400-year-old red pagoda. In one of China's ancient capitals, Xi'an, you'll see the emperor's vault surrounded by the stunning find of thousands of Terracotta Warriors, chariots, and horses guarding the tomb. In Beijing, take a guided tour of Tian'anmen Square past Mao's Mausoleum. Visit the Forbidden City—the largest collection of China's ancient buildings and home to the historic Ming and Qing dynasties. Your budget-minded tour of China includes once-in-a-lifetime experiences, including a visit to the iconic Great Wall of China. Witness sweeping vistas from the wall that once stretched 4,000 miles across China's barren northern terrain.
You'll fly from Beijing to Mongolia's capital city of Ulaanbaatar to embark on an adventure in the Gobi Desert. Sand dunes, the Cemetery of Dinosaurs, and a camel-breeders camp offer fascinating insight into the nomadic lifestyle, ancient culture, and tantalizing traditional foods. Your value-minded tour of China, the Yangtze River, and the remarkable traditions and terrain of Mongolia, is a journey into a spirit of history, beauty, culture, and natural wonders like no other.
20 breakfasts, 12 lunches, 11 dinners
Private, deluxe, air-conditioned motorcoach while touring in China. Sightseeing vehicle in Hong Kong & Mongolia.
Accommodations on this Tour
Cruising: Cabin onboard Victoria Lianna
Hong Kong: Stanford Hillview Hotel
Shanghai: Golden Tulip New Bund Asia
Wuhan:Ramada Plaza Tian Lu Wuhan
Xi'an: Grand Dynasty Culture Hotel
Beijing: Novotel Xin Qiao
Ulaanbaatar: Ramada Ulaanbaatar Citycenter
Gobi Desert: Gobi Mirage
Pre and Post Add-ons
Extra Nights per person in Hong Kong:
April & July 12–August 24: in single room $232; in twin room $127
May–July 11 & August 25–September 29: in single room $202; in twin room $112
October1–October 5: in single room $327; in twin room $175
October 11–November 4: in single room $281; in twin room $152

Extra Nights per person in Beijing:
April–May & September–October: in single room $120; in twin room $65
June–August: in single room $115; in twin room $63
Notes
Participation in this vacation requires purchase of the following flights from Cosmos, not included in pricing: intra-vacation air segments only, starting at $2,051. Required intra-vacation air segments are: Hong Kong/Shanghai; Shanghai/Wuhan; Chongqing/Xi'an; Xi'an/Beijing; Beijing/Ulaanbaatar; Ulaanbaatar/Gobi Desert; Gobi Desert/Ulaanbaatar; Ulaanbaatar/Beijing. Air prices in this brochure were effective on August 15, 2018, and their availability is limited. At the time you purchase your tour, air prices may be higher.
Gratuities for Tour Director, driver, and Local guides are available for pre-purchase on the base vacation. For vacations that include an extension to the base, pre-paid gratuities only include the base portion. Any additional gratuities would need to be paid on trip.
Triple Rooms are not available.
Please ask your Vacations To Go travel counselor for more information.
Terms and Conditions
* The prices shown are U.S. dollars per person, based on double occupancy, and subject to availability. Prices quoted for land/cruise arrangements are subject to increase without notice. Once we have received your deposit, land/cruise prices are guaranteed. Air prices quoted via phone or email are subject to increase and are guaranteed only from the time that full payment is received. Also, air prices or air promotions mentioned on this site or on the phone do not include baggage fees imposed by airlines. Sorry, we are unable to offer air from countries other than the U.S. However, for those international customers who are able to arrange their own transportation to the trip origination city, we are able to offer the land/cruise portion of the package at the price quoted.