Blue Danube Holiday
15 days with Crystal River Cruises Rating: Deluxe
Book this River Cruise Now and Save!





Save $5,720 per couple off this cruise. Click here for eligible departures.

Crystal Society members save an additional $440 per couple off cruises regardless of when you book. This discount is combinable with all other offers. Click here for eligible departures.

Offers subject to change or withdrawal, availability is limited. Some discounts are not combinable.
Days 1 & 2 Vienna, Austria - Embark PM
Layered and elegant, with elements of cozy and grand, musical and visual might be the best way to characterize Vienna—or one of many ways, as this imperial city surely can inspire endless lines of poetic descriptions. Once the capital of the Austro-Hungarian Empire and forever known for its distinguished roster of composers who either were born or lived and worked here—including Mozart, Haydn, Beethoven, Schubert, both Strausses, Liszt and Brahms—Vienna finds itself at the very center of European culture, even as it sits near the border of the Czech republic, Slovakia and Hungary. Turn to a blank page to memorialize your own impressions of this grand city, remarking on its manicured gardens, ornate architecture—especially that of the famed Ringstrasse—intimate bistro pubs called beisln and a certain flourish that can only be called Vienna. Overnight on Day 1.
Day 3 Durnstein, Austria - Crossing the scenic Wachau Valley - Melk Abbey, Austria
Considered as one of the most visited tourist spots in Wachau Valley, D—rnstein is a robust wine-growing region that sits perfectly alongside the Danube river. Durnstein Castle, the region's famous architectural highlight derives its name from duerr meaning "dry" and stein meaning "stone". This landmark sits atop a rocky mountain, high above the damp conditions of the Danube at its base as it overlooks the town. With its picture-perfect scenery, Durnstein's beauty is enhanced by verdant forests, rolling hills, and thriving vineyards that ensconce the town. Take in the sights, sip some of the region's local wines and simply enjoy a leisurely day in this classic, postcard-worthy European town.

Best known for its fortified baroque Benedictine monastery, Melk Abbey, the town of Melk boasts an assortment of smaller gems. Among them, the city's riverside location, serene and regal with a ribbon of wooded groves giving way to the lovely village. Cobbled lanes and a petite size make for a pleasant stroll with a chance to discover its 16th-century Town Hall, or Rathaus, in the center of town, and Haus am Stein, or House at the Rock. Built in the 15th century, the vine-covered abode is Melk's oldest building.
Day 4 Passau, Germany
At the confluence of the Danube, Inn and Ilz rivers, Passau is also situated at a meeting of cultures. The town began as a Roman settlement, enjoying the rising tide of influence as the largest bishopric in the Holy Roman Empire and enduringly vibrant as a hub for various trade and manufacturing pursuits, including salt, swords and ideas. Experience Passau's charm as you the wander the cobbled streets of Old Town, gaze upon arched bridges and Italianate manses and encounter magnificent St. Stephen's Cathedral and the New Bishop's Residence. Overnight.
Day 5 Deggendorf, Germany
The city of Deggendorf, located on the Danube about halfway between Regensburg and Passau, is also situated about an hour and a half from Munich, making it an ideal launching point for visits to Bavaria's capital and largest city. Yet travelers are invited to linger a spell here at the gateway of the Bavarian Forest, enjoying a chance to experience Deggendorf's cultural, architectural and culinary treasures. Of the first, there are spring festivals and regular presentations of classical, operatic, folk, cabaret and pop music performances. Of the second, there is the city's classic medieval layout, highlighted by the 14th-century Town Hall and baroque parish church. Of the last, there are the traditional Bavarian foodie favorites of pretzels and sweet mustard served with—of course—Bavarian brew. Beer is so a part of the local gastronomic scene that it is considered a staple. On average, Bavarians consume 40 gallons of beer per year. With some 40 types and 4,000 brands to choose from, there is slim, if any, chance of getting your fill of Bavaria's "liquid gold.
Day 6 Regensburg, Germany
Situated at the northernmost bend of the Danube and boasting a well-preserved medieval center, Regensburg finds itself not only a UNESCO World Heritage Site but also a traveler's favorite destination. This charming town came through World War II unscathed, with its 1,400 or so ancient buildings standing as regal testament to days gone by. In fact, Regensburg can trace its history to the Celtic age. Other pages of its interesting story include chapters as a major trading hub in Roman times and, in the centuries following, a flourishing city that displayed its prosperity and confidence with embellished churches, stately homes and sturdy towers to protect it all. Today, nothing can shield Regensburg from the admiration of visitors who develop an enduring fondness for this riverside treasure, complete with elaborate cathedral, quintessential clock tower, multi-arched bridge and multi-faceted personality.
Day 7 Nuremberg, Germany - Cruising the Rhine-Main-Danube Canal
Although this Bavarian city dates to the 11th century, Nuremberg is probably best known for a more recent history centered on the Nuremburg Trials, the military tribunals that took place after World War II. Much of the city was destroyed by Allied bombs, but many of the buildings, including the medieval Nuremberg Castle, have been painstakingly restored—using the original stones, no less. Nuremberg today is a joyous city, famous for its bratwurst, dark beer and spectacular Christmas Market. In fact, it's Christmas all year long at the popular Handwerkerhof, or "crafts yard.— Here in the shadow of the city's half-timbered buildings and old walls and towers, artisans craft toys, glassware and holiday trinkets to the delight of visitors naughty and nice.
Day 8 Bamberg, Germany
Unfolding over seven hills, each crowned by a church, Bamberg is often called "Franconian Rome.— Locals often reverse the phrase, playfully claiming that Rome is the "Italian Bamberg.— However you look at it, Bamberg's medieval beauty is unrivalled, with the entire Old Town listed as a UNESCO World Heritage Site. Wandering the impossibly cute cobbled lanes, aim your camera at half-timbered buildings topped by steep roofs and bordered by the waters of the river, in places whooshing around buildings' very foundations. Arched bridges and summer-blooming flowers add to the storybook charm, while the town's famed Rauchbier, a smoked beer first brewed in 1536, lends a celebratory air. If you prefer sampling Bavarian suds to snapping pictures, you're in for a treat: Bamberg has more breweries than Munich.
Day 9 Wurzburg, Germany
In a mere 20 minutes, nearly 80 percent of Wurzburg was destroyed by a World War II bombing raid, rendering to rubble much of this old and lovely city, for centuries a showcase for the wealth and influence of the resident prince-bishops. While thought was given to leaving the ruins where they lay as a tribute to the once-flourishing city and painful reminder of war, a fortuitous second thought prompted rebuilding. Now restored, Wurzburg tells the interesting tale of its founding in the 10th century, subsequent rise in prominence, enduring connection to the Main River and long-held traditions in winemaking. Impressive architectural wonders include the Residenz, one of the most splendid palaces in Europe, and the town church, one of the oldest in Germany. But many will tell you that the true highlight is time spent rubbing elbows with the locals, who are likely to be part of the large student population making worthwhile study of keeping Wurzburg lively and looking to a bright future.
Day 10 Miltenberg, Germany
Most medieval towns are well preserved not because they've enjoyed centuries of uninterrupted peace and prosperity, but because they've been reconstructed after a fire or similar devastation—here in Germany, devastation most likely a result of World War II bombing raids. Miltenberg has escaped the damage of both roaring flame and raging war, remaining authentically historic in its full, fairytale bloom. This rose of the Romantic Road is also blessed to be off the beaten track, a curious position given the town's charming and truly ancient timber-framed buildings, fortified walls, forested glades, cobbled streets and hilltop castle built by the archbishops of Mainz.
Day 11 Cruising the Romantic Rhine River - Koblenz, Germany
Located where the Rhine and Moselle rivers and three low mountain ranges meet, Koblenz has a leg up in the scenery department. Add to that the city's 2,000-year-old history, hilltop fortress and squares lined by classic Germanic architecture and you have a place ready made for photographs. You might start by aiming your lens at the Deutsches Eck, or German Corner, where the rivers merge around a corner of land marked by a monument to Emperor William I. Ambling along the river promenade and exploring the town's narrow lanes, you might encounter medieval churches, flower-filled parks, sidewalk cafes and perhaps a weinstube, or wine tavern, an ideal venue for sipping dry Riesling and drinking in the atmosphere.

Day 12 Speyer, Germany
Spared the destruction that befell much of Germany during World War II, Speyer is a preserved window on time, looking onto a history that reaches not only to the Roman age but farther back, to the time of settlement by the Celts. Cobbled streets wind through the centuries, passing half-timbered buildings, the remains of a medieval synagogue, fine museums and festive taverns, culminating at the town's Romanesque cathedral, called Kaiserdom. Enormous both in scale and significance, the UNESCO-listed church dates to 1030 and houses the tombs of eight Holy Roman emperors and German kings. Look at it from any perspective—on the approach to its red sandstone walls, inside its vast interior spaces or within the context of time—and the basilica is a marvel, considered a hallmark of 11th- and 12th-century architecture.

Day 13 Kehl, Germany
When you glimpse the steep-peaked, half-timbered buildings, the placid waters of narrow canals, flowers blooming on balconies and bridges, and old towers standing sentry over the scene, you know you have stepped into Strasbourg—either that, or the very pretty pages of a fairytale. Located just across the Rhine from Strasbourg, Kehl is your access point to the capital of the Alsace region, the seat of the European Parliament and, simply, one of the most photogenic old towns in existence. Strasbourg boasts a breathtakingly gorgeous Gothic cathedral (with the tallest cathedral tower in France), twisting alleyways, a sweet collection of the aforementioned half-timbered buildings and a charm that oozes from virtually every cozy corner of Grande Île, or "Large Island,— the first city center to be named a UNESCO World Heritage Site.
Days 14 & 15 Basel, Switzerland - Disembark
On the three-border intersection of Switzerland, Germany and France and unfolding in two sections from the banks of the Rhine, Basel has an international flair, a cultural vibrancy and is picturesque besides. A medieval town center invites exploration by foot, while an abundance of museums and galleries suggest an indoor stroll amid works of art and relics of history. The Museum of Fine Arts is home to the world's oldest art collection accessible to the public. The city itself hosts Switzerland's oldest university, dating to 1460. Antiquity may be Basel's strong suit, as it is in much of Europe, but this corner of Switzerland also reveals a more modern countenance: Architects Herzog & de Meuron, best known for the design of the Tate Modern in London and the Bird's Nest in Beijing, and Frank Gehry of Bilbao Guggenheim Museum fame have contributed their considerable talents to buildings here. Overnight on Day 14 and disembark on Day 15.
Tour Map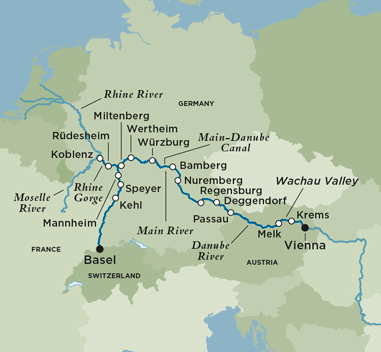 All This Included
Butler service
All meals included, most featuring the culinary excellence of celebrated chefs, with a local flair
Unlimited onboard refreshments, including fine wines, champagne, premium spirits and all non-alcoholic beverages such as bottled water, soft drinks and specialty coffees
Choice of guidedCrystal Adventures® shore excursion in every port
Gratuities for housekeeping, dining and bar staff
Interactive TV system with in-suite movies on demand, an extensive
music library and Internet access
Authentic regional, local and seasonal wine and beer offerings, where available
Complimentary airport transfers on days of embarkation and disembarkation
24-hour room service
Onboard enrichment programs and entertainment
Accommodations on this Tour
cabin on Crystal Ravel
Notes
Cabin upgrades are available.
Port charges of $350 per person are not included in the prices shown above.
Please ask your Vacations To Go travel counselor for more information.
Terms and Conditions
* The prices shown are U.S. dollars per person, based on double occupancy, and subject to availability. Prices quoted for land/cruise arrangements are subject to increase without notice. Once we have received your deposit, land/cruise prices are guaranteed. Air prices quoted via phone or email are subject to increase and are guaranteed only from the time that full payment is received. Also, air prices or air promotions mentioned on this site or on the phone do not include baggage fees imposed by airlines. Sorry, we are unable to offer air from countries other than the U.S. However, for those international customers who are able to arrange their own transportation to the trip origination city, we are able to offer the land/cruise portion of the package at the price quoted.
800-510-4002

OR

Open Mon-Fri 7am to 10pm, Sat 8am-8pm, Sun 9am to 8pm, CST
| | | |
| --- | --- | --- |
| | a division of | |