River Cruise Itinerary
Day 1 Beijing
Arrive at any time and transfer to the hotel. Enjoy a first taste of Chinese cuisine with a Peking Duck welcome dinner.

Spend the day resting or taking in the local surroundings. In the evening, there will be a welcome meeting with the tour leader and fellow travel companions, followed by a scrumptious Peking Duck dinner. (D)

Day 2 Beijing
Start the day early with a lesson in tai chi, led by a local expert at the historic Temple of Heaven. After, continue exploring the key sites of Beijing including the famed Tiananmen Square and Forbidden City.

Delve into the history of Beijing, visiting the Forbidden City and Tiananmen Square. Hear tales emperors and their concubines, a long crafted culture and rich tradition. Witness how ancient Chinese customs are still valued today, but also blended with modern technology and western influences. Also visit the Temple of Heaven and its surrounding grounds, where locals are whiling the hours away, practicing water calligraphy and Tai Chi, playing cards, and walking pet crickets, all with the colourful Temple of Heaven in the background. (B)

Day 3 Beijing/Xi'an
Take a walk along the 500-year-old Mutianyu section of the Great Wall of China. Spend time exploring the towers, views, and the magnificent structure of this unique wonder. In the evening, board an overnight sleeper train to Xi'an.

One of the greatest structures ever built, the Great Wall was constructed in stages over 2,000 years ago. It stretches 6,000km (3,728 mi) westwards from the sea to western China. The section we visit is called Mutianyu and is one of the best preserved Ming Dynasty sections reachable from Beijing. Arrive at the wall, walk up and explore a stretch by foot while taking in the spectacular views as it winds along the mountain ridges. Afterward, prepare for our overnight sleeper train journey to Xi'an, which we will board in the evening. (B)

Day 4 Xi'an
Arrive early into Xi'an where we take a leisurely bike ride along the ancient city walls. Then enjoy a visit to the historic Gao's Grand Courtyard House and enjoy a performance of shadow puppetry. This evening, explore the vibrant Muslim Quarter and local markets then opt to try some of the best street food in China.

Arrive in the ancient Chinese capital and traditional silk road terminus, Xi'an, in the morning. We will be met and transferred to our hotel. After settling in, gather for an inner city bike ride along 14km (9 mi) of ancient city walls. In the evening, explore the multicultural feel of the Muslim Quarter, with shopping lanes and street-side food stalls selling naan, kebabs, and a fine array of sweets. Opt to try some of the best street food in China – the spicy beef and lamb kebabs are always a favourite. (B)

Day 5 Xi'an
Visit the famed Terracotta Warriors — an archaeological wonder built over 2,000 years ago to protect the tomb of Emperor Qin Shi Huang. After, visit a local village for lunch. End the day by sampling the local fare or exploring on your own. (B, L)

Day 6 Xi'an/Lhasa
Fly over the Himalayas to Tibet. Settle into our Lhasa hotel, our home for the next three nights, before setting out on an orientation walk with a local guide through Barkhor Square.

Take a spectacular morning flight over the Himalayas to Lhasa, Tibet, the roof of the world at an altitude of 3,700m (12,140 ft). Enjoy a relaxed pace in the afternoon as we adjust to the altitude, and take a leisurely orientation walk with our local guide. (B)

Day 7 Lhasa
Enjoy a guided visit to the Jokhang Temple and the Tibetan Medicine Institute to learn more about Tibetan spirituality and culture. Also visit a tangka academy to observe this ancient and intricate art form, considered sacred to Buddhists. The works usually depict a deity, scene, or mandala and are tied directly into Buddhist teaching and meditation. (B)

Day 8 Lhasa
Visit the breathtaking Potala Palace and the historic Sera Monastery, one of the great Tibetan Universities famed for its open debates among monks on the Buddhist doctrines. Later take a cooking class with a local chef and make (and eat) Tibetan momo beef dumplings. (B, L)

Day 9 Lhasa/Chengdu
Fly down into the Sichuan Valley, leaving the arid Tibetan plateau behind. Arrive in Chengdu, and be prepared to try some of the spiciest food in all of China. Enjoy the rest of your day at leisure and indulge in a traditional hot pot meal for dinner. (B, D)

Day 10 Chengdu/Chongqing
Visit the Panda Breeding Centre to learn about and observe these gentle animals. Later, catch a train to Chongqing and board a riverboat for the first night on the Yangtze.

The majority of the world's remaining pandas live in the mountains of Sichuan. Early in the morning we'll visit the Breeding Center to see the pandas stretch after a long night's slumber, then dig in to a healthy bamboo breakfast. At this hour the pandas should be their most active, as they romp in their playground environment. Later we'll head to Chongqing, where our Yangtze River cruise boat is docked. We'll enjoy a brief visit to the city of Chongqing, then board our vessel and settle in for the upcoming cruise. For our river cruise we use Victoria Cruise lines. Onboard facilities include a single-seating dining room, atrium lobby, two lounges, three bars, a gym, lecture room, library, beauty salon, massage room, and gift shop. All cabins are outside and have private balconies and bathrooms with bathtub and shower. All ships are fully air conditioned and have the latest satellite communications, HBO, CNN, and internet access. Important note: The cruise company is subject to change at any time and without notice. (B)

Day 11 Yangtze River
Cruise the Yangtze River with daily shore excursions that can include Fengdu, Shibaozhai, or Wanzhou; sailing through Qutang Gorge/Wu Gorge, Daning River Small Gorges, or Shennong Stream, and sailing through Three Gorges dam ship locks. Relax in comfortable cabins and enjoy onboard activities such as tai chi, tea tasting, and Chinese calligraphy classes.

The mighty Yangtze River splits China into north and south, and runs all the way from Chongqing to Shanghai. We cruise through one of the most geographically dramatic sections of the river, called the Three Gorges. Here, the scenery is impressive, and we see the rock formations change as we pass village after village. While on the boat, enjoy one of the several activities planned, or just laze the days away taking photos. Meal times will vary depending on the schedule of excursions and activities; times will be posted daily. Meals are served in the single-seating Dynasty Dining Room. Sumptuous western and Chinese buffets are offered at breakfast, lunch, and dinner. (B, L, D)

Day 12 Yangtze River
Cruise the Yangtze River with daily shore excursions that can include Fengdu, Shibaozhai, or Wanzhou; sailing through Qutang Gorge/Wu Gorge, Daning River Small Gorges, or Shennong Stream, and sailing through Three Gorges dam shiplocks. Relax in comfortable cabins and enjoy shipboard activities such as tai chi, tea tasting, and Chinese calligraphy classes.

The mighty Yangtze River splits China into north and south, and runs all the way from Chongqing to Shanghai. We cruise through one of the most geographically dramatic sections of the river called the Three Gorges. Here, the scenery is impressive, and we see the rock formations change as we pass village after village. While on the boat, enjoy one of the several activities planned, or just laze the days away taking photos. Meal times will vary depending on the schedule of excursions and activities; times will be posted daily. Meals are served in the single-seating Dynasty Dining Room. Sumptuous western and Chinese buffets are offered at breakfast, lunch, and dinner. (B, L, D)

Day 13 Yangtze River/Shanghai
Enjoy a tour of Three Gorges Dam (dependent on river conditions) before flying to Shanghai. (B)

Day 14 Shanghai
Enjoy free time to explore this vibrant city on your own. Opt to visit Yuyuan Gardens, the Shanghai Museum, or catch the famed Shanghai acrobats in performance this evening. (B)

Day 15 Shanghai
Depart at any time.

Shanghai is a fascinating city - we recommend booking a few extra nights at the end of your tour to better explore the it. (B)
Tour Map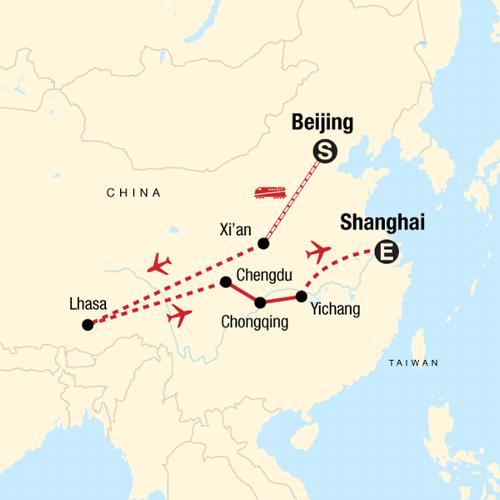 River Cruise Highlights
Enjoy a performance of shadow puppetry
Learn how to make Tibetan momos (beef dumplings)
Get up close and personal with pandas at a Sichuan breeding centre
Take in Thangka art at a Tibetan academy in Lhasa
Cruise the mighty Yangtze River on a luxury riverboat
All This Included
Go beyond the wall for a transformative adventure through China's awe-inspiring interior. Explore the unforgettable city of Beijing and meet pandas at a breeding centre in Sichuan. Discover daily life in Tibet and cruise the incredible Yangtze River on a riverboat. Cycle atop the city walls of Xi'an, and face its standing army of terracotta warriors before eating lunch in the local farming village where they were discovered. Get into China's very heart and it will most certainly get into yours.
Your Journeys Highlight Moment: Temple of Heaven Tai Chi, Beijing Your Journeys Highlight Moment: Chinese Shadow Puppetry, Xi'an Your Journeys Highlight Moment: Tangka Painting demonstration, Lhasa Your Journeys Highlight Moment: Dumpling-Making Lesson, Lhasa Your Discover Moment: Shanghai
Arrival transfer
Tour of Tiananmen Square, Forbidden City, and the Temple of Heaven
Visit the Mutianyu section of the Great Wall
Bike ride along the Xi'an city walls
Orientation walk through Xi'an's Muslim Quarter and street markets
Tour the museum of the terracotta warriors
Orientation walk in Barkhor square
Tour of Jokhang Temple, Potala Palace, and the Tibetan Medicine Institute
Sera Monastery visit
Visit a panda breeding centre
Yangtze River cruise
Three Gorges Dam tour
Internal flights
All transport between destinations and to/from included activities.
Hotels (10 nts)
Soft-sleeper overnight train (1 nt)
Yangtze riverboat (3 nts)
14 breakfasts, 4 lunches, 4 dinners.
Transportation: Train, minibus, cruise boat, small canal boat, ferry, bicycle, plane, walking.
Chief Experience Officer (CEO), local guides.
Accommodations on this Tour
Hotels (10 nts)
Chengdu, China: Golden Crape Myrtle Hotel (or similar)
Lhasa, China: Gang Gyan Hotel (or similar)
Beijing, China: 5L Hotel (or similar)
Xi'an, China: Fuhai Mingdu Hotel (Xi'an Ming Dynasty City Wall South Gate) (or similar)
Shanghai, China: Shanghai Baolong Hotel (or similar)

Soft-sleeper overnight train (1 nt)

Yangtze riverboat (3 nts)
Chongqing, China: Yangtze Riverboat - Victoria Jenna (or similar)
Notes
Small group experience; Max 15, Avg 10.
Light walking and hiking suitable for most fitness levels. Nothing too challenging.
Please ask your Vacations To Go travel counselor for more information.
Terms and Conditions
* The prices shown are U.S. dollars per person, based on double occupancy, and subject to availability. Prices quoted for land/cruise arrangements are subject to increase without notice. Once we have received your deposit, land/cruise prices are guaranteed. Air prices quoted via phone or email are subject to increase and are guaranteed only from the time that full payment is received. Also, air prices or air promotions mentioned on this site or on the phone do not include baggage fees imposed by airlines. Sorry, we are unable to offer air from countries other than the U.S. However, for those international customers who are able to arrange their own transportation to the trip origination city, we are able to offer the land/cruise portion of the package at the price quoted.