River Cruise Itinerary
Day 1 Dijon
Arrive at any time.

Day 2 Dijon
Enjoy an orientation walk in the morning to explore Dijon. Visit the Ducal Palace, the local market and the old town. In the afternoon, enjoy free time before transferring to the river barge and embarking the Danièle. (1D)

Day 3 Dijon/Longecourt-en-Plaine
Depart Dijon for a full day cycling tour through the Côte de Nuits region along the Route des Grands Crus, lined with lovely vineyards and some of the most picturesque villages in the region. Enjoy a wine tasting in the quaint village of Vougeot before meeting barge in Longecourt-en-Plaine. (1B, 1D)

Day 4 Longecourt-en-Plaine/Saint-Jean-de-Losne
Start the day with a walk around the beautiful lush gardens of Château de Longecourt, a typical Burgundy castle. Continue the morning walking along the canal and looking at the various locks. Enjoy the Burgundy canal as we walk a 5km (3 mi) stretch of the canal between Longecourt and La Biètre lock. Climb aboard the barge and continue sailing to St-Jean-de-Losne. Free time in the afternoon to visit St-Jean-de-Losne. (1B, 1L)

Day 5 Saint-Jean-de-Losne/Chalon-sur-Saône
Cruise along the Saône River before arriving to Chalon-sur-Saône. Take in a presentation by a local wine expert, and enjoy a horizontal tasting on board. Spend a relaxing afternoon walking through the footpaths around Chalon-sur-Saône. Choose to do some shopping in town or relax on board with a glass of local wine. (1B, 1L)

Day 6 Chalon-sur-Saône/Chagny
Cycle along the Côte de Beaune, stopping at villages and vineyards along the way. Explore the vineyards of Chateau de Chassigny-Montrachet while stopping to sample some wines. This mostly flat ride is an ideal way to experience quintessential Burgundy. (1B)

Day 7 Chagny/Saint-Léger-sur-Dheune
Arrive to Santenay and enjoy a tour of the stunning Château de Santenay, and indulge in a wine tasting from the local vine. Continue cruising to Saint-Léger-sur-Dheune. Enjoy lunch on board while watching the countryside go by. Upon arrival, explore the quaint village or visit the medieval castle of Château de Couches. (1B, 1L, 1D)

Day 8 Saint-Léger-sur-Dheune/Paris
Transfer to Beaune, the historic wine capital of Burgundy. Enjoy a tour with a docent, exploring the Hospices of Beaune, a charitable hospital that has been funded by the annual wine auction for over 155 years. Delve into history and discuss the relationship of the hospice with the powerful wine merchants of Burgundy. Enjoy some free time to explore before catching the train to Paris. (1B)

Day 9 Paris
Explore the historic covered Marché d'Aligre with a local chef and food expert. Rarely visited by tourists, this market is where locals come to shop for food. Meet vendors, enjoy tastings, and learn about the history of the market and the specialties offered here. The afternoon is free to explore the city on your own. (1B)

Day 10 Paris
Enjoy the day free to explore Paris. Opt to visit museums, shop or take a river cruise. (1B)

Day 11 Paris/Bayeux
Depart for Giverny to visit Claude Monet's Garden, inspiration for the artist's water-lily series and named as one of National Geographic's "top 10 most magnificent gardens in the world." Continue on to the pretty port town of Honfleur for a walk with your CEO and some free time. Arrive this evening in Bayeux and enjoy a dinner at a local crêperie. (1B, 1D)

Day 12 Bayeux
This morning we immerse ourselves in WWII history with a local, accredited expert. Begin with a lecture on the Allied invasion and visit a museum to view and handle WWII relics including vintage weapons, uniforms, and maps. Then board a WWII transport vehicle to visit Secqueville-en-Bessin War Cemetery to learn the significance of poppies, the ultimate emblem of military sacrifice. This afternoon continuing exploring with our CEO, visiting Omaha Beach, Pointe du Hoc, and the American cemetery and memorial. (1B)

Day 13 Bayeux
Today enjoy an excursion to Mont-Saint-Michel, an island commune off the coast of Normandy. A UNESCO World Heritage site, the medieval fortress is considered one of the most stunning and imposing sites in Europe, with origins dating back to the 6th century. Take an orientation walk with our CEO then enjoy free time to explore. Opt to visit the abbey, monastery, or museums, or wander the winding lanes and cobblestone streets. (1B)

Day 14 Bayeux
Enjoy a free day to explore Bayeux and its medieval centre. Wander its quaint streets to visit shops and cafes and opt to visit the cathedral and the famed Bayeux Tapestry. (1B)

Day 15 Bayeux/Paris
Depart for the river port city of Rouen where we take an orientation walk with our CEO and enjoy some free time. Continue back to Paris where we visit the studio of renowned, National Geographic photographer Reza. Enjoy an exclusive behind the scenes tour with one of Reza's assistants to learn about his work in conflict zones around the world and how his stunning photos make it from lens to page. After, enjoy some wine and cheese in this artistic setting; if we are lucky, we may even get to meet Reza. (1B)

Day 16 Paris
Enjoy a morning walk with our CEO in the medieval centre of Paris; the Île de la Cité. Opt to visit inside Notre Dame, and the Sainte-Chapelle. Afterward, take advantage of free time to explore the city. (1B)

Day 17 Paris
Depart at any time. (1B)

Tour Map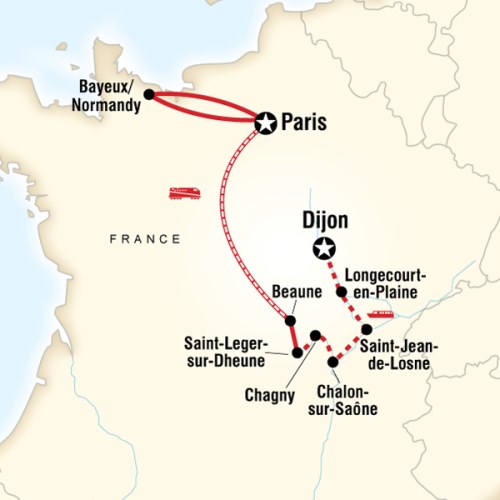 River Cruise Highlights
Learn about Burgundy's renowned vineyards
Bike through the vineyards and villages
Stroll through the charming town of Seurre
Explore the markets of Paris
All This Included
From our once-in-a-lifetime Burgundy river barge voyage to a deep dive into the rich history of Paris and the WWII legacy of northern France, embark on more than two weeks of unforgettable adventures in culture and gastronomy. Float by canal to medieval towns and pastoral vineyards, and enjoy plenty of free time to roam gorgeous centuries-old cities, gardens, and grounds. To resist France's allure is futile – this experience is nothing short of revolutionary.
National Geographic Journeys Exclusives: Burgundy Wine Talk and Horizontal Tasting, Chalon-sur-Saône National Geographic Journeys Exclusives: Visit Hospices of Beaune, Beaune National Geographic Journeys Exclusives: Local Market Visit with a Chef, Paris National Geographic Journeys Exclusives: D-Day Historical Experience, Bayeux National Geographic Journeys Exclusives: Paris Photography Studio, Paris
Six nights aboard the Danièle canal river barge
Orientation walk of Dijon and Ducal Palace
Visits to Saint-Jean-de-Losne, and Longecourt-en-Plaine
Cycle through Côte de Beaune and Côte de Nuits with wine tastings
Use of bicycles during shore excursions
Tour of Monet Gardens
Excursion to Mont-Saint-Michel
Paris orientation walk
All transport between destinations and to/from included activities.
Aboard the Danièle river barge (6 nts), hotel (10 nts).
15 breakfasts, 3 lunches, 4 dinners.
Transportation: Private vehicles, Danièle river barge, bicycle, train, walking, antique WWII vehicle, walking.
Accommodations on this Tour
Aboard the Danièle river barge (6 nts)
Hotel (10 nts)
Notes
Small group experience; Max 22.
Light walking and hiking suitable for most fitness levels. Nothing too challenging.
Please ask your Vacations To Go travel counselor for more information.
Terms and Conditions
* The prices shown are U.S. dollars per person, based on double occupancy, and subject to availability. Prices quoted for land/cruise arrangements are subject to increase without notice. Once we have received your deposit, land/cruise prices are guaranteed. Air prices quoted via phone or email are subject to increase and are guaranteed only from the time that full payment is received. Also, air prices or air promotions mentioned on this site or on the phone do not include baggage fees imposed by airlines. Sorry, we are unable to offer air from countries other than the U.S. However, for those international customers who are able to arrange their own transportation to the trip origination city, we are able to offer the land/cruise portion of the package at the price quoted.