Day 1 Your Journey Begins
Board your overnight flight to Europe (please ask about our great deals).

Day 2 Welcome to Amman
The Hashemite Kingdom of Jordan is a landscape that has changed little in 2,000 years. On arrival at Amman Airport, you are met and transferred to your hotel. Later, join your Jordanian Tour Director for a Welcome Reception, drinks and a Welcome Dinner. (WD)

Day 3 Jerash, the Pompeii of the East and on to Petra
The journey to Jerash reveals the most beautifully preserved example of a Greco-Roman city still in existence. Enter through Hadrian's Arch, to explore the grand ruins of the Temples of Artemis and Zeus, where you can listen to the Whispering Column, and overlook the vast Oval Plaza, and Cardo Maximus, the main Roman road. Return to Amman for sightseeing of the huge Roman Amphitheatre and the Citadel Hill. After some free time, continue south to the UNESCO World Heritage Site of Petra – voted one of the 'New Seven Wonders of the World'. (BB / D)

Day 4 Exploring the Lost City of Petra
This day is devoted to the beautiful 'rose red city, half as old as time'. You enter this lost city through a narrow gorge, the Siq, with walls that rise up to 200 metres. Emerge from the path to see the magnificent Treasury, carved out of solid rock and standing over 40 metres high. Wind your way through the canyon to explore the Roman Amphitheatre, which once seated 3,000 spectators, and the ancient tombs. (BB / D)

Day 5 To the Crusader Castle of Shobak, Mt. Nebo and back to Amman
Follow the King's Highway to visit Shobak, an authentic 12th century crusader fortress, perched on the side of a rocky mountain standing guard over a barren and desolate land. Admire the Arabic calligraphy on the external walls and towers before discovering the original Crusader chapel, palace complex and even a set of secret passages! Continue to Mt Nebo, one of the most revered holy sites of Jordan, where Moses stood and saw before him the Promised Land. At Madaba, visit the famous Greek Orthodox Church of St. George with its amazing 6th century mosaic map depicting the entire Holy Land – from Jordan and Palestine in the north, to Egypt in the south. Later, return to the Jordanian capital where you are at leisure. (BB / D)

Day 6 Welcome to Cairo
This morning, transfer to the airport for your flight to Egypt, a country rich in wonders and mysteries. You are met at the airport and transferred to your hotel. (BB / D)

Day 7 The Citadel and Egyptian Museum
Begin your city sightseeing at the world-famous Egyptian Museum. Starring among its attractions is the amazing treasure recovered from Tutankhamun's tomb. Sightseeing continues at the Citadel where you enjoy breathtaking views over the whole city. Salah El Din started the Citadel in the 12th Century, but it owes its present outline to Mohammed Ali, whose Great Alabaster Mosque you'll visit next. Then free time to enjoy as you wish. In the evening, get to know your Tour Director and fellow guests over a Welcome Drink at the hotel. Later, take your seats at the magical Sound & Light Show at the Great Pyramids which literally illuminates the history of Giza - an unforgettable introduction to the world of ancient Egypt. (BB / D)

Day 8 Cairo and the Great Pyramids of Giza Experience
Gain a deeper understanding of the last remaining Wonder of the Ancient World during a visit to Giza with a Local Expert. Meet the enigmatic Sphinx crouching at the foot of Chephrenís Causeway and venture inside one of the magnificent pyramids. Nearby lies Memphis, capital of the Old Kingdom, see the colossal statue of Rameses II and the great Alabaster Sphinx. Continue to Sakkara, view the Step Pyramid of Zoser I; dating from 2,686 BC, it's the oldest in the world. Enjoy free time this afternoon. (BB)

Day 9 Fly to Luxor to board your Nile Cruise Ship
Fly to Luxor and visit the huge temple complex of Karnak. Walk through the avenue of ram-headed sphinxes to stand among the columns of the Hypostyle Hall. Transfer to your cruise ship. After lunch onboard, visit Luxor Temple unearthed by Mariette in the 1860s. (BB)

Day 10 Visit the Valley of the Kings, then through the Esna Lock to Edfu
Travel by air-conditioned coach to the west bank of the Nile to see the Colossi of Memnon, and visit both the Temple of Hatshepsut and Valley of the Kings, where many pharaohs were buried. Next, visit a working bakery and witness the local artisans creating authentic Egyptian bread. Return to your cruise boat and sail via the Esna Lock to Edfu. (BB)

Day 11 Visit the Valley of the Kings, then through the Esna Lock to Edfu
Visit the Temple of Horus at Edfu, dedicated to the Falcon God. After exploring this magnificent site, sail to Kom Ombo to visit the only double temple in Egypt dedicated to two gods: the crocodile-headed Sobek and falcon-headed Horus the Elder. Cruise to Aswan and in the evening, don your galabeyas (traditional Egyptian attire), for a fun-filled Egyptian dinner and galabeya party. (BB)

Day 12 Visit the Valley of the Kings, then through the Esna Lock to Edfu
In the morning, visit to the Aswan High Dam and Granite Quarries to see the enormous unfinished obelisk. Travel by motorboat to the Temple of Isis, rising from the waters of the Nile on the Island of Philae. Later, on a traditional Nile Felucca, meet a sailor and learn the art of sailing this ancient craft. As the sun starts to fade, enjoy colonial-style high tea at the historic Old Cataract Hotel. (BB)

Day 13 Visit the Valley of the Kings, then through the Esna Lock to Edfu
In the morning, disembark your cruise ship and enjoy free tme in Aswan. Why not join an optional experience by air to the magnificent Temples of Rameses II at Abu Simbel? Otherwise, spend the morning as you wish. There is lots to enjoy; the Botanic Gardens, Elephantine Island, the Aga Khan Mausoleum or soak up the African atmosphere in the Nubian bazaar. Later, transfer to the airport for your return flight to Cairo for the night. (BB)

Day 14 Visit the Valley of the Kings, then through the Esna Lock to Edfu
Your journey ends after breakfast with transfers to the airport. (BB)

Tour Map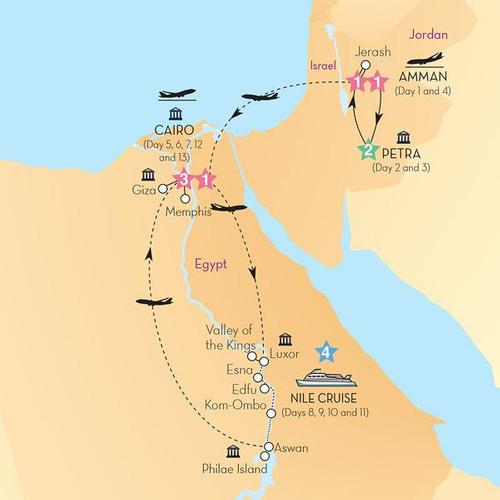 River Cruise Highlights
SIGNATURE EXPERIENCES
Jerash: Step back 2,000 years in time in this marvellous ancient city, the finest surviving example of a Greco-Roman city in the world.
Petra: Visit the 'rose red' city and journey through the winding dark passageway between rock walls 90-180 meters high to the ancient hidden city.
Mount Nebo: Look down upon Moses' Promised Land. The view is amazing and the ruins are truly a site to behold.
Madaba: View the mosaic that is believed to be the earliest surviving map of the Holy Land.
Cairo: Gaze upon the most recognisable symbols of ancient Egypt: the full-faced funeral mask, gold coffin, gilded throne and precious jewellery – Tutankhamun's treasures.
Giza: If only these walls could talk! Oh, but they do at the audio visual Sound & Light Show at the Great pyramids.
Giza: Meet the enigmatic Sphinx and venture deep inside one of the pyramids, to the chambers where the pharaohs went to meet their Gods in the afterlife.
Karnak: Stand amid a vast forest of columns in the largest temple complex known to man.
West Bank: Embark on an experience with an Egyptologist to visit the Temple Hatshepsut and royal tombs in the Valley of the Kings.
Philae Island: Board a motorboat to the temple complex.
Aswan: On a traditional Nile felucca, meet a sailor and learn the art of sailing this ancient Nile craft.
ADDITIONAL INCLUDED HIGHLIGHTS
Amman: See the Roman Amphitheatre and Citadel Hill.
Shobak: Explore the Crusader fortress seeing the Crusader chapel.
All This Included
From Jordan's Crusader forts, to the world's oldest pyramid, this tour is a virtual time machine, catapulting you on through history with each and every visit.

AUTHENTIC REGIONAL FLAVOURS
Cruising: Join the fun at an Egyptian dinner and galabeya party.
Luxor: Visit a working bakery and witness the local artisans creating authentic Egyptian bread.
Aswan: Like Winston Churchill and Agatha Christie before you, enjoy the sunset and high tea in colonial English-style at Aswan's famous Old Cataract Hotel.
12 Buffet Breakfasts (BB), 1 High Tea (AT), 1 Welcome Drink (WR) and 3 three-course table d'hôte Dinners or Buffets (D) with tea or coffee; 1 Welcome Dinner (WD) with wine, plus tea or coffee; plus 4 lunches (L), 3 Dinners (D) and 1 Signature Evening (SE) all with bottled water, tea or coffee while cruising
STAY AT THE BEST ADDRESSES
Cairo: The luxurious Cairo Marriott is conveniently located on Gezira Island in downtown Cairo. The central section was once the Gezirah Palace built for the Khedive Isma'il Pasha in 1869. Facilities include health club, whirlpool and sauna.
Cruising: Cruise the Nile in style, on-board your traditional Nile cruiser with its spacious cabins, bars, shops, lounge, restaurant and swimming pool.
Amman: The 5-star Amman Marriott Hotel is located in one of the capital's busiest centers, with easy access to all historical sites. It offers spacious rooms and features 2 restaurants, 2 bars, and a health club with 2 pools.
Petra: The Petra Marriott Hotel is majestically situated to overlook the dramatic and picturesque rose-red city. It combines the warmest Arabian hospitality with the splendor of the ancient city of Petra.
ADDITIONAL FIVE STAR SERVICES
An expert Insight Tour Director, at the pinnacles of their careers, will smooth your way throughout your journey.
They are your 'travelling concierges', expert guides, consummate organisers and friends in a foreign land.
Enjoy the unique comfort of Insight's luxury air-conditioned 40 seat coach with extended leg room and on-board restroom.
It's business class comfort.
Personal radio headsets, gives you the freedom to wander during visits to famous highlights without missing any of your local expert's fascinating insights and commentaries.
Baggage handling everywhere, with seamless and prompt delivery to your door at every hotel.
Hotel and restaurant tips included - you'll never have to worry about how much to give, nor search for foreign currency.
Plus we include all taxes and porterage charges at hotels.
Stay connected with friends and family with our complimentary coach and hotel WiFi.
Insight Flourishes - from time to time, your Tour Director will enchant you with local tidbits, each representing authentic food or beverages unique to the destination.
Included airport transfers at scheduled times on arrival and departure days.
Smaller vehicles without toilet facilities may be used.
Accommodations on this Tour
Amman:
Amman Marriott Hotel
Petra:
Petra Marriott Hotel
Cairo:
Cairo Marriott Hotel
Cruising: MS Miriam/ MS Giselle/ MS La Boheme (or similar)
Notes
Please ask your Vacations To Go travel counselor for more information.
Terms and Conditions
* The prices shown are U.S. dollars per person, based on double occupancy, and subject to availability. Prices quoted for land/cruise arrangements are subject to increase without notice. Once we have received your deposit, land/cruise prices are guaranteed. Air prices quoted via phone or email are subject to increase and are guaranteed only from the time that full payment is received. Also, air prices or air promotions mentioned on this site or on the phone do not include baggage fees imposed by airlines. Sorry, we are unable to offer air from countries other than the U.S. However, for those international customers who are able to arrange their own transportation to the trip origination city, we are able to offer the land/cruise portion of the package at the price quoted.