Day 1 ARRIVE IN RIO DE JANEIRO, BRAZIL.
Arrive in Rio, where your hotel is available for mid-afternoon check-in.

Day 2 RIO DE JANEIRO.
An included private city tour takes you to the top of the Corcovado Mountain to see the Christ the Redeemer statue and to enjoy the breathtaking 360-degree panoramic views of Rio and the beaches below. (B)

Day 3 RIO DE JANEIRO.
Today is at leisure. You may opt to join an outing to a fun churrascaria for a feast of barbecued meats marinated and roasted over charcoal in true Brazilian style, followed by a Samba show, where the sheer vitality of this country explodes in a colorful extravaganza. (B)

Day 4 RIO DE JANEIRO–IGUASSU FALLS.
A flight takes you to Iguassu Falls. Spend the afternoon on a private guided tour, enjoying the magnificent panorama of waterfalls from the Brazilian side. (B)

Day 5 IGUASSU FALLS.
Today, on the Argentine side of Iguassu Falls, ride the Ecological Jungle Train and enjoy a private walking tour of this side of the falls. (B)

Day 6 IGUASSU FALLS–MANAUS.
Fly to Manaus, gateway to Brazil's Amazon. Private guided sightseeing shows you the opulent sites from Manaus' rubber boom, like São Sebastião Square, Palácio Rio Negro, and the Opera House, built almost entirely of European materials during the rubber boom and inaugurated in 1896. (B)

Day 7 MANAUS (EMBARKATION).
Embark your cruise ship, the Iberostar Grand Amazon. Stops will be made along the Amazon's Rio Solimões, offering excursions to explore the Amazon jungle and local vegetation, see indigenous animals, and even visit local river communities. This evening, enjoy a Captain's welcome cocktail party before dinner. (B,D)

Day 8 CRUISING: RAINFOREST WALK & PIRANHA FISHING.
This morning, board a panga boat ride to shore and embark on a Naturalist-guided walk through the rainforest in the Manacapurú region. Along the trail, learn how native people subsist off the flora. You'll also hear about some of the medicinal qualities each plant possesses. Keep an eye open for capuchin and howler monkeys! After a lecture on the region and lunch on board, head back out via panga and try your hand at piranha fishing. Tonight, take a night cruise along the waterways on a caiman-spotting expedition. (B,L,D)

Day 9 CRUISING: BIRD WATCHING & LOCAL HOME VISIT.
Enjoy the sunrise over the Amazon on a bird-watching safari in search of the many endemic birds of the Janauacá Lake region. Later, visit a local home for an up-close view of how the native communities live and work. This afternoon, cruise the Amazon tributaries, looking for wildlife. Your final evening on board begins with a gala dinner, followed by a Brazilian folkloric show. (B,L,D)

Day 10 MEETING OF THE WATERS–MANAUS (DISEMBARKATION).
Cruise the Meeting of the Waters, where the chocolate-colored Rio Negro meets with the yellow-gray Rio Solimões to form the mighty Amazon. For four miles the differently colored bodies of water flow side by side and never mix! Say goodbye to the Amazon when you disembark in Manaus, where your vacation ends. Please schedule flights after 10 am. (B)
Tour Map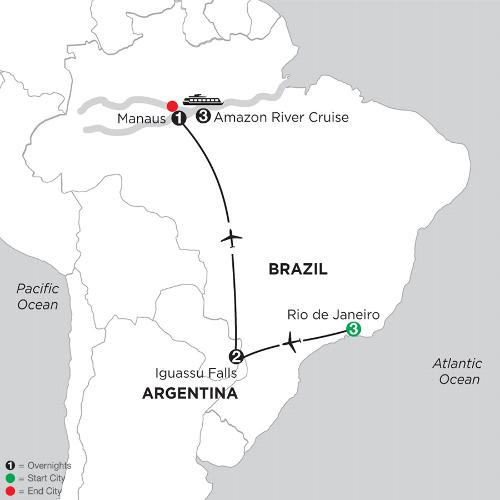 All This Included
The Amazon Jungle… do you know anyone who's been lucky enough to say they've explored the Amazon? Now you do, and it's you! And Monograms makes it easy for you. Plus, we know if you're traveling all the way to Brazil, you'll also want to see Rio de Janeiro & Iguassu Falls. That's why on this 10-day vacation, we've arranged your hotel and cruise accommodations, daily buffet breakfast (plus 2 lunches and three dinners), sightseeing, and transportation within the cities. Plus, we want you to feel comfortable in Brazil so we've arranged a one-of-a-kind feature for you: a Local Host® in each city—Rio de Janeiro, Iguassu Falls, & Manaus. Your Local Hosts will help make sure your vacation runs smoothly by answering questions, helping you personalize your trip, offering suggestions, and letting you in on little-known local secrets.
Your vacation begins the moment you arrive, as we can whisk you from the airport to your selected hotel in Rio de Janeiro. There, your Local Host will present you with a set of materials to help familiarize you with the city and get you settled. The next day, after an included breakfast, we'll pick you up at your hotel for a private tour with an expert Local Guide that features Rio's famous beaches as well as Corcovado Mountain to see the Christ the Redeemer statue. Be sure to have your camera ready, as there are breathtaking, 360-degree, panoramic views of Rio and its beaches. During your free day in Rio, perhaps enjoy a samba show or visit Sugar Loaf Mountain via cable car to see amazing views.
The next day, after included breakfast, we'll take you to the airport for your flight to Iguassu Falls, where you'll have private guided tours of these magnificent waterfalls from the Brazilian and Argentine sides. Meaning "Mighty Waters" in the local language, these falls span almost three miles and contain 275 individual cataracts. Hear the deafening roar, see the rainbows forming in the mist, and stand in awe as you witness one of the world's most beautiful waterfalls.
Then your journey continues to Manaus, gateway to Brazil's Amazon, where we'll pick you up at the airport and take you on a private, guided sightseeing tour with a local expert. You'll hear the insider stories and see the opulent sights from the rubber boom days, like the Opera House, built from materials brought over from Europe. In Manaus, you'll embark your 3-night cruise up the Amazon. Your cruise includes excursions to explore the Amazon jungle and its vegetation, indigenous animals, and even local river communities. You'll enjoy Naturalist-guided walks through the rainforest to learn how the native people live off the land; hear lectures on the region; have the opportunity to try piranha fishing; take a cruise at night along the waterways to spot caiman; enjoy a birdwatching Safari in search of the many endemic birds; visit a local home for a personal experience with the native communities; and cruise the Amazon tributaries looking for wildlife, such as capuchin and howler monkeys. Before your vacation ends, you'll also cruise the Meeting of the Waters, where the chocolate-colored Rio Negro meets with the yellow-gray Rio Solimões to form the impressive Amazon River.
And did we mention that we've included not only the cruise, but also sightseeing of both sides of Iguassu Falls including the Ecological Jungle Train in your package? In fact, between the sightseeing we've included, hotels we have booked, and the transportation we've arranged, Monograms has handled all the details for you. And, just think of the comfort you'll get from having a Local Host in each city, especially if you do not speak Portuguese. So grab your camera and get ready for a trip of a lifetime!
Buffet breakfast daily; 2 lunches; 3 three-course dinners
Transportation: As outlined in the day-by-day itinerary and private airport transfers to/from intra-vacation flights; intra-vacation flights not included.
Your Amazon vacation package includes a 3-night cruise on the all-inclusive Iberostar Grand Amazon, a luxury ship offering included excursions to explore the wonders of the Amazon.
Local Host In Rio de Janeiro, Iguassu Falls & Manaus
Sightseeing with a Local Guide, inside visits, and special features are shown in the day-by-day itinerary
Accommodations on this Tour
Rio de Janeiro: Windsor Plaza
Iguassu Falls: Viale Cataratas
Manaus: Hotel Blue Tree Premium Manaus
Amazon River: Iberostar Grand Amazon
Notes
Cruise pricing is based on outside cabins located on the Mandi deck.
Hotel upgrades are available.
Please ask your Vacations To Go travel counselor for more information.
Terms and Conditions
* The prices shown are U.S. dollars per person, based on double occupancy, and subject to availability. Prices quoted for land/cruise arrangements are subject to increase without notice. Once we have received your deposit, land/cruise prices are guaranteed. Air prices quoted via phone or email are subject to increase and are guaranteed only from the time that full payment is received. Also, air prices or air promotions mentioned on this site or on the phone do not include baggage fees imposed by airlines. Sorry, we are unable to offer air from countries other than the U.S. However, for those international customers who are able to arrange their own transportation to the trip origination city, we are able to offer the land/cruise portion of the package at the price quoted.