Day 1 Arrive in Beijing
Tour begins: The Waldorf Astoria Beijing at 6:30 PM. Transfers are included from Beijing Capital Int'l Airport to the Waldorf Astoria Beijing. Join us for a welcome reception and dinner this evening. (D)

Day 2 The Great Wall & Beijing's Hutongs
They don't call it "The Great Wall" for nothing... Besides being the only man-made structure visible from space, the Great Wall of China tops most travelers' lists of the Earth's must-visit places. Take a walk atop the highest point of its Badaling section, then walk down to the bottom along an ancient stone path where you'll travel a short distance for lunch at the Commune by the Great Wall - enjoy the views of this architectural wonder surrounding you. This afternoon, gain some insights on the city's centuries-old hutongs - unique traditional neighborhoods threatened by ongoing urban development - when you take a private tour of a hutong - ride a rickshaw and visit a local family in their home. Dinner is on your own tonight in Beijing. (B, L)

Day 3 Temple of Heaven to Tiananmen Square
This morning, visit a grand example of traditional Chinese architecture - Beijing's Temple of Heaven, a round, three-tiered wood structure intricately decorated with gold leaf and colorful designs; try to imagine a long-ago time when the emperor and his entourage would travel here in secret processions from the Forbidden City to hold solemn ceremonies asking the gods for a bountiful harvest. Learn the moves from the locals as you take part in a Tai Chi racquet lesson in one of the Temple's beautiful parks. After lunch at a local restaurant, you'll explore the legendary Forbidden City itself, where Imperial China's emperors dwelt for centuries; tour the Hall of Supreme Harmony, the Hall of Middle Harmony, the Hall of Preserved Harmony, the Hall of Mental Cultivation, the Imperial Garden and more. Just beyond the Forbidden City, continue to Tiananmen Square, a witness to much of modern Chinese history and home to Mao Zedong's mausoleum; view his portrait hanging above the "Gate of Heavenly Peace." Dine at your choice of fine restaurants at the hotel this evening. (B, L, D)

Day 4 Fly to Xi'an and Visit an Underground Museum
Board a flight to 3,000-year-old Xi'an, one of China's great ancient capitals. Upon arrival, you'll visit an amazing place - the Han Yang Ling Underground Mausoleum and museum. Known locally as "the most underrated tomb in Xi'an," it was undisturbed for about 2,100 years before opening to the public in the last decade. You'll find an amazing collection of cultural relics that depict life as it was during the Western Han Dynasty. Dine at your leisure this evening. (B, D)

Day 5 Terra Cotta Warriors & Shaanxi Museum
8,000 lifelike soldiers guarding an emperor's tomb for 2,000 years... get an insider's view of the Terra Cotta Warriors from a leading museum staffer! Enjoy a traditional dumpling lunch at a local restaurant. Explore ancient China further with a special visit to the Shaanxi History Museum, home to 300,000+ works of art and artifacts. (B, L, D)

Day 6 On to Guilin & a Canal Cruise
Fly to Guilin, among China's most picturesque places, whose landscapes have inspired poets and artists for centuries. After checking in and relaxing at bit at your hotel, the Shangri-La Hotel, Guilin, set out on an evening cruise through the center of the city along its delightful canals. As you cruise, you'll pass under bridges built to resemble some of the world's most famous spans, including San Francisco's Golden Gate Bridge and the Tower Bridge in London; enjoy a demonstration of cormorant fishing along the way. Dinner is à la carte this evening at your hotel. (B, D)

Day 7 Cruising the Li River & a Cooking Lesson
Spend the morning on a private Tauck cruise along the storied Li River today; feast your eyes and your soul on tranquil groves, fishermen on bamboo rafts, breathtaking limestone peaks and views of traditional village life that seem to be lifted from an ancient Chinese scroll painting! Following your cruise, attend a cooking lesson on local cuisine - then eat what you helped make for lunch! Dinner is à la carte this evening at your hotel in Guilin. (B, L, D)

Day 8 Chongqing / Embark Your Yangtze Cruise
After touching down in Chongqing, enjoy lunch and a visit to the Chongqing Zoo before boarding the newly renovated Yangzi Explorer for a memorable three-night cruise through the Three Gorges of the mighty Yangtze River. Dine aboard ship this evening before setting sail on your cruise, bound downstream to Yichang. (B, L, D)

Day 9 Yangzi Explorer & a choice of shore excursions
Visions of knobby, mist-shrouded mountains steeped in the mystique of old China travel with you as you experience the Yangtze from dawn to dusk aboard the recently renovated Yangzi Explorer, one of the finest and roomiest ships on the river - and completely renovated for 2018. Enjoy a range of activities aboard ship today, including Tai Chi exercises and an introduction to Chinese healing practices. Arrive in Fuling, where you will have a choice of shore excursions - a visit the White Crane Ridge Underwater Museum or the 816 Underground Project, an underground nuclear installation that is one of the world's largest artificial military caves. Return to the ship midday for an afternoon cruising the Yangtze. This evening, meet the Captain at a welcome reception, followed by dinner and a choice of The Three Kingdoms Open Air Show or a cultural performance by the ship's crew. (B, L, D)

Day 10 Cruising the Three Gorges
Otherworldly vistas greet you as the Yangzi Explorer takes you into the Yangtze River's Qutang and Wu gorges. Following a Shennong Stream excursion via sampan, then lunch, enjoy shipboard activities including a calligraphy lesson as Yangzi Explorer cruises through Xiling Gorge, largest of the Three Gorges, this afternoon and evening. (B, L, D)

Day 11 Three Gorges Dam & On to Shanghai
Sail into Yichang through a series of locks adjacent to the site of the Three Gorges Dam, one of the world's largest construction projects. Following your private visit to the site and lunch aboard the ship, disembark and fly to Shanghai, one of the country's most cosmopolitan cities, where you'll spend three nights at the Fairmont Peace Hotel. (B, L, D)

Day 12 In Shanghai, the Bund and Acrobats
Explore Shanghai's famous waterfront Bund today. Visit the historic and harmonious Yu Gardens, whose original grounds and temple date back to the 1550s; the word yu translates to "peace and health." Pathways wind through rock gardens and bamboo stands, and stone bridges cross pools filled with bright carp. Have lunch today at the charming "M on the Bund" - and then tonight, watch from premium seating as the daring acrobatic performers of Shanghai's acclaimed ERA show entertain you. (B, L)

Day 13 The Past Meets the Future in Shanghai
Get a good introduction to Shanghai at the Shanghai Urban Planning Center, showcasing the city's past and future urban development through detailed models and multimedia displays, including a mock-up of 1930s Shanghai; a huge model of what the city might look like in 2020; a 360-degree, 3-D film and more. Then tour the Shanghai Museum, displaying 120,000 works of art and artifacts. After lunch on your own in the Xintiandi neighborhood, explore the area as you please, then learn about its vanishing traditional stone-gated shikumen homes on a guided walk. Have dinner tonight at the wonderful restaurant Jean Georges Shanghai, known for its cuisine and views. (B, D)

Day 14 Welcome to Hong Kong
Fly from Shanghai to Hong Kong this morning, exploring the city as you wish for the rest of the day from your world-class hotel - The Ritz-Carlton, Hong Kong, located on floors 102-118 in the International Commerce Centre overlooking Hong Kong's Victoria Harbour in Kowloon, and offering spectacular panoramic views of the city. (B)

Day 15 Hong Kong from Many Viewpoints
You'll experience this fascinating city from different perspectives today - by ferry, by double-decker bus, and on a funicular tram ride up Victoria Peak, then have lunch at a local dim sum restaurant. The rest of the day is free to explore the city as you please. Hong Kong abounds with street stalls selling everything from sneakers to silk, tropical birds to exotic fish; your hotel is in the Kowloon section, right in the heart of this shopper's paradise. We invite you to join us and celebrate an incredible China travel experience at our farewell reception and dinner tonight at your hotel, overlooking Kowloon and Victoria Harbour from the upper floors of the International Commerce Centre. (B, L, D)

Day 16 Journey Home
Tour ends: Hong Kong. Fly home anytime; a transfer is included from The Ritz-Carlton, Hong Kong to Hong Kong International Airport. Please allow a minimum of 3 hours for flight check-in. (B)

Tour Map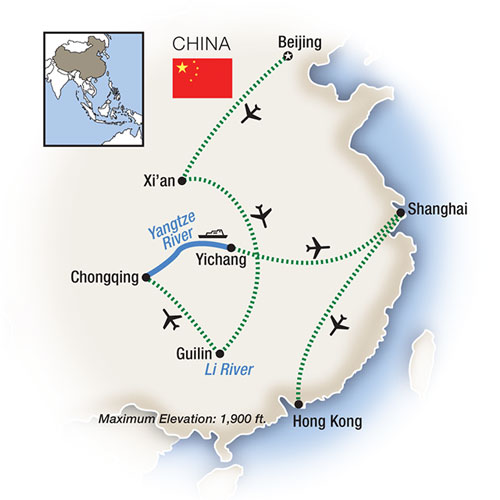 River Cruise Highlights
3-night Yangtze River cruise
Hutong visit in Beijing
Meet a curator at the Terra Cotta Warriors in Xi'an
Local dining experiences
Acrobatic show
Sampan ride on Shennong Stream
All This Included
Picture a China travel adventure that takes you behind the scenes at ancient treasures, exotic gardens, architectural masterpieces and compelling UNESCO World Heritage Sites like the Forbidden City, the Great Wall and the Terra Cotta Warriors... includes a memorable cruise through the Yangtze River's Three Gorges aboard the newly renovated Yangzi Explorer... and is filled with exclusive experiences such as an insider experience in Beijing's hutongs - including a visit with a local family. Throughout China travel is unique - by rickshaw in Beijing, by sampan in Shennong Stream, via funicular up Victoria Peak in Hong Kong, and by gondola and on foot along the Great Wall. Meet a conservation expert at the Terra Cotta Warriors museum in Xi'an, and families at a Three Gorges Dam relocation village along the Yangtze. There's no end to the enriching discoveries you'll make on this comprehensive China travel experience!
3-night eastbound Yangtze River cruise between Chongqing and Yichang aboard the Yangzi Explorer
Insider experience in Beijing's disappearing hutongs including a rickshaw ride and a visit with a local hutong family
Private talk with a conservation expert at the Terra Cotta Warriors museum in Xi'an
Special visits to the Han Yang Ling Underground Museum and the Shaanxi History Museum
Introduction to Shanghai at the Shanghai Urban Planning Center
Unique dining experiences at local restaurants
Performance of Shanghai's daring, hi-tech ERA acrobatic show
Sampan ride on Shennong Stream during your Yangtze cruise
Small Group Departures - Select small group departures averaging 24 Tauck guests; specific dates apply - ask at booking for details.
Special Solo Traveler Savings on select departures; specific dates apply; ask at booking
Airport transfers upon arrival and departure as noted
37 meals (15 breakfasts, 10 lunches, 12 dinners) with gratuities to ship staff, local guides, taxes, service charges, admission fees and porterage
Accommodations on this Tour
Beijing: Waldorf Astoria Beijing
Xi'an: Shangri-La Hotel, Xi'an
Guilin: Shangri-La Hotel, Guilin
Cruising: Cabin onboard Yangzi Explorer
Shanghai: Fairmont Peace Hotel
Hong Kong: Ritz-Carlton, Hong Kong
Notes
Cabin upgrades are available.
On tour airfare of $1,200 to $1,300 is not included.
The following dates are small group departures averaging 24 Tauck guests: April 26, May 24, September 6 & 27 and October 18, 2018.
Eastbound tours of October 19 & 26 will stay at Four Seasons Hotel Hong Kong on nights 14 & 15.
Please ask your Vacations To Go travel counselor for more information.
Terms and Conditions
* The prices shown are U.S. dollars per person, based on double occupancy, and subject to availability. Prices quoted for land/cruise arrangements are subject to increase without notice. Once we have received your deposit, land/cruise prices are guaranteed. Air prices quoted via phone or email are subject to increase and are guaranteed only from the time that full payment is received. Also, air prices or air promotions mentioned on this site or on the phone do not include baggage fees imposed by airlines. Sorry, we are unable to offer air from countries other than the U.S. However, for those international customers who are able to arrange their own transportation to the trip origination city, we are able to offer the land/cruise portion of the package at the price quoted.