Day 1 Arrive Budapest
Tour begins: 6:00 PM, Kempinski Hotel Corvinus Budapest. A transfer is included from Budapest's Ferenc Liszt Airport or Keleti Train Station to the Kempinski Hotel Corvinus Budapest. Your musical odyssey begins prior to cruising the Danube River when you meet your fellow travelers at Tauck's exclusive welcome reception and dinner at the Akadémia Klub in the Hungarian Academy of Sciences, accompanied by a local trio performing traditional Hungarian music. (D)

Day 2 Discovering Franz Liszt's Budapest
Statues of Mozart, Beethoven, Verdi and Liszt greet you at the 1884 State Opera House in Pest, with its gilded vaulted ceiling, murals, royal boxes and three-ton chandelier; expect some surprises on a guided tour of this neo-Renaissance masterpiece, including the private box of Habsburg Empress Elisabeth ("Sisi"). Discover some of Budapest's key sites today, such as Heroes' Square - bounded by some of the finest architectural works in Hungary - and Central Market Hall. You'll also learn more about Franz Liszt, beloved Hungarian composer and piano virtuoso, and, if you wish, can visit the Franz Liszt Academy. After a free afternoon in Budapest, join us for a performance at one of the city's premier concert venues. (B)

Day 3 Bartók & more in Budapest & begin cruise
Following a free morning spent as you please in Budapest, head to Buda for a walking tour and, if you wish, time to check out the Museum of Music History, interpreting centuries of Hungarian musical life in a former palace on Castle Hill. The legacy of Béla Bartók lives on in his 1924 home, now a museum and memorial dedicated to the composer and musicologist; hear his melodies in a piano recital during your visit; explore Gellert Hill. Embark your riverboat at the dock in Budapest; meet the Captain and crew at tonight's reception followed by dinner, where Tauck's "maestros" welcome you aboard with music! (B, D)

Day 4 Bratislava, City of Prodigies
After a morning's cruise with lectures, workshops and a guest choir rehearsal, arrive in Bratislava, Slovakia - the Baroque stomping grounds of great musical prodigies, as you'll discover firsthand today. A walking tour includes the city's Old Town, now a pedestrian-only, vehicle-free zone. Stroll down a lane where 6-year-old Mozart performed and 9-year-old Liszt played across the street 58 years later - around the corner, 30 years after that, one of Liszt's young students inspired him to write a sonata for the boy! You'll also see where a young Béla Bartók attended grammar school in the 1890s. Following time to relax aboard the riverboat or explore more of this ancient city on your own, join us back onboard for dinner and some local entertainment. (B, L, D)

Day 5 Exploring Vienna's musical treasures
If you had to choose only one European city to musically explore, Vienna - home to Mozart, Haydn, Beethoven, Schubert, Brahms and Strauss - would be it! This morning, you may choose a visit to Schönbrunn Palace of the Habsburgs, followed by some free time to explore this grand Habsburg summer residence and its magnificent gardens on your own. Or join our maestros for a musical walk to the Haus der Musik, an interactive musical museum, and Mozarthaus Vienna - where Mozart lived with his family between 1784 and 1787, and composed The Marriage of Figaro - in Vienna's Old Town. This afternoon, you'll have time to explore more of Austria's remarkable capital on your own and have an early dinner before enjoying tonight's featured performance of Viennese opera at a premier venue in Vienna This afternoon, you'll have time to explore more of Austria's remarkable capital on your own and have an early dinner before enjoying tonight's featured performance of Viennese opera at a premier venue in Vienna (subject to availability; if an opera performance is not available, a comparable classical music performance will be provided). (B, L, D)

Day 6 Behind-the-scenes palace rehearsal & a grand evening in Vienna
Vienna springs to musical life on a day featuring a pair of Tauck Exclusives. For the first one, sit in on a rehearsal this morning at beautiful Auersperg Palace as an orchestra prepares for a performance. Then spend the afternoon as you please in amazing Vienna. Tonight, nothing quite compares to the royal treatment you'll receive at today's second Tauck Exclusive: our private grand evening at the Palais Ferstel, a historic Venetian-inspired private venue restored to its 19th-century glory in the heart of Vienna - an incomparable setting for welcome cocktails and apéritifs, an amazing dinner, an orchestra, ballet, Mozart... it's Tauck's musical Vienna at its best! (B, L, D)

Day 7 Melk Abbey & some musical cruising
Melk Abbey, a beautiful Benedictine monastery complex overlooking the Danube, has been a significant center of learning and culture since its founding over 900 years ago. Get a sense of the importance of music to the abbey's cultural life through the ages as you tour its lovely Baroque buildings dating to the early 18th century, which often host concerts and musicals today. Back on the riverboat, enjoy lectures by our maestros and dinner en route to Grein, where you'll disembark this evening for a walk through this picturesque riverside town. After you're back onboard, your riverboat continues cruising the Danube to the city of Linz overnight. (B, L, D)

Day 8 Mozart's Baroque hometown, musical Salzburg
Just picture a small boy of 5 wowing a royal audience with his piano virtuosity... then crawling up on the lap of the Empress of half of Europe, and giving her a kiss! Little Wolfgang Amadeus Mozart, who was born in Salzburg, Austria in 1756, did just that... and a great deal more. Walk in Mozart's footsteps this morning on an excursion from Linz to his Baroque hometown, visiting a museum in the house where he was born, among other locations. After free time for lunch as you please in town, walk to Mozarteum University, where you'll enjoy some music from Mozart's operas and a talk with a university professor. Depart this delightful city - where much of The Sound of Music was filmed, by the way - and return to the ship for dinner, guest choir rehearsal and an onboard classical chamber music concert by Donau 3klang as your riverboat continues cruising the Danube. (B, D)

Day 9 A grand pipe organ & more in Passau
Your riverboat docks this morning in Passau, Germany - the "city of three rivers" at the junction of the Inn, Ilz and Danube. Discover this Baroque Bavarian town known for its many churches and exquisite stained glass on a walking tour. At St. Stephan's Cathedral, you'll find Europe's largest pipe organ - actually the largest cathedral organ in the world - and, if you wish, listen to a public recital of this amazing instrument. Back aboard the riverboat in Passau, enjoy a traditional German lunch and take part in seminars, workshops, a guest choir rehearsal, musical trivia fun, and tonight's captain's farewell reception followed by a gala farewell dinner; the ship departs Passau this evening for its final port of call, Vilshofen. (B, L, D)

Day 10 Disembark in Vilshofen & on to Prague
This delightfully musical of Danube tours winds down as you disembark in the town of Vilshofen, bid your riverboat and its crew goodbye, and travel to historic (and extremely musical) Prague for a two-night stay. Arrive in time for a traditional Czech lunch at the delightful Art-Nouveau Municipal House, then embark on a walking tour of Prague's storied Old Town. The rest of the afternoon and evening are yours to explore Prague as you wish, and enjoy dinner as you please this evening. (B, L)

Day 11 Musical giants and more in and around Prague
Many musical giants have left their mark on Prague - capital of today's Czech Republic, and a city with a rich musical legacy of its own - and its environs as you'll discover during both guided sightseeing and time spent exploring on your own. Your day begins with an excursion to Vyšehrad, a historic fort and Czech national cultural site dating back to the 10th century, perched on a hill overlooking the Vltava River. Set within the castle is the Basilica of St Peter and St Paul and the Vyšehrad Cemetery, final resting place of many notable Czechs - including beloved Czech composers Antonín Dvorák and Bedrich Smetana. The afternoon is yours to explore more of Prague on your own. Later, you'll gather to visit the Dvorák House (the composer's former home) and the Church of St. Ondrej, then travel to Nelehozeves Castle for a grand farewell dinner and our guest choir performance... what a way to end your musical odyssey! (B, D)

Day 12 Journey home
Tour ends: Prague, Czech Republic. Fly home anytime. A transfer is included from the InterContinental Prague to Václav Havel Airport Prague or Praha Hlavni Nadrazi (Main Train Station); allow a minimum of 3 hours for flight check-in at the airport. (B)

Tour Map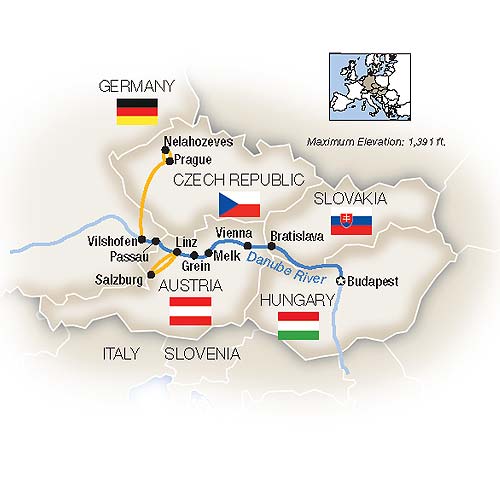 River Cruise Highlights
7-night music-themed Danube cruise
workshops & performances by Tauck's "Maestros"
Private Imperial Evening at a Vienna palace
sitting in on an orchestra rehearsal at Vienna's Auersperg Palace
music and talk with a professor at Mozarteum University in Salzburg
special musical performances in Budapest and Vienna
All This Included
Cruising the Danube River takes on new meaning when you join Tauck's "maestros" to walk in the footsteps of musical giants like Mozart, Beethoven, Bartók, Schubert, Liszt, Strauss, Haydn and others on a 12-day trip through the heart of Europe including a 7-night cruise aboard one of Tauck's custom-designed riverboats, ms Savor or ms Joy. Explore Prague, Vienna, Salzburg, Bratislava, Budapest and more, visiting homes these musical greats lived and composed in, and concert halls and palaces where they performed... enveloped by their glorious music throughout a magical journey filled with Tauck Exclusives! Along with your Tauck Cruise Director and Tauck Directors, your cruise is accompanied throughout by Tauck's "maestros." Active music scholars and performers, our maestros include current doctoral recipients in music history who are passionate and knowledgeable about European music and the destinations you'll visit. They'll guide your explorations ashore and enrich your onboard experience with interactive music workshops, seminars and performances on this most musical of Danube River tours!
All private Tauck shore excursions - $3,935 Value
Gratuities to ship staff, drivers, local guides, Tauck Directors, Tauck Cruise Director and "maestros"
Tauck Exclusive - Interactive onboard workshops, seminars and performances by Tauck's "maestros"
Tauck Exclusive - Grand Private Evening at a Vienna palace with gala dinner and performance
Tauck Exclusive - Sitting in on an orchestra rehearsal at Vienna's Auersperg Palace
Tauck Exclusive - Music and talk with a professor at Mozarteum University in Salzburg
Opera performance at a premier venue in Vienna (subject to availability; if unavailable, alternate classical music performance will be provided)
Performance at a premier concert venue in Budapest
Music-themed sightseeing throughout your cruise
Unlimited complimentary beverages aboard ship include regional wine, beer and premium spirits in addition to specialty coffee, water and soft drinks
Airport and train station transfers upon arrival and departure
26 meals (11 breakfasts, 6 lunches and 9 dinners); select meals ashore, service charges, taxes and porterage
Accommodations on this Tour
Budapest: Kempinski Hotel Corvinus Budapest
Cruising: Cabin onboard ms Savor or ms Joy
Prague: InterContinental Prague
Notes
Cabin upgrades are available.
Tours of May 27 & August 26 will disembark the riverboat in Straubing, Germany.
Although not expected, Tauck reserves the right to alter the sequence of ports or omit or substitute scheduled ports or attractions at any time without prior notice. Museums and attractions may be subject to closure due to state, local or religious holidays. This cruise includes a fair amount of walking.
Please ask your Vacations To Go travel counselor for more information.
Terms and Conditions
* The prices shown are U.S. dollars per person, based on double occupancy, and subject to availability. Prices quoted for land/cruise arrangements are subject to increase without notice. Once we have received your deposit, land/cruise prices are guaranteed. Air prices quoted via phone or email are subject to increase and are guaranteed only from the time that full payment is received. Also, air prices or air promotions mentioned on this site or on the phone do not include baggage fees imposed by airlines. Sorry, we are unable to offer air from countries other than the U.S. However, for those international customers who are able to arrange their own transportation to the trip origination city, we are able to offer the land/cruise portion of the package at the price quoted.