Day 1 Your adventure begins in Budapest
Tour begins: 6:00 PM, The Ritz-Carlton, Budapest. A transfer is included from Budapest Ferenc Liszt International Airport and Budapest-Keleti Station to The Ritz-Carlton, Budapest in the heart of the city. Meet your fellow travelers and Tauck Directors at the welcome cocktail reception and dinner at the Festetics Palace in Budapest. (D)

Day 2 Discovering Pest, past & present
Once independent cities located on opposite sides of the Danube, Buda and Pest joined together when they were linked by the Chain Bridge in the mid-19th century to become Hungary's cosmopolitan capital, Budapest. You have a choice of Budapest discoveries this morning. You can choose to join Tauck's local guides for sightseeing in Pest starting with a visit to St. Stephen's Basilica, Budapest's neo-Renaissance cathedral completed in 1905; continuing with Pest's impressive mix of architectural masterpieces and historic monuments, viewing City Park, patriotic Heroes' Square with its statues of Hungarian leaders through the ages, the Gothic-Revival Parliament building and tree-lined Andrassy Avenue; and time spent wandering through bustling Central Market Hall, a veritable showcase of Hungarian life from food to gifts and cafés. Or you can choose to spend the morning touring the Pest side of the city by bicycle with a local guide (you'll need to be comfortable riding a bicycle in a city environment). The rest of the day and evening are yours to enjoy the city as you like; if you wish, you may join your Tauck Director on an optional visit to Budapest's Holocaust Memorial Museum this afternoon. (B)

Day 3 Visit Budapest landmark sights and set off on your cruise
Today's exploration of Buda begins with a visit to the Hungarian Parliament building, rich with history; it is nothing short of an architectural masterpiece. Next up is a visit to Castle Hill, a UNESCO World Heritage Site, where a guided walking tour introduces architectural landmarks such as well-known Fisherman's Bastion. Go back to the days of World War II and the Cold War at the Sziklakórház ("Hospital in the Rock"), a museum recreating underground military medical and civil defense facilities in a former secret nuclear bunker hidden beneath Buda Castle. Enjoy some time to explore more of Budapest as you please, then board ms Joy to begin your Budapest river cruise. Join us tonight for a welcome reception followed by dinner onboard. (B, D)

Day 4 Antiquities & more in Hungary
Arrive in Mohacs this morning and travel to Pécs for a walking tour. Here you'll also explore the fascinating Christian Necropolis, a complex dating back to the 4th century that includes underground burial chambers and chapels adorned with early Christian art and frescoes, a UNESCO World Heritage site. In the 19th century, Pecs was famous worldwide for the exquisite Zsolnay porcelain manufactured here, and your visit includes a stop at the Zsolnay Museum for a look at its stunning examples of Art Nouveau stoneware, tiles and pottery. Visit a winery in Villány for lunch (this region is renowned for its red wines) then return to Mohacs for dinner aboard ship. (B, L, D)

Day 5 Vukovar, Croatia & Novi Sad, Serbia
Your riverboat exploration of the lower Danube cruises into Croatia; an onboard lecture by a local expert provides insights into the country's culture and history. Dock in the Baroque city of Vukovar, once showcasing opulent 18th-century mansions, but now poignantly symbolizing the effects of the 1990s war as it rebuilds; visit the home of a Vukovar family who have recently returned to resume their lives in the city after the conflict, who will share homemade refreshments with you. Reboard your riverboat for lunch and cruise to Novi Sad, Serbia, enhanced by commentary by your Tauck Directors. You'll have a little free time this evening to explore Novi Sad before your cruise continues to Belgrade. (B, L, D)

Day 6 The sights of Belgrade and a private palace evening
Dock in Belgrade, Serbia's eclectic, cosmopolitan capital at the juncture of the Danube and Sava rivers. You can choose to spend the morning touring the "New Belgrade" section of the city by bicycle with a local guide (you'll need to be comfortable riding a bicycle in a city environment); or join our local guides for a city tour that includes visits to Tito's Memorial and the formidable Kalemegdan Fortress, and views of busy Slavija Square (now one of the city's major squares, but once a large pool where residents hunted wild ducks!), Parliament, Republic Square and City Hall. After lunch onboard, you have the afternoon free to spend as you please. Following onboard entertainment by Serbian performers during cocktail hour, you'll return to shore for this evening's sparkling Tauck Exclusive - dinner at the Royal White Palace of the Serbian Royal Family in Belgrade, built in the 1930s for members of the Yugoslavian royal family and set within the same complex as the Royal Palace of Dedinje, today home to HRH Crown Prince Alexander II of Serbia and his family. (B, L, D)

Day 7 The Iron Gate, King Decebalus & more
Be on deck to watch the scenic heartland of Eastern Europe unfold during a leisurely morning on the Danube River today. Winding lazily for much of its length, the Danube suddenly narrows into a series of high cliffs to create four steep, spectacular gorges comprising the Kazan Narrows and the Iron Gate of the Danube. Pass through these dramatic landscapes as you cruise along the Romanian-Serbian border. Look for a monument to the 2nd-century Dacian King Decebalus, a Romanian national hero, carved into the Danube's rocky bank; it's Europe's tallest rock sculpture, completed in 2004 after a decade of work by a dozen sculptors. Savor views of the Transylvanian Alps as you cruise to Bulgaria. (B, L, D)

Day 8 Bulgarian art in Ruse or Ivanovo
A leisurely morning cruise takes you to Bulgaria, the oldest state in Europe. Enigmatic and off limits during four centuries of Ottoman Rule and decades behind the Iron Curtain, today the country is a treasure trove of natural beauty and history. Disembark after lunch in Ruse, referred to by many as "Little Vienna" for its Art Nouveau homes, Austro-Hungarian architecture and lively cafés. A choice of afternoon excursions includes a guided walking tour or a beautiful (but challenging) hike to the Rock Churches of Ivanovo featuring stunning medieval frescoes inside stony chambers carved into steep, cliffside caves. The path up to the churches is rough and irregular but the views - and frescoes - at the top of the valley are very rewarding. (B, L, D)

Day 9 Constanta & Mamaia on Romania's Black Sea coast
Spend the morning cruising the Danube all the way to Constanta, Romania on the Black Sea coast. Upon your arrival in the early afternoon, take a guided tour of this historic port city, originally the ancient Greek colony of Tomis and home to numerous Greek and Roman antiquities; sights include an Art-Nouveau casino and a monument to the Roman poet Ovid, who was exiled here by the Emperor Augustus. Then it's on to Mamaia, the largest seaside resort on the Black Sea, for some time at leisure to enjoy the beach before returning to the riverboat, docked in Constanta, for your final night aboard your Budapest river cruise. Join us for the ship's farewell reception and dinner onboard this evening. (B, L, D)

Day 10 Explore Bucharest & an evening at the Palace of Parliament
Disembark your riverboat in Cernavoda and travel across fertile plains to Bucharest, capital of Romania and once regarded as the "Paris of the Balkans." A sightseeing tour of city landmarks includes Revolution Square and the Triumphal Arch; erected to commemorate Romania's reunification and those who fell in World War I, it is a smaller but otherwise exact copy of the Arc de Triomphe in Paris. Lunch in the Old Town, the city's charming historic center; a former enclave of artisans and merchants in the 16th century, it's now a trendy district of old inns, antique shops, galleries, and cafes, riddled with winding networks of vaulted cellars, cobblestone streets and passageways. Settle in for the next two nights at the JW Marriott Bucharest Grand Hotel in the heart of the city, then depart for the massive Palace of Parliament (a.k.a. the People's Palace), built by dictator Nicolae Ceaucescu to be the center of political power in the capital; the Soviet-style white marble complex, 12 stories high, with over a thousand rooms and four underground levels, is the world's largest building after the Pentagon, and some parts of it are still unfinished! An introductory tour concludes with a special farewell reception and dinner at the ubiquitous Palace, complete with musical entertainment. (B, L, D)

Day 11 Castles, monasteries, mysteries & a gala dinner in Transylvania and Romania
A choice of sightseeing today echoes the legacy of 15th-century Romanian prince Vlad Tepes (a.k.a. "Vlad the Impaler"), thought to be the historical model for Bram Stoker's Dracula. You may choose to take a full-day excursion to Transylvania's 14th-century Bran Castle, which Tepes once used as a fortress during his military campaigns; the excursion includes a brief walk and lunch in Brasov. Or you can opt for a trip to Targoviste to see the ruins of Tepes' palace, including its imposing watchtower, restored in the 19th century; you'll also visit the army barracks (now a museum) where Romanian dictator Nicolae Ceausescu was tried and executed in 1989. Your third option today is an excursion into the Carpathian Mountains and Transylvania for a visit to Peles Castle and Sinaia, with lunch at a local restaurant and a return to Bucharest for free time and dinner as you please. (B, L)

Day 12 Journey home
Tour ends: Bucharest, Romania. Fly home anytime. A transfer from the JW Marriott Bucharest Grand Hotel to Henri Coanda International Airport or Bucuresti Gara de Nord train station is included. Allow a minimum of 3 hours for flight check-in. (B)

Tour Map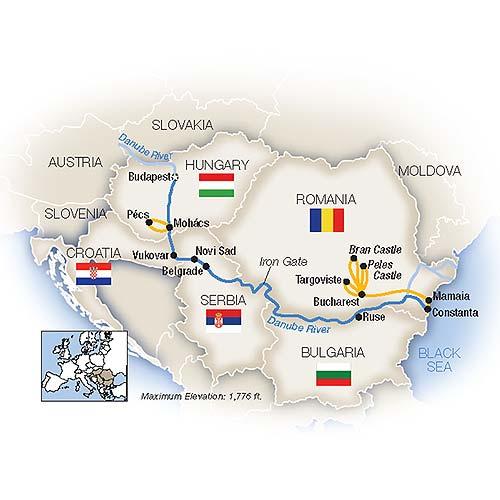 River Cruise Highlights
7-night cruise plus 2-night-stays in Budapest & Bucharest
Exclusive VIP dinner in Bucharest's Parliament Palace
Passage through the Iron Gate of the Danube
Private evening at Belgrade's Royal White Palace
All This Included
A Transylvanian Castle and a People's Palace, just two of the architectural treasures, long hidden behind the Iron Curtain, that inspire as you cruise through countries just waiting to be rediscovered. Experience... an authentic taste of Hungarian culture in Budapest, graced with great architecture and music... the resilience and beauty of Croatia, recovering from a turbulent past... a king-sized royal welcome in Serbia... lively Bulgarian traditions and centuries-old traditions in Romania... memories of Dracula in Transylvania... and a huge dose of grandeur and gracious hospitality in Bucharest.
Gratuities to ship staff, drivers, local guides, Tauck Directors and Tauck Cruise Director
Tauck's private shore excursions and distinctive inclusions valued at $3,332!
Two nights at a hotel in Budapest and two nights in Bucharest at a hotel with an ideal location next to the Parliament Palace
Choices of bicycle excursions in Budapest & Belgrade
Exclusive evening at Belgrade's Royal White Palace
Dinner at the massive Parliament building (the "People's Palace") in Bucharest
Visit with a Croatian family in their private home in Vukovar
Private piano performance on a visit to the Béla Bartók Memorial House in Budapest
A visit to the city of Pécs in Hungary, a UNESCO World Heritage Site
Passage through the Iron Gate on the Danube River
Choice of Romanian excursions exploring the story of Vlad Tepes, 15th-century inspiration for Bram Stoker's "Dracula"
Special Solo Traveler Savings - No Single Supplement in Category 1: On all departures, the single price in Category 1 is the same as the double price - no single supplement, which means savings of up to 50% for solo travelers!
Unlimited complimentary beverages aboard ship include regional wine, beer and premium spirits in addition to specialty coffee, water and soft drinks.
Airport and trains station transfers upon arrival and departure as noted
28 meals (11 breakfasts, 8 lunches, 9 dinners); service charges, taxes, porterage, and applicable fuel surcharge
Accommodations on this Tour
Cruising: Cabin onboard ms Esprit, ms Savor or ms Treasures
Notes
Cabin upgrades are available.
Tour has optional activites which may incur additional costs.
Although not expected, Tauck reserves the right to alter the sequence of ports or omit or substitute scheduled ports or attractions at any time without prior notice. East and west itineraries are similar.
Museums and attractions may be subject to closure due to state, local or religious holidays.
This cruise includes a fair amount of walking in each city.
Please ask your Vacations To Go travel counselor for more information.
Terms and Conditions
* The prices shown are U.S. dollars per person, based on double occupancy, and subject to availability. Prices quoted for land/cruise arrangements are subject to increase without notice. Once we have received your deposit, land/cruise prices are guaranteed. Air prices quoted via phone or email are subject to increase and are guaranteed only from the time that full payment is received. Also, air prices or air promotions mentioned on this site or on the phone do not include baggage fees imposed by airlines. Sorry, we are unable to offer air from countries other than the U.S. However, for those international customers who are able to arrange their own transportation to the trip origination city, we are able to offer the land/cruise portion of the package at the price quoted.