River Cruise Itinerary
Day 1 Arrive Munich
Tour begins: 6:00 pm, Bayerischer Hof. A transfer is included from Munich Airport or Munich Hauptbahnhof (the Main Munich Train Station) to your hotel, Bayerischer Hof. Join us this evening for a welcome dinner and reception at the hotel. (D)

Day 2 Munich sights then off to the Oberammergau region
Join a local guide for a sightseeing tour of Munich this morning that introduces you to the city's iconic sights, perhaps viewing the Marienplatz, Old Town, the Altes Rathaus, the rebuilt Frauenkirche and St. Mary's Column. The remainder of the morning is free to explore Munich as you please. Early afternoon, travel to the Oberammergau region in anticipation of tomorrow's spectacle of the Passion Play; enjoy a two-night stay. (B,D)

Day 3 Passion Play
Travel to the Bavarian village of Oberammergau this morning; first up is a walking tour with a local guide, followed by some free time to explore as you please. Early afternoon marks the beginning of one of Europe's most beloved and venerable traditions, the 2020 performance of the Oberammergau Passion Play (or Passionsspiele) depicting the story of the Passion of Christ. In the 1630's, as the plague raged throughout Europe, the people of Oberammergau vowed to perform a play about the life of Jesus Christ every ten years if they were spared from the epidemic... and they have kept their promise. Enjoy Tauck's premier seating – in the best category available – for the performance, beginning early afternoon; following a dinner break, the play continues into the evening. An English libretto is provided to enhance your enjoyment of this once-in-a-lifetime experience. (B,D)

Day 4 Arrive Basel and embark your riverboat
Journey today to Basel, Switzerland, to embark your riverboat for the start of your cruise; check-in for all guests aboard the riverboat is 4:00 PM. Meet your riverboat crew for a welcome briefing, then join us for a welcome dinner this evening. (B,D)

Day 5 Lucerne & Mt. Pilatus or wine tasting
Welcome to Switzerland! If you choose to join our excursion to Lucerne, the lakeside "city of lights," landmarks include the Kappelbrucke, a covered wooden footbridge crossing the Reuss River that dates back to the 1330s, an octagonal Water Tower once used as a prison, narrow lanes and lovely squares. In Altstadt Lucerne, narrow cobblestone lanes lead to town squares lined with houses painted with frescoes. From town, you'll head out for the heights of Mt. Pilatus aboard the world's steepest cogwheel train, climbing from Alpnachstad at the edge of Lake Lucerne to the very top (Oberhaupt) – nearly 7,000 ft. high. Alternatively, you may prefer the pleasures of lunch and a wine tasting along the Alsatian wine route. If so, you'll head to Château Haut-Koenigsbourg, originally built in the 1200s on a rocky promontory high above the French Alsatian plains. Burned, abandoned and restored to its former glory in 1899, the castle presents a picture of a mountain fortress of the Middle Ages; after your visit, head to the French Alsatian town of Riquewihr for lunch and a wine tasting. Regardless of your choice, your day ends in Basel, at the "Three Corners" where France, Germany and Switzerland meet at the Rhine – a major crossroads of travel and thought since the 15th century. An orientation tour reveals parks, dozens of museums and art galleries, and chic restaurants; the Rhine Promenade; 14th-century Münster Cathedral; and state-of-the-art buildings by internationally acclaimed architects like American Frank Gehry and Japan's Yoshio Taniguchi. (B, L, D)

Day 6 Sightseeing in Strasbourg & Baden-Baden
You'll wake docked on the Rhine this morning, surrounded by the hills of southern Alsace, many checkered with vineyards. The day begins in the Alsatian cultural capital of Strasbourg, France. It is home to the charming canals and half-timbered houses of La Petite France, stately city residences, a Gothic cathedral, and plenty of winstubs, traditional Alsatian beer pubs. After a morning of sightseeing in Strasbourg, you may choose to stay in town to explore on your own; go for a bicycle excursion through Strasbourg with a local guide; or travel to the German spa resort town of Baden-Baden, on the edge of the Black Forest – where you can either take a walking tour then enjoy free time in this famed spa town, or choose to visit Caracalla Spa, a day devoted to wellness and relaxation. The spa resembles a glass temple, with facilities that include whirlpools, waterfalls, counter-current pools, massage jets and turquoise pools of warm water sourced from natural springs. Add in a sauna complex with both hot and cold rooms (some wellness treatments at additional cost) and you'll feel re-energized at the end of your visit. Return to the ship for dinner and an evening of cruising. (B, L, D)

Day 7 Speyer or Heidelberg & its castle
For centuries the Rhine River was a major transport hub and a source of wealth for many; today you'll have a choice of visiting Speyer, a town that thrived on trade in the 10th and 11th centuries when construction on its double-domed cathedral began, or Heidelberg. At Speyers' impressive Technik Museum, you'll find exhibits dedicated to every form of technology that moves, from vintage cars to a Boeing 747 jumbo jet to the Russian BURAN space shuttle. On a visit to Speyer Cathedral, a UNESCO World Heritage Site, you may be surprised by its use of natural glass windows, which pre-dated the use of stained glass, and its roof made entirely of stone – the first ever in Europe. Alternatively, you may spend the morning on an excursion to Heidelberg, Germany's oldest university town. Narrow lanes, shops and pubs housed in 17th-century structures in the Altstadt are kept lively by the cadence of student life. On the hillside above the city, you'll visit the romantic ruins of Heidelberg Castle (Heidelberger Schloss), an imposing ensemble of buildings from different architectural periods; from its terrace and gardens, the sweeping views impress along with the feel of 600 years of history. Return to the riverboat for an afternoon of cruising and dinner onboard this evening. (B, L, D)

Day 8 Koblenz or cycling, then dinner at a castle
A morning of sailing precedes your riverboat's arrival in Koblenz. The city's roots go back to the Middle Ages, when its location made it a powerful one as the controller of trade along these major waterways. You may choose an afternoon of guided exploration of Koblenz, or a cycling excursion * along the Rheinradweg bicycle route. If you choose to explore Koblenz, your orientation tour includes a walk to Deutsches Eck – the "German Corner," where the Rhine and Moselle rivers meet – and a visit to Aldstadt (Old Town), a mix of delightful town squares, tucked-away corners, medieval churches, baroque residences and cozy wine taverns. Should you choose to go bicycling (a countrywide passion in Germany), you'll follow easy riverside trails through forest, meadows and Riesling winelands, taking in views of the passing pleasure boats and freighters. The late afternoon is spent back onboard your riverboat, cruising through the quiet Rhine River Valley, past small cities, churches, ancient walls and castles. Early this evening, disembark for a Tauck Exclusive private reception and family-style farm-to-table dinner at the Ehreshoven Foundation's Ecolut-Center, a modern venue in the countryside dedicated to forest sustainability. Rejoin the riverboat tonight in Köln. (B, L, D)

Day 9 A day well spent in historic Köln
Sightseeing in Köln (Cologne) begins with a guided tour of the immense twin-towered Kölner Dom (Cologne Cathedral), whose construction took a mere six centuries. Completed in 1880, UNESCO declared this Gothic "Dom" a World Heritage Site in 1995, recognizing its cultural value as "a testament to the longevity of faith." You'll explore this intimately scaled city by coach and on a walking tour. Following lunch aboard the riverboat, depart Köln in the early afternoon as your river cruise sails toward its final days in the amazing Dutch capital, Amsterdam. (B, L, D)

Day 10 Amsterdam's canals & the Rijksmuseum
In a city indelibly linked to water, it's fitting that your day begins with a cruise on its 17th-century grachten (canals) which fan out in crescent-shaped rings from the northern waterfront. On the drive to board your canal boat, you'll get an orientation to the city, which at its heart feels more like a village than the compact center of a cosmopolitan city. Landmarks include Centraal Station, built at the end of the 19th century and still a place in constant motion – with people, bicycles, trams and buses; De Waag (Weigh House), once a fortified gate that today houses a popular outdoor café; and the Mint Tower, a gate in the city wall (circa 1400) that marks the intersection of two canals, tram paths, a pedestrian-only shopping street, and the city flower market – an ever busy, ever interesting crossroads. Aboard the canal boat, you'll glide beneath curved bridges carrying walkers and cyclists – sometimes trams and cars – and by narrow merchant homes, whose goods were once pragmatically stored on the upper floors. After a guided visit to the famed Rijksmuseum – home to many works by Rembrandt and other old Dutch Masters – and lunch onboard, spend a free afternoon as you please in Amsterdam. Return to your riverboat for tonight's farewell reception followed by dinner, then live music in the lounge – a fitting finale to an fantastic week on the River Rhine! (B, L, D)

Day 11 Journey home
Tauck's newest Basel – Amsterdam river cruises end in Amsterdam. Disembark your riverboat this morning by 9:00 AM. A transfer is included from the riverboat to Amsterdam's Schipol Airport or Centraal Station. Fly home anytime. Allow 3 hours for flight check-in. For guests wishing to spend more time in Amsterdam, ask at booking about extending your stay with an additional hotel night at Tauck's hotel. (B)

Tour Map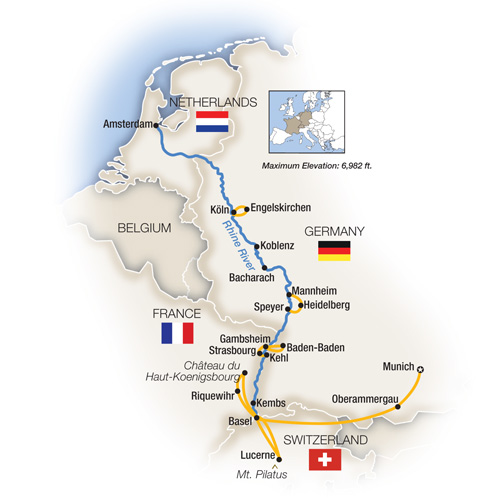 All This Included
Along the river Rhine… where mountains rise abruptly from the water's edge, ancient castles perch aloft, keeping watch over comings and goings, gentle valleys and ancient winelands lure, spas give respite, cathedrals speak to powerful times, plains and woods catch the eye, and a river travels, connecting centuries of history, cities of the arts and crossroads of thought.
It happens once, every ten years… when, as they have for nearly four centuries, the citizens of a little village in the Bavarian Alps come together to create a unique and moving performance event that travelers the world over come to see… On this cruise, you become part of the experience when you witness the power and pageantry of the Oberammergau Passion Play. The Rhine Valley is nirvana for authors, artists and travelers of every interest. Here, mountains rise abruptly from the water's edge, ancient castles perch aloft, gentle valleys calm, age-old winelands lure, spas give respite, cathedrals inspire, plains and woods catch the eye, and a great river runs through it – connecting centuries of history and culture. Experience it your way in riverside villages, country retreats and centuries-old cities during a choice of included shore excursions. Discover the heritage and beauty of the River Rhine on our 7-night Basel – Amsterdam river cruise aboard one of Tauck's intimate riverboats. Visit the Netherlands, Germany, France and Switzerland, exploring regional delights in the historic cities, towns and countryside linked by the Rhine. Set your own pace with choices along the way: castle visits, bicycling, mountain heights, a spa resort and more.
Private family-style farm-to-table dinner in the country at the Ecolut-Center, dedicated to forest sustainability
Preferred seating at a performance of the Passion Play in Oberammergau
All gratuities to ship staff, drivers, local guides, Tauck Directors and Tauck Cruise Director
All private Tauck shore excursions and distinctive inclusions – $3,110 Value
Choices of bicycle excursions in Strasbourg & Koblenz
Scenic sailing through the historic castles & winelands of the Upper Middle Rhine Valley, a UNESCO World Heritage Site
Sightseeing in Koblenz or bicycling along the Rhine River through forest and winelands
Visit to the Alsatian cultural capital of Strasbourg
In the Black Forest spa town of Baden-Baden, a walking tour or a world-class spa visit
Climbing to Mt. Pilatus on the world's steepest cogwheel train or a wine tasting in the Alsatian hills
Visits to Speyer's Cathedral & Technik Museum or Heidelberg's famed hillside castle
Explorations in Köln (Cologne) & Basel – contemporary cities rich with Rhine history & art
Unlimited complimentary beverages aboard ship include regional wine, beer and premium spirits in addition to specialty coffee, water and soft drinks
Airport transfers arrival and departure as noted
25 meals; service charges, taxes, porterage, and applicable fuel surcharges
Accommodations on this Tour
Munich: Westin Grand Munich
Oberammergau: Hotel Blaue Gams
Cruising: Cabin onboard ms Inspire
Notes
Cabin upgrades are available.
Although not expected, Tauck reserves the right to alter the sequence of ports or omit or substitute scheduled ports or attractions at any time without prior notice. Museums and attractions may be subject to closure due to state, local or religious holidays. This cruise includes a fair amount of walking.
This cruise includes a fair amount of walking.
Tour of June 21 will stay at Hotel Bayerischer Hof, Munich, night 1 and Rendl's Partnekirchner Hof in Garmisch-Partenkirchen nights 2 and 3; tour of July 5 will stay at Kloster Hotel Ludwig de Bayer in Ettal nights 2 and 3. Please note that these exception hotels are subject to change.
For activities marked with an asterisk (*) in day-by-day descriptions, participation is at your own risk; a signed liability waiver will be required.
Please ask your Vacations To Go travel counselor for more information.
Terms and Conditions
* The prices shown are U.S. dollars per person, based on double occupancy, and subject to availability. Prices quoted for land/cruise arrangements are subject to increase without notice. Once we have received your deposit, land/cruise prices are guaranteed. Air prices quoted via phone or email are subject to increase and are guaranteed only from the time that full payment is received. Also, air prices or air promotions mentioned on this site or on the phone do not include baggage fees imposed by airlines. Sorry, we are unable to offer air from countries other than the U.S. However, for those international customers who are able to arrange their own transportation to the trip origination city, we are able to offer the land/cruise portion of the package at the price quoted.