Highlights of China & the Yangtze
11 days with Uniworld Rating: Deluxe
Book this River Cruise Now and Save!





Past guests of Uniworld, Trafalgar, CostSaver, Insight, Luxury Gold, African Travel, Brendan and Contiki save an additional $200 per person off this trip. Click here for eligible departures.

Offers subject to change or withdrawal, availability is limited. Some discounts are not combinable.
Day 1: Beijing
Arrive at the Beijing Airport. If your cruise/tour package includes a group arrival transfer or if you have purchased a private arrival transfer, you will be greeted by a Uniworld representative and transferred to your luxury hotel.
Day 2: Beijing
Your adventure begins with two quintessential experiences in China's capital city. Off limits to commoners for 500 years, the Forbidden City was once considered the cosmic center of the universe (and for good reason, as you'll see for yourself). Peking duck is another cultural gem you'll experience today, a dish originally prepared for Chinese emperors. The political and cultural capital of China and home to more than 20 million people, Beijing exemplifies everything visitors find most intoxicating about China: Spectacular ancient monuments contrast with ambitious modern high-rises, and traditional crafts flourish alongside booming international businesses. Exquisite art, stunning UNESCO sites, serene parks and teeming streets all contribute to the unique flavor of this astonishing city.
Day 3: Beijing
Certain images immediately spring to mind when you think of China. Panda bears. Tea houses. The Great Wall. Believe it or not, all three of these are on today's agenda, as well as a rickshaw ride through the city's ancient hutongs. Be sure to charge up your camera and get ready to experience some truly epic bucket list moments.
Day 4: Beijing, Fly to Xi'an
Leave the hustle and bustle of Beijing behind today and head north to the serenity of the Summer Palace, home to one of China's most beautiful classical gardens. From there, plunge into the past in China's first capital, Xi'an, where you'll be treated to a traditional (and incredibly labor intensive) dumpling banquet. You have one more special excursion to enjoy in Beijing this morning, then you'll fly to Xi'an for the next leg of your Chinese adventure.
Day 5: Xi'an
Xi'an's terra-cotta army has been called the 8th wonder of the world, and it's certainly the most extraordinary archeological find of the 20th century. Prepare to be amazed! You'll also visit one of the holiest Buddhist temples in China, and enjoy a traditional Tang Dynasty dinner show with fabulous food, music and flamboyant costumes. The imperial capital for 10 ancient dynasties, Xi'an achieved its greatest renown under the Tang Dynasty (AD 618-907), when it was a great international metropolis and the eastern terminus of the legendary Silk Road. Today it is the capital of Shaanxi Province and most famous for a museum devoted to the Terra-cotta Warriors and Horses. Of course you will visit this amazing archaeological find, but your day incorporates two other special Xi'an attractions.
Day 6: Xi'an, Fly to Chongqing (Embark), Cruising the Yangtze River
Before you leave Xi'an for Chongqing, you have one more expedition: a visit to the Jade Carving Center, or Jade Factory. Later, transfer to the airport and fly to Chongqing, where you'll board your ship.
Day 7: Cruising the Yangtze River, Shibaozhai
Today you will visit the 816 Underground Project nuclear installation near Fuling.
Day 8: Cruising the Yangtze River, Shennong Stream
Today will be a highlight of your journey—a full day cruising the Yangtze River's mystical, beautiful and completely mesmerizing Three Gorges, with scenery that has captivated artists and poets for thousands of years. The Yangtze is the third-longest river in the world (only the Nile and the Amazon are longer), and the days you spend onboard your luxurious ship will show you some of its most beautiful sights. The river itself, deep and powerful, busy and serene, will work its enchantment as it carries you past bucolic fishing villages, hillside rice paddies, ancient cliff carvings and historic temples. Relax and prepare to be dazzled.
In the evening, you'll savor a special Captain's Farewell Dinner on this final night of your Yangtze River cruise.
(Farewell Dinner)
Day 9: Cruising the Yangtze River, Yichang (Disembark), Fly to Shanghai
Fly to Shanghai, where you'll settle into your room and relax.
Day 10: Shanghai
After days of pandas, ancient warriors and timeless Chinese landscapes, Shanghai and its futuristic skyline can be something of a shock to the system. Yet beyond the building boom and the avant-garde architecture, you can still find traces of Shanghai's colorful and fascinating colonial-era history. Enjoy a taste of both old and new today, as well as dim sum and a performance by the gravity-defying Shanghai acrobats. Nearly 24 million people live in Shanghai, China's largest city. An international economic hub, it has drawn entrepreneurs from all over the world for 150 years. But while Shanghai may be the "city of the future," you can still find remnants of its history in Old Town and the area known as the concessions, which were controlled by European interests in the 19th century.
Day 11: Depart Shanghai
Check out of your hotel and transfer to the Shanghai Pudong International Airport for your flight Home, or extend your trip with a memorable optional extension in Hong Kong.
Tour Map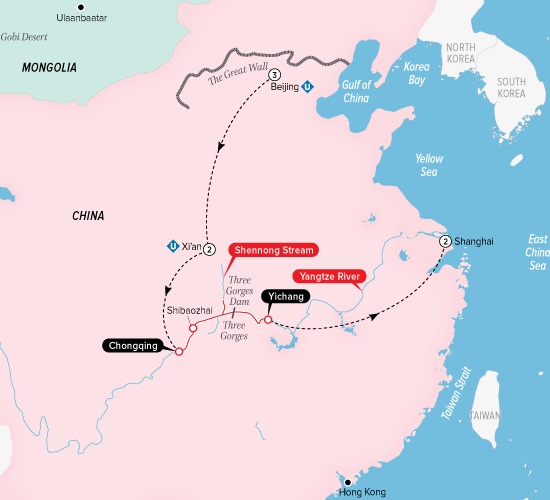 All This Included
A spellbinding odyssey through 5,000 years of Chinese culture and history.
Journey through a land of contrasts—skyscrapers and ancient temples, serene gardens and bustling city streets—to discover the heart of this ever-changing country. From China's staggering architectural monuments—the Forbidden City, Summer Palace and Great Wall—to the natural beauty of the Yangtze River's Three Gorges, this itinerary introduces a discerning traveler to China's highlights. The unique experience that is China fills your senses from the moment you arrive: the sound of Mandarin in Beijing's streets, the scent of delicate Xi'an dumplings, the detailing on terra-cotta figures that have survived for millennia. Simultaneously ancient and contemporary, China must be heard, seen and felt to be understood—and Uniworld's experts will be on hand to guide you through this vast land, as you delve into China's cultural legacy and timeless wonders.
3-night Yangtze River cruise in a riverview Uniworld Signature Suite with a private balcony onboard the Century Legend
7 nights in centrally located luxury hotels, including buffet breakfast and all service charges, taxes, and porterage*
All transportation throughout your trip, including flights within China
All transfers on arrival and departure days
10 buffet breakfasts, 9 lunches, 8 dinners
Peking duck Welcome Dinner with complimentary wine in Beijing
Captain's Welcome Reception and Farewell Dinner with complimentary wine onboard the ship
Special-themed meals: hutong family-hosted lunch in Beijing, traditional dumpling banquet and Tang Dynasty dinner in Xi'an, and dim sum lunch in Shanghai
9 days of captivating, fully escorted excursions with English-speaking local experts
Services of an experienced Uniworld Cruise/Tour Manager throughout your trip
State-of-the-art portable audio headset system on select excursions throughout your trip
Exclusive VIP benefits onboard
Group photo and commemorative gift
Exciting evening entertainment, including a Kung Fu show in Beijing, a Tang Dynasty show in Xi'an, and the Shanghai Acrobats
Accommodations on this Tour
Beijing: Ritz-Carlton or similar
Xi'an: Shangri-La Xi'an or similar
Cruising: Cabin onboard Sanctuary MS Yangzi Explorer
Shanghai: Fairmont Peace Hotel or similar
Pre and Post Add-ons
Hong Kong
Included in your 4-day stay:
• 3 nights at the Kowloon Shangri-La, Hong Kong (or similar)
• Breakfast daily and all service charges, taxes and porterage
• Exclusive Hong Kong Island tour
• Boat ride at Aberdeen Fishing Village
• Flight from Shanghai to Hong Kong
• Private arrival and departure transfers
April Pricing:
$1,499 per person (for 2 guests)
For solo travelers, there is a single supplement of $649.
May - September Pricing:
$1,429 per person (for 2 guests)
For solo travelers, there is a single supplement of $599.
October Pricing:
$1,699 per person (for 2 guests)
For solo travelers, there is a single supplement of $799.
Note: This extension is for cruise/tours that end in Shanghai.
Day to Day:
2019 Hong Kong Post-Cruise Extension: Day to Day

DAY 1: Hong Kong
Upon arrival in Hong Kong, you will be met by a Uniworld representative and transferred to the hotel for your three-night stay. You will be at leisure for the remainder of the day. Experience the buzz of Hong Kong life as you go out and explore on your own. The city is an eclectic mix of old and new, where modern skyscrapers rub shoulders with colonial buildings and traditional Chinese temples. Take advantage of the world-class culinary scene with a feast at one of Hong Kong's seafood destinations or at a restaurant with a view of the harbor. Celebrate the night in this city that never sleeps.

Note: Uniworld works with The Travel Advisers to makes sure your experience in Hong Kong goes smoothly. We arrange transportation to and from the airport and coordinate your city tour, while leaving you with plenty of time to shop and explore on your own.

DAY 2: Hong Kong
Today you'll discover the many sides of Hong Kong. It's a major international financial center, as well as a shopping mecca. But it also has an incredible natural harbor and striking mountainous terrain. Take a trip to Victoria Peak, the "Mountain of Great Peace," featuring the world's steepest funicular railway, to get a not-to-be-missed panoramic view of the city's glittering skyscrapers, colonial buildings and romantic harbor. Then ramble through the Aberdeen Fishing Village on the south side of the island for a glimpse into Hong Kong's traditional fishing life, which still survives there. Your tour also includes a nearby gem factory, where you can see artisans at work creating jewelry, and a stop at Stanley Market, the bustling street market long renowned for its excellent bargains.

The rest of the afternoon is yours to explore on your own. You might want to create a little free space in your suitcase, because Hong Kong is famous for the range of its shopping venues—order a custom suit or gown, check out the latest gadgets, choose a beautiful vintage poster or find a few perfect gifts before you head home.

DAY 3: Hong Kong
You have the entire day to explore Hong Kong on your own. Treat yourself to a ferry ride across the harbor. Go window shopping on Hollywood Road or Cat Street, or, if you are shopped out, take advantage of the city's great public transportation system and venture out of the bustling city to one of its serene parks or wildlife refuges.

DAY 4: Hong Kong
After breakfast at the hotel, your extraordinary Asian adventure will draw to a close. Enriched with fond memories of your remarkable journey, you will be transferred to the Hong Kong International Airport for your flight home.
Ulaanbaatar and Gobi Desert, Mongolia
Included in your 7-day stay:
• 1 night at the Hilton Airport, Beijing (or similar)
• 3 nights at the Shangri-La Hotel, Ulaanbaatar (or similar)
• 2 nights at the Three Camel Lodge, Gobi Desert (or similar)
• Breakfast daily, 3 lunches, 2 dinners
• All service charges, taxes and porterage
• Ulaanbaatar city tour and Throat Singing performance
• Yol Valley (Vulture Gorge) visit
• Visit to a camel breeder family
• All transfers, transportation and intra-Asia flights
• Services of a Tour Manager throughout your trip
Pricing:
$8,699 per person (for 2 guests)
For solo travelers, there is a single supplement of $1,299.
Note: Offered on four departure dates: June 1, 2019, August 31, 2019, September 14, 2019, September, 21, 2019. Note: This extension is for cruise/tours that begin in Beijing.
Day to Day:
2019 Mongolia Pre-Cruise/Tour Extension: Day to Day

Discover everything from Beijing's bustling city life to Mongolia's serene Gobi Desert on this 7-day pre-cruise/tour extension. Explore the ins and outs of Ulaanbaatar via visits to the capital's most noteworthy and intriguing locations. Then, the Gobi Desert awaits. You'll board a plane and head for this breathtaking stretch of desert, where you'll get up close and personal with the nomadic way of life, wind your way through Yol Valley National Park and gaze in awe at the Flaming Cliffs.

DAY 1: Beijing
Arrive in Beijing, China's sprawling capital city, where ancient sites gloriously coexist with futuristic skyscrapers. With its impressive preservation of cultural artifacts and never-ending modernization, Beijing is as magnificent as it is multifaceted. You'll stay overnight here before flying to Ulaanbaatar, Mongolia, the next day.

DAY 2: Ulaanbaatar
Today, you'll fly to Ulaanbaatar, Mongolia's thriving capital. After you check into your hotel, you'll enjoy an afternoon of leisure. Perhaps you'll visit one of the numerous world-class museums, savor delicious international cuisine or marvel at the Winter Palace of the Bogd Khan, the only remaining palace out of the original four residences of the former emperor of Mongolia.

DAY 3: Ulaanbaatar
Embark on a captivating tour of the city, complete with a stop at Zaisan Hill, a memorial that pays homage to fallen allied Mongolian and Soviet soldiers killed during World War II. Your guide will provide you with an overview of the monument as well as chronicle this crucial period in Mongolian history. If you walk to the top of Zaisan Hill, you'll also be rewarded with sweeping views of Ulaanbaatar below. You'll then make your way to Gandan Khiid, a stunning Buddhist monastery, where you'll have the chance to witness Buddhist monks reciting prayers. As one of Mongolia's most beloved attractions, it's fitting that the monastery's full name roughly translates to "the great place of complete joy."

This evening, you'll enjoy a Tuvan throat singing performance at the National Ensemble. Mongolians have been practicing throat singing, a type of harmonic singing where the performer can produce multiple pitches simultaneously, for centuries. Traditionally, male herders would venture deep into the countryside to perform, as the country's open landscape allows the sounds to carry great distances.

DAY 4: Ulaanbaatar, Fly to Gobi Desert
Depart Ulaanbaatar and board your plane to the indescribable Gobi Desert in southern Mongolia, famed for its mountains, dunes and rare animals that call it home, such as Bactrian camels. You'll trek through the breathtaking Yol Valley in Gobi Saikhan National Park, passing by Yolyn Am, also known as Vulture Gorge, a deep and narrow gorge showcasing sheer rock walls and waterfalls. After the day's adventure, you'll transfer to Three Camel Lodge for the evening. Here, you'll be treated to an array of activities including cooking demonstrations, archery, movies and a campfire complete with cocktails.
Please note: Waterproof hiking boots are highly recommended for today's excursion.

DAY 5: Gobi Desert
Your guide will introduce you to the nomadic way of life and the etiquette one should follow when entering a Mongolian ger, a tent-like structure used by nomads. On this visit to a camel-breeding family, you'll learn firsthand about their way of life and the importance of their customs and cultural traditions. Prepare to be amazed as you make your way to the Gobi Desert's Flaming Cliffs, named by American paleontologist Roy Chapman Andrews in the 1920s. As you walk in the footsteps of early explorers, you'll learn why the Flaming Cliffs are a significant site in the field of paleontology (it might have something to do with the first dinosaur eggs being discovered here). At sunset, the cliffs give off a fiery glow, a spectacle you're sure to enjoy this evening.

DAY 6: Gobi Desert, Ulaanbaatar
You'll bid the Gobi Desert farewell today and fly from Dalanzadgad Airport back to Ulaanbaatar, where you'll be taken to your hotel for the night.

DAY 7: Ulaanbaatar, Beijing
Today, you'll hop on a plane from Ulaanbaatar to Beijing as you get ready to start Highlights of China & the Yangtze.
Notes
Cabin upgrades are available.
All fares are per guest in US Dollars based on double occupancy unless otherwise noted.
Fares are capacity controlled and are subject to change at any time without notice.
Availability of all stateroom categories cannot be guaranteed.
Single Supplement applies for single accommodation.
Itineraries, hotels, and vessels may change, and substitute visits to other sites may occur during your trip due to water level fluctuations and other uncontrollable factors.
The order of sightseeing and docking ports are subject to change according to port authority assignments.
Please ask your Vacations To Go travel counselor for more information.
Terms and Conditions
* The prices shown are U.S. dollars per person, based on double occupancy, and subject to availability. Prices quoted for land/cruise arrangements are subject to increase without notice. Once we have received your deposit, land/cruise prices are guaranteed. Air prices quoted via phone or email are subject to increase and are guaranteed only from the time that full payment is received. Also, air prices or air promotions mentioned on this site or on the phone do not include baggage fees imposed by airlines. Sorry, we are unable to offer air from countries other than the U.S. However, for those international customers who are able to arrange their own transportation to the trip origination city, we are able to offer the land/cruise portion of the package at the price quoted.
800-510-4002

OR

Open Mon-Fri 7am to 10pm, Sat 8am-8pm, Sun 9am to 8pm, CST
| | | |
| --- | --- | --- |
| | a division of | |