Day 1 Arrive in Amsterdam, Holland (Embarkation).
Welcome to Amsterdam! Holland's sophisticated, modern capital has a rich 700-year-old history and a distinct ambiance. Maybe stroll through the lively marketplace or see the works of famous Dutch masters at world-renowned museums. This afternoon, board your river cruise ship and meet your crew at an evening welcome reception. (D)

NOTE: Guests must be on board ship by 5 pm.

Day 2 Amsterdam.
Today, get a unique perspective of Amsterdam on an included CANAL CRUISE, floating along the elegant grachten lined with stately homes dating back to Amsterdam's "Golden Age." There's free time in the city this afternoon—or you might like to join an optional excursion before bidding tot ziens (farewell) to Holland and setting sail for Germany. (B,L,D)

Day 3 Cologne, Germany.
Today, enjoy a peaceful morning of cruising before reaching Cologne after lunch. One of Germany's largest cities and capital of the Rhineland, Cologne straddles both sides of the Rhine and is known for its soaring, twin-steepled gothic cathedral. Choose between a GUIDED CITY WALK or JEWISH HERITAGE WALK. The Old Town abounds with cafés, shops, and taverns. Be sure to try a Kölsch pale lager, locally brewed in Cologne for over a hundred years! (B,L,D)

Day 4 Rhine Gorge–Rüdesheim.
This morning, cruise through the dramatic RHINE GORGE—without a doubt, the most beautiful stretch of river and where ancient castles stand sentry on lofty cliffs rising 400 feet above the waters. Cruise past the rock of the Lorelei, where legend tells of enchanted siren song that lured sailors to their doom. On your included shore excursion in pretty Rüdesheim, visit SIEGFRIED'S MECHANICAL MUSICAL INSTRUMENT MUSEUM, where you'll be mesmerized by the self-playing calliopes and music boxes from the 18th to the early 20th centuries. Enjoy a SPECIAL TREAT and free time to pick up some souvenirs on the narrow, cobblestoned Drosselgasse, where colorful flowers, open-air wine gardens, and live music add to the festive atmosphere. (B,L,D)

Day 5 Main River Village.
On the banks of the Main River you find cultural gems of small towns, many of them tucked away behind defensive walls and towered gates. With half-timbered houses, narrow streets, and medieval town centers, these picturesque Bavarian villages are a photographer's delight. Join your Local Guide to experience one of these towns on a GUIDED WALK. (B,L,D)

Day 6 Würzburg.
Surrounded by verdant hillside vineyards, Würzburg, the "Pearl of the Romantic Road," makes an immediate impression with imposing Marienberg Fortress perched above town and the 15th-century Alte Mainbrücke (Old Main Bridge). On your GUIDED SIGHTSEEING TOUR this morning, visit the magnificent baroque BISHOP'S RESIDENZ, home to the largest ceiling fresco ever painted. Depart Würzburg at lunchtime and spend a leisurely afternoon cruising the Main River. (B,L,D)

Day 7 Bamberg.
Today, join an excursion to medieval Bamberg, former residence of one of Germany's most powerful imperial dynasties and today a UNESCO World Heritage Site. Your GUIDED WALKING TOUR takes in its historic center, including the great 13th-century Romanesque cathedral and the fascinating Altes Rathaus (Old Town Hall)—built on an island in the middle of the Regnitz River when the bishop refused to give the townspeople land for a town hall! Wander the town's serpentine streets with their charming houses and 18th-century mansions. (B,L,D)

Day 8 Roth–Nuremberg.
This morning dock in Roth and after breakfast join a GUIDED SIGHTSEEING of the city. This delightful Bavarian town, with its half-timbered houses and market square, is also an industrial center for textile manufacturing. Take pictures of Schloss Ratibor, an ancient hunting lodge built in 1535, with a most picturesque inner courtyard. Or you may prefer to choose a GUIDED SIGHTSEEING TOUR of nearby Nuremberg. Although 90% of the city's Old Town suffered extensive damage during WWII, much of it has been restored to the glory it once knew as the unofficial capital of the Holy Roman Empire. Marvel at this thousand-year-old city's medieval fortifications, extraordinary gothic churches, and the Kaiserburg (Imperial Castle), or join a more specialized NUREMBERG RALLY GROUNDS tour. (B,L,D)

Day 9 Regensburg.
Dating back to the time of the Celts around 500 BC, Regensburg is one of Germany's best preserved medieval cities. Established during the Holy Roman Empire and the only German city not bombed during WWII, Regensburg has at least 1,300 listed buildings of "historic interest." Architectural highlights of your GUIDED WALK include the Altes Rathaus (Old Town Hall), built in the 13th century, and Porta Pretoria, gates to an ancient Roman fort built in 179 AD. Wander through the city's lanes and alleys to discover the many mansions with high towers. Wealthy families built these towers to emphasize their status and wealth during the Middle Ages, and many still remain today. Walk across the 12th-century Steinerne Brücke (Stone Bridge), the oldest of its kind in Germany, then grab a beer and enjoy a SNACK at the Historische Wurstküche (Old Sausage Kitchen), one of Germany's oldest restaurants. Here—where the locals congregate—feel the vibrant atmosphere and take in the remarkable views along the river. Before dinner we'll introduce you to some of Germany's FAMOUS BEERS. (B,L,D)

Day 10 Passau.
Uniquely located where the Inn, Ilz, and Danube Rivers converge, Passau is a maze of narrow cobblestone streets lined with beautiful patrician houses and dominated by St. Stephen's Cathedral, a masterpiece of Italian baroque architecture. Take in the highlights on the included GUIDED WALK through this charming town, and find out much more about the "City of Three Rivers." Alternatively, you might like to join a full-day optional excursion to Salzburg to see some of The Sound of Music sights or to Ceský Krumlov in the Czech Republic, a UNESCO World Heritage Site. (B,L,D)

Day 11 Melk, Austria–Dürnstein.
This morning, enjoy a GUIDED VISIT of Melk's magnificent 11th-century BENEDICTINE ABBEY, one of Europe's largest monasteries. The abbey houses an ornate library with over 80,000 printed books and 2,000 manuscripts. Words cannot describe the splendor of the church with its frescoed ceilings, stunning high altar, marble statues, and 210-foot-high cupola. Then, cruise through the picturesque Wachau Valley to Dürnstein, known for the magnificent baroque, blue Stiftskirche. The main street of this small town—with a population of less than 1,000 people—is lined with 16th-century homes and charming cobblestone streets. Your Local Guide will take you on a WALKING TOUR and tell you the tale of England's King Richard the Lionheart, who was imprisoned in the castle whose ruins still stand above the town. (B,L,D)

Day 12 Vienna.
Early this morning, arrive in Vienna, the "City of Music," which inspired the creative genius of Mozart, Beethoven, and Strauss. Once the center of the mighty Habsburg Empire, Austria's magical capital on the blue Danube is a showcase of gilded architecture. This is home to the lavish Hofburg Imperial Palace complex with its Vienna Boys' Choir and dazzling Lipizzaner stallions; the neo-renaissance Vienna Opera House; and awe-inspiring St. Stephen's Cathedral—plus, countless other sites you'll see on your GUIDED TOUR. Stroll through the delightful pedestrian Kärntnerstrasse, and be sure to take a break and enjoy a piece of decadent Sachertorte or Apfelstrudel in one of the classic Viennese coffee houses—historic institutions that helped shape Viennese culture! An optional concert is available tonight. (B,L,D)

Day 13 Bratislava, Slovakia.
At the foothills of the Carpathian Mountains is Bratislava, the dynamic capital of Slovakia. After breakfast, join your Local Guide for a tour of the city, including a GUIDED WALK of its fascinating Old Town, where winding cobblestoned streets and narrow alleyways twist and turn to reveal the Town Hall, one of the oldest stone buildings in the city. Also visit gothic ST. MARTIN'S CATHEDRAL, coronation church for the Kingdom of Hungary from the 16th to 19th centuries. The afternoon is free to explore on your own. (B,L,D)

Day 14 Budapest, Hungary.
Spanning the banks of the Danube, Budapest is one of Eastern Europe's liveliest cities. Whether you're seeing the sights, shopping for handcrafted embroidery or Herend porcelain, or basking in the coffee house culture over a rich cream cake in the renowned Gerbeaud Café, Budapest's unique energy is positively palatable. On your GUIDED SIGHTSEEING TOUR, see Heroes Square as well as the massive hilltop castle complex with its remarkable Fishermen's Bastion and 11th-century Matthias Church. Be sure to note the city's eight bridges—many famous sights in and of themselves—which connect ancient Buda on the right bank with Pest on the left. In your free time this afternoon you may want to walk across Chain Bridge, built in 1849 and a symbol of Budapest. Alternatively, consider visiting St. Stephen's Basilica with marvelous views of the city from its viewing platform, or stroll along Váci utca, the main shopping street. (B,L,D)

Day 15 Budapest.
Enjoy a free day today to explore on your own. Your Cruise Director will have suggestions for things to do. (B,L,D)

Day 16 Mohács. Excursion to Pécs.
This morning arrivine in Mohács, the last stop in Hungary, from where an included excursion takes you to Pécs. Established by the Romans in the 2nd century, this was a flourishing and important town for Christianity by the 4th century. These early Christians left behind many underground burial chambers with memorial chapels above ground. With a Local Guide, visit the UNDERGROUND TOMBS—now part of a UNESCO World Heritage Site—many of which have splendidly decorated murals with Christian themes. Later, enjoy an ORGAN CONCERT. Pécs is also a rich showcase of Turkish architecture and home to Turkish mosques, striking churches, and an enjoyable atmosphere around its restaurants and cafés. (B,L,D)

Day 17 Belgrade, Serbia.
One of the oldest cities in Europe, the capital of Serbia is situated at the confluence of the Danube and Sava Rivers. A LOCAL GUIDE will be proud to show you its main sights, including St. Sava, the world's largest orthodox church. In your free time, be sure to check out the city's lively pedestrian area and charming outdoor cafés. Perhaps visit one of the many art galleries or museums, or browse the local shops. Stroll through Belgrade's largest and most beautiful park which surrounds the city's principal landmark, Kalemegdan Fortress, and gaze down at the confluence of the Danube and Sava Rivers. Built in stages between the 1st and 18th centuries, Kalemegdan Fortress witnessed many battles and observed the courage of those trying to defend the city from conquerors. (B,L,D)

Day 18 Excursion to Lepenski Vir–Iron Gates.
This morning, dock at Donji Milanovac, where a short drive takes you to the impressive LEPENSKI VIR EXHIBITION CENTER, which houses area archaeological artifacts and from where you have unique views of the Danube Gorge. Return to your ship before lunch, then cruise what must surely be the most spectacular scenery of the dramatic IRON GATES gorge, a narrow and formerly very dangerous passage dividing Europe's Alps in the northwest from the Carpathians in the southeast and forming a natural border between Serbia and Romania. (B,L,D)

Day 19 Cetate, Romania–Vidin, Bulgaria. Excursion to Belogradchik.
This morning, stop in Cetate, an old Danubian grain shipping port that is now a cultural center. The owner will explain the concept of this fascinating venture before you have a chance to see for yourself and to TASTE some of the locally made products. Then, on to Vidin, an important Danube port in northwestern Bulgaria, from where an included excursion takes you to nearby Belogradchik to view the eclectic group of ROCK FORMATIONS on the western slopes of the Balkan Mountains. Sculpted by natural elements for more than 200 million years and with a variety of sizes and shapes, the Belogradchik Rocks are spectacular! (B,L,D)

Day 20 Nikopol–Excursion to Veliko Târnovo & Arbanassi–Rousse.
This morning, stop in Nikopol from where an excursion takes you to the ancient Bulgarian capital of Veliko Târnovo. Situated on three hills surrounding the Yantra River, the city was a natural fortress with ancient stone houses clinging to the steep slopes. One of the oldest towns in Bulgaria (dating back to 4300 BC), the oldest part is Tsarevets Hill, home of the ROYAL FORTRESS, and the Patriarch's Church. With your LOCAL GUIDE, discover this town that played an important role in Bulgaria's history. Next, journey to Arbanassi, founded in the 15th century, and best known for its Bulgarian Revival architecture and ETHNOGRAPHICAL MUSEUM, a 400-year-old house preserved as a museum. Visit the CHURCH OF THE NATIVITY, one of the town's oldest churches, and see its outstanding collection of frescoes. Return to your ship in Rousse, Bulgaria's largest inland port. If you don't wish to participate in the full-day excursion, stay on board and relax or join a GUIDED TOUR of Rousse. (B,L,D)

Day 21 Oltenita, Romania (Disembarkation)–Bucharest.
After breakfast, say goodbye to your crew. Bucharest, Romania's lively capital, is only a short drive from Oltenita. Its wide, tree-lined boulevards and Arc de Triomphe—built in 1922 to honor the bravery of Romanian soldiers who fought in WWI—have gained it the name "Paris of the East." Much recent history has taken place in the city. During the INCLUDED TOUR this morning, see the main sights including Royal Palace Square, the scene of riots in 1989, which led to the collapse of the communist dictatorship. In your free time, discover this interesting city even further. Stroll down Calea Victoriei, "Victory Avenue," Bucharest's most historic and alluring street. Initially built in 1692, today it is lined with shops, museums, churches, restaurants, cafés, and fine houses. (B)

Day 22 Bucharest.
Your vacation ends with breakfast this morning. (B)
Tour Map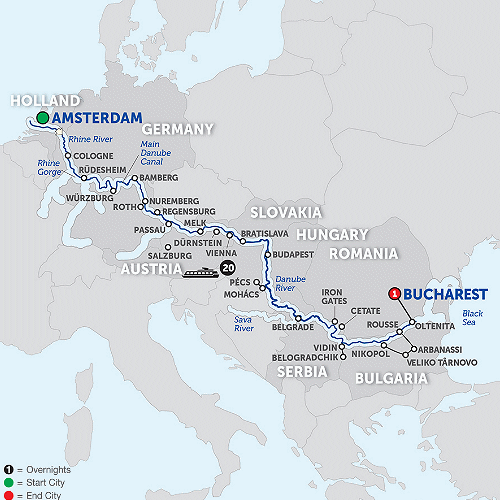 River Cruise Highlights
Cruise:

deluxe 20-night cruise in an outside stateroom with Avalon's exclusive Comfort Collection BedsSM

Amsterdam:

welcome reception, canal cruise

Cologne:

choice of guided walk or Jewish Heritage walk

Rhine Gorge–Rüdesheim:

cruise through the Rhine Gorge; visit Siegfried's Mechanical Musical Instrument Museum in Rüdesheim; enjoy a special treat

Main River Village:

guided walk

Würzburg:

guided sightseeing, visit the Bishop's Residenz

Bamberg:

guided sightseeing, see the Old Town Hall

Roth-Nuremberg:

choice of guided sightseeing of Roth; or guided sightseeing in Nuremberg, or Nuremberg Rally Grounds tour

Regensburg:

guided walk; enjoy a snack at the Historische Wurstküche, beer tasting

Passau:

guided walk

Melk-Dürnstein:

guided visit of the Benedectine Abbey in Melk; cruise through the Wachau Valley; guided walk in Dürnstein, see the Stiftskirche
Vienna: guided sightseeing

Bratislava:

guided sightseeing, visit St. Martin's Cathedral

Budapest:

guided sightseeing, see Fishermen's Bastion and Heroes' Square; day at leisure

Mohács. Excursion to Pécs:

guided sightseeing in Pécs, visit the underground tombs; organ concert

Belgrade:

guided sightseeing

Iron Gates:

visit Lepenski Vir archaeological site; cruise through the dramatic Iron Gates gorge

Cetate–Vidin–Belogradchik:

visit the cultural port in Cetate; special tasting; excursion to Belogradchik to see the rock formations

Nikopol-Excursion to Veliko Târnovo & Arbanassi-Rousse:

guided sightseeing, visit Tsarevets Fortress in Veliko Târnovo, and the Ethnographical Museum and Church of the Nativity in Arbanassi; or guided sightseeing of Rousse

Oltenita–Bucharest:

guided sightseeing in Bucharest
Special onboard and onshore experiences presented by entertainers, artisans, and experts, designed to enrich your cruise.
All This Included
From Holland to Romania, with a host of exciting stops along the way, this river cruise vacation across Europe is truly an adventure!
Amsterdam, Holland's lively capital, is set amongst sophisticated architecture and classic squares and canals with countless museums, cafés, shops, and restaurants to explore. See the treasures of this 700-year-old city on a canal cruise along the elegant grachten. On to Germany for a guided city walk in the 2,000-year-old Cologne. Sail through the dramatic Rhine Gorge, the most beautiful stretch of the Rhine River and stop in delightful Rüdesheim. There's guided sightseeing in Würzburg, Bamberg, Nuremberg, and Regensburg, and you'll sail the Main Danube Canal connecting the Main and Danube Rivers. In Melk, Austria, visit the magnificent Benedictine Abbey, then sail through the picturesque Wachau wine region to Dürnstein—famous for its blue and white baroque Stiftskirche. Guided sightseeing in each city introduces you to three capitals: Vienna, Austria; Bratislava, Slovakia; and Budapest, Hungary. Continue your river cruise adventure on the Lower Danube with an excursion to 2nd-century Pécs, Hungary, where you'll visit underground burial chambers now part of a UNESCO World Heritage Site. Stop in Serbia's Belgrade and cruise through the dramatic Iron Gates Gorge. In Bulgaria, visit Belogradchik's eclectic rock formations, the ancient capital of Veliko Tarnovo, and Arbanassi—with its Church of the Nativity housing an outstanding collection of frescoes.
To round out this timeless European River Cruise, a stay in Romania's vibrant capital of Bucharest is a must. Known as the "Paris of the East," a local expert will show you many of its historical treasures.
Buffet breakfast in Bucharest; superb dining with meals on board featuring full breakfast with complimentary sparkling wine, lunch with complimentary soft drinks, and dinner including complimentary wine, beer, or soft drinks; a welcome reception, Captain's reception, and farewell dinner; one sitting with open seating arrangements
Deluxe cruise in an outside stateroom with hotel-style beds
Included excursions with Certified Local Guide; sightseeing as outlined in the day by-day itinerary; inside visits and special features are shown in UPPERCASE.
Headsets for shore excursions
Complimentary Wi-Fi access
Personalized room options & excursions
Accommodations on this Tour
Cruising: Cabin onboard
Avalon Passion, Avalon Lumiary
or
Avalon Illumination
Bucharest:
Athenee Palace Hilton
Pre and Post Add-ons
Extra nights per person in Amsterdam:
in single room from $185 to $355, in twin room from $115 to $245

Extra nights per person in Bucharest:
in single room from $145 to $225, in twin room from $75 to $125
Notes
Cabin upgrades are available.
Gratuities to Local Guides & Excursion Drivers are included.
In the event of water level problems or any problems of a technical nature, it may be necessary to operate the itinerary by motorcoach or to alter the program.
Included visits and special features are subject to change. If a change is necessary, a substitute will be offered.
Please check visa requirements with your local consulate(s); responsibility for obtaining visas rests with the traveler.
Port charges: $480.
Please call for single accommodation price. Triples not available.
This vacation can also be taken as a Cruise-Only option starting at the embarkation city and ending at the disembarkation city, and does not include overnight land stays.
Please ask your Vacations To Go travel counselor for more information.
Terms and Conditions
* The prices shown are U.S. dollars per person, based on double occupancy, and subject to availability. Prices quoted for land/cruise arrangements are subject to increase without notice. Once we have received your deposit, land/cruise prices are guaranteed. Air prices quoted via phone or email are subject to increase and are guaranteed only from the time that full payment is received. Also, air prices or air promotions mentioned on this site or on the phone do not include baggage fees imposed by airlines. Sorry, we are unable to offer air from countries other than the U.S. However, for those international customers who are able to arrange their own transportation to the trip origination city, we are able to offer the land/cruise portion of the package at the price quoted.