Jewels of Central Europe
(Paris to Budapest)
17 days with Avalon Waterways Rating: Deluxe
Book this River Cruise Now and Save!





Save $1,000 per couple off 2018 Europe cruises. Click here for eligible departures.

Avalon Journeys Club members save 5% off the cruise/land price. Click here for eligible departures.

Offers subject to change or withdrawal, availability is limited. Some discounts are not combinable.
Day 1 Arrive in Paris, France
Arrive in Paris, France. Welcome to Paris, France's capital on the River Seine and the "City of Light," where romance fills the air!

Day 2 Paris
Known as one of the world's most romantic and lively cities, Paris delights the senses. Your included CITY SIGHTSEEING TOUR shows you magnificent must-see sights, such as Notre Dame Cathedral, the Louvre Museum with its glass pyramid as a contrast to its ancient architecture, the commemorative Arc de Triomphe, and the Eiffel Tower. In your free time, stroll down the Champs-Elysées with lavish cafés, or perhaps visit the Louvre or Montmartre with its gleaming white Sacré Coeur Basilica and bevy of artists on Place du Tertre. (Breakfast)

Day 3 Paris–Remich, Luxembourg (Embarkation)
This morning, board a HIGH-SPEED TRAIN for a swift and comfortable journey to Metz or Luxembourg City. Continue to Remich in the Grand Duchy of Luxembourg, where your river cruise vessel is docked on the Moselle River. Before dinner, meet your crew at a welcome reception. The Moselle River is some 312 miles long, rising in the Vosges Mountains of northeastern France and entering Germany at Trier. (Breakfast, Dinner)

Day 4 Trier, Germany
At the head of the Moselle Valley is Trier, Germany's oldest city. Some say Trier is even older than Rome and was populated over a thousand years before the Romans arrived. Many Roman remains have survived, including a 20,000-seat amphitheater; the Porta Nigra, the only surviving fortified gate from the original Roman settlement, which still gives access to the town's center; imperial baths; and the Roman Bridge, Germany's oldest bridge, with stone pilings dating from 144-152 AD—all evidence of this once-grand Roman city. Choose from an included GUIDED CITY SIGHTSEEING or the more history-focused "ROMAN TRIER" guided tour. As you cruise the wide, peaceful curves of the Moselle River, it becomes obvious why the Moselle Valley is famous for its picturesque scenery, and that this is an important wine-growing region. (Breakfast, Lunch, Dinner)

Day 5 Bernkastel
In the middle of the Moselle region is the charming wine village of Bernkastel with its fascinating narrow streets and half-timbered houses that have stood since the Middle Ages. Enjoy a GUIDED WALK that includes the beautiful marketplace with its renaissance-style Town Hall—built in 1608—and the "pointed house," built in 1416. Wine growers in this area look after Germany's largest expanse of vineyards, the most celebrated of the vintages being the Bernkasteler Doktor. Later this afternoon, enjoy a TASTING of some of these well-loved German wines. (Breakfast, Lunch, Dinner)

Day 6 Rhine Gorge–Rüdesheim
This morning, sail through the dramatic RHINE GORGE, the most beautiful stretch of the Rhine. Here, ancient castles stand sentry on lofty cliffs rising 400 feet above the waters. Cruise past the legendary rock of the Lorelei, where echoes of enchanted siren song lured unwitting sailors to their doom. In Rüdesheim, the quintessential Rhine Valley wine town, visit SIEGFRIED'S MECHANICAL MUSICAL INSTRUMENT MUSEUM, where you'll see and hear a large collection of self-playing calliopes, mechanical violins, and music boxes from the 18th to the early 20th centuries. Enjoy a SPECIAL TREAT, then there's free time to pick up some souvenirs on the narrow, cobblestoned Drosselgasse, where colorful flowers, open-air wine gardens, and live music add to the festive atmosphere. (Breakfast, Lunch, Dinner)

Day 7 Main River Village
On the banks of the Main River you find cultural gems of small towns, many of them tucked away behind defensive walls and towered gates. With half-timbered houses, narrow streets, and medieval town centers, these picturesque Bavarian villages are a photographer's delight. Join your Local Guide to experience one of these towns on a GUIDED WALK. (Breakfast, Lunch, Dinner)

Day 8 Würzburg
Relax on board this morning as you cruise the Main River. This afternoon, arrive in Würzburg. Surrounded by verdant hillside vineyards, Würzburg, the "Pearl of the Romantic Road," makes an immediate impression with imposing Fortress Marienberg perched above town and the 15th-century Alte Mainbrücke (Old Main Bridge). On your GUIDED SIGHTSEEING TOUR, visit the magnificent baroque BISHOP'S RESIDENZ, home to the largest ceiling fresco ever painted. Then, there's time to relax, do some shopping, or stop in a Konditorei for a mouth-watering pastry and a cup of coffee—a German afternoon tradition. (Breakfast, Lunch, Dinner)

Day 9 Bamberg
Enjoy another pleasant morning of sailing before you arrive in medieval Bamberg in the early afternoon. The town is the former residence of one of Germany's most powerful imperial dynasties and today a UNESCO World Heritage Site. Your included GUIDED WALK takes in its historic center, with the great 13th-century Romanesque cathedral and the fascinating Altes Rathaus (Old Town Hall)—built on an island in the middle of the Regnitz River when the bishop refused to give the townspeople land for a town hall! (Breakfast, Lunch, Dinner)

Day 10 Nuremberg. Excursion to Munich
Early this morning, arrive in Nuremberg and after breakfast, drive to Munich, the capital of Bavaria. With its historical museums, splendid English Garden, traditional cafés, and delightful shops, Munich has plenty to see and do. A GUIDED TOUR will show you the highlights of this fascinating city, including Nymphenburg Palace, summer residence of the Bavarian monarchs; MARIENPLATZ with its Old and New Town Halls; and the gothic Frauenkirche, a prominent landmark for Munich. Then, enjoy time on your own in this vibrant city. Watch the famous Glockenspiel, which recreates a royal wedding from the 16th century; linger at an outdoor café; visit St. Peter's, the oldest church in town; or maybe relax alongside the locals at one of the many Biergärten or breweries to sample one of the Bavarian beer specialties. Return to your ship in the afternoon. (Breakfast, Dinner)

Day 11 Nuremberg
Although 90% of Nuremberg's Old Town suffered extensive damage during WWII, much of it has been restored to the glory it once knew as the unofficial capital of the Holy Roman Empire. This morning, choose a GUIDED SIGHTSEEING TOUR and marvel at this thousand-year-old city's medieval fortifications, extraordinary gothic churches, and the Kaiserburg (Imperial Castle), or join a more specialized "NUREMBERG RALLY GROUNDS" tour. (Breakfast, Lunch, Dinner)

Day 12 Regensburg
Arrive in Regensburg today. Dating back to the time of the Celts around 500 BC, Regensburg is one of Germany's best-preserved medieval cities. Established during the Holy Roman Empire and the only German city not bombed during WWII, Regensburg has at least 1,300 listed buildings of "historic interest." Architectural highlights of your GUIDED WALK include the Altes Rathaus (Old Town Hall), built in the 13th century, and Porta Pretoria, gates to an ancient Roman fort built in 179 AD. Wander through the city's lanes and alleys to discover the many mansions with high towers. Wealthy families built these towers to emphasize their status and wealth during the Middle Ages, and many still remain today. Walk across the 12th-century Steinerne Brücke (Stone Bridge), the oldest of its kind in Germany. Grab a beer and enjoy an included SNACK at the Historische Wurstküche (Old Sausage Kitchen), one of Germany's oldest restaurants. Here—where the locals congregate—feel the vibrant atmosphere and take in the remarkable views along the river. Before dinner, we'll introduce you to some of Germany's FAMOUS BEERS! (Breakfast, Lunch, Dinner)

Day 13 Passau
This morning, dock in Passau. Uniquely located where the Inn, Ilz, and Danube Rivers converge, Passau is a maze of narrow cobblestone streets lined with beautiful patrician houses and dominated by St. Stephen's Cathedral, a masterpiece of Italian baroque architecture. Take in the highlights on the included GUIDED WALK. Alternatively, choose from several full-day optional excursions while your ship continues to sail into Austria. Rejoin your vessel in the late afternoon. (Breakfast, Lunch, Dinner)

Day 14 Melk, Austria–Vienna
This morning, enjoy a GUIDED VISIT of Melk's magnificent 11th-century BENEDICTINE ABBEY, one of Europe's largest monasteries. The abbey houses an ornate library with over 80,000 printed books and 2,000 manuscripts. Words cannot describe the splendor of the church with its frescoed ceilings, stunning high altar, marble statues, and 210-foot-high cupola. Then, cruise through the picturesque Wachau Valley. Pass the magnificent baroque Stiftskirche with its blue façade, the landmark of Dürnstein, arriving in Vienna this evening. Known as the "City of Music," it inspired the creative genius of Mozart, Beethoven, and Strauss. An optional concert is available tonight. (Breakfast, Lunch, Dinner)

Day 15 Vienna
Once the center of the mighty Habsburg Empire, Austria's magical capital on the blue Danube is a showcase of gilded architecture. This is home to the lavish Hofburg Imperial Palace complex with its Vienna Boys' Choir and dazzling Lipizzaner stallions; the neo-renaissance Vienna Opera House; and awe-inspiring St. Stephen's Cathedral—plus, countless other sights shown to you by your Local Guide during your included CITY TOUR. Shop in the delightful pedestrian Kärntnerstrasse, and be sure to take a break and enjoy a piece of decadent Sachertorte or Apfelstrudel in one of the classic Viennese coffee houses, historic institutions that helped shape Viennese culture! In the late afternoon, leave Vienna for Budapest. (Breakfast, Lunch, Dinner)

Day 16 Budapest, Hungary
Spanning the banks of the Danube, Budapest is one of Eastern Europe's liveliest cities. Whether you're seeing the sights, shopping for handcrafted embroidery or Herend porcelain, or basking in the coffee house culture over a rich cream cake in the renowned Gerbeaud Café, Budapest's unique energy is positively palatable. On your GUIDED SIGHTSEEING TOUR, see Heroes Square as well as the massive hilltop castle complex with its remarkable Fishermen's Bastion and 11th-century Matthias Church, the coronation spot of several Hungarian monarchs. Be sure to take note of the city's eight bridges—many famous sights in and of themselves—which connect ancient Buda on the right bank with Pest on the left. You may even want to walk across Chain Bridge, built in 1849 and a symbol of Budapest. Perhaps visit St. Stephen's Basilica; shop at the Great Market Hall and purchase paprika at one of its 180 vendor stalls; wander around the Royal Palace grounds; or stroll along Váci utca, the main shopping street. (Breakfast, Lunch, Dinner)

Day 17 Budapest (Disembarkation)
Your vacation ends with breakfast this morning. (Breakfast)
Tour Map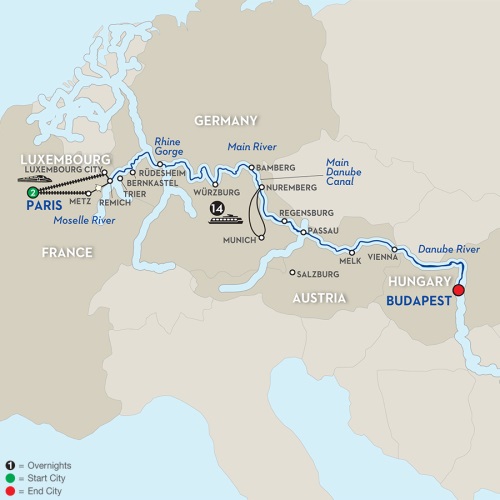 River Cruise Highlights
Cruise: deluxe 14-night cruise in an outside stateroom with Avalon's exclusive Comfort Collection BedsSM
Paris: welcome to France; guided sightseeing on Day 2
Paris–Remich (Embarkation): travel from Paris to Metz or Luxembourg City by high-speed train and on to Remich by motorcoach; onboard welcome reception
Trier: choice of guided city sightseeing or "Roman Trier" sightseeing, see the Porta Nigra
Bernkastel: guided walk; wine tasting
Rhine Gorge–Rüdesheim: cruise through the Rhine Gorge; visit Siegfried's Mechanical Musical Instrument Museum in Rüdesheim; enjoy a special treat
Main River Village: guided walk
Würzburg: guided sightseeing, visit the Bishop's Residenz
Bamberg: guided sightseeing, see the Old Town Hall
Nuremberg. Excursion to Munich: guided sightseeing, see the Marienplatz
Nuremberg: choice of guided sightseeing or Nuremberg Rally Grounds tour
Regensburg: guided walk; enjoy a snack at the Historische Wurstküche; beer tasting
Passau: guided walk
Melk–Vienna: guided visit of the Benedictine Abbey in Melk
Vienna: guided sightseeing
Budapest: guided sightseeing, see Fishermen's Bastion and Heroes' Square
Budapest (Disembarkation): your vacation ends this morning
Special onboard and onshore experiences presented by entertainers, artisans, and experts, designed to enrich your cruise.
Enjoy a tasting of the area's famed Moselle wines, and learn about the Main Danube canal at an onboard lecture.
All This Included
On this remarkable Europe river cruise vacation, you'll sail along the Moselle, Rhine, Main, and Danube Rivers. Start with two overnights in dazzling Paris and end in Budapest, Hungary's vibrant capital—with the most intriguing cities of France, Germany, and Austria along the way.
Before you embark on your European river cruise, the famous sights of romantic Paris will be yours. You've seen pictures of the Notre Dame Cathedral, the Louvre Museum, and the Eiffel Tower—now experience these treasures up close. Ride the high-speed train from Paris, then board your ship to cruise the wide, peaceful curves of the Moselle River Valley, famous for its picturesque scenery. First stop is Trier, Germany, believed to be even older than Rome and many remnants can still be found, such as imperial baths. The wine village of Bernkastel, surrounded by Germany's largest expanse of vineyards, will fascinate you with its narrow streets and half-timbered houses still standing from the Middle Ages. Continue your European river cruise through the dramatic Rhine Gorge, considered the most beautiful stretch of the Rhine River. See the rock of the Lorelei and ancient castles standing majestically on cliffs 400 feet above the water. Visit the magnificent Bishop's Residenz in Würzburg and marvel at medieval Bamberg, a UNESCO World Heritage Site. Enjoy a guided visit of historic Nuremberg and an excursion to Bavaria's capital, Munich. Along the Danube River is Regensburg, Germany, one of Europe's best preserved medieval cities, where you can taste some of Germany's famous beers! Visit Passau with its narrow, winding cobblestone streets, and Melk's magnificent 11th-century Benedictine Abbey, before arriving in Vienna, the "City of Music" that inspired the genius of Beethoven, Mozart, and Strauss.
There are countless opportunities to be enchanted by the sights on this fascinating Europe river cruise, and it doesn't end until you've experienced the unique energy of Budapest. A local expert will show you the famous sights and you can walk across the Chain Bridge and bask in the coffee house culture with a rich cream cake in the renowned Gerbeaud Café.
Panoramic windows throughout.
Elegant, contemporary design.
Remarkable service.
Included excursions with Certified Local Guides; sightseeing as outlined in the day by-day itinerary; inside visits and special features are shown in UPPERCASE.
Complimentary Wi-Fi throughout the ship.
24-hour self-serve beverage station.
Premium coffees, cappuccinos & lattes.
Upscale bar serving premium spirits.
Fitness Center with state-of-the-art equipment.
Comfort Collection BedsSM.
Premium L'Occitane bath products.
Large bathrooms - showers with glass doors.
Flatscreen satellite TV with movie channels.
Spacious 3-door closets for ample storage.
Complimentary bottled water daily.
Choice of regional, Western and vegetarian dishes.
Daily early- and late-riser breakfasts.
Full buffet breakfast with sparkling wine.
Complimentary juices with breakfast.
Made-to-order egg station at breakfast.
Daily full breakfast buffet with hot/cold menu items.
Complimentary soft drinks with lunch.
Daily lunch buffet with pasta and carving stations.
Alternate grill fare at the Sky Bistro (weather permitting).
Chef-inspired regional recipes.
Four-course dinners with open seating.
Nightly choice of appetizers, soups, salads, entrées, desserts or cheese.
Complimentary wine (including regional) at dinner.
Complimentary soft drinks or beer with dinner.
Night Fare served at 10:30 pm.
Well-stocked library with books, cards and games.
Headsets for shore excursions.
Professional Cruise Director.
Friendly, English-speaking crew.
Non-smoking interior.
Light dinners and wines in the Panorama Bistro on Suite Ships®.
And, much more.
Accommodations on this Tour
Paris:
InterContinental Paris Le Grand or

Hotel du Collectionneur Arc de Triomphe Paris
Cruising: Cabin aboard the
Avalon Visionary
Budapest:
InterContinental Budapest
Pre and Post Add-ons
Extra nights per person in Paris:
in single room from $470 to $790, in twin room from $250 to $410

Extra nights per person in Budapest:
in single room from $180 to $300, in twin room from $105 to $160
Notes
Port charges of $336 person are not included in the prices shown above.
Cabin upgrades are available.
Gratuities to Local Guides & Excursion Drivers are included.
Please call for single accommodation price. Triples not available.
In the event of water level problems or any problems of a technical nature, it may be necessary to operate the itinerary by motorcoach or to alter the program.
In the event that a high-speed train is unavailable due to strikes or technical reasons, the route will be operated by motorcoach.
Included visits and special features are subject to change. If a change is necessary, a substitute will be offered.
Please check visa requirements with your local consulate(s); responsibility for obtaining visas rests with the traveler.
Please ask your Vacations To Go travel counselor for more information.
Terms and Conditions
* The prices shown are U.S. dollars per person, based on double occupancy, and subject to availability. Prices quoted for land/cruise arrangements are subject to increase without notice. Once we have received your deposit, land/cruise prices are guaranteed. Air prices quoted via phone or email are subject to increase and are guaranteed only from the time that full payment is received. Also, air prices or air promotions mentioned on this site or on the phone do not include baggage fees imposed by airlines. Sorry, we are unable to offer air from countries other than the U.S. However, for those international customers who are able to arrange their own transportation to the trip origination city, we are able to offer the land/cruise portion of the package at the price quoted.
800-510-4002

OR

Open Mon-Fri 7am to 10pm, Sat 8am to 8pm, Sun 9am to 8pm, CDT
| | | |
| --- | --- | --- |
| | a division of | |