Day 1 Arrive in Côte d'Azur, France
Welcome to France! Located between the mountains and the deep-blue Mediterranean Sea, the Côte d'Azur is synonymous with prestige and beauty with its enchanting yachts, glamorous villas, and famous events. Time at leisure lets you get acquainted with this amazing place.

Day 2 Côte d'Azur–Transfer to Arles (Embarkation)
This morning, enjoy free time to explore further or join an optional excursion to Nice, the "Queen of the Riviera." In the early afternoon, transfer by motorcoach to Arles in the Provence region, where you'll board your river cruise vessel. Before dinner, meet your crew at a welcome reception, then (daylight permitting) sail toward the mouth of the Rhône, with a unique opportunity to experience the tranquil vistas of Camargue National Park. (B,D)

Day 3 Arles
In Arles, capital of the Provence, join your LOCAL GUIDE for a tour of the city. See the church of St. Trophime, dating from the 12th century, and visit the ROMAN AMPHITHEATER. Still used today, the amphitheater dates to the 1st century, and was constructed to hold over 20,000 spectators. Vincent Van Gogh was inspired by the special light of the Provence and spent a very productive year in Arles. This evening a jazz band comes on board to entertain you. (B,L,D)

Day 4 Avignon
During your GUIDED TOUR of Avignon this morning, you may choose to join an included visit of the PALACE OF THE POPES, built in the 14th century as the sovereign popes' residence. With a living space equivalent to four gothic cathedrals, it is the largest gothic fortress in the world. Alternatively, you may opt for only city sightseeing and more free time to explore on your own, or to join an optional outing to Pont du Gard or to the famed wine cellars of Châteauneuf-du-Pape. (B,L,D)

Day 5 Cruising–Viviers
A leisurely morning on board to relax and enjoy the passing scenery. After lunch, join your LOCAL GUIDE for a walk around the charming town of Viviers, which developed around its ROMANESQUE CATHEDRAL. The OLD TOWN has an appealing mix of Christian, Roman, and medieval influences. (B,L,D)

Day 6 Tournon/Tain l'Hermitage–Vienne
The twin cities of Tournon and Tain l'Hermitage lie nestled among vineyards between the Rhône River and the granite slopes of the Hermitage. Enjoy a GUIDED WALK of Tournon, one of France's oldest medieval cities, with its imposing 16th-century castle and Roman ruins. A light Jazz Duo will play on board this afternoon, offering relaxing background music as you cruise to Vienne. Arriving in Vienne in the late afternoon, a GUIDED WALK shows you the charming little town surrounded by steep hills—one of the oldest towns in the region. Explore the town center to see the Roman Theater, which once held 13,000 spectators, and the Augustus and Livia Temple, built around 20 BC and converted into a church in the Middle Ages. Every year, for two weeks, the town hosts an international jazz festival with a very unique atmosphere: "Jazz à Vienne." There are four festival stages located in the very heart of the town and tonight enjoy free time to visit this lively Jazz Festival on your own. (B,L,D)

Day 7 Lyon
Lyon is France's third-largest city and its gastronomic capital. Founded by the Romans in 43 BC, the city's prosperity dates back to the 16th century and is due to commercial, industrial, and banking activities. Roman remains, many excellent museums, and much renaissance architecture delight visitors. You are joined by a LOCAL GUIDE as you survey the city from Fourvière Hill—with its splendid views over the city—and explore the Old Town, a UNESCO World Heritage Site with its maze of medieval alleyways and Place des Terreaux, a popular area with lively cafés, monuments, and the famous fountain often depicted on postcards. Be sure to sample Beaujolais, the wine of the region. (B,L,D)

Day 8 Cruising–St. Jean de Losne
A leisurely day today as your final day on board. If you prefer to stay busy, a choice of optional excursions, including a visit to a wine cellar, is available. While cruising to St. Jean de Losne, enjoy an onboard CHEESE TASTING. On this final night on board, enjoy the strains of Gypsy Jazz, a style of jazz often said to have been started by guitarist Jean "Django" Reinhardt in the 1930s. Because its origins are largely in France, it is often called by the French name "Jazz Manouche." (B,L,D)

Day 9 St. Jean de Losne (Disembarkation)–Beaune–Basel, Switzerland (Embarkation)
After breakfast, disembark the Avalon Poetry II and head by motorcoach to Beaune, the unofficial capital of the Côte d'Or area and Burgundy's wine capital. Although life here centers around wine, Beaune offers much more with its ramparts, medieval houses, cobblestone streets, and historical monuments. Visit the HÔTEL-DIEU charity hospital, built in 1443 and paid for by the chancellor of Burgundy after the Hundred Years' War left many of the town's population destitute. Today, it houses Van der Weyden's painting of "The Last Judgment" and is one of France's architectural highlights. After lunch, continue to Basel, and this evening, meet the crew of the Avalon Tranquility II at a welcome reception. (B,D)

Day 10 Breisach, Germany. Excursion to the Black Forest
Located at the foot of Kaiserstuhl Mountain on the French-German border, Breisach is the gateway to Germany's BLACK FOREST region, an area of unrivaled natural beauty with its forests of thick pine trees. The area got its name because the forests are so dense that local residents described them as black. Surely the most well-known products from this region are Black Forest ham, Black Forest cherry cake, and cuckoo clocks. You may opt for a visit to the workshop of a local woodcarver who produces clocks and other carvings, or to the open-air Museum of Vogtsbauernhof to see how life was lived in this area centuries ago. (B,L,D)

Day 11 Strasbourg, France
Situated on the border of France and Germany, Strasbourg blends the cultures of both countries in a delightful way. As capital of the Alsace region and seat of the Council of Europe and European Parliament, it is without a doubt an important city, yet it manages to retain its historic charm. In fact, on your walking tour, you will discover Europe at its most quintessential. Visit the monumental red-sandstone GOTHIC CATHEDRAL with its ancient murals, stained-glass windows, and fascinating astronomical clock, as well as the magical LA PETITE FRANCE district, home to half-timbered houses, quaint shops, inviting bistros, and a waterfront promenade. Also spend time exploring Place Kléber, a large historic square in the heart of the city, and Place Gutenberg in the heart of medieval Strasbourg, which features a statue of the inventor of the printing press. This afternoon, optional excursions into the Alsace wine country or to the Maginot Line are available. (B,L,D)

Day 12 Excursion to Heidelberg, Germany–Mainz
Today an excursion takes you to Heidelberg, home to the oldest university in Germany, which was founded in 1386. Visit the imposing ruins of HEIDELBERG CASTLE, towering magnificently over the city and among the most important Renaissance structures north of the Alps. You'll also see the famed GREAT VAT, the "World's Largest Wine Barrel." At nearly 23 feet high and 28 feet wide, the cask holds over 58,000 gallons of wine and has a dance floor built on top of it! In the afternoon, arrive in Mainz. Strategically located at the confluence of the Rhine and Main Rivers is Mainz, with "civilized" origins dating back to around 38 BC. Today, this is Germany's largest and most important wine market. The Altstadt (Old Town) has many intriguing shops and the whimsical Fastnachtsbrunnen (Carnival Fountain) on the Schillerplatz, a tribute to the jesters at the city's annual Carnival celebration. Gutenberg, father of modern printing, was born here and during a GUIDED WALK you'll visit the captivating GUTENBERG MUSEUM. (B,L,D)

Day 13 Rüdesheim–Rhine Gorge–Koblenz
This morning, dock in pretty Rüdesheim, a typical Rhine Valley wine town. Visit SIEGFRIED'S MECHANICAL MUSICAL INSTRUMENT MUSEUM, where you'll see and hear a large collection of self-playing calliopes and music boxes from the 18th to the early 20th centuries and enjoy a SPECIAL TREAT Downstream from Rüdesheim is the dramatic RHINE GORGE, the most beautiful stretch of river. Here, ancient castles stand sentry on lofty cliffs rising 400 feet above the waters. Cruise past the legendary rock of the Lorelei, where echoes of enchanted siren song lured unwitting sailors to their doom. Then, arrive at the place where the Rhine and Moselle Rivers meet—the Deutsches Eck (German Corner) with its impressive equestrian statue of German Emperor William I. Join your Local Guide for a WALKING TOUR of the 2,000-year-old city of Koblenz, which reveals an eventful past through its castles, fortress walls, towers, squares, and monuments. (B,L,D)

Day 14 Cologne
One of Germany's largest cities and capital of the Rhineland, Cologne straddles both sides of the Rhine, and is known for its soaring, twin-steepled gothic cathedral. Choose between an included GUIDED CITY WALK or a JEWISH HERITAGE WALK. Later, during free time, perhaps look in on the Romano-Germanic Museum, home to a large collection of artifacts from the Roman settlement on which modern Cologne is built—a must for history buffs! The Old Town abounds with cafés, shops, and taverns. Be sure to try a Kölsch pale lager, locally brewed in Cologne for over a hundred years! (B,L,D)

Day 15 Amsterdam, Holland
Today you arrive in Amsterdam! Holland's sophisticated, modern capital has a rich and fascinating history. This delightful 700-year-old city with its elegant and classic architecture, cafés, and restaurants has a distinct ambiance. There is no better way to see Amsterdam than by CANAL BOAT, cruising through the elegant grachten lined with stately homes dating back to Amsterdam's "Golden Age." There's free time this afternoon to enjoy the city or perhaps join a biking optional excursion (weather permitting). (B,L,D)

Day 16 Amsterdam (Disembarkation)
Your vacation ends with breakfast this morning.(B)
Tour Map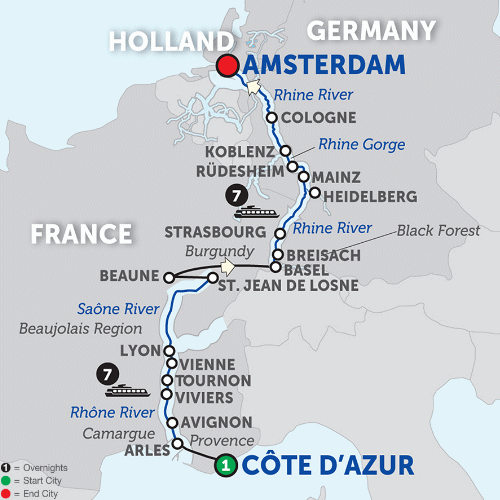 River Cruise Highlights
Côte d'Azur:

welcome to France

Côte d'Azur–Transfer to Arles (Embarkation):

onboard welcome reception; cruise into the Camargue region (daylight permitting)

Arles:

guided sightseeing, visit the Roman Amphitheater

Avignon:

guided sightseeing, visit the Palace of the Popes

Cruising–Viviers:

guided walk, visit Old Town and the cathedral

Tournon/Tain l'Hermitage–Vienne:

guided walk in Tournon; onboard jazz music entertainment, guided walk in Vienne; free time to visit the Vienne Jazz Festival

Lyon:

guided sightseeing, picture stop on Fourvière Hill; onboard lecture

Cruising St. Jean de Losne:

day at leisure; cheese tasting; onboard jazz entertainment

St. Jean de Losne (Disembarkation)–Beaune–Basel, Switzerland (Embarkation):

visit the Hôtel-Dieu in Beaune; transfer to Basel; onboard welcome reception

Breisach. Excursion to the Black Forest:

visit a woodcarver's workshop or visit a Black Forest open-air museum

Strasbourg:

guided sightseeing, visit La Petite France district and the gothic cathedral

Excursion to Heidelberg–Mainz:

guided visit of the castle, see the Great Vat in Heidelberg; visit the Gutenberg Museum in Mainz

Rüdesheim–Rhine Gorge–Koblenz:

visit Siegfried's Mechanical Musical Instrument Museum and enjoy a special treat in Rüdesheim; cruise through the Rhine Gorge; guided walk in Koblenz

Cologne:

choice of guided city walk or Jewish Heritage walk

Amsterdam:

canal cruise
All This Included
Immerse yourself in French and German culture on this fabulous European river cruise vacation along the Rhône, Saône, and Rhine Rivers. The views will be spectacular so be sure to pack your camera so you can capture the romance and splendor of this magical journey.
Begin with an overnight on the captivating French Riviera, also known as the Côte d'Azur, with plenty of free time to explore and relax along the remarkably blue water of the Mediterranean Sea. On the Rhône River sits Arles, France—famous for inspiring the paintings of Van Gogh and its 1st-century Roman Amphitheater, which hosts plays and concerts to this day. The twin cities of Tournon and Tain l'Hermitage are beautifully nestled among vineyards and you'll go on a guided walk of Tournon, a medieval treasure with plenty of Roman ruins and a fascinating 16th-century castle. Lyon, France's gastronomic capital, is a showcase of medieval and Renaissance architecture. Explore the Old Town, a UNESCO World Heritage Site, with its maze of medieval alleyways. Disembark and travel to Beaune, Burgundy's wine capital. Visit the Hôtel Dieu charity hospital before proceeding to Basel, Switzerland, to board your Rhine River cruise vessel.
Your first stop is Breisach, the gateway to Germany's Black Forest, well known for Black Forest ham, cherry cake, and cuckoo clocks. In Strasbourg, France, stroll through the picturesque La Petite France district with its quaint shops, delightful bistros, and peaceful waterfront promenade. Sail through the dramatic Rhine Gorge, the most beautiful stretch of the Rhine River dotted every mile with ancient castles standing majestically on cliffs 400 feet above the water.
A stay in Holland's popular, modern capital of Amsterdam is the perfect way to end this sensational European river cruise. The best way to see the treasures of this 700-year-old city is on a canal cruise along the elegant grachten lined with homes dating back to the city's "Golden Age."
Buffet breakfast in Côte d'Azur; superb dining with meals on board featuring full breakfast with complimentary sparkling wine, lunch with complimentary soft drinks, and dinner including complimentary wine, beer, or soft drinks; a welcome reception, Captain's reception, and farewell dinner; one sitting with open seating arrangements
Deluxe cruise in an outside stateroom with hotel-style beds
Headsets for shore excursions
Complimentary Wi-Fi access
Personalized room options & excursions
Included excursions with Certified Local Guide; sightseeing as outlined in the day by-day itinerary; inside visits and special features are shown in UPPERCASE.
Accommodations on this Tour
Côte d'Azur: Fairmont Monte Carlo or Carlton Intercontinental or similar
Cruising: Cabin onboard
Avalon Poerty II
and
Avalon Tranquility II
Amsterdam:
Moevenpick Amsterdam City or similar
Notes
Cabin upgrades are available.
Port charges: $336.
Gratuities to Local Guides & Excursion Drivers are included
Please call for single accommodation price. Triples not available.
In the event of water level problems or any problems of a technical nature, it may be necessary to operate the itinerary by motorcoach or to alter the program.
Included visits and special features are subject to change. If a change becomes necessary, a substitute will be offered.
Please ask your Vacations To Go travel counselor for more information.
Terms and Conditions
* The prices shown are U.S. dollars per person, based on double occupancy, and subject to availability. Prices quoted for land/cruise arrangements are subject to increase without notice. Once we have received your deposit, land/cruise prices are guaranteed. Air prices quoted via phone or email are subject to increase and are guaranteed only from the time that full payment is received. Also, air prices or air promotions mentioned on this site or on the phone do not include baggage fees imposed by airlines. Sorry, we are unable to offer air from countries other than the U.S. However, for those international customers who are able to arrange their own transportation to the trip origination city, we are able to offer the land/cruise portion of the package at the price quoted.