Day 1 ARRIVE IN COCHIN, INDIA
Welcome to Cochin, the "Gateway to Kerala." Located on the Arabian Sea in Kerala, India's southernmost state, Cochin is the perfect starting point to explore the region's natural beauty. Your hotel room is available for mid-afternoon check-in.

Day 2 COCHIN
Your Guided Tour starts with the Chinese Fishing Nets that are the livelihood of many fishermen in the area and a walk through the Jewish quarter. Next, visit the Kerala Folklore Museum which aims to preserve and educate people about the unique culture and heritage of South India. This afternoon, enjoy an unforgettable Cruise on the backwaters of Kerala. Explore and witness local life along these serene waterways surrounded by lush palm trees and paddy fields.

Day 3 COCHIN–MUMBAI
Today, fly to Mumbai, a multicultural metropolis with a colorful history. This vibrant city is now India's premier seaport, center of culture and industry, and home to the "Bollywood" movie industry. (B)

Day 4 MUMBAI
Your Guided Tour starts at the Gateway of India, Mumbai's most famous monument commemorating the visit of Queen Mary. Then, drive along Marine Drive, a seafront promenade, and see a traditional Dhobi Ghat (open-air laundromat). You will also visit the Hanging Gardens, Mumbai Museum, and Mani Bhavan, the former residence of Mahatma Gandhi. The remainder of the day is at your leisure. (B,L)

Day 5 MUMBAI–VARANASI
Fly to Varanasi, the holiest of Hindu pilgrim cities, situated on the banks of the sacred Ganges River. Early this evening, witness the Ganga Aarti (spiritual worship) on the ghats (steps) leading down to the Ganges. (B,D)

Day 6 VARANASI–DELHI
Around dawn, board a Boat and watch a striking religious ritual—the Hindus' devotional bathing in the Ganges. You'll observe hundreds of pilgrims gathered at the river's edge, some practicing yoga, others meditating, and still others bathing fully clothed. Return to your hotel for breakfast. Afterwards, a Guided Excursion takes you to nearby Sarnath, the "Cradle of Buddhism," where Buddha first spoke of his philosophy. Later fly to Delhi. (B,L)

Day 7 DELHI
Saris, Spices, and Silver

CLASSIC Today's Guided Sightseeing starts with an orientation to see the Red Fort, Jama Masjid, India Gate, and the Presidential Palace. Afterward, take a rickshaw ride through Chandni Chowk, a captivating local bazaar—with its ancient alleyways lined with quaint shops offering everything from silver and saris to spices and electronics.

After lunch in a local restaurant, enjoy a bit of leisure time. Tonight, your Tour Director hosts a lavish welcome dinner at your hotel. (B,L,D)

Day 8 DELHI–AGRA
Monuments of Worship and Remembrance

CLASSIC This morning, take a Guided Excursion to visit Qutub Minar, the world's tallest brick minaret, dating back to the 11th century. Next, visit Humayun's Tomb and Gurudwara Bangla Sahib, Delhi's largest and most prominent Sikh gurudwara (house of worship).

After lunch, drive to Agra and settle in at your hotel overlooking the Taj Mahal. (B,L)

Day 9 AGRA
Love's Crowning Achievement

CLASSIC Start your day with a Sunrise Excursion to the incomparable Taj Mahal—Moghul Emperor Shah Jahan's memorial to his beloved wife—more than 20 years in the making.

CLASSIC Later, take a Guided Tour to Agra Fort, built by the Moghul Emperor Akbar. This formidable fortress of red sandstone conceals the imperial city of the Moghul rulers and its many palaces.

For those interested, an excursion to the Taj at sunset is included. (B,D)

Day 10 AGRA–JAIPUR
Palaces and Rare Printings in the Pink City

Travel to Jaipur—the "Pink City" that was painted pink for the Prince of Wales' 1876 visit.

CLASSIC This afternoon, take a Guided Tour of the City Palace and the adjoining museum, which houses a collection of rare manuscripts. Also, stop at Jantar Mantar and the famous Hawa Mahal (Palace of the Winds).

The evening is at your leisure. (B,L)

Day 11 JAIPUR
A Maharaja's Marble Palace

CLASSIC Today, join a Guided Excursion to Jaipur's spectacular Amber Fort, built entirely of white marble and red sandstone, and featuring intricate mosaics, carvings, paintings, and mirror works.

Spend the afternoon at leisure.

DISCOVERY Tonight, and enjoy a festive dinner with a Cultural Performance. (B,D)

Day 12 JAIPUR–KOLKATA (EMBARKATION)
Welcome to West Bengal. Your Ship Awaits.

Fly to Kolkata this morning to transfer to your ship. This afternoon, get acquainted with the ship prior to your welcome reception.

AFTERNOON/EVENING CRUISE TO KALNA (B,L,D)

Day 13 KALNA
Rituals, Rickshaws, and a Weaver's Wares

DISCOVERY Ride on cycle rickshaws during your Guided Tour of Kalna. Along the way visit the historic terracotta temple complex and receive blessings from the temple priest. Also visit a muslin-weaver's home.

Enjoy a free afternoon on board your ship.

AFTERNOON/EVENING CRUISE TO MATIARI (B,L,D)

Day 14 MATIARI
Shining Brass and Sweet Shops

DISCOVERY Join a Morning Walk in the brass-making village of Matiari to see and interact with the craftsmen there. You'll also see traditional sweets being made.

Enjoy a free afternoon free onboard your ship.

AFTERNOON/EVENING CRUISE TO MURSHIDABAD (B,L,D)

Day 15 MURSHIDABAD. EXCURSION TO AZIMGANJ & JIAGANJ
Silversmiths, Tea Service, and Saree Weaving

DISCOVERY Enjoy a short Guided Walk through Azhimganj to see the local gold and silversmith workshops. You'll also visit a local landlord's mansion for authentic Indian tea, then travel by electric richshaw in Jiaganj to see the art of Baluchari saree weaving.

Relax this afternoon free onboard your ship.

AFTERNOON/EVENING SAILING TO MAYAPUR (B,L,D)

Day 16 MAYAPUR–GUPTIPARA
A Holy Pilgrimage on the Ganges

CLASSIC Join a Morning Walk through the pilgirm's bazaar and visit the ISKCON temple, and meet and interact with a Krishna leader. You'll also visit a goshala (rescue shelter for cows).

DISCOVERY This afternoon, take a Rickshaw (Toto) Ride, and explore the village of Guptipara to see pottery and idol-making. You'll also take an Escorted Visit to a farmer's home and interact with the family there.

AFTERNOON/EVENING SAILING TO KOLKATA (B,L,D)

Day 17 KOLKATA
Flowers, Faith, and Victorian Art

CLASSIC This morning, take a Guided Walk through the colorful flower market. Afterward, stop to see Mother Teresa's former home and the Calcutta rescue.

CLASSIC After lunch, join a Guided Visit to the Victoria Memorial Museum. Built to commemorate Queen Victoria, the museum houses a beautiful collection of paintings, textiles, weapons, and other artifacts from the Victorian era.

Tonight, a farewell Dance Performance is presented on the ship. (B,L,D)

Day 18 KOLKATA–KATHMANDU, NEPAL
Today, fly to Nepal. The remainder of the day is at your leisure. (B)

Day 19 KATHMANDU
Today, your Guided Sightseeing starts with a visit to Hanuman Dhoka, the historic seat of royalty. Then, visit the Temple of Kumari, residence of the Living Goddess and said to be constructed from the wood of a single tree. Enjoy the afternoon at leisure in Kathmandu. (B,L)

Day 20 KATHMANDU
Start your Sightseeing Tour at Bouddahanath, one of the largest stupas in the world and a focal point of Tibetan Buddhism in Nepal. Then, continue to Patan, formerly known as Lalitpur ("City of Beauty"). Here, stop in Durbar Square, the city's center of business and home to several Buddhist and Hindu sites. The remainder of the day is free. (B,L)

Day 21 KATHMANDU
Your vacation ends with breakfast this morning.
Tour Map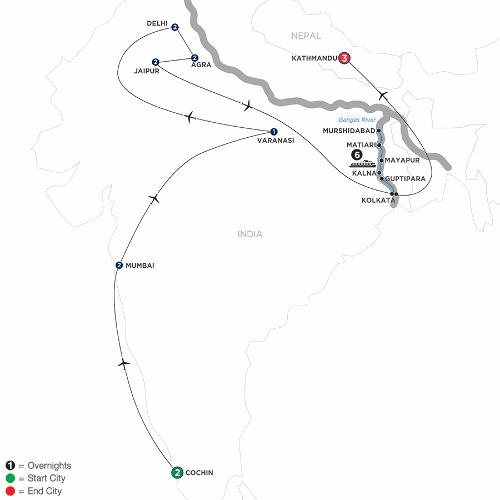 River Cruise Highlights
Cochin: Sightseeing including the Chinese Fishing nets, walking tour through Jewish Quarter, and Kerala Folklore Museum; cruise on the backwaters of Kerala
Cochin–Mumbai: Fly to Mumbai.
Mumbai: See the Gateway of India; visits to the Hanging Gardens, Mumbai Museum, and Mani Bhavan.
Mumbai–Varanasi: Fly to Varanasi. Witness the Ganga Aarti
Varanasi–Delhi: Watch the Hindus' devotional bathing ritual; excursion to Sarnath; fly to Delhi.
Delhi: See Red Fort, Jama Masjid, India Gate, and the Presidential Palace; rickshaw ride through Chandni Chowk bazaar
Delhi–Agra: Sightseeing including visits to Qutab Minar, Humayun's Tomb, and Gurudwara Bangla Sahib; drive to Agra
Agra: Sunrise visit to Taj Mahal; Agra Fort; sunset visit to Taj Mahal
Agra–Jaipur: Drive to Jaipur; afternoon sightseeing including visits to the City Palace and Jantar Mantar
Jaipur: Excursion to Amber Fort; time at leisure; cultural performance in evening
Jaipur–Kolkata (Embarkation): Fly to Kolkata; onboard welcome reception
Kalna: Sightseeing by rickshaw; visit a temple complex to receive blessings from a priest and visit a muslin-weaver's home
Matiari: Walking tour of village to interact with brass craftsmen and see traditional sweets being made
Murshidabad. Excursion to Azimganj & Jiaganj: Walking tour of Azimganj to see gold and silversmith workshops; sample tea in a local home; travel by electric rickshaw to see saree weaving in Jiaganj
Mayapur–Guptipara: Morning visit to the ISKCON temple in Mayapur; rickshaw ride through Guptipara to see pottery-making and a farmer's home
Kolkata: Guided walk through the flower market; visit Mother Teresa's Home, the Calcutta Rescue, and the Victoria Memorial Museum; farewell dance performance
Kolkata–Kathmandu, Nepal: Fly to Nepal
Kathmandu: Sightseeing with visits to Hanuman Dhoka and the Temple of Kumari
Kathmandu: Visit Bouddahanath; excursion to Patan
All This Included
Enter a world of color, culture, and cherished spiritual tradition of India and Nepal. Your guided tour of India, Nepal, and Ganges River cruise begins in the Southern India city of Cochin, where you'll take a cruise on the backwaters of Kerala to witness life along the scenic and serene waterways. Explore Mumbai, home to "Bollywood," and Varanasi, to watch the Hindu's devotional bathing in the Ganges.

Continue on to the bustling city of Delhi. You'll tour the city with your expert local guide, and take a rickshaw ride through the Chandni Chowk bazaar—brimming with everything from silver and spices to saris of every color. You'll visit Qutub Minar—the world's largest brick minaret, and see Delhi's largest Sikh gurudwara (house of worship), before traveling to Agra—site of the legendary Taj Mahal.
Join a sunrise excursion to the Taj Mahal—the iconic memorial build by Moghul emperor Shah Jahan for his beloved wife. More than 20 years in the making, the Taj Mahal stands as the pinnacle of love's devotion, and is also yours to experience at sunset if you wish.

You'll enjoy the city of Jaipur, with its famous Palace of the Winds, and spectacular Amber Fort, before flying to Kolkata to board your Ganges river cruise. The holy river of Hinduism, the Ganges, slowly courses through one of the world's most fertile and populated areas. Along its banks, human life is connected to its waters and you'll get a glimpse of life away from India's big cities. See muslin weaving in Kalna and candy making in Matiari. Stop in Murshidabad for an excursion to Azimganj and Jiaganj—to savor authentic Indian tea, as well as stunning gold and silversmith workshops. You'll meet saree weavers, goldsmiths, and pottery makers. Explore the fascinating Hare Krishna headquarters in Mayapur, and visit Saint Mother Teresa's former home upon your return to Kolkata.

In Kathmandu, sightseeing is spread over two leisurely days. Visits include Hanuman Dhoka, a UNESCO World Heritage Site, and the Temple of Kumari, residence of the Living Goddess, a child thought to be the reincarnation of a Hindu goddess. You'll also journey to Patan and Bouddhanath, Nepal's largest stupa.

All of this and more await you on this once-in-a-lifetime vacation with a guided tour of India and Nepal with a Ganges River cruise.
Accommodations on this Tour
Cochin: Vivanta by Taj-Malabar
Mumbai: The Oberoi, Mumbai
Varanasi: The Gateway Hotel Ganges Varanasi
New Delhi: The Oberoi, New Delhi
Agra: Oberoi Amarvilas
Jaipur: Jai Mahal Palace
Cruising: Cabin onboard Ganges Voyager
Kathmandu: Dwarika's
Notes
Cabin upgrades are available.
Dates and Prices do not include air travel.
Participation in this vacation requires purchase of the following flights from Avalon Waterways, not included in pricing: (1) roundtrip air from your U.S. gateway and intra-vacation air segments; or (2) intra-vacation air segments only, starting at $760. Required intra-vacation air segment: Cochin/Mumbai; Mumbai/Varanasi; Varanasi/Delhi; Kolkata/Kathmandu; Jaipur/Kolkata. Air prices were effective on February 7, 2018 and their availability is limited. At the time you purchase your tour, air prices may be higher.
Port charges: $84
Gratuities to Local Guides & drivers are included. Gratuities for drivers and local hosts on extensions are not included and should be paid locally.
Avalon offers the opportunity for solo travelers to sail with no single supplement (subject to availability). Please call for single accommodation price. Triples not available.
All prices are per person based on double room occupancy. Cruise price based on Category B in a Deluxe Suite on Main Deck.
Please ask your Vacations To Go travel counselor for more information.
Terms and Conditions
* The prices shown are U.S. dollars per person, based on double occupancy, and subject to availability. Prices quoted for land/cruise arrangements are subject to increase without notice. Once we have received your deposit, land/cruise prices are guaranteed. Air prices quoted via phone or email are subject to increase and are guaranteed only from the time that full payment is received. Also, air prices or air promotions mentioned on this site or on the phone do not include baggage fees imposed by airlines. Sorry, we are unable to offer air from countries other than the U.S. However, for those international customers who are able to arrange their own transportation to the trip origination city, we are able to offer the land/cruise portion of the package at the price quoted.