Danube Splendors with 2 Nights in Prague & 2 Nights in Transylvania
20 days with Avalon Waterways Rating: Deluxe
Book this River Cruise Now and Save!





Fly for free from select gateways on certain 2020 Europe river cruises. Click here for eligible departures.

Travel on 2020 itineraries with Avalon Waterways and receive a Welcome Back Credit of $100 to $250 per person after your trip. The credit can be applied toward a subsequent trip with Avalon Waterways . Click here for eligible departures.

Save 5% off all trips when you pay with an AMEX Gold or Platinum card . This discount is combinable with all other promotions. Click here for eligible departures.

Offers subject to change or withdrawal, availability is limited. Some discounts are not combinable.
Day 1 PRAGUE, CZECH REPUBLIC
Welcome to the Golden City of Prague—Explore the City of 100 Spires

Enjoy free time to explore the Golden City and its surrounding countryside. Consider sampling delicious plum dumplings and traditional Pilsner lager beside the Vltava River.

Day 2 PRAGUE
Gothic Cathedrals, Grand Castles, and Great Cuisine

CLASSIC Take a Guided City Walk to visit Hradcany Castle Grounds; see St. Vitus Cathedral, and Old Town's Astronomical Clock.

Take time to mingle with the locals, watch street performers in Wenceslas Square, or browse the market stalls at Charles Bridge.

In the evening, you might like to attend an Optional Folklore Dinner Show, sampling traditional Czech cuisine in an authentic Prague setting. (B)

Day 3 PRAGUE—NUREMBERG, GERMANY (EMBARKATION)
The Secret Romance of Picturesque Prague

The morning is free to explore Prague on your own to enjoy the stunning architectural beauty of the city.

You may join a Guided Optional Excursion to experience Prague through the eyes of a local. Lose the crowds and discover the charming local spots that are part of everyday life in Prague.

This afternoon, board your Suite Ship® in Nuremberg and enjoy a dinner on board.

OVERNIGHT DOCKING IN NUREMBERG (B,D)

Day 4 ROTH. EXCURSION TO NUREMBERG
Living Heritage and History Lessons

Start the day with a Morning Stretch with the Avalon Adventure Host, and dock in Roth for a day of fascinating excursions.

CLASSIC Enjoy a Guided Sightseeing Tour of the Bavarian town of Roth—with its half-timbered houses, market square, and 1535 hunting lodge Schloss Ratibor, OR:

CLASSIC Choose a Guided Tour of Nuremberg—with its medieval architecture, gilded fountain, gothic cathedral, and Kaiserburg Castle, OR:

CLASSIC Take a Guided Tour of the historic Nuremberg Rally Grounds—used by the Third Reich.

DISCOVERY Enjoy an Onboard Lecture about the Main-Danube Canal—linking these two rivers to make a vital connection enabling navigation between the North and Black Seas.

DISCOVERY Later, indulge in a Beer Tasting on board.

Later, enjoy live entertainment on board.

AFTERNOON/OVERNIGHT CRUISE TO REGENSBURG (B,L,D)

Day 5 REGENSBURG
Magical Regensburg—Bavaria's Medieval Miracle

CLASSIC Join a Guided City Walk and see Altes Rathaus (Old Town Hall) and Porta Pretoria—built in 179 AD as the entrance to Castra Regina fortress.

You may choose to join a Guided Optional Excursion to visit the Benedictine Monastery in Weltenburg.

Alternatively spend a free afternoon exploring Regensburg on foot or by bike through its charming streets.

This evening, enjoy live entertainment after dinner as you cruise toward Passau.

EVENING/OVERNIGHT CRUISE TO PASSAU (B,L,D)

Day 6 PASSAU
Go for Baroque in Passau–Where the Danube, Inn, and Ilz Rivers Meet

CLASSIC Join a Guided City Walk to learn more about this beautiful "City of Three Rivers".

Join a full-day Guided Optional Excursion to Salzburg—the city of Mozart—or to the picturesque Bohemian town of Cesky Krumlov.

Sail to Linz this afternoon, or join your ship after your selected full-day excursion.

LINZ, AUSTRIA

The Linzer Torte and a Legendary Love of Art and Music

Enjoy a free afternoon to linger in Linz. Take a bicycle from the ship and cycle along the Danube, or follow one of Linz's many nature trails for a bird's-eye view of the city and river below.

OVERNIGHT CRUISE TO MELK (B,L,D)

Day 7 MELK—WACHAU VALLEY
Striking Frescoes and Breathtaking Views of the Wachau Valley

CLASSIC Take a Guided Tour of Melk's magnificent Benedictine Abbey to marvel at its frescoed ceilings, statues, incredible library, and ornate pipe organ, OR:

ACTIVE Join your Avalon Adventure Host for a Morning Hike through Melk's beautiful countryside.

Enjoy a coffee or a cocktail on the Sky Deck as you sail through the picturesque Wachau Valley to Vienna.

VIENNA

Vienna Waltzes and the Beautiful Blue Danube

This evening, you may choose to attend an Optional Excursion to a Royal Waltz Concert for an unforgettable evening of music in an elegant hall.

OVERNIGHT DOCKING IN VIENNA (B,L,D)

Day 8 VIENNA
Royal Collections, and Amusing Attractions

CLASSIC Venture into the Habsburg empire this morning on a Guided City Tour of Vienna's gilded landmarks. See the Imperial Palace complex—the winter residence of the Imperial Family, the historic Vienna Opera House and stunning St. Stephen's Cathedral.

Join a Guided Optional Excursion to Schönbrunn Palace—a Habsburg Empire summer home for 300 years.

This afternoon, enjoy free time to take a tram to visit Austria's Prater amusement park or one of the many museums nearby. You may also decide to borrow a bike from ship to explore the streets and squares of Vienna, or ride along the banks of the Danube at your leisure.

Later, relax on board with live entertainment as you sail to Budapest.

EVENING/OVERNIGHT CRUISE TO BUDAPEST (B,L,D)

Day 9 BUDAPEST, HUNGARY
Welcome to Budapest—Hungary's Captivating Capital

CLASSIC Enjoy a Guided City Sightseeing, including the iconic Heroes' Square.

Take time to take photographs on the Royal Palace grounds in this treasure trove of historical architecture. Take in the beauty of Budapest while exploring such famous sights as the Chain Bridge.

OVERNIGHT DOCKING IN BUDAPEST (B,L,D)

Day 10 BUDAPEST
The Pearl of the Danube in the Heart of Europe

Take free time to enjoy Budapest's famed thermal baths. You can also take a scenic hike in the hills above the Danube. Take time to explore the city's cafés and restaurants.

OVERNIGHT CRUISE TO MOHÁCS (B,L,D)

Day 11 MOHÁCS
Archaeology, Architecture, and an Ancient Watermill

CLASSIC Join a morning Guided Sightseeing Tour of Mohács—the quiet Danube harbor town with its historical memorial parks, statues, and distinctive churches. Tour the remarkable medieval St. Nicholas Watermill—one of only a few remaining watermills performing stone-ground grain processing, OR:

CLASSIC Take a Guided Tour of nearby Pécs to see its 4th-century Christian underground tombs, a UNESCO World Heritage Site, with fascinating murals. You'll also enjoy an organ concert on your tour.

EVENING/OVERNIGHT CRUISE TO OSIJEK (B,L,D)

Day 12 OSIJEK, CROATIA
History and Culture of Croatia

CLASSIC Join a morning Guided Walking Tour of the city of Osijek, located at the confluence of the Danube and Drava Rivers. Visit Tvrda, the most well preserved fortress of Croatia, home of many educational institutions.

DISCOVERY Attend a musical concert performed by the talented young artists of the music school of Osijek at Franjo Kuhac.

This afternoon you might join a Guided Optional Excursion to Vukovar.

EVENING/OVERNIGHT CRUISE TO BELGRADE (B,L,D)

Day 13 BELGRADE, SERBIA
Fortresses and Folklore of Serbia Past and Present

CLASSIC Join a Guided Sightseeing Tour of Belgrade—where the Danube and Sava Rivers converge—and see the city's many fascinating sights, including Saint Sava—one of the world's largest Orthodox Church.

DISCOVERY Attend an onboard Lecture to learn about the rich history, destinations, and culture of the Balkan states.

Spend your free time exploring the city on your own this afternoon on Knez Mihailova Street—Belgrade's central pedestrian thoroughfare with many lively cafés, shops, and cultural spots.

Later, enjoy live entertainment on board your ship before dinner.

This evening, you might like to join an Optional authentic Bohemian Dinner in the Quarter of Skadarlija.

OVERNIGHT CRUISE TO GOLUBAC (B,L,D)

Day 14 GOLUBAC—DONJI MILANOVAC. EXCURSION TO LEPENSKI VIR—IRON GATES GORGE
Ancient Art, Archaeological Artifacts, and Gauntlet of the Iron Gates

CLASSIC Visit the Fortress of Golubac, one of the best preserved medieval fortresses in Europe. For the most part, the fortress was a sort of "a border control" of the past and couple of time was a knot of conflicts between Serbia, Habsburg Monarchy and Ottoman Empire.

Enjoy a brief sailing to Donji Milanovac.

CLASSIC Join a Guided Tour to Lepenski Vir—an important Mesolithic archaeological site chronicling prehistoric cultures, settlements, and art. Marvel at the ancient discoveries and artifacts, as well as the unique views the site affords of the Danube Gorge.

Sail through the spectacular and narrow Iron Gates Gorge—a natural border between Serbia and Romania.

AFTERNOON/OVERNIGHT CRUISE TO VIDIN (B,L,D)

Day 15 VIDIN, BULGARIA
Rocks and Ruins—Things of Beauty in Bulgaria

CLASSIC Join Guided Sightseeing in Vidin, followed by a Guided Tour of Belogradchik. Marvel at the remarkable rock formations on the western slopes of the Balkan Mountains, sculpted by 200 million years of natural elements.

AFTERNOON/OVERNIGHT CRUISE TO ROUSSE (B,L,D)

Day 16 ROUSSE. EXCURSION TO VELIKO TÂRNOVO & ARBANASSI
Cliff Houses, Castle Ruins, Fortresses, and Folklore

CLASSIC Join a full-day Guided Tour to the former Bulgarian capital of Veliko Târnovo—with its ancient stone houses clinging to the cliffs above the Yantra River. Discover one of the oldest towns in Bulgaria (circa 4300 BC), as well as the Bulgarian Revival architecture in the 15th-century town of Arbanassi, OR:

CLASSIC Join a Guided Sightseeing Tour of Bulgaria's largest inland port and visit its impressive Holy Trinity Church, OR:

ACTIVE Join a walk through the park with your Avalon Adventure Host.

Later, enjoy live entertainment on board with a Bulgarian folklore show.

OVERNIGHT CRUISE TO OLTENITA (B,L,D)

Day 17 OLTENITA, ROMANIA (DISEMBARKATION)–BUCHAREST
Disembark your Ship and transfer to Bucharest.

CLASSIC Take a Guided Tour of the Romanian capital city of Bucharest with its tree-lined boulevards and Arc de Triomphe—honoring WWI Romanian soldiers. See the Royal Palace Square—the scene of the city's 1989 riots to overthrow the communist dictator Nicolae Ceausescu.

After the visit drive to Brasov for the night. (B,D)

Day 18 BRASOV
CLASSIC Enjoy a Guided Tour of Brasov and admire its gothic, baroque and renaissance architecture.

In the evening depart for Bran Castle of Dracula lore.

CLASSIC Take a Guided Tour of Bran Castle—the 1377 legendary home of the famed Romanian vampire, followed by a dinner in this amazing location. (B,D)

Day 19 BRASOV-SINAIA-BUCHAREST
A Night in Bucharest—the "Paris of the East."

CLASSIC Enjoy a Guided Tour of Visit Peles Castle,— the summer residence of the royal family until 1947.

Drive out the Carpathians to Bucharest and spend some free time exploring this fascinating city on your own to discover its trendy shops, cafés, museums, beautiful homes, and churches along Victory Avenue. (B)

Day 20 BUCHAREST
Your vacation ends with breakfast this morning.

(B)
Tour Map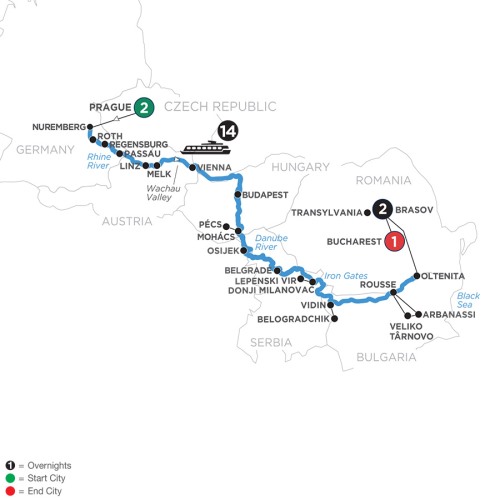 River Cruise Highlights
Day 1 Prague: welcome to Prague
Day 2 Prague: guided sightseeing, see the Astronomical Clock and visit Hradcany Castle grounds
Day 3 Prague–Nuremberg (Embarkation): travel by motorcoach to Nuremberg; onboard welcome reception
Day 4 Roth. Excursion to Nuremberg: choice of guided tour in Nuremberg or Roth, or Nuremberg Rally Grounds tour; lecture on board; beer tasting on board
Day 5 Regensburg: guided walk
Day 6 Passau–Linz: guided walk in Passau; free time in Linz
Day 7 Melk–Wachau Valley: choice of guided tour of the Benedictine Abbey in Melk, or guided hike; scenic cruising through the Wachau Valley
Day 8 Vienna: guided sightseeing
Day 9 Budapest: guided tour, see Heroes' Square
Day 10 Budapest: day at leisure
Day 11 Mohács. Excursion to Pécs: choice of guided tour in Pécs, visit the underground tombs, or sightseeing in Mohács, visit St. Nicolas watermill
Day 12 Osijek: guided sightseeing; concert performance
Day 13 Belgrade: lecture on board; guided tour
Day 14 Golubac–Donji Milanovac–Iron Gates: visit to Golubac fortress; visit Lepenski Vir archaeological site; cruise through the dramatic Iron Gates gorge
Day 15 Vidin. Excursion to Belogradchik: guided tour in Vidin, excursion to Belogradchik, see the rock formations
Day 16 Rousse–Excursion to Veliko Tarnovo and Arbanassi: choice of full day guided sightseeing, visit Tsarevet's Fortress in Veliko Târnovo and the Ethnographical Museum and Church of the Nativity in Arbanassi; or guided sightseeing of Rousse
Day 17 Oltenita (Disembarkation)–Brasov: transfer to Bucharest, guided sightseeing
Day 18 Brasov: Brasov guided tour; visit Bran Castle
Day 19 Brasov–Sinaia–Bucharest: visit Peles Castle
Day 20 Bucharest: your vacation ends this morning
All This Included
Begin your European vacation your way with two nights in the golden city of Prague. Guided sightseeing includes Hradcany Castle grounds, St. Vitus Cathedral, and Old Town's Astronomical Clock. Enjoy free time as well to explore this exquisite city. Enjoy superior hotel accommodations with complimentary breakfast, guided sightseeing with an expert Local Guide, and courtesy hotel-to-ship transfer.
Begin your Avalon YourWay river cruise in Nuremberg. Board your Suite Ship®, and cruise to explore the timbered houses of Roth, or join an excursion to tour Nuremberg's historic sites, including Kaiserburg Castle or the Nuremberg Rally Grounds. Explore Regensburg, and take a guided walk through the "City of Three Rivers"—Passau—before sailing to the lovely Austrian city of Linz. Visit Melk's magnificent Benedictine Abbey, and cruise to Vienna, "The City of Music," to explore the historic Habsburg Empire—including the Imperial Palace, Vienna Opera House, and St. Stephen's Cathedral. Your European river cruise continues to Budapest—the "Pearl of the Danube." Tour of the historic town of Mohács, or Pécs, and sail through the remarkable landscapes of the Balkan states of Croatia, Serbia, Bulgaria, and Romania. Visit the most preserved Croatian fortress in Osijek, and attend a performance by young students of the Franjo Kuhac music school. In Serbia, take a guided tour of Belgrade, and visit Lepenski Vir for a guided tour. See ancient archaeological finds and the amazing Danube Gorge before cruising through the narrow Iron Gates Gorge. You'll cruise through Bulgaria with guided sightseeing in Vidin, Rousse, Veliko Târnovo, Arbanassi, and Belogradchik. Disembark your Danube River cruise for sightseeing in Bucharest, including the Royal Palace Square and Romanian soldier remembrances. You'll continue to Transylvania for two nights in Brasov. Take a guided tour of the city by day, followed by a tour of Dracula's Bran Castle by night. You'll also drive into the Carpathian Mountains to Sinaia to visit the grand Peles Castle.
Ship Amenities - Avalon Artistry II:

Wall-to-Wall Panoramic Windows
Sky Deck with premium lounge chairs, whirlpool, shade awnings, & outdoor deck game area
State-of-the-art fitness center
Non-smoking staterooms & ship interior
Convenient Elevator Service
Elegant, contemporary design
Outside viewing deck
Headsets for guided shore excursions
English-speaking friendly crew, staff & professional Cruise Director
Sightseeing with Expert Local Guides
Onboard lectures, activities & entertainment
Complimentary room service for Continental breakfast
Sky Deck whirlpool
Complimentary Wi-Fi access
Biking excursions available in Amsterdam and Breisach
Onboard Adventure Center with active gear, bikes, Nordic walking sticks, watercraft & maps
Casual dinner in the Panorama Bistro
Avalon Choice® cruising experience
Behind-the-scenes galley tour
Choice of Classic, Active or Discovery excursions so that you can experience your cruise your way
Nordic walking sticks available onboard for complimentary check-out
Onshore & Onboard experiences with regional customs, cultures & tastings with local artisans, experts & entertainers
Flatscreen satellite TV with English-speaking channels & over 100 free movie options
Onboard assistance is available to recommend, reserve and further personalize your cruise
Linger over several selections from the Panorama Bistro's tasting menu for a less formal "sit-down" atmosphere
Self-serve beverage station with complimentary tea, hot chocolate & premium coffees, including decaf options
Well-stocked library with books, cards, and board games
Complimentary bottled water, fresh fruit, and cookies available throughout the day
Full-size closet mirror

Ship Dining - Avalon Artistry II:

Avalon FreshSM healthy cuisine options at every meal
Self-serve beverage station with complimentary tea, hot chocolate & premium coffees, including decaf options
Welcome & farewell cocktails with sparkling wine & canapés
Spacious, open-seating Panorama Dining Room
Daily early-riser breakfast
Daily late-riser breakfast
Full buffet breakfast with sparkling wine and made-to-order egg station
Lunch buffet with carving and pasta stations
Al fresco lunch in the Sky Grill
Cocktails with a view on the Sky Deck
Healthy Corner options including low calorie, low fat, high fiber, low cholesterol, and high energy choices
Vegetarian options at every meal, as well as vegan and allergy-free selections
Afternoon Tea featuring tea, coffee, and sweet treats
Happy Hour every evening including featured drink specials
Seasonal cuisine featuring the freshest local ingredients
Chef-prepared onboard meals with regional cuisine and familiar favorites
Four-course dinners with choice of appetizers, soups, salads, entrées and desserts or cheese
Complimentary wine, beer, or soft drinks with lunch and dinner
Complimentary room service for Continental breakfast
Panorama Lounge & Bar with premium spirits, cozy seating, panoramic windows & dance floor
Healthy meal options
Casual dinner in the Panorama Bistro
Linger over several selections from the Panorama Bistro's tasting menu for a less formal "sit-down" atmosphere
Tastings - sample the destination's famous delicacies
Coffee or tea after dinner
Light lunch in the Panorama Lounge
FlexDining flexible dining times with menu & venue options
Accommodations on this Tour
Prague: Prague Marriott, Art Deco Imperial Hotel, Cosmopolitan Hotel Prague or Hilton Prague Old Town
Cruising: Cabin onboard
Avalon Artistry II
Brasov: Kronwell Brasov Hotel
Bucharest:
Athenee Palace Hilton
Pre and Post Add-ons
Extra nights per person in Prague:
in single room from $223 to $309, in twin room from $132 to $178

Extra nights per person in Bucharest:
in single room from $153 to $394,in twin room from $85 to $217
Notes
Cabin upgrades are available.
In the event of technical or water level issues, it may be necessary to operate the itinerary by motorcoach or alter the program, including hotel overnight when necessary.
Guided Tours, Optional Excursions, activities, sailing and docking schedules may be contingent on weather conditions or other issues outside of our control and could therefore be subject to change at any time.
Please check visa requirements with your local consulate(s); responsibility for obtaining visas rests with the traveler.
Port Charges: $364
Gratuities to Local Guides & excursion drivers are included.
Please call for single accommodation details and prices. Triples not available.
Please ask your Vacations To Go travel counselor for more information.
Terms and Conditions
* The prices shown are U.S. dollars per person, based on double occupancy, and subject to availability. Prices quoted for land/cruise arrangements are subject to increase without notice. Once we have received your deposit, land/cruise prices are guaranteed. Air prices quoted via phone or email are subject to increase and are guaranteed only from the time that full payment is received. Also, air prices or air promotions mentioned on this site or on the phone do not include baggage fees imposed by airlines. Sorry, we are unable to offer air from countries other than the U.S. However, for those international customers who are able to arrange their own transportation to the trip origination city, we are able to offer the land/cruise portion of the package at the price quoted.
800-510-4002

OR

Open Mon-Fri 7am to 10pm, Sat 8am-8pm, Sun 9am to 8pm, CST
| | | |
| --- | --- | --- |
| | a division of | |