Day 1 BUCHAREST, ROMANIA
Welcome to Bucharest—The "Paris of the East"

The day is yours to relax and enjoy Bucharest. Spend some free time exploring this fascinating city on your own to discover its trendy shops, cafés, museums, beautiful homes, and churches along Victory Avenue.

Day 2 BUCHAREST–SINAIA–BRASOV
Drive into the Carpathians to Sinaia to visit Peles Castle. This afternoon continue to Brasov for the night.

(B,D)

Day 3 BRASOV
Join a morning Guided Sightseeing Tour of Brasov followed by free time. In the evening enjoy a tour of Bran Castle of Dracula lore followed by dinner.

(B,D)

Day 4 BRASOV–BUCHAREST–CERNAVODA (EMBARKATION)

CLASSIC Join a Guided Excursion in Bucharest, see the Royal Palace Square—the scene of the city's 1989 riots to overthrow the communist dictator Nicolae Ceausescu. Join your Avalon Suite Ship® this afternoon, for embarkation in Cernavoda.

DISCOVERY After dinner, attend an onboard Lecture to learn about the Danube Delta.

EVENING/OVERNIGHT CRUISE TO ST. GHEORGHE

(B,D)

Day 5 ST. GHEORGHE. EXCURSION TO DANUBE DELTA
A River's Entrance into the Sea

Visit the Adventure Center for today's activities with your Adventure Host.

CLASSIC Join a small-boat Guided Tour of the best preserved of Europe's deltas -2,200 square miles of rivers, canals, marshes, tree-fringed lakes and reed islands.

DISCOVERY Enjoy a Special Celebration to mark Kilometer "0"—the end of the Danube River's 2,845 km journey—from the source in the Black Forest to its delta at the Black Sea.

AFTERNOON/OVERNIGHT CRUISE TO HÂR?OVA

(B,L,D)

Day 6 HÂR?OVA. EXCURSION TO CONSTANTA
Romania's Cultural Legacies

CLASSIC Join a Guided Tour to Constanta, the most important commercial center in Romania, situated on the Black Sea. Visit the Natural History and Archeological Museum to discover the history of early Romanian cultures.

AFTERNOON/OVERNIGHT CRUISE TO ROUSSE

(B,L,D)

Day 7 ROUSSE, BULGARIA. VELIKO TÂRNOVO & ARBANASSI EXCURSION
Fortresses and Fountains in "Little Vienna"

CLASSIC Join a Guided Sightseeing Tour of Bulgaria's largest inland port and visit its impressive Holy Trinity Church, OR:

ACTIVE Join a walk through the park with your Avalon Adventure Host.

Sail to Svistov, OR:

CLASSIC Join a full-day Guided Tour to the former Bulgarian capital of Veliko Târnovo—with its ancient stone houses clinging to the cliffs above the Yantra River. Discover one of the oldest towns in Bulgaria, as well as Bulgarian revival architecture in the 15th-century town of Arbanassi.

Later, join your ship in Svistov.

EVENING/OVERNIGHT CRUISE TO VIDIN

(B,L,D)

Day 8 VIDIN
Rocks, ruins and Balkan Beauty

Ask about today's energizing or relaxing Adventure Host activities.

CLASSIC Take a Guided Sightseeing Tour in Vidin before joining a Guided Tour to Belogradchik See the remarkable rock formations on the western slopes of the Balkan Mountains, sculpted by 200 million years of nature's elements.

This evening, enjoy live entertainment on board with a Bulgarian folklore show.

EVENING/OVERNIGHT CRUISE TO DONJI MILANOVAC

(B,L,D)

Day 9 DONJI MILANOVAC, SERBIA–IRON GATES GORGE. EXCURSION TO LEPENSKI VIR
Ancient Artifacts and the Iron Gates

Before lunch on board, you'll sail through the spectacular and narrow Iron Gates Gorge—forming a natural border between Serbia and Romania.

CLASSIC Join a Guided Tour to Lepenski Vir—an important Mesolithic archaeological site chronicling prehistoric cultures, settlements, and art. Marvel at the ancient discoveries and artifacts, as well as the unique views the site affords of the Danube Gorge.

Enjoy a brief sailing to Golubac.

GOLUBAC

A Formidable Fortress

CLASSIC Visit the Fortress of Golubac, one of the best preserved medieval fortresses in Europe. You'll hear about its tumultuous history as a border control defense in the Middle Ages, and a source of conflict between Serbia, the Habsburg Monarchy and the Ottoman Empire.

AFTERNOON/OVERNIGHT CRUISE TO BELGRADE

(B,L,D)

Day 10 BELGRADE
Fortresses and Folklore

CLASSIC Join a Guided Sightseeing Tour of Belgrade—where the Danube and Sava Rivers converge—and see the city's many fascinating sites, including Saint Sava—one of the world's largest Orthodox churches.

You may choose to spend free time in Belgrade exploring Knez Mihailova Street—Belgrade's central pedestrian thoroughfare with many lively cafés, shops, and cultural spots.

OVERNIGHT CRUISE TO NOVI SAD

(B,L,D)

Day 11 NOVI SAD
A Capital of Culture

CLASSIC Join a Guided Tour of Novi Sad, the second largest town in Serbia. Admire its Austro-Hungarian old town, with its baroque buildings, and ancient fortifications.

Enjoy a brief cruise to Ilok while having lunch onboard.

ILOK, CROATIA

CLASSIC Join a Guided Tour of Ilok, with its 1,000-year-old winemaking tradition still thriving and its medieval fortress protected for its Croatian cultural heritage.

EVENING/OVERNIGHT CRUISE TO MOHÁCS

(B,L,D)

Day 12 MOHÁCS, HUNGARY. EXCURSION TO PÉCS
Underground Tombs and Heavenly Music

CLASSIC Take a Guided Tour to nearby Pécs to see its 4th-century Christian underground tombs, a UNESCO World Heritage Site, with fascinating murals. You'll also enjoy an organ concert on your tour.

AFTERNOON/OVERNIGHT CRUISE TO BUDAPEST

(B,L,D)

Day 13 BUDAPEST
Hungary's Captivating Capital

CLASSIC Enjoy a Guided City Sightseeing, including the iconic Heroes' Square.

Take in the beauty of Budapest while enjoying a free afternoon exploring such famous sights as the Chain Bridge. Get to know the city's cafés and pubs, or take a hike through the hills above the Danube.

OVERNIGHT DOCKING IN BUDAPEST

(B,L,D)

Day 14 BUDAPEST
The Pearl of the Danube

Visit the Adventure Center for today's activities with your Adventure Host.

This afternoon choose among a wide selection of Optional Guided Excursions or take a free day to explore, with time to take photographs on the Royal Palace grounds in this treasure trove of historical architecture. Try Budapest's famous thermal bath spas, then dine in a garden or rooftop eatery.

EVENING/OVERNIGHT CRUISE TO BRATISLAVA

(B,L,D)

Day 15 BRATISLAVA, SLOVAKIA
Cathedral Coronations and a Crowning Castle

CLASSIC Take a Guided City Walk, including the quaint streets of Old Town, Town Hall, and the sight of royal coronations at St. Martin's Cathedral.

During lunch time enjoy a short sailing to Hainburg

HAINBURG, AUSTRIA

Enjoy some free time in the village of Hainburg or take a Guided Optional Excursion to discover the natural beauties of this area.

OVERNIGHT CRUISE TO VIENNA

(B,L,D)

Day 16 VIENNA, AUSTRIA
Strauss, Schnitzel, Strudel, and Sachertorte

CLASSIC Explore the Habsburg empire with a morning Guided City Tour of Vienna's gilded landmarks. See the Imperial Palace complex—Winter residence of the Imperial Family, the iconic Vienna Opera House and stunning St. Stephen's Cathedral.

You may decide to take a Guided Optional Excursion to Schönbrunn Palace—summer home of the Habsburg Empire.

Spend free time strolling in the Kärntnerstrasse—the most famous shopping avenue in central Vienna, or take a bike ride to a local café for Sachertorte or Apfelstrudel.

This evening, enjoy an unforgettable musical performance with an Optional Excursion to attend a Royal Waltz Concert in an elegant hall.

OVERNIGHT CRUISE TO DÜRNSTEIN

(B,L,D)

Day 17 DÜRNSTEIN–WACHAU VALLEY
A King's Ransom and Castle Ruins

CLASSIC Join a Guided Walk, and hear the legendary tale of King Richard the Lionheart—who was imprisoned in the castle during the Crusades, OR:

ACTIVE Join a Guided Hike up to the castle ruins to take in the spectacular view of the village, Danube, and the Wachau Valley below.

Later, stretch out on the Sky Deck as you sail through the Wachau Valley past vineyards, castles, and charming villages on your way to Ybbs.

YBBS. EXCURSION TO MELK

Frescoes Above and Vineyards Below

DISCOVERY This afternoon, learn more about sweet Austrian pastry. A workshop in a local bakery with an expert chef will let you create your own pastry, fill it and enjoy it as well, OR:

CLASSIC Visit the Lower Austrian little town of Ybbs. Admire the fine architecture of the Babenberger and its romantic old town, OR:

CLASSIC Take a Guided Tour of Melk's magnificent Benedictine Abbey to marvel at its frescoed ceilings, statues, incredible library, and ornate pipe organ.

DISCOVERY Enjoy the flavors of the Wachau Valley at a Wine Tasting on board.

EVENING/OVERNIGHT CRUISE TO LINZ

(B,L,D)

Day 18 LINZ
Legendary, Lovely Linz

Ask about today's energizing or relaxing Adventure Host activities.

CLASSIC Take a Guided Walk through the city's historic and beautiful sites along the shore of the Danube and see Hauptplatz—Austria's largest medieval square—and the towering white-marble Trinity Column.

Consider a full-day Guided Optional Excursion to Salzburg-the city of Mozart-or to the picturesque Bohemian town of Cesky Krumlov.

You may otherwise spend the afternoon on a biking picnic along the banks of the Danube, or hike through Linz's beautiful nature trails to Pöstlingberg for a bird's-eye view of the city and river below.

OVERNIGHT DOCKING IN LINZ

(B,L,D)

Day 19 SCHLÖGEN OXBOW–PASSAU, GERMANY
Where the Danube, Inn, and Ilz Rivers Meet

This morning, cruise through the Schlögen Oxbow, a particularly beautiful horseshoe-shaped bend of the river.

CLASSIC Take a Guided City Walk into Passau, the beautiful "City of Three Rivers,"
OR:

ACTIVE Join your Avalon Adventure Host for Hiking from Oberhaus along a trail down to the valley and along Ilz River.

Before sailing to Deggendorf, take a little free time to explore Passau's cobblestone streets and galleries of Artists' Alley. Maybe stop at St. Stephen's Cathedral to catch a concert rehearsal.

EVENING/OVERNIGHT CRUISE TO DEGGENDORF

(B)

Day 20 DEGGENDORF (DISEMBARKATION)–REGENSBURG–PRAGUE, CZECH REPUBLIC
Bavaria's Medieval Miracle

CLASSIC Join a Guided City Walk in Regensburg and see Altes Rathaus (Old Town Hall) and Porta Pretoria—built in 179 AD as the entrance to Castra Regina fortress.

Take free time to enjoy a hearty lunch and a local beer, then step back in time through historic lanes and squares of today's modern and vibrant Regensburg.

(B)

Day 21 PRAGUE
Explore the City of 100 Spires

CLASSIC Take a Guided City Walk to visit the Hradcany Castle Grounds; see St. Vitus Cathedral and Old Town's Astronomical Clock.

Sample plum dumplings or Pilsner lager by the Vltava River, meet the locals, and see street performers in Wenceslas Square.This evening, you might join an Optional Folklore Dinner Show, sampling traditional Czech cuisine in an authentic Prague setting.

(B)

Day 22 PRAGUE–DRESDEN, GERMANY–BERLIN
This morning travel to Dresden, a city badly damaged by Allied bombing during WWII. During your guided walk visit the courtyard of the Zwinger Palace to admire its impressive architecture, see the magnificent baroque Semper Opera, built in 1841, destroyed once by fire and once by bombing and finally restored in 1985; and the newly rebuilt Frauenkirche. Enjoy free time during lunch before continuing to Berlin, Germany's reunited capital, where you arrive in the late afternoon.

(B)

Day 23 BERLIN
Today join a Local Expert for a guided tour of the major sites of this metropolis, including the restored Reichstag building, Charlottenburg Palace, and the elegant Kurfürstendamm. See the Holocaust Memorial and the 210-foot Victory Column and make a picture stop at monumental Brandenburg Gate, one of the best-known landmarks of Germany where President John F. Kennedy once famously said "I am a Berliner". Visit the Kaiser Wilhelm Memorial Church with its bomb-damaged tower, drive along Unter den Linden boulevard and pass the State Opera House and Checkpoint Charlie. This afternoon is free for your own exploration.

(B)

Day 24 BERLIN
Your vacation ends with breakfast this morning.

(B)
Tour Map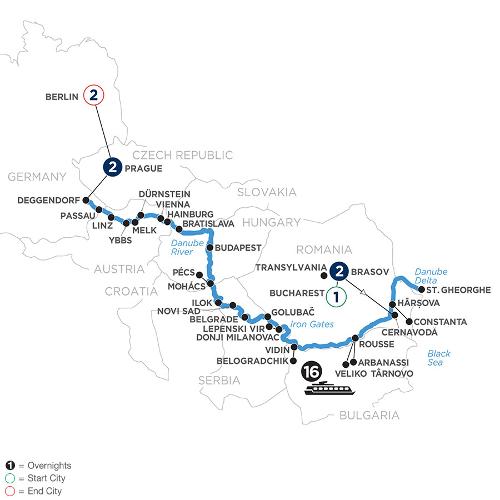 River Cruise Highlights
Day 1 Bucharest: welcome to Bucharest
Day 2 Bucharest–Sinaia–Brasov: visit Peles Castle
Day 3 Brasov: guided tour of Brasov; guided visit of Dracula's Bran Castle
Day 4 Brasov–Bucharest–Cernavoda (Embarkation): guided sightseeing in Bucharest; transfer to ship; onboard welcome reception
Day 5 St. Gheorghe: excursion to Danube Delta; km 0 celebration
Day 6 Hâr?ova. Excursion to Constanta: guided sightseeing, visit the National History and Archaeological Museum in Constanta
Day 7 Rousse. Excursion to Veliko Târnovo & Arbanassi: choice of full-day excursion, visit to Tsarevet's Fortress in Veliko Târnovo and to the Ethnographic Museum and the Church of the Nativity in Arbanassi, or a guided sightseeing in Rousse, or a walk in the park with your Adventure Host
Day 8 Vidin–Belogradchik: guided sightseeing to Vidin's fortress and see the rock formations in Belogradchik
Day 9 Iron Gates–Donji Milanovac–Golubac: cruise through the Iron Gates Gorge; visit Lepenski Vir archaeological site; visit to Golubac fortress
Day 10 Belgrade: guided sightseeing
Day 11 Novi Sad–Ilok: guided tours
Day 12 Mohács. Excursion to Pécs: guided tour and organ concert in Pécs
Day 13 Budapest: guided tour, see Heroes' Square
Day 14 Budapest: day at leisure
Day 15 Bratislava–Hainburg: guided sightseeing in Bratislava, visit St. Martin's Cathedral; free time in Hainburg
Day 16 Vienna: guided sightseeing
Day 17 Dürnstein–Wachau Valley––Ybbs: choice of guided walk or hike up to the castle ruins in Dürnstein; choice of guided visit of the Benedictine Abbey in Melk or Ybbs city sightseeing or bakery workshop; wine tasting
Day 18 Linz: guided tour
Day 19 Passau: guided tour; guided hike with your Adventure Host
Day 20 Deggendorf (Disembarkation)–Regensburg–Prague: transfer to Regensburg, guided sightseeing; travel by motorcoach to Prague
Day 21 Prague: guided sightseeing, see the Astronomical Clock and visit Hradcany Castle grounds
Day 22 Prague–Dresden–Berlin: transfer to Dresden and city sightseeing; transfer to Berlin
Day 23 Berlin: city sightseeing
Day 24 Berlin: your vacation ends this morning
All This Included
Your grand European river cruise is an adventure from the Danube Delta to the German capital of Berlin. From the legend of Dracula's castle, to the "Paris of the East" in Bucharest, to the "Golden City" of Prague, in the Czech Republic, you'll embark on an odyssey of new discoveries to treasure. Begin with two nights in mysteriously beautiful Transylvania, with a drive into the soaring Carpathian Mountains to Sinaia to visit Peles Castle and continue to Brasov for a guided tour. In the evening, visit Romania's Bran Castle, inspiration for Bram Stoker's legendary Dracula.

Enjoy guided sightseeing in Bucharest, before embarking your Avalon Suite Ship®, and sail overnight to St. Gheorghe for an excursion to the Danube Delta at the entrance to the Black Sea. Join a small-boat guided tour of the delta's rivers, canals, and marshes. Enjoy a special "Kilometer 0" celebration of the mighty Dan-ube's 2,845km journey from the Black Forest to the Black Sea. Sail through the Balkans and Budapest to Vi-enna and Austria, and to the exquisite city of Prague for a 2-night stay. Continue to Dresden en route to Ber-lin, where you'll spend two nights, including sightseeing of the historic Brandenburg Gate and a visit to the Kaiser Wilhelm Memorial Church. From Romania to the Black Sea Delta to the Golden City of Prague, and the Rhineland's capital city of Berlin, seeing such a variety of landscapes, languages, cultures, and historic sites will be an unmatched treasure not to be missed.

Accommodations on this Tour
Cruising: Cabin onboard Avalon Passion
Bucharest: Athenee Palace Hilton
Brasov: Kronwell Brasov Hotel
Prague: Art Deco Imperial Hotel, Hilton Prague Old Town, Cosmopolitan Hotel Prague or Prague Marriott
Berlin: Sofitel Berlin Kurfurstendamm
Notes
In the event of technical or water level issues, it may be necessary to operate the itinerary by motorcoach or alter the program, including hotel overnight when necessary.
Guided Tours, Optional Excursions, activities, sailing and docking schedules may be contingent on weather conditions or other issues outside of our control and could therefore be subject to change at any time.
Please check visa requirements with your local consulate(s); responsibility for obtaining visas rests with the traveler.
Port charges: $448.
Gratuities to Local Guides & Excursion Drivers are included.
Additional accommodations before or after your tour may be available.
Cabin upgrades are available.
Please ask your Vacations To Go travel counselor for more information.

Terms and Conditions
* The prices shown are U.S. dollars per person, based on double occupancy, and subject to availability. Prices quoted for land/cruise arrangements are subject to increase without notice. Once we have received your deposit, land/cruise prices are guaranteed. Air prices quoted via phone or email are subject to increase and are guaranteed only from the time that full payment is received. Also, air prices or air promotions mentioned on this site or on the phone do not include baggage fees imposed by airlines. Sorry, we are unable to offer air from countries other than the U.S. However, for those international customers who are able to arrange their own transportation to the trip origination city, we are able to offer the land/cruise portion of the package at the price quoted.