NOTE: The following information is from the 2021 tour season and is subject to change once the 2022 tour season information becomes available.

Day 1 HANOI, VIETNAM
Welcome to Vietnam!

Day 2 HANOI
This morning, your Guided Sightseeing takes a look at the life of Ho Chi Minh, the father of modern Vietnam. First, visit the mausoleum and the humble cottage from which "Uncle Ho" ruled Vietnam until his death in 1969. Next on the agenda: One Pillar Pagoda, the Presidential Palace, and the infamous "Hanoi Hilton." Also visit the ancient Temple of Literature, over 900 years old and Hanoi's first university. Lunch is at Koto, a non-profit restaurant and hospitality program that trains local street children in restaurant skills they can use to find a job and build a stable life. After lunch, enjoy an electric cart ride through the fascinating Old Quarter, with 36 ancient streets where peddlers trade as they have for centuries. An early dinner this evening is followed by a fascinating performance of Hanoi's renowned water puppets, a traditional art form dating back to the 11th century. (B,L,D)

Day 3 HANOI—HA LONG BAY
Travel from Hanoi through the fertile countryside to Hon Gai, gateway to Ha Long Bay, a UNESCO World Heritage Site. Located in the Gulf of Tonkin, the bay is dotted with more than 3,000 limestone islands carved into fanciful shapes by the action of the water. Tunnels, caves, and weirdly shaped outcroppings with imaginative names can be found on many of the small islets sprinkled across the bay. Board a Cruise Excursion to explore the caves, and admire the beauty and scale before stopping at one of the many secluded bays. (B,L,D)

Day 4 HA LONG BAY—HANOI—SIEM REAP
This morning, drive to Hanoi and board your flight for Siem Reap. (B)

Day 5 SIEM REAP
The Tranquil Temples of Angkor and Joyful Dances

CLASSIC Explore the temples by tuk-tuk. Start at the best preserved and most famous of all the temples: Angkor Wat. Featuring five trademark towers, it is the symbol of Cambodia. Then, continue your Guided Excursion to visit Angkor Thom, where you will explore Bayon Temple with its 200 striking faces carved in 54 towers and impressive bas relief sculptures, OR:

ACTIVE Visit Angkor Wat, Angkor Thom, and Bayon Temple by bike.

Enjoy some time at your leisure this afternoon to explore Siem Reap's shops for local artisan crafts.

DISCOVERY This evening, a private Apsara Dance Performance brings ancient Khmer culture to life through music, song, and dance. (B,L,D)

Day 6 SIEM REAP
Root-Covered Ruins and Native Noodles

CLASSIC Continue your Sightseeing Tour of the Angkor temples at Ta Prohm. Tree roots cover the ruin walls, allowing you to experience the temple with the same wonder as early explorers. Then visit Banteay Srei, a unique temple built on a small scale from red sandstone, which can be carved like wood. En route, stop at a village famous for making Khmer noodles by hand.

Spend the afternoon at your leisure. (B)

Day 7 PHNOM PENH (EMBARKATION)
Your Intimate Suite Ship® Awaits!

Fly to Phnom Penh and transfer to the port where your ship's crew will be waiting to welcome you onboard. Get acquainted with the ship and relax before your welcome reception this evening.

AFTERNOON/EVENING CRUISE TO WAT HANCHEY (B,L,D)

Day 8 WAT HANCHEY—ANGKOR BAN
Water Blessings and Back-to-School Adventures

DISCOVERY Visit Wat Hanchey, a hilltop temple dating back to the 8th century. Climb or be driven to the top where you will enjoy stunning views of the surrounding area and partake in a traditional water blessing given by local monks.

DISCOVERY After lunch, enjoy a Walking Tour through the rural village of Angkor Ban. Here, you will visit a traditional Khmer house and interact with children at a local school.

EVENING/OVERNIGHT CRUISE TO KAMPONG TRALACH (B,L,D)

Day 9 KAMPONG TRALACH—KONPONG LOUANG
Calm in the Cambodian Countryside

DISCOVERY Your Guided Sightseeing starts in Kampong Tralach with an Ox-Cart Ride through the beautiful Cambodian countryside. Along the way, stop to meet a local farmer and learn about his daily life. At the silversmith village in Konpong Louang, see talented craftsmen use age-old techniques to turn pure silver into works of art.

Sail to the capital city of Phnom Penh this afternoon.

PHNOM PENH

A Dark History or Market Dynamics

CLASSIC After lunch, a Visit to the Tuol Sleng Genocide Museum and one of the Killing Fields provides a glimpse into the atrocities inflicted on the Cambodian people by the Khmer Rouge regime, OR:

DISCOVERY Visit the lively Central Market with its unique Art Deco design by tuk-tuk.

This evening, spend some free time exploring the city on your own. Perhaps follow the riverfront promenade to the historic Foreign Correspondents Club (FCC). (B,L,D)

Day 10 PHNOM PENH
The Royal treatment

CLASSIC Join a Guided Tour of the city by private cyclo with visits to the Royal Palace with the spectacular Silver Pagoda, and the National Museum featuring an outstanding display of Khmer artifacts.

The remainder of the day is yours to enjoy at your leisure. Consider a Guided Optional Tour of a local brewery with free-flowing local beer!

Just before dinner, children from a local orphanage will perform a show, featuring local song and dance.

EVENING/OVERNIGHT CRUISE TO VIETNAM/CAMBODIA BORDER (B,L,D)

Day 11 BORDER CROSSING–CHAU DOC, VIETNAM
Good Morning, Vietnam!

DISCOVERY Take a Village Walk through the Chau Doc market, and absorb the atmosphere as locals are busy buying and selling fish, meat, and produce. After lunch, embark on a Guided Excursion down the backwaters of the Mekong. Along the way, see traditional floating homes, speedboat merchants, religious sites, a market selling dried goods, and more.

EVENING CRUISE TO LONG KHANH A (B,L,D)

Day 12 LONG KHANH A—CU LAO GIENG
Cotton Weaving, Conical Hats, and Handcrafted Sampans

DISCOVERY This morning, a sampan brings you to the village of Long Khanh A, for a Cotton-Weaving Demonstration of this well-preserved tradition.

DISCOVERY This afternoon, enjoy scenes of daily life on Cu Lao Gieng Island via sampan and local motor cart. Your Guided Excursion starts with a stop at one of Vietnam's oldest Catholic churches. Then, visit the home of a local family that makes Vietnamese conical hats, or "Non la," from materials available to them such as palm leaves and bamboo. These iconic hats are primarily used as protection from the sun and rain but you may also see them used as a basket to carry home goods from the market. Lastly, visit a local workshop where a skilled family hand-crafts sampan boats.

EVENING CRUISE TO VINH LONG (B,L,D)

Day 13 VINH LONG
Sweets and Rice Treats

DISCOVERY Board a sampan this morning to Visit a Local Workshop in Vinh Long where you will see how rice paper, rice wine, and traditional candies are made.

This afternoon, enjoy time on board the ship as we sail to exciting Ho Chi Minh City.

AFTERNOON CRUISE TO HO CHI MINH CITY (B,L,D)

Day 14 HO CHI MINH CITY (DISEMBARKATION)
Motorbikes, Monuments, and Mouthwatering Cuisine

CLASSIC Take a Walking Tour of Ho Chi Minh City's historic landmarks, including a stop at the Rex Hotel for a refreshing drink at the rooftop bar where the U.S. Military held the infamous "Five O'Clock Follies" during the war. Then, visit the War Remnants Museum and bustling Ben Thanh Market.

DISCOVERY For lunch, participate in a hands-on Vietnamese Cooking Class. Learn to prepare several local dishes and how to recreate them at home. Last, but not least, sample your delicious creations!

Enjoy time at your leisure this afternoon and evening for independent exploration. Maybe stop for a drink at the famous rooftop bar at the Caravelle Hotel. (B,L)

Day 15 HO CHI MINH CITY. EXCURSION TO CU CHI TUNNELS
Secret Passageways and Underground Hideouts

CLASSIC Drive out of the city for a Guided Visit to the Cu Chi Tunnels—an extraordinary network of tunnels more than 120 miles in length—used as a hideout and secret village by the Viet Cong.

Explore the city further during free time this afternoon.

This evening, join your traveling companions for a special dinner in a local restaurant.(B,D)

Day 16 HO CHI MINH CITY—BANGKOK, THAILAND.
This morning, fly to Bangkok. Upon arrival, transfer to your hotel. (B)

Day 17 BANGKOK
This morning, your Guided Sightseeing begins with a boat ride on the klongs, Bangkok's famous canals. Stop at the stunning Grand Palace featuring the Temple of the Emerald Buddha. Also, Visit the Temple of the Reclining Buddha, the oldest and largest Buddhist temple in Bangkok. It houses more than 1,000 Buddha images, including the 49-foot-high and 151-foot-long massive Reclining Buddha. The remainder of the day is at your leisure. (B,L)

Day 18 BANGKOK
Enjoy a full day at your leisure. (B)

Day 19 BANGKOK
Your extension ends with breakfast this morning. (B)
Tour Map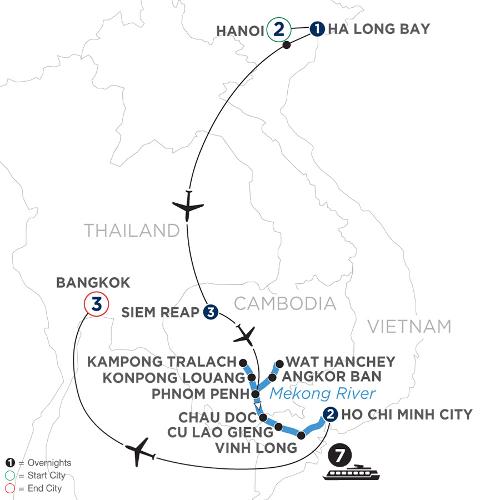 River Cruise Highlights
Day 1 Arrive Hanoi: welcome to Vietnam
Day 2 Hanoi: visit Ho Chi Minh's mausoleum, One Pillar Pagoda, Ho Chi Minh Museum, and Temple of Literature; lunch at Koto; take a cyclo ride through the Old Quarter; water puppets performance
Day 3 Hanoi–Ha Long Bay: cruise on Ha Long Bay
Day 4 Ha Long Bay–Siem Reap: Fly to Siem Reap
Day 5 Siem Reap: Visit Angkor Wat, Angkor Thom, and Bayon Temple; Apsara dance performance
Day 6 Siem Reap: Visit Ta Prohm, Banteay Srei, and a noodle-making village
Day 7 Siem Reap–Phnom Penh (Embarkation): Fly to Phnom Penh; onboard welcome reception
Day 8 Wat Hanchey–Angkor Ban: Visit Wat Hanchey and partake in a traditional water blessing by local monks; walking tour in Angkor Ban with school visit
Day 9 Kampong Tralach–Konpong Louang–Phnom Penh: Ox cart ride through the countryside and visit a local farmer's home in Kampong Tralach; visit the silversmith village of Konpong Louang; visit the Tuol Sleng Museum and one of the Killing Fields in Phnom Penh, or visit the lively central market
Day 10 Phnom Penh: Sightseeing by private cyclo, including the Royal Palace, Silver Pagoda, and the National Museum; show by children from local orphanage
Day 11 Border Crossing–Chau Doc: Visit a local market and the religious sites at Sam Mountain in Chau Doc
Day 12 Long Khanh A–Cu Lao Gieng: Walking tour of Long Khanh A with cotton-weaving demonstration; interact with sampan-making and conical hat making families in Cu Lao Gieng
Day 13 Vinh Long: Visit a local garden and a local workshop to see how rice wine and traditional candy are made
Day 14 Ho Chi Minh City (Disembarkation): Walking tour; visit the famous Rex Hotel for a drink, War Remnants Museum, and Ben Thanh Market; cooking class
Day 15 Ho Chi Minh City: Cu Chi Tunnels excursion
Day 16 Ho Chi Minh City–Bangkok, Thailand: Fly to Bangkok
Day 17 Bangkok: Boat ride on klongs; visit the Grand Palace, Temple of the Emerald Buddha, and the Temple of the Reclining Buddha
Day 18 Bangkok: Day at leisure
Day 19 Bangkok: End of vacation
All This Included
This inspiring Southeast Asia river cruise takes you to Vietnam, Cambodia, and Thailand. You'll be immersed in the cultures and ancient traditions as you sightsee and spend time with locals in the most fascinating places along the mighty Mekong River.
The best way to experience Vietnamese culture is with a tour of its fascinating capital of Hanoi. Go on a cyclo ride through the ancient streets of the Old Quarter and enjoy a water puppet performance. Travel through the peaceful countryside to Ha Long Bay where you'll cruise by its breathtaking limestone islands.
In Siem Reap, Cambodia, see the phenomenal Temples of Angkor with an intricacy and architectural grandeur unmatched in the world. Enjoy an inspiring Aspara dance performance before embarking on your river cruise. In the capital of Cambodia, Phnom Penh, tour the National Museum and Royal Palace with its striking Silver Pagoda. On a hilltop at the site of the 8th-century temple of Wat Hanchey, take in the stunning views before walking through the rural village of Angkor Ban to visit with welcoming schoolchildren.
Continue your Southeast Asia cruise into Vietnam and visit a colorful market, the home of a local family making handcrafted sampans, and a workshop to learn how rice wine and traditional candies are made. In Ho Chi Minh City, see the famous landmarks and try your hand in the kitchen—Vietnamese-style, with a cooking class. On an excursion to the Cu Chi Tunnels, walk through a section of the immense underground tunnel system used during the Vietnam War.
Your adventure ends in Bangkok, where you'll visit its most renowned temples, including the Temple of the Reclining Buddha—the oldest and largest of its kind. The perfect way to conclude this unforgettable river cruise vacation!
Ship Amenities - Avalon Saigon:

Air-conditioned Panorama Lounge
Open-air observation lounge with shade system & premium lounge chairs
Spacious, open-seating Panorama Dining Room
Bar serving premium spirits, wine & complimentary coffee, tea, soft drinks, and local beer/spirits throughout the day
Complimentary Wi-Fi access in the lounges (where signal is available)
Spa treatment room
Fitness Room
Library and games
Non-smoking staterooms & ship interior

Ship Dining - Avalon Saigon:

Spacious, open-seating Panorama Dining Room
Chef-prepared onboard meals with regional cuisine and familiar favorites
Seasonal recipes featuring the freshest local ingredients
Vegetarian options available with all meals
Complimentary coffee, tea, soft drinks, local beer/spirits with all onboard meals
Daily early-riser coffee & tea
Full breakfast buffet with live cooking station
Complimentary juices with breakfast
Lunch buffet with live cooking station showcasing local specialties served by our Head Chef
Four-course à la carte dinners with choice of salads, soups, entrées, dessert or cheese
Complimentary wine with all onboard lunches & dinners
Accommodations on this Tour
Hanoi: InterContinental Westlake
Ha Long Bay: Wyndham Legend
Siem Reap: Park Hyatt Siem Reap
Cruising: Cabin onboard Avalon Siem Reap or Avalon Saigon
Ho Chi Minh City: The Reverie Saigon
Bangkok: JW Marriott Hotel Bangkok
Notes
Dates and Prices do not include air travel.
Participation in this vacation requires purchase of the following flights from Avalon Waterways, not included in pricing: (1) roundtrip air from your U.S. gateway and intra-vacation air segments; or (2) intra-vacation air segments only, starting at $640. Required intra-vacation air segments: Hanoi/Siem Reap; Siem Reap/Phnom Penh; Ho Chi Minh CIty/Bangkok. Air prices were effective on November 19, 2019 and their availability is limited. At the time you purchase your tour, air prices may be higher.
Gratuities for Local Guides & drivers are included (excludes extensions which are to be paid locally).
Avalon offers the opportunity for solo travelers to sail with no single supplement (subject to availability). Please call for single accommodation details and prices. Triples not available.
All prices are per person based on double room occupancy. Cruise price based on Category B in a Panorama Suite on Mekong Deck. To upgrade to a Category A on the Tonle Deck, add $400 per person in double occupancy or $800 in single occupancy.
2022 prices and itineraries are subject to change.
Please ask your Vacations To Go travel counselor for more information.
Terms and Conditions
* The prices shown are U.S. dollars per person, based on double occupancy, and subject to availability. Prices quoted for land/cruise arrangements are subject to increase without notice. Once we have received your deposit, land/cruise prices are guaranteed. Air prices quoted via phone or email are subject to increase and are guaranteed only from the time that full payment is received. Also, air prices or air promotions mentioned on this site or on the phone do not include baggage fees imposed by airlines. Sorry, we are unable to offer air from countries other than the U.S. However, for those international customers who are able to arrange their own transportation to the trip origination city, we are able to offer the land/cruise portion of the package at the price quoted.