Grand Tulip Cruise of Holland & Belgium for Garden & Nature Lovers 2021
15 days with Avalon Waterways Rating: Deluxe
Book this River Cruise Now and Save!





Save $2,000 per couple off this sailing. Book a suite and save up to $5,600 per couple. Click here for eligible departures.

Offers subject to change or withdrawal, availability is limited. Some discounts are not combinable.
Day 1 AMSTERDAM, HOLLAND (EMBARKATION)
Welcome to Holland. Your Suite Ship® is Ready for Boarding.

Flights into Amsterdam must arrive by 2 pm.

Guests must be on board ship by 5 pm.

Your day in Amsterdam is free to explore at your leisure. During tulip season, you may take a Guided Optional Excursion to Keukenhof gardens—with more than seven million tulips, daffodils, and hyacinths, as well as other bulbs, planted each year.

EVENING/OVERNIGHT CRUISE TO NIJMEGEN (D)

Day 2 NIJMEGEN
Wildlife, WWII Valor, and Famous Mills

DISCOVERY Join a Guided Sightseeing to discover Arnhem—a key WWII operations site and home to impressive historical monuments and memorials—then visit a medieval castle for a regional herb and vegetable product tasting, OR:

CLASSIC Join a Guided Tour of the Airborne Museum of Hartenstein commemorating the 1944 WWII Battle of Arnhem.

ACTIVE Enjoy nature's splendor on this Guided Hike through Hoge Veluwe National Park, the Netherlands' oldest and largest nature reserve!

You may join a Guided Optional Excursion to the Windmill of Thorn or an Optional Cooking Workshop.

EVENING/OVERNIGHT CRUISE TO MAASTRICHT (B,L,D)

Day 3 MAASTRICHT
Dutch History, School Spirit and an Architectural Feast

Enjoy an early morning sailing to Maastricht.

CLASSIC Discover this vibrant university town with its lovely cathedrals, old houses, historical buildings, and impressively cobblestoned town center

DISCOVERY Join a Guided Experience in a unique natural reserve and discover the typical heath landscape of Benelux.

OVERNIGHT CRUISE TO NAMUR (B,L,D)

Day 4 NAMUR, BELGIUM
Ancient Architecture and Charming Cafés

DISCOVERY While sailing satisfy your curiosity about botany and nature during a lecture hosted by a local expert.

CLASSIC Join a Guided Sightseeing Tour of the picturesque old-town, fortress citadel, and medieval architecture.

Take free time to stroll along Namur's cobblestone lanes and visit its charming cafés and bookshops. This evening, enjoy live entertainment on board your ship.

OVERNIGHT DOCKING IN NAMUR (B,L,D)

Day 5 LIÈGE
Historic Wonders and Wonderful Waffles

CLASSIC Join a Guided Sightseeing Tour of the "Fiery City" of Liège with its beautiful ancient quarters, peculiar alleys, and romantic streets. Don't miss sampling authentically sweet Liège Waffles.

EVENING/OVERNIGHT CRUISE TO ANTWERP (B,L,D)

Day 6 ANTWERP
A Rubenesque Grand Gothic Cathedral in Artful Antwerp

Join your Adventure Host for today's special activities.

CLASSIC Take a Guided Tour of this sophisticated city to visit the central Grote Markt, lined with 16th-century guildhall houses. You'll also see the beautiful city hall, the Cathedral of Our Lady with its stunning altarpiece paintings by Rubens, OR:

DISCOVERY Spend some time surrounded by nature's magnificence on this inspiring guided excursion to the Arboretum Kalmthout botanical gardens

DISCOVERY While sailing, discover more about botany and nature joining a lecture hosted by a local expert.

Enjoy cocktail or coffee aboard your ship as you sail to Brussels this afternoon. Later, enjoy dinner and live entertainment.

OVERNIGHT DOCKING IN BRUSSELS (B,L,D)

Day 7 BRUSSELS
Ancient Landmarks and New Haunts

CLASSIC Join a Guided Tour of Brussels, see the Town Hall with its landmark buildings and discover the many local bars, cafés and shops of the Lower Town Streets, OR:

DISCOVERY See the major highlights of Brussels and join a do-it-yourself chocolate workshop for a fun and interactive experience.

The afternoon is free to explore Brussels at your pace

OVERNIGHT DOCKING IN BRUSSELS (B,L,D)

Day 8 BRUSSELS
Filling Fare and Fabled Beer

Spend a day at leisure to sample Brussels hearty cuisine and famous beer.

Enjoy dinner on board as you sail for Ghent this evening.

EVENING/OVERNIGHT CRUISE TO GHENT (B,L,D)

Day 9 GHENT
Medieval Masterpieces and Flemish Finery

Visit the Adventure Center for today's activities with your Adventure Host.

CLASSIC Explore Ghent—"The Diamond of Flanders"— with a Guided Sightseeing Tour of this showcase of medieval Flemish wealth. You'll visit St. Bavo's Cathedral—with its remarkable Flemish artwork.

Alternatively, you may choose to join a full-day Guided Optional Excursion of Bruges to explore its canals, cobbled streets, and medieval buildings. You'll see its crisscrossed canals, the 13th-century belfry of Market Square, and charming patrician houses.

This evening, enjoy live entertainment on board.

OVERNIGHT CRUISE TO BOSSUIT (B,L,D)

Day 10 BOSSUIT
Battlefield Remembrances in Flanders

DISCOVERY Visit the In Flanders' Field Museum in Ypres— learn about the story of the invasion of Belgium, the first months of the mobilization, the four years trench war in the Westhoek, the end of the war, and the permanent remembrance ever since. After your visit, enjoy lunch at the museum's café.

DISCOVERY Following the museum, visit battlefields, cemeteries, memorials and private collections.

DISCOVERY Experience the Last Post Ceremony, taking place nightly under the arches of the Menin Gate. Enjoy some free time for dinner before the Ceremony starts.

OVERNIGHT CRUISE TO MIDDELBURG (B,L,D)

Day 11 MIDDELBURG, HOLLAND
A Spicy History in Middelburg's Dutch Harbor Town

CLASSIC Join a Guided Walking Tour through the winding cobblestones and canals of Middelburg. See the 15th century Gothic Town Hall and learn about its important role in the spice trade and Dutch East India trading.

Enjoy lunch on board while cruising to Veere.

VEERE

The Delta Works Stand Strong as a Technical Marvel

DISCOVERY Join a Guided Tour of the Delta Works, the largest flood-protection system in the world, and a miracle of modern technology.

Later, enjoy live entertainment on board.

EVENING/OVERNIGHT SAILING IN KINDERDIJK (B,L,D)

Day 12 KINDERDIJK–ROTTERDAM
Harnessing the Wind 300 Years

Join your Adventure Host for today's special activities.

CLASSIC Join a Guided Tour of Kinderdijk where 19 windmills were built in 1740 as flood prevention and water management. You'll hear about the windmill's vital role in the Netherland's history and why it became a national symbol of Holland.

Enjoy a cruise through Rotterdam harbor.

CLASSIC Join a Guided Sightseeing Tour of Rotterdam featuring innovative architecture, including the marvelous Erasmus Bridge.

Later, enjoy live entertainment on board.

OVERNIGHT CRUISE TO ZAANDAM (B,L,D)

Day 13 ZAANDAM–HAARLEM
Windmills, Waterways, and Waving Fields of Flowers

Arrive in Zaandam this morning with free time to explore this quintessential Dutch town. See windmills, waterways, and flower farms, while discovering Dutch history in its handicraft shops and museums.

Cruise to Haarlem this afternoon while enjoying lunch on board.

HAARLEM

Tulips and North Sea Trading Ports

CLASSIC Visit Haarlem, a major flower bulbs growing district outside of Amsterdam. Explore the former North Sea trading port with its medieval features, gabled houses, and leafy courtyards.

Enjoy dinner on board your ship this evening as you sail to Amsterdam, the capital of the Netherlands.

OVERNIGHT DOCKING IN AMSTERDAM (B,L,D)

Day 14 AMSTERDAM
Canals of Colorful Amsterdam

CLASSIC Explore the iconic waterways of Amsterdam on a Guided Canal Cruise past stately homes of Amsterdam's "Golden Age", OR:

ACTIVE See the sights of Amsterdam from a unique perspective by joining our Guided Jogging Tour of the city—all at an easy pace with stops for commentary.

You may choose an Optional Biking Tour to discover the countryside.

OVERNIGHT DOCKING IN AMSTERDAM (B,L,D)

Day 15 AMSTERDAM (DISEMBARKATION)
Your cruise ends with breakfast this morning. (B)
Tour Map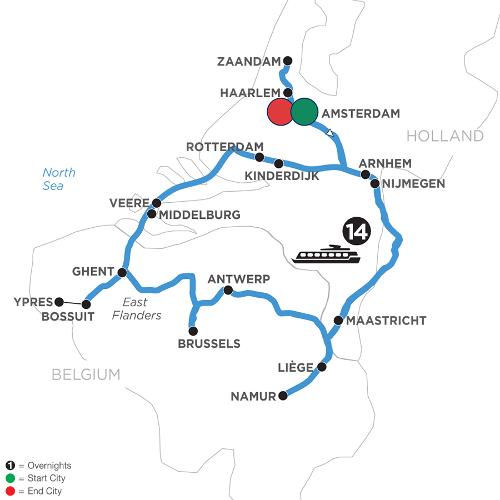 River Cruise Highlights
Day 1 Amsterdam (Embarkation): Keukenhof garden visit; onboard welcome reception
Day 2 Nijmegen, excursion to Arnhem: choice of guided sightseeing of Arnhem or guided tour of Airborne Museum in Arnhem or hiking in National Park; free time in Nijmegen
Day 3 Maastricht: guided tour, visit a National Park in Belgium
Day 4 Namur: botany lecture; guided tour
Day 5 Liège: guided tour
Day 6 Antwerp—Brussels: choice of guided tour in Antwerp, visit the central Grote Markt or visit a botanical garden; botany lecture; free time in the evening in Brussels
Day 7 Brussels: choice of guided tour, see the town hall or chocolate workshop
Day 8 Brussels: day at leisure
Day 9 Ghent: guided tour
Day 10 Bossuit: visit to Flanders Field Museum in Ypres; visit to the battlefields; Last Post Ceremony at the Menin Gate
Day 11 Middelburg—Veere: guided tour in Middelburg; guided tour of the Delta Works
Day 12 Kinderdijk—Rotterdam: guided tour in Kinderdijk and Rotterdam; harbor cruise in Rotterdam
Day 13 Zaandam—Haarlem: free time in Zaandam; guided tour in Haarlem
Day 14 Amsterdam: choice of canal cruise or jogging tour
Day 15 Amsterdam (Disembarkation): your cruise ends this morning
All This Included
Begin your tulip season cruise in Amsterdam. Cruise to Nijmegen and tour the WWII Airborne Museum in Arnhem, commemorating the brave battle of 1944. If you prefer, take a guided bike ride in the Hoge Veluwe National Park and admire its diversity of scenery. In Maastricht, tour the old cobblestoned university town.
On to Belgium for a sightseeing tour of medieval Namur and free time to browse its ancient architecture, charming cafes, and bookshops. In Liège, see the ancient quarters of the "Fiery City" as well as its romantic streets, steps, and tiny alleyways. Next, you'll explore the city of Antwerp—birthplace of the master painter Peter Paul Rubens. Stroll its cobbled lanes amid 16th-century guildhall houses and the cathedral's stunning altarpiece paintings by the famous artist. In Brussels, you'll find landmark buildings and a collection of cafes and shops on your guided tour. Visit "The Diamond of Flanders", Ghent, for stunning Flemish artwork in St. Bavo's Cathedral. Explore more of the Flanders area with tours in Bossuit—the In Flanders Fields Museum and moving battlefield memorials and memorabilia.
In Middelburg, explore its grand history in the Dutch East India Company. Tour the Veere Delta Works to see the world's largest flood-protection system. Continue your cruise through Kinderdijk—where windmills built in 1740 for water management helped the iconic structures become a symbol of Holland. See the Erasmus Bridge in Rotterdam, and the quintessential Dutch towns of Zaandam and Haarlem with their signature flower farms, windmills, waterways, and North Sea trading. Your cruise through Holland and Belgium returns to Amsterdam for a guided canal cruise through the iconic city.
Ship Amenities - Avalon Imagery II:

Wall-to-Wall Panoramic Windows
Sky Deck with premium lounge chairs, whirlpool, shade awnings, & outdoor deck game area
State-of-the-art fitness center
Non-smoking staterooms & ship interior
Convenient Elevator Service
Elegant, contemporary design
Outside viewing deck
Headsets for guided shore excursions
English-speaking friendly crew, staff & professional Cruise Director
Sightseeing with Expert Local Guides
Onboard lectures, activities & entertainment
Complimentary room service for Continental breakfast
Sky Deck whirlpool
Complimentary Wi-Fi access
Additional biking excursions available in Amsterdam, Breisach and Bernkastel
Onboard Adventure Center with active gear, bikes, Nordic walking sticks, watercraft & maps
Casual dinner in the Panorama Bistro
Avalon Choice® cruising experience
Choice of Classic, Active or Discovery excursions so that you can experience your cruise your way
Nordic walking sticks available onboard for complimentary check-out
Onshore & Onboard experiences with regional customs, cultures & tastings with local artisans, experts & entertainers
Self-serve beverage station with complimentary tea, hot chocolate & premium coffees, including decaf options
Well-stocked library with books, cards, and board games
Complimentary bottled water, fresh fruit, and cookies available throughout the day
Full-size closet mirror

Ship Dining - Avalon Imagery II:

Avalon FreshSM healthy cuisine options at every meal
Self-serve beverage station with complimentary tea, hot chocolate & premium coffees, including decaf options
Welcome & farewell cocktails with sparkling wine & canapés
Spacious, open-seating Panorama Dining Room
Daily early-riser breakfast
Daily late-riser breakfast
Full buffet breakfast with sparkling wine and made-to-order egg station
Lunch buffet with carving and pasta stations
Al fresco lunch in the Sky Grill
Cocktails with a view on the Sky Deck
Healthy Corner options including low calorie, low fat, high fiber, low cholesterol, and high energy choices
Vegetarian options at every meal, as well as vegan and allergy-free selections
Afternoon Tea featuring tea, coffee, and sweet treats
Happy Hour every evening including featured drink specials
Seasonal cuisine featuring the freshest local ingredients
Chef-prepared onboard meals with regional cuisine and familiar favorites
Four-course dinners with choice of appetizers, soups, salads, entrées and desserts or cheese
Complimentary wine, beer, or soft drinks with lunch and dinner
Complimentary room service for Continental breakfast
Panorama Lounge & Bar with premium spirits, cozy seating, panoramic windows & dance floor
Healthy meal options
Linger over several selections from the Panorama Bistro's tasting menu for a less formal "sit-down" atmosphere
Tastings - sample the destination's famous delicacies
Casual dinner in the Panorama Bistro
Coffee or tea after dinner
Light lunch in the Panorama Lounge
FlexDining flexible dining times with menu & venue options
Accommodations on this Tour
Cabin onboard Avalon Imagery II

Notes
Cabin upgrades are available.
In the event of technical or water level issues, it may be necessary to operate the itinerary by motorcoach or alter the program, including hotel overnight when necessary.
Guided Tours, Optional Excursions, activities, sailing and docking schedules may be contingent on weather conditions or other issues outside of our control and could therefore be subject to change at any time.
Please check visa requirements with your local consulate(s); responsibility for obtaining visas rests with the traveler.
Port charges:$392.
Gratuities to Local Guides & Excursion Drivers are included.
Please call for single accommodation price. Triples not available.
Additional accommodations before or after your tour may be available.All prices per person based on double occupancy.
Please ask your Vacations To Go travel counselor for more information.
Terms and Conditions
* The prices shown are U.S. dollars per person, based on double occupancy, and subject to availability. Prices quoted for land/cruise arrangements are subject to increase without notice. Once we have received your deposit, land/cruise prices are guaranteed. Air prices quoted via phone or email are subject to increase and are guaranteed only from the time that full payment is received. Also, air prices or air promotions mentioned on this site or on the phone do not include baggage fees imposed by airlines. Sorry, we are unable to offer air from countries other than the U.S. However, for those international customers who are able to arrange their own transportation to the trip origination city, we are able to offer the land/cruise portion of the package at the price quoted.
800-510-4002

OR

Open Mon-Fri 8am to 8pm, U.S. Central Time
| | | |
| --- | --- | --- |
| | a division of | |