River Cruise Itinerary
Day 1 CAIRO, EGYPT
Welcome to Cairo, "Mother of the World"

Day 2 CAIRO
Desert Sands and Secrets of the Sphinx

CLASSIC This morning take a close-up look at one of the World's Seven Wonders and guardian of the great pyramids, the enigmatic Sphinx, and the Great Pyramid of Giza. Cheops, with an original height of 496 feet, is the most colossal pyramid ever built, and of course enjoy the visit to the newly discovered Sun Boats.

CLASSIC Drive to Sakkara, a vast desert necropolis built for kings and nobles, and it "Stairway to the Sky", the oldest of all pyramids. Also admire the special tomb of Mary Loca and the Step Pyramid.

CLASSIC A Guided Excursion to the pyramids this evening features a Sound and Light Show complete with historical stories and secrets of the Sphinx. (B)

Day 3 CAIRO
Ancient Cairo, a Boy King, and the Christ Child

CLASSIC Enjoy a guided visit to the now-famous Tahrir Square and visit the Egyptian Museum*. Peruse King Tutankhamun's fabulous treasures and many other priceless artifacts of ancient Egypt.

CLASSIC Drive to walled city of Old Cairo, with Saladin's 12th-century citadel, and the Alabaster Mosque of Mohammed Ali.

CLASSIC Drive to "Coptic Cairo" to see the Hanging Church where the Virgin Mary and Jesus sought refuge while in Egypt. Walk to see Cairo's oldest Jewish synagogue, founded in the 9th century.

*Note:
Upon its opening in 2020, the Grand Egyptian Museum in Giza will replace Cairo's Egyptian Museum for this itinerary. (B)

Day 4 CAIRO–LUXOR (EMBARKATION)
The World's Greatest Open-Air Museum

Fly 300 miles up the Nile Valley to Luxor to embark on your Nile River cruise.

CLASSIC See the stunning monuments of Luxor and Karnak, ancient cities whose combined populations swelled to more than one million. Walk among the pillars of the colossal Temple of Amun Ra and along the Avenue of the Sphinxes for an experience you will treasure for a lifetime.

Consider an Optional Guided Excursion to enjoy the sound and light show in Karnak Temple.

OVERNIGHT DOCKING IN LUXOR (B,D)

Day 5 LUXOR–EDFU
Royal Resting Places of Kings and Queens

CLASSIC Venture to the Valley of the Kings and Valley of the Queens on the west bank of the Nile where generations of pharaohs and nobles were entombed in cliffside crypts. See where 62 royal tombs have thus far been discovered, of which one was virtually intact—the splendid tomb of Tutankhamun discovered in 1922.

CLASSIC Visit Deir El-Bahri, Queen Hatshepsut's monumental rock temple. Stop for pictures at the two Colossi of Memnon guarding the valleys.

OVERNIGHT DOCKING IN EDFU (B,L,D)

Day 6 EDFU–KOM OMBO–ASWAN
Egyptian Gods of the River and Sky

CLASSIC This morning visit the Temple of Horus with its menacing black stone statue of the falcon god.

CLASSIC Enjoy beautiful Kom Ombo for a short walk to its bluff-top twin temples. The right side is dedicated to the crocodile god Sobek-Ra, while the left side is dedicated to the falcon god Horus.

Enjoy a leisurely sail to Aswan.

DISCOVERY Enjoy an exclusive lecture on this ancient civilization by your Egyptologist.

OVERNIGHT DOCKING IN ASWAN (B,L,D)

Day 7 ASWAN
Temples from Above and Islands Below

This morning, consider a Guided optional Excursion with a flight over the huge massive sandstone temples of Abu Simbel (weather permitting).

CLASSIC Board a Felucca (traditional wooden sailing boat) and cross the blue waters of the Nile. En route, see the ancient water measurement system, "Nilometer," on the Nile's Elephantine Island.

Visit Kitchener Island's lush Botanical Gardens and the splendid Aga Khan Mausoleum on the left bank.

Join an Optional Excursion to the Sound and Light show in Philae Temple.

Tonight, enjoy live entertainment on board.

OVERNIGHT DOCKING IN ASWAN (B,L,D)

Day 8 ASWAN (DISEMBARKATION)–CAIRO
Work in Progress and the Goddess Isis

CLASSIC Join a Guided Sightseeing Excursion at to explore the Granite Quarries that supplied ancient Egypt with its hard stones for the pyramids in Giza. See the famous unfinished obelisk, still remaining in the quarry.

CLASSIC Visit the gigantic Aswan High Dam, completed in 1970. Board a motor launch to the island of Agilika between the two dams. Visit the Temple Of Isis, which was dismantled from the submerged island of Philae and reassembled here.

Board your flight back to Cairo later today, and consider attending an Optional Dinner Cruise on the Nile to celebrate your Egyptian adventure. (B)

Day 9 CAIRO
Amazing Palaces and Marketplace Mazes

CLASSIC Enjoy a special tour of the world's widest open-air museum to admire palaces and mosques. Browse the maze of shops in the vast labyrinths of the Khan al Khali Souk bazaar and Medieval alleyways.

CLASSIC Take in a full panoramic view of Cairo from the Nile River—on board a traditional wooden sailing vessel (Felucca).

CLASSIC Discover Cairo by night on an orientation tour in the old city. (B)

Day 10 CAIRO–AMMAN, JORDAN
Welcome in Jordan

Flight to Amman, Jordan and enjoy free time in the capital city of Jordan before dinner at your hotel in Amman. (B,D)

Day 11 AMMAN–PETRA
CLASSIC Start the day with a city tour of Amman, which will take you to visit the citadel and Roman Theatre. Enjoy a walk at downtown, and see the old markets.

A motorcoach transfer will take you at Mt. Nebo

CLASSIC Visit the alleged burial site of Moses at Mt. Nebo and St. George Church in Madaba, with its mosaic floor.

Continue to Petra for dinner at your hotel. (B,D)

Day 12 PETRA–DEAD SEA

CLASSIC Enjoy a visit to the archaeological site of Petra.

In the afternoon, depart for the Dead Sea for dinner at your hotel. (B,D)

Day 13 DEAD SEA. EXCURSION TO JERASH RUINS

CLASSIC This morning, join a visit to Jerash Ruins.

Transfer back to Dead Sea to enjoy free time and dinner at your hotel. (B,D)

Day 14 DEAD SEA–AMMAN
Your vacation ends with breakfast this morning. (B)
Tour Map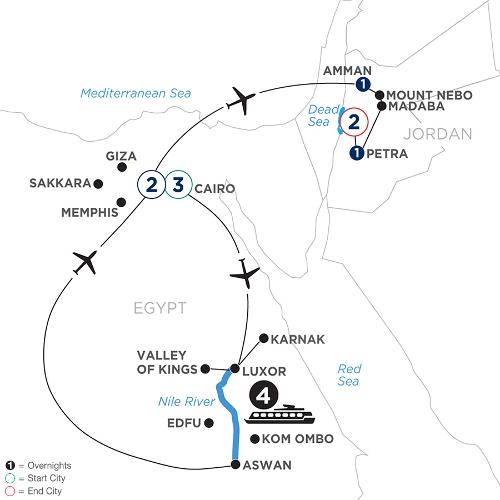 River Cruise Highlights
Day 1 Cairo, Egypt: welcome to Egypt
Day 2 Cairo: guided sightseeing, visit the Pyramids and Sphinx of Giza, Ramses II, and Alabaster Sphinx in Memphis, and the "Stairway to the Sky" at Sakkara; Sounds & Light Show at the pyramids
Day 3 Cairo: visit Tutankhamun's Tomb in the Egyptian Museum; see Saladin's citadel and visit the Alabaster Mosque in Old Cairo; see the Hanging Church and Cairo's oldest synagogue in Coptic Cairo; visit the Khan el-Kahlili souk
Day 4 Cairo–Luxor (Embarkation): fly to Luxor; visit Luxor Temple, the Avenue of Sphinxes, monument of Karnak & Temple of Amun-Ra; onboard welcome reception
Day 5 Luxor–Edfu: Valley of Kings, Valley of Queens, Deir El-Bahri, and the Colossi of Memnon; galabya party on board
Day 6 Edfu–Kom Ombo–Aswan: visit the Temple of Horus; visit the twin temples at Kom Ombo; lecture on board
Day 7 Aswan: sail by felucca to Kitchener Island; visit the Botanical Gardens
Day 8 Aswan (Disembarkation)–Cairo: excursion to the High Dam; cruise to Agilika; visit Temple of Isis and ancient granite quarries; fly to Cairo
Day 9 Cairo: special tour to the world's largest open-air museum, followed by a walk in the maze of shops at the famous bazaar
Day 10 Cairo–Amman: fly to Amman; free time
Day 11 Amman–Madaba–Petra: sightseeing in Amman; visit St. George Church in Madaba; transfer to Petra
Day 12 Petra–Dead Sea: sightseeing in Petra; transfer to Dead Sea
Day 13 Dead Sea. Jerash Ruins: visit Jerash Ruins
Day 14 Dead Sea: your vacation ends with breakfast this morning
All This Included
Take an extraordinary journey on this escorted tour of Egypt, beginning and ending in Cairo, followed by a 4-night stay in Jordan. Begin with a 3-night stay in Cairo—called the "Mother of the World"—to explore the legendary sites you've dreamed of seeing. Stand before the Sphinx and the Great Pyramid of Giza; Sakkara's tombs of the kings, and a mesmerizing evening light show at the pyramids. Survey King Tut's treasures at the Egyptian Museum; visit Saladin's 12th-century citadel behind the walls of Old Cairo; and visit Coptic Cairo, where the Holy Family sought refuge, and home to Cairo's oldest Jewish synagogue. Fly from Cairo to Luxor and see the stunning of Luxor and Karnak. Walk among the pillars the colossal Temple of Amun Ra and along the Avenue of the Sphinxes.
Embark on a luxury cruise on the Nile River to the Valley of the Kings and the Valley of the Queens and see the site where 62 tombs have been discovered so far, including the intact tomb of King Tutankhamun. In Edfu, visit the temple to the falcon god, Horus; and take a walk to the bluff-top temples of Horus and the crocodile god, Sobek-Ra, in beautiful Kom Ombo. Enjoy a presentation by an expert Egyptologist while sailing to Aswan. There, board a Felucca (traditional wooden sailing boat) to visit Kitchener Island's botanical gardens and the grand mausoleum of Aga Khan. Disembark your Nile River cruise through Egypt for two nights in Cairo. Take an excursion to the granite quarries that supplied ancient Egypt with the stones that built the pyramids. See the famous unfinished obelisk remaining there. Visit the gigantic Aswan High Dam and board a motor launch to the island of Agilika—home of the Temple of Isis. You'll also tour the world's widest open-air museum, take a scenic cruise on a feculla boat, and tour the city by night for an unforgettable experience.
Your adventure continues with four nights in Jordan, with a flight from Cairo to Amman. Spend one night each in Amman and Petra, and two nights at the Dead Sea. Enjoy superior accommodations, transportation, and guided sightseeing with expert Local Guides to see the red city of Petra, Roman ruins of Amman, the ruins of Jerash, and the Dead Sea.
Ship Amenities:
On board cooking class for Egyptian cuisine and diploma issue by our chef.
Pillow menu included: you will be able to choose from a range of soft, water pillow, orthopedic, spongy pillows.
Free use of gym - sauna and steam (massages à la carte excluded).
All staterooms are with large panoramic window.
Wide TV LED Screen with free cable.
Free Wi-fi internet connection in all the boat.
Telescope at disposal on the sundeck.
Special library dedicated to Paulo Coelho.
Welcome drink & refreshing towels upon arrival.
Fruit basket, cookies, canapés & nuts.
Kettle with packets of Tea, Nescafe and sugar will be served in cabins.
The boat offers all the services and facilities needed to organize special events on board.
Large restaurant.
Lounge Bar.
Pool Bar.
Ship Dining:
Special choices for vegetarians lunch & dinner
Tea & coffee will be served during Lunch & Dinner.
Barbecue lunch or dinner on sun deck & this according to the weather.
Breakfast & lunch buffet Dinner à la carte.
Accommodations on this Tour
Cairo: Marriott Mena House or Hilton Heliopolis
Cruising: Cabin onboard MS Farah
Amman: Kempinski Hotel
Petra: Hyatt Zaman Hotel & Resort
Dead Sea: Crowne Plaza Jordan Dead Sea Resort & Spa
Notes
Cabin upgrades are available.
In the event of technical or water level issues, it may be necessary to operate the itinerary by motorcoach or alter the program, including hotel overnight when necessary.
Guided Tours, Optional Excursions, activities, sailing and docking schedules may be contingent on weather conditions or other issues outside of our control and could therefore be subject to change at any time.
Please check visa requirements with your local consulate(s); responsibility for obtaining visas rests with the traveler.
Dates & Prices do not include air travel.
Participation in this vacation requires purchase of the following flights from Avalon Waterways, not included in pricing: (1) roundtrip air from your U.S. gateway and intra-vacation air segments; or (2) intra-vacation air segments only, starting at $275. Required intra-vacation air segments are: Cairo/Luxor; Aswan/Cairo. Air prices were effective on November 19, 2019, and their availability is limited. At the time you purchase your tour, air prices may be higher.
Price is per person based on double room occupancy. Gratuities to Local Guides & drivers are included.
Call for single accommodation details and prices. Triple rooms are not available.
Please ask your Vacations To Go travel counselor for more information.
Terms and Conditions
* The prices shown are U.S. dollars per person, based on double occupancy, and subject to availability. Prices quoted for land/cruise arrangements are subject to increase without notice. Once we have received your deposit, land/cruise prices are guaranteed. Air prices quoted via phone or email are subject to increase and are guaranteed only from the time that full payment is received. Also, air prices or air promotions mentioned on this site or on the phone do not include baggage fees imposed by airlines. Sorry, we are unable to offer air from countries other than the U.S. However, for those international customers who are able to arrange their own transportation to the trip origination city, we are able to offer the land/cruise portion of the package at the price quoted.