17 Day Amazing China with Tibet
(Discovery Tour, Monday Departure)
17 days with Gate 1 Rating: First Class
River Cruise Itinerary
DAY 1, Monday - Depart for China
Depart for China.

DAY 2, Tuesday - Arrive in Beijing
Arrive in Beijing, sprawling capital of modern China; meeting. Remainder of the day is at leisure to rest, relax and acclimate to the time change.
DAY 3, Wednesday - Forbidden City, Home Hosted Lunch in Hutong
After breakfast, join your Tour Manager and fellow travelers for an orientation meeting about the extraordinary journey that lies ahead in China and Tibet. Your exploration begins at huge Tiananmen Square, the largest public square in the world, built at the height of the Ming Dynasty. The square's Gate of Heavenly Peace was once used as a staging ground for imperial edicts and by Mao Zedong himself to declare the founding of the People's Republic in 1949. Enter the Forbidden City, once the residence of Chinese emperors from the Ming to the Qing dynasties. This extraordinary walled complex, designated a UNESCO World Heritage Site, is truly a masterpiece of Chinese architecture; its complex consists of 800 buildings with more than 9,000 rooms. Then, from the palatial to the modest, as you continue to a typical Hutong neighborhood. Beijing's Hutongs, a community of small residences centered around alleyways and courtyards, are dwindling in number as the city is modernized, but some have been preserved as "protected areas." Special arrangements just for you to meet a local family and share lunch together in their home - they will be delighted to share their secret family recipe for dumplings, complete with a demonstration. This evening, enjoy a festive Welcome Dinner, featuring China's world-famous Peking Duck. (Breakfast, Lunch, Dinner)
DAY 4, Thursday - The Great Wall & Ming Tombs
An amazing day! Travel to the extraordinary 2000-year-old Great Wall of China, one of the most spectacular structures ever built by man, spanning nearly 4,000 miles of China's northern frontier. En route, stop at a local jade shop to admire wares crafted with one of China's most famous materials. You travel to a less crowded section in Badaling to avoid crowds and have a less hurried experience. Mount the ramparts of this ancient wonder to view beautiful mountain passes, plateaus, and grasslands from this 7th-century defensive fortification. To aid local organizations, you'll plant a tree along the ancient paths to commemorate your visit to the Great Wall. This afternoon lunch will be at a local restaurant. Continue to the Sacred Way lined with mythical stone beasts and statues. Originally built to lead to the mausoleum, it was thought to be the "road leading to heaven." Walk through the huge Memorial Stone Arch guarding its entrance continuing along the road to the 13 Ming Dynasty Tombs. Visit the Dingling Tomb, also known as the Underground Palace, the first Imperial tomb excavated in China, housing the remains of Emperor Wan Li and two of his wives. In the exhibition, you'll also see many of the precious golden crowns and glittering jewels that were uncovered. On the way back to Beijing view the striking ultra-modern "Bird's Nest" stadium built for the 2008 Beijing Summer Olympics. (Breakfast, Lunch)
DAY 5, Friday - Flight to Xian, Small Wild Goose Pagoda & Market Visit
This morning, transfer to the airport for your flight to Xian. Arrive in Xian, the ancient capital of eleven dynasties and an archaeological treasure trove. Visit the Small Wild Goose Pagoda, one of the most famous Buddhist pagodas in China constructed during the Tang Dynasty. This brick and wood structure was only moderately damaged during the major earthquake in 1556 and still stands today as a compelling symbol of Xian. Then, on to the Muslim Quarter, a hub of the Muslim community in Xian. Over ten mosques are spread out in the winding and narrow streets including the popular Great Mosque. At the bustling Beiyuanmen market, you'll find a unique blend of Chinese and Islamic stalls with food and crafts. Enjoy dinner at a local restaurant. (Breakfast, Dinner)
DAY 6, Saturday - Xian Antiquities with Terracotta Army
Morning visit to Xingqing Park, a hub of activity - join the residents of Xian in their morning exercise. Afterward, stop at a lacquer furniture shop to hear more about this delicate technique. Enjoy lunch at a local restaurant. Then, a truly unforgettable experience! Arrive at the archaeological site of the magnificent Terracotta Warriors, a vast collection of more than 7,000 finely sculpted, life-size soldiers, horses and chariots that were entombed with Qin Shi Huang, China's first emperor. This world-famous site discovered by farmers in 1974 is still being excavated today, more than forty years since the time of its unearthing. This evening, an optional Tang Dynasty 6-course dinner followed by a historical dance performance by the Tang Dynasty Troupe. (Breakfast, Lunch)
Optional: Tang Dynasty Show with Dinner (PM)
DAY 7, Sunday - Xian City Wall, High-Speed Train to Chengdu
This morning, visit the ancient Xian city wall, which was started in 194 B.C. This is the most complete city wall that has survived in China, as well as being one of the largest ancient military defense systems in the world. Lunch is at a local restaurant. Afterward, board a high-speed train to Chengdu; arrival and transfer to your hotel in this capital city of Sichuan Province. Tonight, try the famous China "Hot Pot" for dinner. Created over 1,000 years ago, this dish varies by region and is popular all over the country. Be careful with the Szechuan version - it's spicy! (Breakfast, Lunch, Dinner)
DAY 8, Monday - View Giant Pandas, Visit Mahjong Parlor
This morning you'll get to visit some of Chengdu's most relaxed local celebrities - giant panda bears. You'll travel to the Chengdu Panda Research Center which houses more than 80 giant pandas. The center is one of the largest panda breeding facilities in the world. Their livelihood in the wild is under threat from deforestation. After lunch at a local restaurant, join some residents in a local Mahjong parlor to watch this ancient Chinese game and have a few lessons from the experts. Later attend the optional Sichuan Opera Show and be swept away and mesmerized by this exciting Sichuan show as artists take the stage in elaborate costumes to enact various performances. (Breakfast, Lunch)
Optional: Sichuan Opera Show (PM)
DAY 9, Tuesday - Flight to Lhasa
Early morning flight from Chengdu to Lhasa*, storied capital of the Tibet autonomous region in China, located at 11,500 feet above sea level on the northern slopes of the Himalayas. Arrive at your hotel with time to rest and adjust to the high altitude. Lunch is at a local restaurant, followed by an afternoon briefing with Tibetan experts to hear about the local customs, traditions and the thrilling journey you will experience in Tibet. Rest of the day is at leisure. Tonight, dinner is at a local restaurant *Lhasa sits at an elevation of 11,500 feet above sea level. Your sightseeing will include a fair amount of walking, which at high elevations can be taxing for those in good physical condition. If you have any concerns about traveling to high altitudes, please consult with your healthcare provider. (Breakfast, Lunch, Dinner)
DAY 10, Wednesday - Potala Palace, Barkhor Street Bazaar
Today you'll see the astonishing Potala Palace, one of the grandest monuments in all of Asia. Built in the 17th century atop the original 7th-century site, the palace boasts more than 1,000 rooms, including the Red Palace (where the Dalai Lama once lived), 10,000 chapels, and a labyrinth of mysterious dungeons. It took 7,000 workers and 1,500 artists and craftsmen more than 50 years to build the adjoining White and Red Palaces. This Eastern architectural triumph was once the world's tallest building before the creation of 20th-century skyscrapers. After lunch at a local restaurant, visit the popular Barkhor Street Bazaar, located in the heart of Lhasa. Walk along the circular street filled with merchants and vendors offering a huge variety of local Tibetan art, crafts, and even tasty snacks. (Breakfast, Lunch)
DAY 11, Thursday - Jokhang Temple, Sera Monastery
Arrive this morning at the Jokhang Temple where you may observe the traditions of Tibetan Buddhism and hear the musical sounds of chanting sutras and the spinning of prayer wheels. Inside the Jokhang Temple, thousands of yak-butter candles flicker inside beneath the enlightened gaze of the golden 7th century Buddha statue. Stop at a Tibetan art shop to collect souvenirs to bring home. In the afternoon, you'll dine at a local restaurant, before visiting the Sera Monastery, known as one of the great three university monasteries of Tibet. This evening, savor a traditional Tibetan dinner together. Afterwards, enjoy a trishaw ride around Potala Square before heading back to your hotel. (Breakfast, Lunch, Dinner)
DAY 12, Friday - Flight to Chongqing, Embark Cruise
Depart Lhasa by flight to Chongqing, gateway to the Yangtze River. Upon arrival visit the Stilwell Museum, at his renovated former residence, dedicated to the General who was the Commander-in-Chief of Allied Forces in the China-Burma-India Theater. With the aid of General Stilwell, the Chinese people won the War of Resistance against the Japanese invaders. This evening enjoy dinner before embarkation on your cruise ship to begin the scenic journey on the Yangtze River - you'll be welcomed by the warm and friendly crew. (Breakfast, Dinner)
DAY 13, Saturday - Cruise to Fengdu
Awake this morning to the beautiful vistas on the river. Today's shore excursion will visit the Jade Emperor Scenic Area outside of Fengdu, a city with more than 1,900 years of history. The sacred site lies on the northern side of the Yangtze River and west of Mingshan Mountain. It features a 100-foot-tall statue depicting the Jade Emperor, an important deity in Chinese Taoism, as well as 208 additional holy statues of deities. You will also encounter exquisite pagodas, pavilions, and terraces. Time to relax on board after your return to the ship. (Breakfast, Lunch, Dinner)
DAY 14, Sunday - Qutang and Wuxia Gorges
Wondrous views await you today. Sail through Qutang Gorge, the smallest of the three Yangtze Gorges followed by spectacular views of the surrounding mountain passes as you sail through the 25-mile long Wuxia (Witches) Gorge, famous for its fabled Twelve Peaks. According to legend, the peaks are believed to be the spirits of 12 fairies, the most famous of them being the Shennu Feng (Goddess) Peak, topped by a huge rock resembling a kneeling maiden. The shore excursion takes you to visit the natural scenic wonders of the Shennv or Shennong Stream*. Finally, begin sailing downstream through Xiling Gorge. The longest and deepest section of the Three Gorges system, it comprises the Xietan, Qintan, and Kongling rapids in what is known as the Three Rapids of Xiling *The visit of Shennong or Shennv stream is dependent upon water levels. (Breakfast, Lunch, Dinner)
DAY 15, Monday - Three Gorges Dam & Disembark Cruise
After breakfast this morning, make a visit to the Three Gorges Dam site near Sandouping Village. The dam is the world's largest and most ambitious hydroelectric project ever undertaken by man, nearly six times the size of the Hoover Dam. This project has forever changed the landscape surrounding the Yangtze River. Have lunch on board the ship before disembarkation and transfer to Yichang airport. Then, fly to cosmopolitan Shanghai, the fastest growing city in Asia, with its dramatic ever-changing skyline. (Breakfast, Lunch)
DAY 16, Tuesday -Yu Yuan Gardens, Caoyang Community & Home Hosted Lunch
Stroll this morning along the famous Bund walkway, with its gorgeous vistas of old and new Shanghai. Stop at a local silk carpet & embroidery shop and see how the fabric is woven into stunning designs by local craftspeople. Afterward, visit the classical Yu Yuan Gardens (Garden of Happiness) in the Old Quarter, built during the Ming Dynasty. This beautiful and serene sanctuary features pagodas, lakes, and magnificent pavilions. Then you'll continue to the Caoyang New Village, the first Worker's Housing Project in Shanghai, to learn more about this self-sufficient community and their daily life. You're invited to a home hosted lunch in this community before visiting the government offices and learning how the legislature here functions. Later in the afternoon learn more about this ever-changing country by participating in an informative lecture and discussion about China's Cultural Revolution presented by a Shanghai resident who experienced the revolution first-hand and was sent to the countryside to be re-educated by the peasants. Tonight, bid farewell to China and your fellow travelers at the Farewell Dinner at a local restaurant. (Breakfast, Lunch, Dinner)
DAY 17, Wednesday - Depart China
Your vacation ends after breakfast. (Breakfast)
Tour Map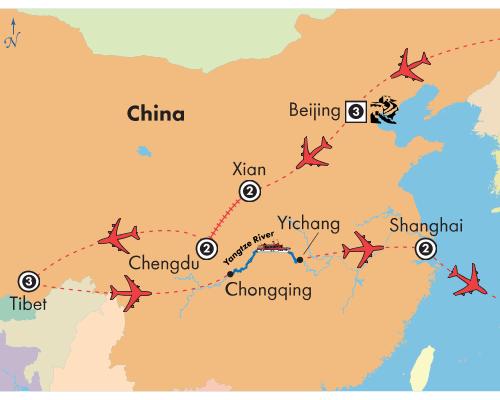 River Cruise Highlights
Thanks to our small group size, we can get to the heart of our destination, visit places that other tours miss, and get to know the locals.
Exploration of Tiananmen Square, the largest public square in the world, and the Forbidden City, a UNESCO World Heritage Site
Lunch and meeting with a local family in Beijing's Hutong community
Travel to the extraordinary 2000-year-old Great Wall of China, one of the most spectacular structures ever built by man
Join the residents of Xian in Xingqing Park in their morning exercise
Visit the unforgettable archaeological site of the magnificent Terracotta Warriors entombed with China's first Emperor Qin Shi Huang
Meet the famous Giant Panda bears at the Chengdu Panda Research Center
Travel to the storied capital of Lhasa in Tibet to visit the world-famous Potala Palace, one of the grandest monuments in all of Asia
Embark on a 3-night Yangtze River Cruise that journeys through some of the greatest scenery in the world
†Transfers are available for purchase for land only or on alternative flight dates
All This Included
This Program is available for U.S. Passport Holders Only
Hotel & cruise porterage
High-Speed Bullet Train from Xian to Chengdu
36 meals: 15 breakfasts, 12 lunches, 9 dinners with beer (including 2 home hosted lunches, and welcome & farewell dinners)
Sightseeing per itinerary in modern air-conditioned vehicles
Services of local English-speaking tour manager throughout
Comprehensive, guided sightseeing and entrance fees per itinerary
Active itinerary with unique cultural features
Comfortable wireless earphones for enhanced touring
Accommodations on this Tour
Beijing: Grand Mercure Beijing Dongcheng
Xian: Grand Park Xian Hotel
Chengdu: Hilton Chengdu
Lhasa: Lhasa Xin Ding Grand Hotel
Cruising: Cabin onboard a Victoria Cruises ship
Shanghai: Pullman Shanghai Jing An
Notes
Land only prices do not include arrival/departure transfers, but do include flights Beijing-Xian, Chengdu-Lhasa, Lhasa-Chongqing & Yichang-Shanghai. Due to limited storage space on the High Speed train from Xian to Chengdu, only one small piece of luggage (44 lbs) per passenger is permitted onboard for your personal belongings. Your additional luggage will be transported separately to Xian and you will be without your checked luggage for 1 night in Xian; therefore it is recommended to take an overnight bag. Cruise itineraries are subject to change. Alternative sites may be visited depending upon water levels and hours of daylight.
Victoria Cruise cabins on Monday & Saturday departures cannot comfortably accommodate 3 people; therefore, our triple adult and twin with child pricing reflects the additional cost of an upgrade to Executive Suite. Plan B Promenade Deck and Plan A Bridge Deck Victoria Cruise cabins feature an additional onboard amenities package; please visit the ship profiles for further details. Century Cruise upgraded cabins on Wednesday departures do not offer an onboard amenities package. This program is available for U.S. Passport Holders only: A visa is required for entry into Tibet and is obtained on your behalf by Gate 1 Travel. This visa is required in addition to and separately from a China visa. Entry into Tibet is strictly controlled by the Chinese government, and rules for entry change regularly and without notice. Once you have made final payment, you will receive an email containing special instructions on how to apply for your Chinese visa. At this time, Gate 1 is only able to obtain a Tibet visa for U.S. passport holders. Entry to Tibet is never guaranteed, regardless of nationality. On occasion, entry to Tibet may be prohibited entirely and without notice. In the event of a border closure, Gate 1 will make alternative arrangements for affected passengers to visit Guilin, in another area of China.
This is an active trip. Our small group covers a lot of ground each day, and we spend four to five hours on our feet during tours. The pace is moderate, however you will encounter some uneven surfaces, stairs, steps and significant slopes. The Great Wall requires a climb of approximately 300 steps, some of which have an incline. It is recommended to wear sturdy shoes, and people who have knee problems may want to carry a walking stick. The altitude, 11,500 feet above sea level in Lhasa may be a consideration for those who have heart conditions or are otherwise affected by high altitude. We suggest you check with your health-care provider before signing up for this tour. Air pollution is a problem in many of China's major cities. Please see the CDC website and/or consult with your healthcare provider for specific recommendations. The usage of a bandanna or, light scarf might help screen out some of the pollutants in the air. This is a Small Group program.
Please ask your Vacations To Go travel counselor for more information.
Terms and Conditions
* The prices shown are U.S. dollars per person, based on double occupancy, and subject to availability. Prices quoted for land/cruise arrangements are subject to increase without notice. Once we have received your deposit, land/cruise prices are guaranteed. Air prices quoted via phone or email are subject to increase and are guaranteed only from the time that full payment is received. Also, air prices or air promotions mentioned on this site or on the phone do not include baggage fees imposed by airlines. Sorry, we are unable to offer air from countries other than the U.S. However, for those international customers who are able to arrange their own transportation to the trip origination city, we are able to offer the land/cruise portion of the package at the price quoted.
800-510-4002

OR

Open Mon-Fri 7am to 10pm, Sat 8am-8pm, Sun 9am to 8pm, CST
| | | |
| --- | --- | --- |
| | a division of | |