10 Day Classic Egypt with 3 Day Deluxe Nile Cruise
10 days with Gate 1 Rating: Deluxe
Book this River Cruise Now and Save!





Reduced airfare from select gateways is included in the price of certain tours. Click here for eligible departures.

Offers subject to change or withdrawal, availability is limited. Some discounts are not combinable.
DAY 1, Monday - Depart for Egypt
Depart for Egypt.
DAY 2, Tuesday - Arrive in Cairo
Welcome to Egypt, one of the world's greatest ancient civilizations. Arrive in Cairo and transfer to your hotel with the remainder of the day at leisure. Tonight, attend an orientation meeting at approximately 6 PM and enjoy a Welcome Drink with your Tour Manager and fellow travelers at your hotel.

DAY 3, Wednesday - The Pyramids, Memphis & Sakkara
After breakfast, visit the Pyramids of Giza, built during the 3rd and 4th dynasties of the Old Kingdom. These monumental undertakings stand as a marvelous testimony to the almost unbelievable skill and determination of their builders. Get a close-up view of the Great Pyramid, built for the Pharaoh Khufu, as well as the Pyramids of Khafre and Menkaure. Not far from the Pyramids, see the great Sphinx of Giza, the legendary statue with the head of a human and the body of a lion, amazingly carved out of one huge piece of limestone. This afternoon, enjoy lunch in a local restaurant before traveling to Memphis, capital of Egypt during the Old Kingdom, founded by King Menes around 3100 BC. Now, it is an open-air museum highlighted by a giant statue of Ramses II. Continue on to Sakkara, site of hundreds of tombs, serving as the necropolis for the ancient capital, Memphis. Here, you can view the famous Step Pyramid of Djoser, considered to be the oldest pyramid in Egypt. Next, visit a carpet school before heading back to your hotel. (Breakfast, Lunch)
DAY 4, Thursday - Flight to Aswan, Aswan High Dam & Philae Temple
This morning, depart Cairo by flight to Aswan, an ancient frontier town. Visit the spectacular Aswan High Dam, an engineering miracle when originally constructed in the 1960s. The dam brought an end to the Nile's devastating floods. Take a tour to Philae Temple dedicated to the goddess Isis. Arrive by motorboat and marvel at the Temple's beautiful island location. Enjoy lunch in a local restaurant and visit a perfume shop to learn how these scents are made. (Breakfast, Lunch)

DAY 5, Friday - Nile Cruise Embarkation
Spend the morning at leisure, or join the early morning optional tour to Abu Simbel. A bus from Aswan transports you back in time to the mighty Temple of Abu Simbel, reclaimed from the floodwaters of the Aswan High Dam and totally reconstructed in the present location. It is one of the most recognizable ancient sites in Egypt. Step inside the Great Temple and admire the colossal standing statues of Ramses II. Proceed to the Temple of Hathor to view the murals with images of the goddess Hathor and Queen Nefertari. Afterwards, embark on the Nile Cruise and have a late lunch on board. This evening, join an optional Aswan Felucca Ride, the traditional sailboat of Egypt used along the Nile. Glide gently down the river and catch the refreshing breeze while witnessing the beautiful scenery of the Nile Valley. Experience the peace and tranquility of the area during your one hour cruise. (Breakfast, Lunch, Dinner)
Optional: Abu Simbel by Bus from Aswan (AM)
Optional: Aswan Felucca Ride (PM).
DAY 6, Saturday - Kom Ombo, Edfu & Esna
Tour the imposing Greco-Roman Temple of Kom Ombo, that is dedicated to Horus, the Sky God, and Sobek, the Crocodile God. Admire the fascinating detailed reliefs on the walls. After lunch on board, sail towards Edfu. Take a tour to the stunning Temple of Horus in Edfu, considered one of the best preserved of all the Egyptian temples. It was built during the Ptolemaic times and was completed over a 180-year period. The temple is dedicated to the falcon god Horus, the son of Isis and Osiris. Its extravagant design and sheer size is an indication of the country's prosperity at the time. Cross Esna Lock and sail onward towards Luxor. (Breakfast, Lunch, Dinner)
DAY 7, Sunday - Luxor West Bank, Temple of Luxor
This morning, join an optional tour of the UNESCO listed Valley of the Kings, the necropolis of Thebes and uncover the mysteries behind Luxor West Bank. Explore the Temple of Hatshepsut, a colonnaded structure surrounded by cliffs and learn about the life of Queen Hatshepsut, Egypt's longest-reigning female ruler. Afterward, visit an alabaster factory and observe how this soft mineral is processed. Browse the extensive collection of alabaster pieces. Conclude the tour at the Colossi of Memnon: two massive stone statues of the Pharaoh Amenhotep III. This afternoon, head to Luxor Temple to admire the colossal statues of the great pharaoh Ramses II then return to the ship. (Breakfast, Lunch, Dinner)

Optional: Excursion to West Bank (AM).
DAY 8, Monday - Disembarkation, Temples of Karnak, Flight to Cairo
After disembarkation this morning, visit the magnificent Temples of Karnak, dating back over 3,000 years. Walk along the avenue of the Sphinxes and marvel at the Hypostyle Hall with its 134 massive sandstone columns. After exploring this ancient structure, visit a shop where you can view a quick demonstration of how the papyrus paper is made from the papyrus grass. Browse the collection of artworks on display. Have lunch at a local restaurant and transfer to the airport for your afternoon flight to Cairo. (Breakfast, Lunch)
DAY 9, Tuesday - Full Day in Cairo
Today is free for individual explorations. Perhaps, take part in the optional visit to the Citadel, a medieval fortress in the center of Cairo. This UNESCO World Heritage Site, known for its expansive views of the city, now contains museums and mosques. Have lunch in a local restaurant before continuing to the Egyptian Museum, a neoclassical style building located in Tahrir Square. The museum houses the world's largest collection of ancient Egyptian artifacts. Finish the tour with a visit to a gold shop. Tonight, enjoy a Farewell Dinner with your fellow travelers at the hotel. (Breakfast, Dinner)

Optional: Citadel & Egyptian Museum with Lunch.
DAY 10, Wednesday - Depart Egypt
Transfer to the airport for your departure flight. (Breakfast)
Tour Map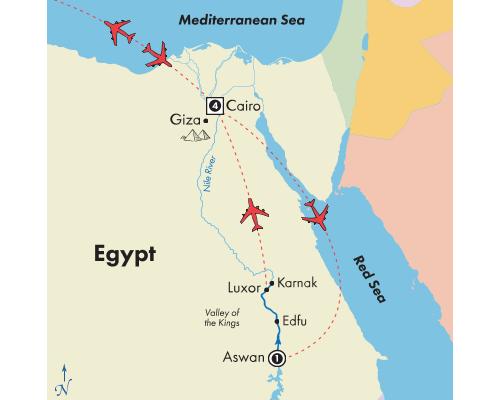 River Cruise Highlights
Marvel at the oldest structure of the "seven wonders of the ancient world", the Great Pyramid of Giza
In Sakkara, view the famous Step Pyramid of Djoser
View the world-famous Aswan High Dam, an engineering miracle, built in the 1960s
Discover the Temple of Philae dedicated to the goddess Isis with its beautiful island location
Enjoy a 3-day cruise on the Nile and admire the spectacular scenery of the Nile Valley
Explore the imposing Greco-Roman Temple of Kom Ombo
Tour the stunning Temple of Edfu, dedicated to the falcon god Horus, built in the Ptolemaic period
Admire the two colossal statues of Ramses II at the entrance to the ancient Luxor Temple
Visit the magnificent Temples of Karnak, dating back over 3,000 years
All This Included
Round trip flights New York-Cairo, Cairo-New York
Airline taxes & fuel surcharges
All intra-flights: Cairo-Aswan, Luxor-Cairo
8 nights accommodations
Hotel taxes, fees & service charges
Hotel & cruise porterage
All transfers
18 meals: 8 breakfasts, 6 lunches, 4 dinners
Sightseeing per itinerary in modern air-conditioned motor coach
Services of English-speaking tour manager throughout
Entrance fees per itinerary
Accommodations on this Tour
Cairo: Cairo Marriott Hotel & Omar Khayyam Casino
Aswan: Movenpick Resort Aswan
Cruising: MS Esplanade
Cairo: Cairo Marriott Hotel & Omar Khayyam Casino
Notes
Cruise sailing times are subject to change.
At certain times of the year your itinerary may be amended to travel early in the morning and late afternoon to avoid the heat.
Order or duration of some visits may be affected during official holidays.
Due to regional laws, hotels and restaurants will not serve alcoholic beverages on certain holidays. On these days, no wine or beer will be included with dinner.
This package is based on pre-confirmed flights from JFK via EgyptAir and may only be purchased with these flights.
During Ramadan (Apr 23 - May 23, 2020), historic and cultural sites may close early and operate with minimal staff. The order of sightseeing may be changed to accommodate the holiday observance. Traffic congestion is common during Ramadan. Some hotels and restaurants may not serve alcoholic beverages. Entertainment may be limited to be respectful of the holiday observance. Modest dress is suggested during Ramadan (no shorts, short skirts, or sleeveless tops). Use discretion when drinking, eating, and smoking in public between sunrise and sunset.
While very few improvements have been made in recent years, Egypt's history and culture have not changed but recent political events have left their mark on daily life. You may see more armed guards and police vehicle presence than in the past. Security is of primary importance and we encourage you to travel in groups and not alone. Hotels and ships are working hastily on their services to meet demands. Investments in the infrastructure are lagging behind. Therefore the buses and transfer vehicles, although clean and well maintained, are an aging fleet. Most domestic flights from Cairo to Upper Egypt (Luxor, Aswan) depart in the early morning, requiring waking before dawn. Some common comforts such as hygiene may be lacking. Consider the local dress code and watch your diet. Eat cooked foods only and stick to bottled beverages. Due to Egypt's proximity to the Sahara Desert, local hot winds bring sand and dust everywhere.
This active program covers a good amount of ground each day. Expect from three to four hours walking on some touring days as well as early starts. The pace is moderate, however, you will encounter some uneven surfaces, stairs, steps and significant slopes. Traffic congestion and delays are common, particularly in downtown Cairo. This trip includes several different modes of transportation, including motorcoach, motorboat, and horse-drawn carriage, which require agility to embark and disembark. This is a Classic program.
Please ask your Vacations To Go travel counselor for more information.
Terms and Conditions
* The prices shown are U.S. dollars per person, based on double occupancy, and subject to availability. Prices quoted for land/cruise arrangements are subject to increase without notice. Once we have received your deposit, land/cruise prices are guaranteed. Air prices quoted via phone or email are subject to increase and are guaranteed only from the time that full payment is received. Also, air prices or air promotions mentioned on this site or on the phone do not include baggage fees imposed by airlines. Sorry, we are unable to offer air from countries other than the U.S. However, for those international customers who are able to arrange their own transportation to the trip origination city, we are able to offer the land/cruise portion of the package at the price quoted.
800-510-4002

OR

Open Mon-Fri 7am to 10pm, Sat 8am-8pm, Sun 9am to 8pm, CST
| | | |
| --- | --- | --- |
| | a division of | |