Elegance of the Nile Winter 2020-2021
12 days with Luxury Gold by Insight Rating: Deluxe
River Cruise Itinerary
Day 1 Cairo at leisure.
Your complimentary, private transfer takes you to your local departure airport. Welcome to Egypt - a mystical and timeless land, where the ancient and modern world live side by side. On arrival in Cairo, you will be met at the airport and transferred to your elegant hotel.

Day 2 Cairo sightseeing.
After meeting your Luxury Gold Egyptologist, head for one of the seven wonders of the ancient world, the Great Pyramids at Giza and their guardian Sphinx. Your exploration of Cairo with a Local Expert includes entry to also go into one of the Pyramids. Continue to Sakkara, to see the Step Pyramid of King Zoser, the oldest in the world, dating back to 2700 B.C. Nearby lies Memphis; famous capital of ancient Egypt. See the colossal statue of Ramses II and the great Alabaster Sphinx. In the evening, get to know your Travelling Concierge and fellow guests over a Welcome Drink at the hotel. Later, return to Giza as night falls to attend a magical Sound & Light show at the world famous pyramids, which literally illuminates the ancient history of Giza!(Breakfast)

Day 3 Join your cruise in Luxor.
Transfer to the airport for your flight to Luxor. Visit Karnak, the largest temple complex ever built by man, constructed over a period of 1,500 years. Walk through the avenue of ram-headed sphinxes, past the statue of Rameses II, to stand in awe among the huge columns of the vast Hypostyle Hall. Then board your luxurious river cruise ship, one of the most stylish and spacious in Egypt. In the evening, enjoy a gala reception and dinner.(Breakfast / Lunch / Dinner)

Day 4 The Temple of Hathor and Luxor.
Enjoy a drive from Luxor to visit the Temple of Hathor in the morning. Built in the 1st century B.C., it remains one of the best preserved temples in all of Egypt and contains a rare depiction of Cleopatra VII and Caesarian, the son of Julius Caesar. Return to Luxor for some leisure time before visiting the UNESCO World Heritage Site of Temple of Luxor. Founded in 1400 B.C. during Thebe's Golden Age, it's a stunning sight at sunset.(Breakfast / Lunch / Dinner)

Day 5 The West Bank and Valley of the Kings.
Travel by air-conditioned coach to the West Bank of the Nile. Stop for photos at the Colossi of Memnon – these gigantic twin stone statues of Amenhotep III once guarded his mortuary temple. Venture on to the amazing Temple of Hatshepsut, Egypt's first female pharaoh who ruled from 1479 to 1458 B.C. Then head to the Valley of the Kings, one of the most famous archaeological sites in the world and the burial place of Tutankhamun, whose mummified remains are still on display. Next, visit a working bakery and witness the local artisans creating authentic Egyptian bread. At night, join in the fun at an Egyptian dinner and a lively galabeya party.(Breakfast / Lunch / Dinner)

Day 6 A Felucca around Kitchener's Island.
Stretch out on a traditional Nile felucca (sailboat) for a peaceful ride around Kitchener's Island. Back onboard, relax and enjoy a visual feast as you cruise along the Nile to Aswan. In the evening, you will be treated to an Egyptian belly dancing performance.(Breakfast / Lunch / Dinner)

Day 7 Aswan and High Dam.
Sightseeing includes a visit to the modern Aswan High Dam and the ancient Granite Quarries, where one of Queen Hatshepsut's obelisks lies abandoned in the bedrock. Cross the Nile by motorboat to the well-preserved Philae temple complex, moved stone-by-stone to its current location following the construction of the High Dam. Next, take a small boat along the banks of the Nile, watching for colourful native birds as you travel to a small Nubian village. Visit the traditional dwelling of a local family and enjoy Nubian-style hospitality as you learn more about the area's unique culture. In the late afternoon, join the likes of Winston Churchill and Agatha Christie before you, with a colonial-style high tea at the Old Cataract Hotel. Once on-board your stylish and spacious cruiser, savour a Highlight Dinner accompanied by a Nubian folklore show and live music.(Breakfast / Lunch / Afternoon Tea / Dinner)

Day 8 Relax upon the Nile.
The morning is at leisure to relax or explore, or maybe take a Bespoke Experience by air to Abu Simbel? These fabulous temples were carved out of the cliff side by Rameses II and later transported, in an amazing feat of modern engineering, out of the rising waters of Lake Nasser. Later, begin your return voyage along the Nile, lined by a green ribbon of fertile land, with the arid desert beyond. The river continues to play a vital role in everyday life. In scenes that have hardly changed for centuries, local residents swim, bathe, work and play along its shores, while water buffalo graze in nearby fields. In the afternoon, visit the unique double-temple of Kom Ombo, dedicated to both the crocodile-headed Sobek and the Falcon God, Horus the Elder. In this sacred place near the riverbank, captive crocodiles were worshipped in life and mummified after death.(Breakfast / Lunch / Dinner)

Day 9 From Esna to Luxor.
Start off with a visit to Esna Temple. Situated in the centre of Esna, this fascinating and highly decorated temple is dedicated to the ram-headed God Khnum, the God of creation. Then visit Esna Lock before sitting back and observing everyday life in rural Egypt as you float down-stream to Luxor.(Breakfast / Lunch / Dinner)

Day 10 Luxor.
Check into your famous hotel built to attract the nobility of Europe. Over the years it has been home to Howard Carter, Jane Fonda, King Farouk as well as many crown princes and princesses. The afternoon is at leisure.(Breakfast)

Day 11 Return to Cairo.
After breakfast, transfer to the airport for your flight back to your stylish hotel in Cairo. Once in Cairo, enjoy incredible hilltop views over the city from the imposing Citadel of Salah El Din. This massive 12th century compound was home to Egypt's rulers for more than seven hundred years. Visit the sublime Alabaster Mosque of Mohammed Ali, with its highly ornate interior, before putting your bargaining skills to the test at the Khan El Khalili bazaar. Continue to the Egyptian Museum to admire the priceless treasures recovered from the tomb of Tutankhamun.(Breakfast)

Day 12 Depart Cairo.
Your travels conclude with transfers to Cairo Airport. On arrival at your home airport, your driver will greet and escort you to your waiting car for your private transfer home.(Breakfast)

Tour Map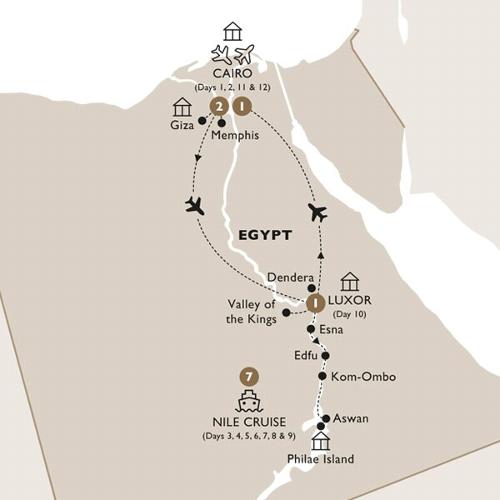 River Cruise Highlights
Exceptional Dining
Nile Cruise: Enjoy an onboard gala reception and dinner.
Luxor: Visit a working bakery and witness the local artisans creating authentic Egyptian bread.
Nile Cruise: Join the fun at an Egyptian dinner and galabeya party.
Nile Cruise: Enjoy an evening of dinner and traditional Egyptian belly dancing.
Aswan: Like Winston Churchill and Agatha Christie before you, enjoy the sunset and high tea in colonial English-style at Aswan's famous Old Cataract Hotel.
Nile Cruise: Enjoy dinner accompanied by a Nubian folklore show.
Dining Summary: 11 Breakfasts (B), 7 Lunches (L), 1 Afternoon Tea (AT), 7 Dinners (D) all with bottled water, tea or coffee. Festive Highlight Dinners: 21 Dec includes an additional New Year's Eve Highlight Dinner in Cairo and 28 Dec includes a New Year's Eve Highlight Dinner onboard the Nile Cruise.
Journey Highlights
Giza: With your Egyptologist, meet the enigmatic Sphinx and venture deep inside one of the pyramids, to the chambers where the pharaohs went to meet their Gods in the afterlife.
Sakkara: Witness the Step Pyramid of King Zoser that dates back over 4,700 years.
Memphis: Led by your Travelling Concierge, explore this ancient capital and see the magnificent statue of Ramses II and the Alabaster Sphinx.
Giza: If only these walls could talk! Oh, but they do at the audio visual Sound & Light Show at the Great Pyramids.
Cairo: Board your included flight to reach Luxor.
Karnak: Stand amid a vast forest of columns in the largest temple complex known to man.
Dendera: Visit the Temple of Hathor and see the rare depiction of Cleopatra VII and Caesarian.
Luxor: Visit the Temple of Luxor, a UNESCO World Heritage Site.
West Bank: See the might Colossi of Memnon, guarded by two giant seated figures of Amenhotep III.
Valley of the Kings: Embark on an experience with an Egyptologist as you venture to the Necropolis where many pharaohs were laid to rest. See the royal tombs and visit the Temple of Hatshepsut.
Kitchener's Island: On a traditional Nile felucca, meet a sailor and learn the art of sailing this ancient Nile craft as you cruise around Kitchener's Island.
Aswan: During your visit to Aswan High Dam and the granite quarries, witness one of Queen Hatshepsut's unfinished obelisk.
Philae Island: Travel by motorboat to the island of Philae and visit the Temple of Isis which appears to rise from the waters.
Aswan: Travel to a small Nubian village, visit a traditional dwelling of a local family and enjoy Nubian-style hospitality.
Kom Ombo: Learn about the only temple in Egypt that is dedicated to two gods.
Esna: Visit Esna Temple, dedicated to the god of creation, the ram-headed Khnum, as well as Esna Lock.
Luxor: Catch your final glimpse of the Nile onboard your included flight back to Cairo.
Cairo: Sightseeing with your Travelling Concierge includes a visit to the Citadel along with Mohammed Ali's Alabaster Mosque and a visit to the Khan El Halili bazaar.
Cairo: During your visit to the Egyptian Museum with your Local Expert, gaze upon the most recognisable symbols of ancient Egypt: the full-faced funeral mask, gold coffin, gilded throne and precious jewellery - Tutankhamun's treasure.
Luxury Hotels
Cairo: Overlooking the magnificent River Nile, the Conrad Cairo is centrally located and offers premium rooms, elegant dining and 24-hour entertainment with a glamorous International Casino.
Cruising: For the ultimate in luxury and refinement, set sail aboard the deluxe all-suite River Tosca. Experience old-world elegance, blended with modern amenities and comfort. The spacious suites are tastefully designed with marble bathrooms. Outside on the sun deck, the pool and shaded cabanas offer an oasis of calm to relax and enjoy the ever-changing scenery.
Luxor: The opulent five-star Winter Palace Luxor blends rich colonial design with the glory of Pharaonic times. Set amid luxuriant tropical gardens, this hotel offers the perfect retreat after a busy and exciting day exploring.
All This Included
The Nile has long been a reflection of Egypt's history and destiny - an economic lifeline, a great highway to conquest and a source of inspiration throughout the centuries. Now it's your turn to be inspired as ancient history and spiritual wonders are revealed at every turn.
INCLUSIVE LUXURY GOLD SERVICES
You will be escorted by one of our fine Travelling Concierges, handpicked to serve as your expert guide, consummate organiser, and friend overseas. See booking conditions for exemptions.
Enjoy the comfort of Luxury Gold's air-conditioned coach with onboard restroom. See Notes in the pricing panel for exemptions.
At every hotel, you'll be treated to seamless baggage handling, with prompt delivery inside your room.
Hotel and restaurant tips are included - you'll never have to worry about how much to give, nor search for foreign currency. We also include all taxes and porterage charges at hotels.
From time to time, your Travel Concierge will enchant you with a Luxury Gold Flourish, which is a local specialty representing the destination.
At every hotel, you'll be treated to seamless baggage handling, with prompt delivery inside your room.
Complimentary, private airport transfers are included on start and end dates, when flights are included within the itinerary and when additional accommodation has been booked through Luxury Gold.
Included in the price
Intra Tour Air Luxor to Cairo
Intra Tour Air Tax Luxor to Cairo
Intra Tour Air Cairo to Luxor
Intra Tour Air Tax Cairo to Luxor
Accommodations on this Tour
Cairo: Conrad Cairo
Cruising: River Tosca
Luxor: Winter Palace Luxor
Cairo: Conrad Cairo
Notes
Cabin upgrades are available.
International travel often requires an overnight flight. Please arrange flights to arrive on or before Day 1.
Please contact the consulate/embassy and family doctor for further details on medical vaccinations that may be required for specific countries.
A valid passport with at least six months validity after your return date is required.
If travellers have not booked their flights with Luxury Gold Vacations, flight details must be provided at least 60 days prior to departure. They can be added to the reservation at any time through My Luxury Gold on our website: https://www.luxurygold.com/ca or call our Sales Centre.
Internal Flights - Luggage allowance is limited to 1 suitcase per person (maximum of 23kg/50Ibs) and 1 hand luggage per person (maximum of 7kg/15lbs). Full passport details are required prior to final payment.
Smaller motorcoaches without toilet facilities may be used.
Please ask your Vacations To Go travel counselor for more information.
Terms and Conditions
* The prices shown are U.S. dollars per person, based on double occupancy, and subject to availability. Prices quoted for land/cruise arrangements are subject to increase without notice. Once we have received your deposit, land/cruise prices are guaranteed. Air prices quoted via phone or email are subject to increase and are guaranteed only from the time that full payment is received. Also, air prices or air promotions mentioned on this site or on the phone do not include baggage fees imposed by airlines. Sorry, we are unable to offer air from countries other than the U.S. However, for those international customers who are able to arrange their own transportation to the trip origination city, we are able to offer the land/cruise portion of the package at the price quoted.
800-510-4002

OR

Open Mon-Fri 8am to 6pm, U.S. Central Time
| | | |
| --- | --- | --- |
| | a division of | |