Day 1 Arrive Paris and embark ms Sapphire
Tour begins: 4:00 PM. A transfer is included upon your arrival from Paris Charles de Gaulle Airport or the Gare de Lyon, Charles de Gaulle or Gare du Nord train stations to your riverboat on the Seine. Settle into your cabin and make yourself at home, then join us for cocktails, canapés, dinner and entertainment aboard ship. Bienvenue! (D)

Day 2 Private evening visit to Musée du Louvre and other Parisian landmarks
Your first full day in Paris promises to delight with an up-close look at the art and architecture that rightfully gives it a reputation as a city of arts par excellence. Join us for an orientation tour of landmark sites; the remainder of the day is free for you to experience Paris as you wish. Your Tauck Director can offer suggestions for sightseeing, people watching, art viewing, garden strolling and, of course, wining and dining. Whether you are looking forward to sampling a heavenly macaron or two in a pâtisserie, tea, chocolates and croissants in a salon de thé, a picnic lunch of warm-from-the-oven baguettes and creamy fromage in any number of garden-graced parks or wish to indulge in fine wine and an elegant gourmet dinner at a landmark brasserie, Paris caters to every taste and interest. This evening, join us for a Tauck Exclusive - a private evening visit to Musée du Louvre! Tauck guests skip the lines - and the general public - on a private after-hours evening visit to the incomparable Musée du Louvre, a showcase of Impressionist paintings. The Louvre, housed in a former royal palace, astounds with an incomparable collection of old masters, sculptures and antiquities, including the beguiling Mona Lisa and the wingless Venus de Milo. This special evening is certain to be a highlight of your week in France! (B, L)

Day 3 Palace life at Château de Versailles
Château de Versailles is unequaled in its display of regal splendor and privilege as you will see during your visit here. Louis XIV (the Sun King) built this "country home" to escape the confines of the Louvre and Paris in 1682, and made it large enough to house all of his courtiers and servants - it was eventually expanded to include 2,300 rooms; he also built the town of Versailles while he was at it. Prepare to be dazzled when your guide takes you inside the palatial estate to see opulently decorated rooms in the King's Apartments, including the superb Hall of Mirrors where the Treaty of Versailles was signed on June 28, 1919, ending the First World War. If you wish, enjoy some free time or join your Tauck Director for a tour of the chateau's gardens. The gardens are a monumental counterpart to the palace in design and décor, a showcase of magnificent bronze statues, patterned flower beds, lakes, fountains and architectural gems, from a marble colonnade to two smaller palaces. Meet your riverboat and sail for Rouen, which is home to Joan of Arc memorial sites. (B, D)

Day 4 Historic monuments in Rouen
Enjoy informative insights about the history and sights you'll see today as we spend the morning cruising to Rouen. Victor Hugo called Rouen "the city of a hundred spires," and while the ravages of war destroyed many of the steepled buildings he was referring to, those that still stand today are rich with historical associations. A guided city tour this afternoon shows you the Gothic Cathédrale Notre-Dame, immortalized in close to 30 paintings by Impressionist artist Claude Monet, and the Place du Vieux Marche, site of Joan of Arc's untimely death when she was burnt at the stake. Normandy is lush with fertile landscapes that make its agricultural endeavors flourish and prosper. World-renowned Camembert cheese is produced here along with meat, poultry and fruit products - local specialties that offer an authentic taste of the region. Enjoy the Chef's signature dinner in the Compass Rose as your riverboat continues to Le Havre tonight. (B, L, D)

Day 5 Étretat or Caen and seaside Honfleur
From Le Havre on the English Channel coast, choose your first sightseeing activity; a visit to Caen and the Caen Memorial, or a guided visit to Étretat - a quintessential village steeped in history, cultural treasures and seaside pleasures where agriculture and dairy products are mainstays and farms dot the countryside. Explore the beach resort town on a guided tour; sheer cliffs cut in a perfect arch protude into the sea. Following your morning visits it's on to Honfleur for an orientation tour with time at leisure for lunch. The first Impressionist artists, including Claude Monet, Charles-François Daubigny and Jean-Baptiste-Camille Corot, developed their painting style in Honfleur, one of the most charming fishing ports in all of Normandy. See a parade of Renaissance architecture and half-timbered houses along its cobbled streets as you discover for yourself why this colorful town was so beloved by artists. Back aboard ship, an interesting lecture about D-Day, one of the most somber dates in history, shares insights on the immortalized sites you will see tomorrow. (B, L, D)

Day 6 Guided visit to the Normandy beaches
For more than 70 years, the D-Day beaches along the Côte de Nacre have stood as poignant reminders of the historic Allied operation of June 6, 1944, when a massive armada of troops, with more than 5,000 ships and 13,000 aircraft, converged on the heavily fortified coastline to fight Nazi Germany. The wartime code names for the beaches along this 50-mile stretch still exist - Utah, Omaha, Gold, Juno, Sword - paying proud tribute to the heroism of the thousands of soldiers who lost their lives here. Our expert local guide shares insights during stops at Omaha Beach, bordered at each end by large rocky cliffs, and the American Cemetery, located on a bluff overlooking Omaha Beach, eternal resting place for some 9,300 American World War II soldiers. Return to the riverboat to continue your cruise; enjoy evening cocktails before dining onboard as you wish. (B, L, D)

Day 7 Jumièges Abbey & an evening at Château du Taillis
After a morning at leisure and lunch aboard the riverboat, drive along country roads past churches and châteaux in various states of repair to visit Jumièges Abbey, once one of the great Benedictine abbeys of France. First built in 654, this wealthy limestone abbey grew to house 700 monks and 1,500 lay brothers in its first 50 years. Destruction came in waves when it was attacked by Viking raiders between 841 and 940, rebuilt in the 11th century, then razed again in a succession of French wars. Today it reigns unrivaled in a parklike setting that evokes memories of its former grandeur, giving measure to what Victor Hugo called "the most beautiful ruin in France." Tonight, you'll have the opportunity to experience "the good life" in Normandy when you enjoy a gala evening including a private reception, dinner and music at the picturesque Château du Taillis. (B, L, D)

Day 8 Château Gaillard and tastes of Calvados and cider
Taking full advantage of its hilltop perch overlooking the river, the Château Gaillard is the crowning centerpiece of Les Andelys. Built in 1197 by Richard the Lionheart, King of England, during a power play with France's King Phillip II, Château Gaillard was lauded as the strongest castle of its time. It earned this designation for its innovative military-style concentric construction that was designed to confound invaders and for its use of machicolations, holes in the flooring that enabled castle occupants to drop stones or other heavy objects on attackers at the base of a defensive wall. The limestone castle consisted of three enclosures separated by dry moats, with a keep in the inner enclosure. Unlike other castles of its time which took a decade or more to build, Château Gaillard was completed in just two years by some 6,000 laborers under the watchful, and often impatient, eyes of its king. What remains today evokes images of how this medieval castle looked and operated at its height of power, with the riverside views affording you the same vantage point coveted by its royal inhabitants. Pommes, apples in English, play an important part in the history of Normandy, with apple orchards taking root in Roman times. While the first cider was said to have been distilled in 1553, before that the Norman apple was used in poultices, ointments and cosmetics (hence the term "pommade"). With over two thousand varieties of apples, Normandy is naturally proud of its cider and of its Calvados - apple brandy, for which this region is also famous. Visit a local farm for a taste of both en route back to your riverboat. Have lunch onboard while we cruise to Vernon for a late afternoon arrival. (B, L, D)

Day 9 Impressionist painter Claude Monet's home & gardens at Giverny
In springtime, it's awash in pink and green, adorned in wisteria, azalea and water lilies, and basked in dappled sunlight that is reminiscent of the works of its famous 43-year resident, painter Claude Monet. Giverny invites discovery today on a Tauck Exclusive early-opening visit that shows you the artist's home as he lived it and painted it. His pink stucco house gives the impression that his family of 10 still lives there; its rooms showcase his private furnishings and his collection of Japanese prints adorn walls throughout. Outside, you'll find easels displaying works-in progress in his garden studios, including replicas of the immense water lily paintings that hang in Paris at the Musée l'Orangerie, and the gardens that inspired them. You will have time to walk pathways bordered with nasturtiums, hollyhocks, hybrid lilies or snapdragons, depending on the season's blooms, and go through the tunnel that leads to the Water Garden and the oft-painted Japanese Bridge. You may want to pose for a photo or a quick sketch during your visit, perhaps painting your own impressionist work from it when you return home. Meet your riverboat in Conflans-Saint-Honorine after lunch in a local restaurant, and head back along the Seine, bound for Paris. Your last night aboard ship will be a festive affair as you are invited to celebrate with us during the Captain's Farewell reception and dinner. (B, L, D)

Day 10 Journey ends
Tour ends: Paris. Fly home anytime; a transfer from your riverboat to Paris Charles de Gaulle Airport or the Gare de Lyon, Charles de Gaule or Gare du Nord train stations. Allow a minimum of 3 hours for flight check-in. For additional hotel nights in Paris, ask at booking. (B)

Tour Map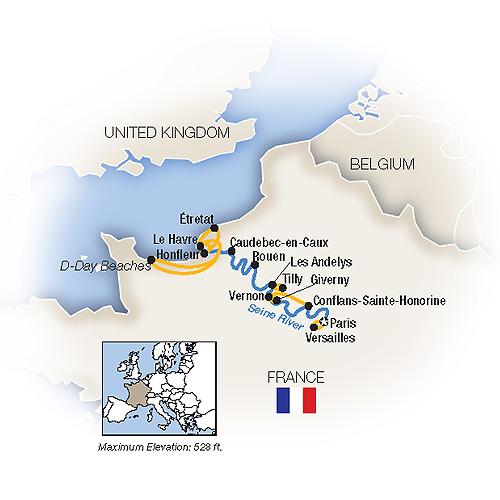 River Cruise Highlights
Private Tauck dinner at a château
Tauck Exclusive private after-hours evening visit to Musée du Louvre
Calvados tasting
Apple cider tasting
Early opening visit to Monet's home in Giverny
All This Included
Your Parisian rhapsody... flows through the heart of the city of l'amour, meanders through painted landscapes and flowers with romance in seaside villages and exquisite gardens along the Seine on this Paris to Normandy river cruise aboard our ms Sapphire. Impressions of France... rendered on canvas on an after-hours private visit to Musée du Louvre, quickly captured by street artists in Montmartre, gilded into a golden palace at Versailles, indulged during a château dinner, distilled into apple brandy and cider, carved into a clifftop castle, and floating in a Water Garden... linger long after you return home. Follow the Seine to coastal Normandy on a 10-day journey that's sure to impress. Discover the art of Paris for two nights before a 7-night cruise to Rouen, Honfleur and Giverny, immortalized by Impressionist artists. Visit D-Day beaches, sample Calvados where it is made, dine at a private château and more before returning to Paris via riverboat.
Gratuities to ship staff, drivers, local guides, Tauck Directors and Tauck Cruise Director
Tauck's private shore excursions and distinctive inclusions valued at $2,677
A choice of excursions in Paris to Montmartre or Château de Versailles
Private Tauck dinner at a Normandy château with musical entertainment
Tauck Exclusive - Private after-hours evening visit to Musée du Louvre
Visit to Impressionist artist Claude Monet's house and gardens at Giverny
Visit to the D-Day Beaches and American Cemetery overlooking Omaha Beach
Visit to Château Gaillard and apple cider and Calvados tastings
Unlimited complimentary beverages aboard ship include regional wine, beer and premium spirits in addition to specialty coffee, water and soft drinks
Airport and train station transfers upon arrival and departure as noted
24 meals, service charges, taxes, porterage & applicable fuel surcharge
Accommodations on this Tour
Cruising: Cabin onboard ms Sapphire

Notes
Cabin upgrades are available.
Private Louvre visit is not available on April 9, June 18 and October 1 departures; on these dates you will have a choice of guided museum visit.
Although not expected, Tauck reserves the right to alter the sequence of ports or omit or substitute scheduled ports or attractions at any time without prior notice. Further, museums and attractions may be subject to closure due to state, local or religious holidays. This cruise includes a fair amount of walking.
Please ask your Vacations To Go travel counselor for more information.
Terms and Conditions
* The prices shown are U.S. dollars per person, based on double occupancy, and subject to availability. Prices quoted for land/cruise arrangements are subject to increase without notice. Once we have received your deposit, land/cruise prices are guaranteed. Air prices quoted via phone or email are subject to increase and are guaranteed only from the time that full payment is received. Also, air prices or air promotions mentioned on this site or on the phone do not include baggage fees imposed by airlines. Sorry, we are unable to offer air from countries other than the U.S. However, for those international customers who are able to arrange their own transportation to the trip origination city, we are able to offer the land/cruise portion of the package at the price quoted.