River Cruise Itinerary
Day 1 Arrive Zurich and journey to Bern
Tour begins: 6:30 PM. A transfer is included from Zurich Airport or the train station (Zürich Hauptbahnhof) to the Bellevue Palace Bern in Bern, the capital of Switzerland, which is surrounded by the Aare River and distant Alpine peaks. Your two-night stay is at an historic luxury hotel favored by celebrities and heads of state, and featured in master spy novelist John LeCarré's spy novels. Join us this evening for a welcome reception and dinner.

Day 2 Travel to Jungfraujoch or explore Bern
You have a choice of sightseeing adventures today. Head for the snow-capped mountains on a full-day's excursion to Jungfraujoch, known as the "Top of Europe." Drive to the village of Lauterbrunnen for a train ride to Kleine Scheidegg, then board a cogwheel train for the scenic climb to Jungfraujoch, highest railway station in Europe; here you'll find a restaurant, observatory, research station, a gallery of ice sculpture, and breathtaking views of the glacier-clad Bernese Alps. Alternatively, explore the eclectic charms of Bern on a walking tour, followed by time on your own. Sights include open-air markets and cozy underground bars, the Parliament Building, the Gothic cathedral, a bear park (in honor of the town's symbol and mascot), a house where Einstein lived and wrote his "Theory of Relativity," and the Zytglogge, a 16th-century astronomical clock featuring animated figures. Spend the evening as you please; the vibrant nightlife includes trendy clubs and restaurants, and a grand casino. (B, L)

Day 3 From Lucerne to Basel & embark ship
Leave Bern this morning and arrive in Lucerne, nestled beside a stunning blue lake in the Alpine foothills. Features of Lucerne's medieval old town (picturesque market squares, burghers' houses, spired churches, and restored ramparts) unfold on a walking tour which includes the 14th-century Chapel Bridge, the oldest wooden covered bridge in Europe, and the Lion Monument, an eloquent memorial to Swiss soldiers who died in the French Revolution. Following a lake cruise on shimmering Lake Lucerne, enjoy lunch as you please, then travel to Basel, where you'll board your riverboat. Join us for a welcome reception as you sail for Breisach, Germany. (B, D)

Day 4 Colmar in the Alsatian wine country
Dock in Breisach, then drive to the village of Colmar, France, in Alsatian wine country. The principal industry in Colmar is food and wine, but its irresistible charm lies in its beautifully preserved medieval architecture that conjures an idyllic place out of time: colorful half-timbered houses and gardens, rambling cobbled streets, arches and alleys, sculpted fountains, and canals that wind through a corner of town called Little Venice. Aside from its winemaking heritage, Colmar is known as the hometown of Auguste Bartholdi, the sculptor who created the Statue of Liberty. A walking tour includes a visit to the Unterlinden Museum, housed in a Gothic convent, whose impressive collection includes Mathias Grünewald's famous Isenheim Altarpiece, paintings, engravings and sculpture from medieval to modern (including works by Dürer and Holbein, Picasso and Léger), and a wealth of archaeological artifacts; join us for a private reception in the museum, a Tauck Exclusive! Sample the art of Alsatian cuisine at lunch on your own, then return to the riverboat for a sail through the Upper Rhine Plain. This evening, join us for the captain's welcome reception in the lounge, followed by the chef's Signature Dinner in the Compass Rose. (B, L, D)

Day 5 Stuttgart & Porsche, cycling or Baden-Baden
Arrive in Karlsruhe this morning, where you'll have the choice of staying in town for a bicycling excursion; departing by coach for a visit to Stuttgart, the cradle of the automobile and the hometown of Porsche and Mercedes-Benz; or traveling to the spa town of Baden-Baden. Despite its reputation as an industrial powerhouse, Stuttgart offers a charming, small-town atmosphere, tucked in a valley between vineyards and forests, and an inviting urban landscape of historic sites, lakes, parks, and gardens. After a walking tour and lunch, you have a choice of touring the Porsche Museum – a dazzling ultramodern showcase featuring 80 cars, from the earliest models to the present (including concept cars and prototypes), in exhibits that trace the history of the legendary car company – or spending free time in the city center, exploring its magnificent architecture (neo-classical palaces, restored castles, gracious public squares and baroque fountains) as well as shops, galleries, cafes and wine taverns. Should you choose the Baden-Baden excursion, you'll have the choice of a guided walking tour or a visit to the Caracalla Spa. Return to the ship for dinner this evening, followed by musical entertainment onboard. (B, L, D)

Day 6 Rüdesheim and an evening at Schloss Ehreshoven
Near the foot of the Neiderwald, surrounded by vineyards, the ruins of Ehrenfels Castle watch over the Rhine Gorge; just around the bend, you'll dock in the winemaking town of Rüdesheim, under the lofty gaze of the famous Neiderwald Monument. The 1000-year-old town charms with its cobblestone streets of storybook houses, cafes and wine taverns; among its must-see attractions is Siegfried's Mechanisches Musikkabinett, a museum dedicated to antique self-playing musical instruments. Siegfried's mesmerizing collection includes orchestrations, musical clocks, player pianos, fairground organs, self-playing violinas, and the world's largest automated doll orchestra. Stop in for refreshments at Rudesheimer Schloss, an historic hotel and restaurant. Then return to the riverboat for a cruise on the romantic Middle Rhine. Sentinel castles, steep sloping vineyards and towering precipices like the Lorelei Rock wind past with commentary by your Tauck Director. Land at Linz am Rhein, then drive to Engelskirchen for a visit to its neighboring castle, Schloss Ehreshoven. Built in the 14th century and later expanded in the style of a grand Baroque manor house, the estate is surrounded by a moat, landscaped gardens, and a castle park. Schloss Ehreshoven is frequently used as a film location but this evening it's the elegant setting for a Tauck Exclusive cocktail reception and dinner with entertainment. Tonight, sail for Bonn, where you'll dock overnight. (B, L, D)

Day 7 Exploring all that is Köln
Depart Bonn this morning for a short cruise to Köln (Cologne). One of Germany's oldest cities (founded in the 1st Century AD), Köln was once a Roman provincial capital, and later a fabulously wealthy medieval trading port; the city was almost totally destroyed during World War II, but many of its architectural treasures have been restored, including the towering Kölner Dom (Cologne Cathedral) – a twin-spired masterpiece of High Gothic architecture – which you'll visit today, along with the nearby Roman Germanic Museum. Return to the ship for lunch. This afternoon, you'll cruise the lowlands of the Rhine (with commentary) en route to Dordrecht in the Netherlands. (B, L, D)

Day 8 The Kinderdijk Windmills
Your riverboat arrives this morning in Dordrecht, a wealthy trading port in the Middle Ages, for an excursion that offers insights into windmills and their ubiquitous role in Dutch life... a visit to the village of Kinderdijk (Child's Dyke), where the flat landscape, crisscrossed with canals, presents the largest concentration of historic windmills in The Netherlands – which you can choose to explore on a walking tour and a boat ride, or on a two-hour bicycle excursion. The 19 windmills, most of them built in the 18th century, are national monuments; for centuries, their massive wind-driven mechanisms have been used to pump water out of the polder and into reservoirs and canals, reclaiming land from the river. Such ingenious methods of water management have enabled a country that is almost fifty percent below sea level to exist at all, lending weight to the local saying, "God created the Earth, but the Dutch created Holland." Return to the riverboat for lunch, then enjoy free time to explore the charming cobbled streets of Dordrecht, rich with historic sites, antique shops, and art galleries. Dine aboard ship this evening. (B, L, D)

Day 9 Amsterdam... art, canals & more
Arrive in Amsterdam this morning and embark on a city orientation tour that includes a visit to the world-famous Rijksmuseum, home to many art masterpieces of the Dutch Golden Age, including Rembrandt's The Night Watch. Amsterdam is often called the "Venice of the North" for its elaborate network of canals that wind through a romantic historic center of cobbled streets and stunningly well-preserved Dutch Renaissance architecture. Following your Rijksmuseum visit, you'll have a choice of boarding a canal boat for a cruise of the city from the inside, along 17th-century waterways lined with trees, gabled merchant houses and vibrant urban life (a great way to see it – including a slice of Dutch apple pie)... or joining a "Taste of Amsterdam" walking-and-tasting tour of the city's Jordaan district, a diverse, former working-class neighborhood that's become one of the most upscale areas of the Netherlands. Later, you'll have time to explore the city on your own; Amsterdam's compact urban landscape is made for exploring, brimming with art museums, coffeehouses, and eclectic architecture. Aboard ship this evening, enjoy a delightful choral performance before joining the crew for a farewell reception and dinner. (B, L, D)

Day 10 Journey home
Tour ends: Amsterdam. Fly home anytime; a transfer from your riverboat to Amsterdam's Schiphol Airport or Central Train Station is included. Allow a minimum of three hours for flight check-in at the airport. For additional nights in Amsterdam, ask at booking. (B)

Tour Map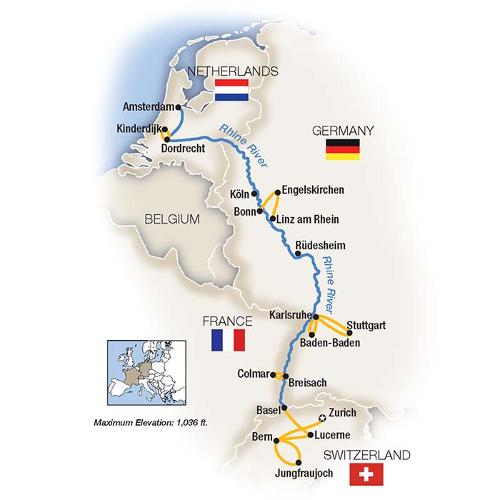 All This Included
Our Swiss Alps and Rhine cruises follow the romantic river on its winding journey from Switzerland to the Netherlands, with a 7-night cruise plus two nights in Bern. You'll experience medieval winetowns, cathedrals, castles, museums, and river landscapes of the kind that inspired JMW Turner and Richard Wagner. Begin with a two-night stay at a luxury hotel in Bern, with an idyll in Lucerne; then sail from Basel with visits to Colmar, Stuttgart, Rudesheim and Cologne... a Tauck Exclusive evening of dinner and music at Schloss Ehreshoven... a visit to the windmills of Kinderdyke, and exploration of Amsterdam including a canal boat tour along the city's historic waterways or a walking and tasting tour of the city's Jordaan district.
TAUCK EXCLUSIVE – Reception at the Unterlinden Museum in Colmar
TAUCK EXCLUSIVE – Dinner and entertainment at Schloss Ehreshoven, a German castle dating back to the 15th century
Tauck's private shore excursions and distinctive inclusions valued at $2,375
Two nights at the Hotel Bellevue Bern
Choice of bicycle excursion in Karlsruhe
A guided visit to Amsterdam's Rijksmuseum, plus a canal boat cruise or a walking & tasting tour of the Jordaan district
Visit to Jungfraujoch, high in the snow-clad Swiss Alps
Choice of visit to the Porsche Museum in Stuttgart
Visit to Siegfried's Musikkabinett, a museum of self-playing mechanical musical instruments
Unlimited complimentary beverages aboard ship include regional wine, beer and premium spirits in addition to specialty coffee, water and soft drinks
Airport & train transfers upon arrival and departure
24 meals; service charges, taxes, porterage & applicable fuel surcharges
Accommodations on this Tour
Bern: Bellevue Palace Bern
Cruising: Cabin onboard ms Grace or ms Inspire
Notes
Cabin upgrades are available.
Itinerary Changes – although not expected, Tauck reserves the right to alter the sequence of ports or omit or substitute scheduled ports or attractions at any time without prior notice.
North and south itineraries are similar.
Museums and attractions may be subject to closure due to state, local or religious holidays.
This cruise includes a fair amount of walking.
Please ask your Vacations To Go travel counselor for more information.
Terms and Conditions
* The prices shown are U.S. dollars per person, based on double occupancy, and subject to availability. Prices quoted for land/cruise arrangements are subject to increase without notice. Once we have received your deposit, land/cruise prices are guaranteed. Air prices quoted via phone or email are subject to increase and are guaranteed only from the time that full payment is received. Also, air prices or air promotions mentioned on this site or on the phone do not include baggage fees imposed by airlines. Sorry, we are unable to offer air from countries other than the U.S. However, for those international customers who are able to arrange their own transportation to the trip origination city, we are able to offer the land/cruise portion of the package at the price quoted.