River Cruise Itinerary
Day 1 Arrive Cairo
Tour begins: 6:00 PM, Marriott Mena House. A transfer is included from Cairo International Airport to the Marriott Mena House, a sumptuous former royal hunting lodge, where your room enjoys views of the pyramids. Join us this evening for a welcome reception and dinner that celebrates your arrival in this historic land. (D)

Day 2 Pyramids of Giza
Drive to nearby Giza this morning for a guided tour of its storied pyramids, including the Great Pyramid of Giza, the last of the ancient Seven Wonders of the World, that have stood as defining symbols of Egypt for millennia. During your visit you will have a choice of entering one of the pyramids and taking a camel ride*. See the carved stone chambers, tomb art and inscriptions that offer a glimpse into the lives of a long-vanished civilization before viewing the most instantly recognizable statue in the world, crafted in limestone with the body of a lion and the head of a king – the Great Sphinx has been mysteriously reclining atop its Giza plateau for more than 3,000 years, guarding still the unanswered secret of who built it and why. Your visit includes entry to the Solar Boat Museum, built to house a replica of the cedar ship that was unearthed next to the Great Pyramid by archaeologists more than 5,000 years after it was buried under the sand. Enjoy lunch at a local restaurant and spend the rest of day exploring Cairo as you like. (B, L)

Day 3 Fly to Luxor for your Nile River Cruise
The River Nile has been an invaluable source of life for the people in Egypt throughout history as it provides them with food, water and an important transportation route. Fly to Luxor this morning, site of the ancient city of Thebes and an extraordinary open-air museum, where your Nile cruiser awaits, embarking ship in time for an onboard lunch. This afternoon, join us for an excursion to the Valley of the Queens with a visit to the beautiful tomb of Nefertari, the great wife of Pharaoh Ramesses II, where the hieroglyphics amaze. Continue to the Valley of the Kings for an after-hours private visit that includes entry to King Tutankhamun's tomb, renowned for the wealth of valuable antiquities it contained when it was discovered unopened in 1922. Return to your ship for dinner at leisure. (B, L, D)

Day 4 Temples of Luxor & Cruise to Esnu
With three main temples and several smaller ones constructed over hundreds of years, Luxor's Temple of Karnak is the largest complex of its time ever built, developed over a thousand years. Explore the site with an expert guide who shares insights about its history and construction, including the 134-columned Great Hypostyle Hall. A locally guided visit to Luxor Temple, connected to Karnak by an avenue of sphinxes, and dating back to the 1300s BC, follows. Return to your Nile cruiser for lunch and a leisurely afternoon cruise to Esna. (B, L, D)

Day 5 Temples of Edfu and Kom Ombo
Sail from Esna early morning and disembark at Edfu to take a horse and carriage to the Temple of Horus, considered to be among the most beautiful and best-preserved temples in Egypt, with its roof still intact. It took 180 years for the temple to be built, and during your guided visit you'll discover why. Massive statues of Horus as a falcon guard entrances and the reliefs on its interior walls relate the story of the birth of Horus and depict Ptolemaic rulers making offerings to the gods and destroying their enemies. Return to your ship by horse cart and cruise to Kom Ombo, where its unusual twin temples are just a walk away from your ship. Temple reliefs here feature a unique engraving thought to depict the first representation of medical and surgical instruments. (B, L, D)

Day 6 A Sacred Temple, A Camel Ride & a Felucca Cruise
A full day of Egyptian exploration includes a camel ride* to the ruins of Saint Simeon Monastery on Elephantine Island in the Nile River, once housing some 300 monks when it was completed in the 10th century; a boat ride to Agilkia Island to see the sacred Temple of Isis at Philae, one of the last of the ancient temples constructed in the "classic" Egyptian style; and a visit to a Nubian village for an opportunity to discover an authentic taste of daily life – and local tea. Back aboard ship, enjoy a relaxing afternoon charting a course towards Aswan, highlighted by a sunset felucca cruise and dinner at leisure. (B, L, D)

Day 7 Disembark and Fly to Abu Simbel
A morning flight brings you to the Nubian village of Abu Simbel for a locally guided visit to its massive temples cut into a solid rock cliff and created during the reign of Ramesses II in the 1200s BC. The Great Temple stands 98 feet high with four seated colossi flanking the entrance and smaller statues depicting Ramessess' conquered enemies lining up below. The smaller temple, some 40 feet high, is adorned by four colossi depicting Ramesses and two of his queen Nefertari at a height of 32 feet. Fly back to Aswan for an overnight stay in the Nubian Desert where your colonial-era palace hotel is located on the banks of the River Nile. Enjoy views of the cataracts in the Nile River from your suite! (B, L, D)

Day 8 Fly to Cairo
Fly back to Cairo this morning, touching down late morning. Visit the pyramids at Saqqara after lunch, site of the necropolis (burial ground) for the ancient Egyptian capital of Memphis. The pyramids you will see here, including the Step Pyramid, the Bent Pyramid, and the Red Pyramid, are magnificent reminders of the early architecture of the pharaohs of the Old Kingdom. Check into your riverside hotel in Cairo, inviting with views of the Nile, where the remainder of the day is at leisure. (B, L)

Day 9 Treasures of Old Cairo
Located on the right bank of the River Nile, the historic district of Old Coptic Cairo predate its modern-day processor with sites that date back to 6th century BC, including ones allegedly visited by the holy family of Joseph, Mary and the baby Jesus. A guided tour includes Roman ruins, ancient Coptic churches, mosques and later visits the Al Rifai Mosque or the Sultan Hassan Mosque a short drive away. Have lunch at a local restaurant in the Khan El Khalili Market, a bustling souk in the city's historic center, and enjoy free time to experience the labyrinth lanes of this colorful bazaar before a guided visit to the Old Egyptian Museum, housing the world's largest collection of ancient Egyptian artifacts and includes many of the treasures found in King Tutankhamun's tomb. Join us for a farewell reception and dinner at your hotel tonight. (B, L, D)

Day 10 Journey Home
Tour ends: Cairo. Fly home anytime. A transfer is included from the Four Seasons Hotel Nile Plaza to Cairo Airport. Allow three hours for flight check-in at the airport. (B)

Tour Map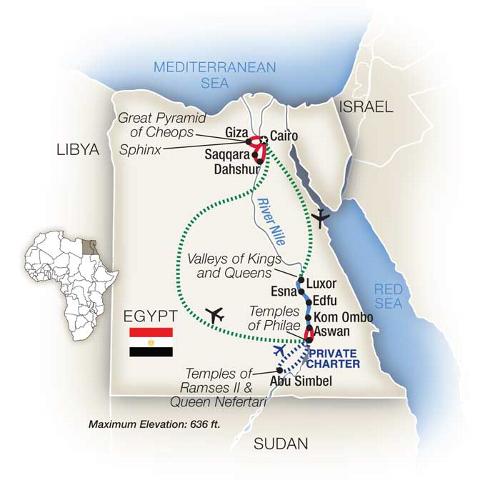 River Cruise Highlights
TAUCK EXCLUSIVE – An after-hours private visit to the Valley of the Kings and King Tutankhamun's tomb
A 4-night Nile River cruise aboard Oberoi Philae or Oberoi Zahra with included shore excursions to Egypt's must-see sights
Guided exploration of the Great Pyramids of Giza, including the Sphinx and Solar Boat Museum
All This Included
Few places inspire with ancient sites and treasures untold quite like Egypt does... home to a storied legacy of history that dates back to the days of Neolithic Age in 6000 BC. Considered a cradle of civilization, Egypt's enduring achievements are chronicled in temples, tombs and pyramids thousands of years old, in humble
feluccas
and sailing ships seaworthy still, along the banks of the life-giving Nile, and in traditions and celebrations timeless all. Discover places and antiquities immortalized in movies, books and the annals of time as you experience its wonders by land and river with Tauck.
Cruise the Nile in search of ancient Egyptian temples and antiquities on a 10-day journey that includes 4 nights aboard a luxury riverboat, and shore excursions in Aswan, Luxor, and Old Cairo. Begin with visits to the Great Sphinx, the Pyramids of Giza, and a behind-the-scenes tour of the New Egyptian Museum in Cairo, with an overnight stay at Mena House, a luxury hotel with gardens and terraces overlooking the pyramids. Fly to Luxor for private visits to the tombs of Tutankhamun and Nefertari, then set off on a Nile River odyssey to sites that include the Temples of Karnak and the Avenue of Sphinxes... the twin Castle of the Falcon and House of the Crocodile, with its collection of crocodile mummies, at Kom Ombo... the massive, stunningly preserved Temple of Horus at Edfu... the Philae Temples on Agilika Island, a complex of temples, sculptures, and monuments that span architectural periods from ancient Egyptian to Byzantine... Abu Simbel, the grand lakeside temple with colossal statues of Ramses II, cut from the side of a mountain; in 1968 Abu Simbel was disassembled and moved to its present location, a feat of engineering as astonishing as the temple itself. With only 22 luxury suites your Oberoi riverboat offers spacious accommodations, large windows, and panoramic views. Shore excursions include felucca boat rides, a camel ride to Saint Simone Monastery, a photo-stop at the Dahshur Pyramids, dining at local restaurants, and visits to Old Cairo landmarks, including the Hanging Church, Ben Ezra Synagogue, the Al Rifai Mosque, and the Khan El-Khalili Market.
Camel rides at the Pyramids of Giza and to the ruins of Saint Simeon Monastery on Elephantine Island
A boat ride to Agilkia Island to see the Temple of Isis at Philae and tea in a Nubian Village
A ride aboard a horse cart to the Temple of Horus at Edfu
Visit to the Old Egyptian Museum in Cairo
Private charter flight to and from Abu Simbel
On-Tour Air Included (4 flights)
Airport transfers upon arrival and departure as noted
23 meals, gratuities to local guides, service charges, admission fees, taxes and porterage
Accommodations on this Tour
Cairo: Marriott Mena House
Cruising: Standard cabin onboard Oberoi Philae or Oberoi Zahra
Aswan: Sofitel Legend Old Cataract Aswan
Cairo: Four Seasons Hotel Nile Plaz
Notes
Please ask your Vacations To Go travel counselor for more information.
Terms and Conditions
* The prices shown are U.S. dollars per person, based on double occupancy, and subject to availability. Prices quoted for land/cruise arrangements are subject to increase without notice. Once we have received your deposit, land/cruise prices are guaranteed. Air prices quoted via phone or email are subject to increase and are guaranteed only from the time that full payment is received. Also, air prices or air promotions mentioned on this site or on the phone do not include baggage fees imposed by airlines. Sorry, we are unable to offer air from countries other than the U.S. However, for those international customers who are able to arrange their own transportation to the trip origination city, we are able to offer the land/cruise portion of the package at the price quoted.