Day 1 Arrive Madrid
Tour begins: 5:30 PM, The Westin Palace, Madrid. Welcome to Madrid! A transfer is included from Madrid Airport to the Westin Palace, a Parisian-style grand hotel in the heart of the city, only steps from the Parliament and the Prado; commissioned by King Alfonso XIII in 1912, the hotel has hosted royalty, heads of state, film stars and celebrities. Join us for a welcome dinner. (D)

Day 2 Madrid as you please
You have a choice of sightseeing. Explore a neighborhood market where you can get a taste of tapas, artisan foods, and delicacies from all over Spain; your visit ends sweetly with churros and hot chocolate! Take a guided tour of the Royal Palace, a stunning baroque complex with 3,400 rooms and a wealth of artwork, antiques, porcelain, silver, and historical artifacts. Go on a bicycle excursion through the city's largest park, Casa de Campo; once a royal hunting estate, the 4,000-acre park is still inhabited by deer and rabbits; it also features an amusement park and the Madrid Zoo, one of the few in the world that houses giant pandas. Or peruse the masterpieces at the Museo del Prado – one of the most famous art museums on Earth – on a guided visit with a local expert. The rest of the afternoon and evening are yours to spend as you wish in Spain's storied capital city. (B)

Day 3 Salamanca & Barca d'Alva
Drive to beautiful Salamanca, a center of learning since medieval times, where a walking tour through the Old City reveals opulent Baroque, Moorish, and Gothic architecture, Romanesque cathedrals steeped in glorious frescoes, and the enchanting courtyards of the University of Salamanca, chartered in 1218, where Cervantes went to school; the area is nicknamed La Dorada (Golden City) for the warm glow that seems to emanate from its sandstone buildings. From there it's a short trip to the riverside village of Barca d'Alva, where your riverboat awaits; the hills are rich with olive groves, vineyards, and almond orchards that bloom with white flowers in spring. Embark, settle in, and join us tonight for a welcome reception and dinner. (B, D)

Day 4 Castel Rodrigo & a rock safari
Cruise to Vega de Terron, a quiet town on the Portuguese border surrounded by placid, reflecting waters, close to the unspoiled wilderness of Arribes del Douro Natural Park. Visit Castelo Rodrigo, a medieval hilltop village with a turbulent history, where battles were once fought against Moors and Spanish rule; the empty ruins of its 13th century palace still stand guard over the walled town with its churches, Manueline pillory, cistern, and panoramic vistas. Return to the ship for lunch and sail to Pocinho; from there you'll set off on a rock-art safari in Vale do Côa Archaelogical Park, to see stunning examples of rock-art from the valley's Paleolithic era, 20,000 years ago. Unlike cave art found in other parts of Europe, the thousands of petroglyphs in the Coa region were created in the open air by the valley's earliest inhabitants; the site is accessible only in 4x4 vehicles. (B, L, D)

Day 5 Valeria Gorge & Charming Pinhão
Spend the morning cruising the Douro River Valley where rugged conical mountains and shale hills carved by concentric vineyard terraces tell of a winemaking history thousands of years old. Since the 18th century, when Britain discovered that Portugal's fortified wine could travel long sea journeys without spoiling, the Douro Valley has been the premier port supplier to the world, and the oldest demarcated wine region. Sail the dramatic Valeira Gorge, where the river ran wild and treacherous before it was tamed by dams; in earlier centuries, small wooden boats called rabelos, heaped with barrels of wine, would negotiate rocks here and shoot the rapids on their way downriver. Arrive in the idyllic, tranquil village of Pinhão, nestled at a riverbend in the valley's premier Cima Corgo region, home to prestigious port-wine estates; a walking tour of Pinhão includes the enchanting railroad station, built in the 1930s and covered in azulejos, pictorial blue tiles that illustrate the region's winemaking heritage. (B, L, D)

Day 6 Pinhão to Régua
Explore the picturesque area around Pinhao by kayaking along the slow, easy river, or drive to the hilltop village of Provesende for the spectacular views, and hike back down; on the way, you'll be able to appreciate up close the workmanship of the steep terraced vineyards. Lunch aboard ship and sail to historic Peso da Régua in the Baixo Corgo region of the valley, where you'll dock overnight and dine aboard ship. (B, L, D)

Day 7 The Douro Museum and More
Before there was a railroad, Peso da Régua was an important shipping hub where rabelos took on cargoes of port from the local wine estates. Roads from here reach in many directions, offering you a choice of sightseeing possibilities. Take a bicycle tour through Vinho Verde country around Basto. Light and effervescent Vinho Verde is not actually green wine; depending on whom you ask, the name refers to its youth or the region it's from: a fertile, temperate land of vineyard-clad mountains and lush green valleys rich with scenic bicycle trails. Or drive to the medieval town of Guimaraes for a walking tour; known as the Cradle City, the kingdom of Portugal was born here after a momentous battle in 1128. The city center is a panorama of architectural treasures, including the ruined Castle of Guimaraes, with its tempestuous history and sweeping views, the opulent Dukes of Braganza Palace, and the 13th-century Sao Miguel do Castelo Church. Return to the ship for lunch, then visit the Museu do Douro in Régua. Housed in a renovated 18th-century mansion, the museum features multimedia exhibits that tell the history of viniculture in the Douro River Valley; also on exhibit is a restored rabelo, one of the slender wooden vessels that used to ply the river in great numbers, carrying wine to Porto and the sea. (B, L, D)

Day 8 Cruising to Porto
Wind through the Baixo Corgo region of the Douro Valley, where quintas and terraced vineyards rise on both sides of the river, showing their age; the oldest terraces are buttressed by stone walls, others have dirt walls; the valley's heritage is written in the stone walls, centuries old, but as they crumble they are too expensive to replace. Arrive in Porto by the sea in late afternoon, and dine aboard ship; after dinner, enjoy a performance by a local "Tuna" ensemble – a youthful academic string band that plays festive traditional music. (B, L, D)

Day 9 Porto Sights
Rising on staggered hills along the river, colorful Porto beckons you to its labyrinthine streets and stairways, medieval alleys, baroque churches, fountains, and bell-towers, beaux-arts buildings, and bohemian neighborhoods. It's hard to take a bad picture in Porto, where houses are clad in painted tiles, street art is everywhere, and beguiling, eclectic architecture is around every corner. Ride a three-wheeled taxi on a tour of iconic sights, including the Clerigos Belltower, a soaring baroque landmark, and 12th-century Porto Cathedral standing fortress-like on a hilltop overlooking the city; walk across the scenic Dom Luis I Bridge that spans the river and soak up the fabulous views; the bridge links Porto to the city of Vila Nova de Gaia, and you'll ride a cable car down to the Gaia waterfront. Or take a cycling tour along Porto's colorful riverfront, starting in the picturesque and lively Ribeira neighborhood, a UNESCO World Heritage site, and ending where the river meets the Atlantic. Lunch on the riverboat, then enjoy free time to explore on your own. Join us this evening back aboard ship for a farewell dinner. (B, L, D)

Day 10 Journey home
Tour ends: Porto. Fly home anytime. Transfers are included from the riverboat to Porto Francisco Sa Carneiro Airport or Porto train station. Allow at least three hours for flight checkin. (B)

Tour Map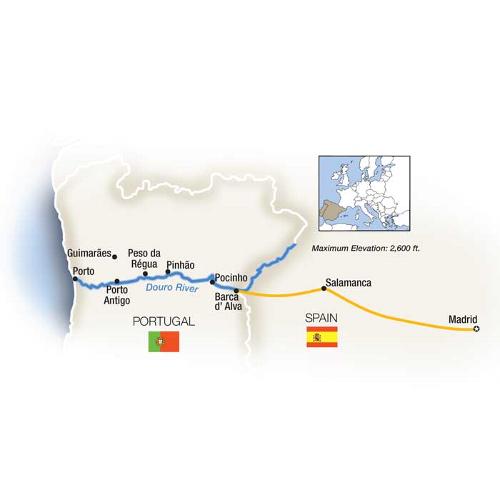 River Cruise Highlights
TAUCK EXCLUSIVE – Three-wheel taxi tour of Porto's historic center
TAUCK EXCLUSIVE – Choice of a vineyard hike or kayaking on the Douro River
TAUCK EXCLUSIVE – Bicycle tour through Vinho Verde wine country
All This Included
Visit an opulent royal palace, cycle through Madrid's historic Casa de Campo, and immerse in art at the Prado. Ride a 4x4 to an archaeological site; breathe romance and heroic legends in Salamanca and Guimaraes; navigate mazes of colorful streets on a bicycle in Porto; kayak on the Douro River; learn the origins of azujelos and Fado music; wind along scenic bicycle trails in Vinho Verde country; and sail to postcard villages, castles, winetowns, and vineyards in the Douro Valley, a winemaking region unlike any other in the world.
This ten-day tour of Portugal and Spain includes Madrid, Salamanca, Porto, and a riverboat cruise deep into the Douro River Valley for an authentic taste of life in a seldom-visited region steeped in a wine-making culture thousands of years old. Along the way, sightseeing choices offer an array of excursions and possibilities. Begin in Madrid, where you can get a taste of Spain at an historic food market, take a bicycle tour of the city's largest park, see giant pandas at the zoo, and peruse art masterpieces at the Prado. Explore the medieval university-town of Salamanca, where the gorgeous architecture seems to glow. Board a luxury riverboat and wind along Portugal's Douro River Valley, the world's oldest demarcated wine region, where you'll find miles of mountains and hills carved into vineyard terraces. Explore prehistoric rock-art on a 4x4 safari in Foz Coa. Visit medieval towns, castle ruins, and palaces, and immerse yourself in local history and culture, kayaking on the Douro River, and bicycling through Vinho Verde country. Ride a cable car and a three-wheel taxi on a sightseeing tour of Porto, an enticing labyrinth of winding streets and stairways, baroque churches and palaces, street art, and colorful bohemian enclaves, and cycle through the waterfront Ribeira district, one of the city's oldest, liveliest, and most picturesque neighborhoods.
Seven nights on the Douro aboard a new riverboat designed for Tauck
A bicycle tour of Porto's colorful Rabeira district
Ride a 4x4 in search of prehistoric art at an archaeological site in Foz Coa
Walking tour of medieval Salamanca and its university, founded in 1218
Visit to the Museu de Douro, a museum of local viniculture in Peso de Régua
Guided visits to the Royal Palace and the Museo de Prado in Madrid
Airport transfers upon arrival and departure as noted
Unlimited complimentary beverages aboard ship include regional wine, beer and premium spirits in addition to specialty coffee, water and soft drinks
23 meals; service charges, gratuities to local guides, mission fees, taxes and porterage
Accommodations on this Tour
Madrid: The Westin Palace, Madrid
Cruising: Cabin onboard ms Andorinha

Notes
Cabin upgrades are available.
Children under 18 must be booked in a cabin with at least one adult. Accommodations for families of 3 or 4 in Categories 1 through 5 consist of two adjacent, but not connecting, double cabins.
Recommended age: 8+ – minimum age for our Tauck Bridges river cruises is 4 years
Gratuities to Tauck Cruise Director, Tauck Directors, local guides, drivers & ship staff included.
Although not expected, Tauck reserves the right to alter the sequence of ports or omit or substitute scheduled ports or attractions at any time without prior notice.
This cruise includes a fair amount of walking in each city.
*For activities marked with an asterisk (*) in day descriptions, participation is at your own risk and a signed liability waiver will be required.
Please ask your Vacations To Go travel counselor for more information.
Terms and Conditions
* The prices shown are U.S. dollars per person, based on double occupancy, and subject to availability. Prices quoted for land/cruise arrangements are subject to increase without notice. Once we have received your deposit, land/cruise prices are guaranteed. Air prices quoted via phone or email are subject to increase and are guaranteed only from the time that full payment is received. Also, air prices or air promotions mentioned on this site or on the phone do not include baggage fees imposed by airlines. Sorry, we are unable to offer air from countries other than the U.S. However, for those international customers who are able to arrange their own transportation to the trip origination city, we are able to offer the land/cruise portion of the package at the price quoted.