Day 1 Arrive Beijing (4 Nights)
Welcome to Beijing. Upon arrival, transfer to your hotel and settle in before meeting your Travel Director for a Welcome Reception drink and local appetisers. (Welcome Reception)

Day 2 Beijing Sightseeing
Begin your visit to this great capital city by exploring one of the world's largest public areas, Tiananmen Square, home to the National Museum of China, the mausoleum of Mao Zedong and the Great Monument to the People's Heroes. Pass through the south gate to the magnificent Forbidden City, a 180 acre complex of courtyards, palaces, pavilions and gardens. It served as the imperial palace for emperors and their households for more than 500 years and is a UNESCO World Heritage site. After lunch continue to another UNESCO Heritage site - the stunning Temple of Heaven, visited by the emperors of the Ming and Qing dynasties for annual ceremonies of prayer to heaven. This evening, enjoy a succulent Peking Duck Regional Meal - a must during any visit to Beijing. (Buffet Breakfast, Lunch, Regional Meal)

Day 3 Beijing and the Great Wall
Travel outside the city and look down upon the Chinese countryside from your perch on top of the Great Wall, which is actually a collection of fortifications built and rebuilt from the 5th century B.C. to the 16th century, to defend against nomadic invaders like the Mongols. Walk the Sacred Way to the remnants of the Ming Tombs, the once-lavish burial chambers of 13 emperors of the Ming Dynasty. Both places are listed as UNESCO World Heritage sites. (Buffet Breakfast, Lunch)

Day 4 Free Time - Beijing Sightseeing
Spend the morning at leisure, before embarking on a unique tour by rickshaw around the ancient alleyways of the courtyard Hutong residences. Stop at the home of a local family for a delicious Be My Guest lunch of traditional Chinese cuisine followed by a visit to a charming tea house, where a Local Specialist prepares and serves tea, while explaining the historic tea making ritual. This afternoon indulge in a relaxing foot massage, a Cultural Insight, at the Foot Reflexology Centre. (Buffet Breakfast, Be My Guest Dining)

Day 5 Beijing – Xi'an (2 Nights)
This morning fly to the city of Xi'an. Later visit the Big Wild Goose Pagoda, one of the city's most distinctive and outstanding landmarks and one of the Silk Road UNESCO listed sites. (Buffet Breakfast)

Day 6 Xi'an Sightseeing
During term-time, meet the children and teachers at a local primary school. Perhaps learn a few words of Chinese from the kids who in turn will be happy to practice their English. Afterwards, visit the legendary army of Terracotta Warriors and Horses in Emperor Qin Shi Huang's subterranean tomb, a UNESCO World Heritage Site. For lunch enjoy a delicious meal of traditional Chinese noodles and later continue with a visit to a Jade factory. (Buffet Breakfast, Lunch)

Day 7 Xi'an – Shanghai (3 Nights)
This morning your choice of activities gives you the chance to participate in a T'ai Chi Class, with a skilled Local Specialist, or take a cycle tour around part of the ancient City Wall of Xi'an. Continue on to a local restaurant for a Cultural Insight; watch a demonstration in the art of making dumplings, and afterwards enjoy sampling these for lunch. There are 21 different kinds of dumplings with a variety of fillings and different ways of cooking them. Later, transfer to the airport for your flight to Shanghai. This evening take a relaxing cruise along the Huangpu River and admire Shanghai's illuminated skyline; a great introduction to the city. (Buffet Breakfast, Lunch)

Day 8 Shanghai Sightseeing
With a Local Specialist, take a stroll along Shanghai's famous 'Bund', the city's renowned waterfront, lined with former colonial buildings and modern sky-scrapers. Learn how marshland was turned into one of the most important trading hubs in the modern world. Continue to Old Shanghai, a little known treasure trove of winding streets and vibrant markets. Despite the rapid pace of development in the rest of the city, the established customs and lifestyle of this area have remained relatively unaltered. Enjoy some free time for lunch and shopping in the Old Town before continuing to visit a silk museum and shop. This evening enjoy a performance by the world-renowned Shanghai Acrobatic Troupe. (Buffet Breakfast)

Day 9 Shanghai Free Time
Today is yours to explore Shanghai further, do some last minute shopping or take an Optional Experience to Zhujiajiao, an ancient water town founded more than 1,700 years ago. In its heyday, Zhujiajiao was a bustling market town well known throughout the country. Today, old historical buildings such as rice shops, banks, spice stores and even a Qing Dynasty post office can still be found when strolling down the ancient streets and exploring the many bridges that crisscross its canals. In the afternoon enjoy some free time back in Shanghai before joining your travel companions for a Farewell Dinner. (Buffet Breakfast, Farewell Dinner)

Day 10 Shanghai – Yichang – Yangtze River Cruise (4 Nights)
Today leave Shanghai behind as you transfer to the airport for your flight to Yichang. On arrival have dinner in a local restaurant before transferring to the port to embark on your Yangtze River cruise. (Buffet Breakfast, Dinner)

Day 11 Yangtze River Cruise
Start your morning with a leisurely cruise towards the world's largest hydroelectric project, the Three Gorges Dam. Disembark for a tour around the colossal dam, which is designed to both generate power to fuel China's economic growth and to control flooding on the Yangtze. Later observe this amazing feat of modern engineering, as you pass through its' five level double lock system from the comfort of your ship. Witness the beautiful scenery passing on both shores as you sail through Xiling Gorge, the longest and the deepest of the Three Gorges. (Buffet Breakfast, Lunch, Dinner)

Day 12 Yangtze River Cruise
After breakfast board a sampan to see a tributary of the Yangtze River, the Shennv Stream, up close and personal. Return to the ship for lunch and for the long awaited breathtaking scenery of the most revered part of the Yangtze River - the 120km. known as the Three Gorges. (Buffet Breakfast, Lunch, Dinner)

Day 13 Yangtze River Cruise
This morning take a shore excursion to visit Shibaozhai with its wooden temple on the top of a 200 metre tall cliff. Take the opportunity to have a bit of exercise by climbing up to the temple via the red pavilion which leans against the cliff and serves as a pathway. Return to the ship to continue enjoying the stunning scenery and your last day on board. Spend a peaceful night docked at Chongqing where the cruise finishes, ready for an early disembarkation the next day. (Buffet Breakfast, Lunch, Dinner)

Day 14 Chongqing - Chengdu (3 Nights)
After breakfast disembark the cruise in Chongqing and take the high speed bullet train to Chengdu - the hometown of the giant panda and a city famous in China for its leisurely pace of living. Later visit People's Park (also known as Renmin Park) for a stroll around and some people watching, a Cultural Insight. See how the locals spend their leisure time playing mahjong, dancing, napping in a tea-house, practicing calligraphy with water on the pavement, enjoying a neck massage and even having their ears cleaned. The park features several Chinese gardens, a beautiful lake, the Railway Protection Movement Monument, and local tea houses. This evening perhaps choose to take part in an Optional Experience. (Buffet Breakfast)

Day 15 Chengdu Sightseeing
This morning join your Local Specialist for a visit the Chengdu Research Base of Giant Panda Breeding; a non-profit research and breeding facility for giant pandas and other rare animals which was established in 1987. It's mission is to rescue and protect the endangered giant panda species which currently have a population of less than 2000. After lunch return to the city centre and visit the Wide and Narrow Alleys; two parallel pedestrian streets with 45 courtyards along them. One of Chengdu's historical and cultural areas which dates from the Qing Dynasty, and is today a beautifully restored upscale entertainment and nightlife area with restaurants, teahouses, and stores selling local handicrafts and other keepsakes. Later continue to Jinli Old Street to be immersed in the lively local atmosphere. The buildings are modeled on the architectural style of a traditional old town in western Sichuan Province and exhibit an ancient charm. Stroll along the narrow street to find old-world stores, each with their own unique style, selling Shu Embroidery, lacquer products, handicrafts, calligraphies and paintings of celebrities. (Buffet Breakfast, Lunch)

Day 16 Chengdu Sightseeing
Today visit the Museum of Sichuan Cuisine and learn about traditional Sichuan cooking practices for a Cultural Insight. Have a go at crushing chilies into powder using a Qing Dynasty pestle and mortar, view ancient kitchenware, books and manuscripts faithfully recording the history of Sichuan culinary cultures dating back more than 3,000 years. Visit Restaurant Alley to catch a glimpse into the dining experiences of the past. Also see the shrine of the Kitchen God to perhaps leave an offering before trying your hand at cooking a few of the dishes under the guidance of the chef. Enjoy eating your creations for lunch before returning to your centrally located hotel. The afternoon is yours to relax, explore further or do some last minute shopping. (Buffet Breakfast, Lunch)

Day 17 Depart Chengdu
Transfer to Chengdu Airport for your onward flight. (Buffet Breakfast)

Tour Map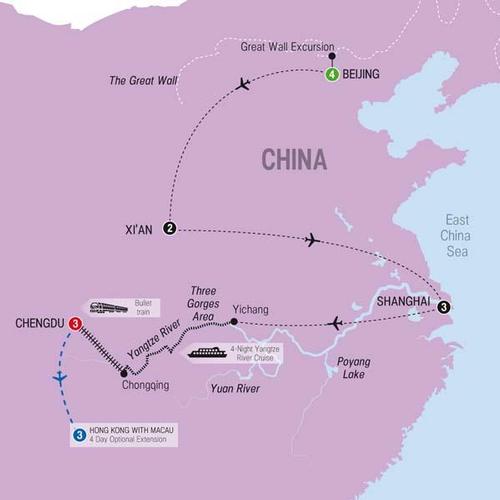 River Cruise Highlights
The Trafalgar Difference
Be My Guest Get a glimpse into Chinese life during a visit to a Hutong family.
Cultural Insights Indulge in a foot massage and discover the traditions and techniques of dumpling making.
Hidden Treasures Enjoy at least one surprise Hidden Treasure.
Local Specialists in Xi'an, Shanghai and Chengdu.
#TrafalgarCares Visit to a primary school, Xi'an You'll get to know the students and teachers at this little school and find out how your visit helps support their education in the local community.
Sightseeing Highlights
City Tour of Beijing, Xi'an, Shanghai and Chengdu
Cruise the Huangpu River in Shanghai and the Yangtze River
See local people practicing T'ai Chi in the morning
View the Great Wall near Beijing and the Shanghai Acrobats
Visit Tiananmen Square, Forbidden City, Temple of Heaven and walk the Sacred Way in Beijing and the Terracotta Warriors and City Wall in Xi'an
All This Included
Travelling by rail, road, river, and air, this is the ultimate cross-China adventure, filled with unforgettable moments like seeing the Great Wall, cruising the Yangtze, and meeting the pandas.
You'll enjoy Insider moments like... discovering an insider's view of the Three Gorges, on a relaxing cruise of the mighty Yangtze River. And using a Qing Dynasty pestle and mortar to crush chillies in Chengdu, where you join a local chef to cook and taste Sichuan dishes.
Dining
16 buffet breakfasts.
7 dinners.
10 lunches (including Be My Guest).
Travel Highlights
Audio Headsets for flexible sightseeing
Daily breakfast and an average of 50% of evening meals
Luxury air-conditioned coach or alternative transportation (such as rail journeys)
Cherry-picked hotels, all tried and trusted
Hand-picked Insider Experiences
Optional Experiences and free time
Porterage and local charges included
Must-see sightseeing and surprise extras
An expert Travel Director and separate Driver
Airport transfers on the first and last day of your guided holiday
Accommodations on this Tour
Beijing: Novotel Peace
Xian: Sheraton North City
Shanghai: Hilton Jing'an
Cruising: Cabin onboard Victoria Selina
Chengdu: Crowne Plaza

Notes
Prices include internal airfares and taxes for flights: Beijing to Xi'an, Xi'an to Shanghai, Shanghai to Yichang and are accurate as of 10th June 2016.
Explore the Yangtze River in style on board the Victoria Selina and stay in well-appointed outside cabins with private balconies for viewing the spectacular scenery of the gorges. The ship is fully air conditioned with facilities that include reading room, fitness area, gift shop, mini spa, copying and printing services, international cable television and internet and Wi-Fi access. Shipboard entertainment includes a range of activities linked to the culture of China such as T'ai Chi lessons, calligraphy demonstrations and lectures on Chinese history. Sail in comfort as you experience the scenery, natural history and culture of the Yangtze and at the end of the cruise enjoy the Captain's farewell banquet.
Visas are required for China, please contact your travel agent for more information and advice.
Please ask your Vacations To Go travel counselor for more information.
Terms and Conditions
* The prices shown are U.S. dollars per person, based on double occupancy, and subject to availability. Prices quoted for land/cruise arrangements are subject to increase without notice. Once we have received your deposit, land/cruise prices are guaranteed. Air prices quoted via phone or email are subject to increase and are guaranteed only from the time that full payment is received. Also, air prices or air promotions mentioned on this site or on the phone do not include baggage fees imposed by airlines. Sorry, we are unable to offer air from countries other than the U.S. However, for those international customers who are able to arrange their own transportation to the trip origination city, we are able to offer the land/cruise portion of the package at the price quoted.