Remarkable Rhine
(Amsterdam to Basel)
9 days with Uniworld Rating: Deluxe
Book this River Cruise Now and Save!





Last-minute deals! Prices shown reflect discount. Click here for eligible departures.

Receive free unlimited alcoholic and non-alcoholic beverages, as well as free prepaid gratuities for onboard and onshore services, on any Europe river cruise. Click here for eligible departures.

Offers subject to change or withdrawal, availability is limited. Some discounts are not combinable.
Day 1 Amsterdam (Embark)
Arrive at Amsterdam's Schiphol Airport. If your cruise package includes a group arrival transfer or if you have purchased a private arrival transfer, you will be greeted by a Uniworld representative and transferred to the ship.

Day 2 Amsterdam
Enjoy the luxury of a full day in the "Venice of the North," starting with a private "Morning with the Masters" tour of the Amsterdam Hermitage that includes part of a special exhibition of Dutch art collected by Catherine the Great—a show available only through May 2018. Afterwards, visit significant Jewish Heritage sites or explore the city on foot or by bike.
At your private "Morning with the Masters" tour of the Amsterdam Hermitage, you'll have the museum's extraordinary collection of Dutch Masters all to yourself, as an art historian shows you Portrait Gallery highlights and part of a special exhibition of Dutch art collected by Catherine the Great—a show available only through May 2018. Afterwards, choose from a trio of enticing excursions: Admire the city's narrow, gabled homes lining the canals on a "Do as the Locals Do" walking tour; explore the hip and trendy Jordaan district on two wheels, the quintessential way to experience this bike-obsessed city; or opt for our Jewish Heritage tour, with stops at the Portuguese Synagogue and Jewish Museum.
Featured Excursions:
Choice of
Exclusive Morning with the Masters at the Hermitage Amsterdam
or
Exclusive "Do as the Locals Do" Amsterdam walking tour
or
Exclusive guided "Go Active" Jordaan district by bicycle
or
Jewish Heritage visit to Portuguese Synagogue and Jewish Museum
Exclusive Morning with the Masters at the Hermitage Amsterdam
The doors open early to give you a crowd-free viewing of an extraordinary collection of Dutch master paintings: 30 monumental group paintings from the golden age that have been called "cousins of
The Night Watch
." Drawn from both the Amsterdam Museum and the Rijksmuseum, these works have rarely been displayed because of their enormous size. The Amsterdam Hermitage, however, devotes an enormous gallery space to this exhibit, which reveals the connections and activities of Amsterdam's power elite in the 17
th
century. Meet mayors and regents, colonels of the civil guard, wealthy merchants and their wives and learn something of their lives and the lives of the artists who painted these massive portraits. (Visitors sailing in the spring will also have an opportunity to see a stunning group of 63 Dutch master paintings from the St. Petersburg Hermitage, on loan to the Amsterdam Hermitage through May 2018.)
Exclusive "Do as the Locals Do" Amsterdam walking tour
Uncover some of Amsterdam's most charming and little-known treasures with a stroll through the canal district that will take you to two very different historic residences. One is an oasis of quiet just steps from the city's bustle: the Begijnhof, a residential court dating to the 14th century that was once home to a quasi-religious group, where you'll find 47 townhouses (including the oldest wooden house in Amsterdam) surrounding a serene grassy courtyard. The other is the Museum Van Loon, a remarkable house museum that shows you how wealthy Amsterdam families have lived over the centuries. Willem van Loon was a founder of the Dutch East India Company, and the family's history can be seen in the portraits, silver, porcelain and beautiful furniture found throughout the house. Behind the house, a formal garden leads to the classical façade of the coach house, which is now a gallery. This combination—house, garden and coach house—makes the Museum Van Loon unique; no other house museum in the city has managed to keep all three elements intact. Between your two destinations, you'll pause for coffee and Dutch apple pie at a local café.
Exclusive guided "Go Active" Jordaan district by bicycle
Go native! Amsterdam is a city of bicycles; in fact, there are more bikes than there are residents—881,000 of them. Mount up and join the locals pedaling the crooked little lanes and tiny bridges that crisscross the canals of the Jordaan district, once a poor working class slum and now one of the liveliest and most interesting areas in Amsterdam. Historic houses with stone plaques indicating the one-time occupants' line of work, attractive courtyards and dozens of art galleries and shops fill the neighborhood—which, regardless of the changing fortunes of its residents, retains a strong sense of being a
neighborhood
.
Jewish Heritage visit to Portuguese Synagogue and Jewish Museum
Anyone who has read The Diary of Anne Frank knows what happened to Amsterdam's Jews under the Nazis. But not everyone knows that the Jewish community began in the city when Sephardic Jews fled Spain and Portugal after 1492, a group of successful merchants and professionals who in turn sponsored Ashkenazi migrants fleeing Central Europe in the 17th century. Visit the Jewish Historical Museum, with its meticulous re-creation of the Great Synagogue, compelling exhibit called "Friday Night" and lively children's area, and the nearby Portuguese Synagogue, before strolling through the former Jewish Quarter (Rembrandt lived is in this neighborhood, and he often asked his Jewish neighbors to pose for his Old Testament scenes; his house is now a museum and is one of the few original houses still standing in the area). Today's Jewish community is largely centered in Amstelveen, where some 15,000 Jews live, work and worship in one of the largest and most vibrant communities in Europe.

Day 4 Oberwesel (Bachrach)
Bacharach is an ancient village that appears straight out of the pages of a storybook. Enjoy a guided stroll through town and taste some locally grown Rieslings, a specialty of the region. Alternatively, join a "Go Active" hike that will take you past the old town walls and up to a fortified 12
th
-century castle.
Venture ashore for a short motorcoach ride to Bacharach, a wine village that appears straight out of the pages of a storybook. Enjoy a guided stroll through town and a taste of locally grown Riesling, a specialty of the region. Alternatively, join a "Go Active" hike that will take you past the old town walls and up to the fortified 12th-century Stahleck Castle, which offers sweeping views of the Lorelei Valley and the village below. Later, relax onboard as your ship cruises through the dramatic scenery of the UNESCO-designated Upper Middle Rhine Valley, lined with picturesque castles and the inspiration for generations of artists, writers and composers.
Featured Excursions:
Choice of
Bacharach village stroll with Riesling tasting
or
Exclusive guided "Go Active" hike to Castle Stahleck
Bacharach village stroll with Riesling tasting
What would a cruise on the Rhine be without a stop at one of the picturesque and historic wine villages that dot the banks? Bacharach, first documented in the 11th century, was once critically important to the wine trade as a port where wine casks were transferred from smaller boats, which could navigate the rocky narrows above the town, to larger ones. Join a local guide to stroll among the timbered houses—the oldest dates to 1368 (it's now a restaurant called, appropriately, Altes Haus)—pausing for a look at the remains of the old town walls, demolished by the French during the Nine Years' War, the gothic ruins of the Werner Chapel and the single spired St. Peter's Church. Vineyards rise in terraces all around the town, producing excellent Rieslings; following your tour, you'll have a chance to taste some of them and find out for yourself just how good they are.

Exclusive guided "Go Active" hike to Castle Stahleck
The round tower and sturdy stone walls of Castle Stahleck guard the heights above Bacharach. The counts Palatine used the fortress to defend their territories from other German lords and from numerous French incursions, so it suffered considerable damage over the centuries, but it has been beautifully restored and enjoys a new life as a youth hostel. Join your guide for a hike—it won't be too strenuous but you will be climbing the hill outside the village—through the vineyards up to the castle. You'll be rewarded with fabulous views of the Rhine and the Lorelei valley as well as the town below.
Day 5 Frankfurt
Frankfurt is known as the "Mainhattan" of Europe, a financial powerhouse with soaring skyscrapers as well as traditional Old Town architecture. Experience the city with your choice of adventures today—visit Germany's oldest museum, take a guided "Go Active" bike ride or learn about the Rothschild family's rags-to-riches saga.
Today we briefly leave the Rhine and cruise the Main to the dynamic metropolis of Frankfurt, the epicenter of German finance and international business. Step ashore and walk a short distance to the Old Town for our "Do as the Locals Do" walking tour. This part of the city has charming old homes, stately churches and a lively covered market where you can sample all sorts of local delicacies. Later, you can visit Germany's oldest museum, the Städel, with 700 years of European art housed under a single roof. If you prefer, opt for a guided "Go Active" bike ride that takes you through the Old Town, along the Main River promenade and down the city's world-famous "Museum Mile"—which boasts no fewer than 13 acclaimed institutions. For something completely different, you can spend your time in Frankfurt delving into the city's fascinating Jewish legacy.
Featured Excursions:
Choice of
Exclusive "Do as the Locals Do" Frankfurt walking tour with Städel Museum
or
Exclusive guided "Go Active" Frankfurt by bicycle
or
Jewish Heritage, Frankfurt Jewish Museum and the legacy of the Rothschilds
Exclusive "Do as the Locals Do" Frankfurt walking tour with Städel Museum
Although Frankfurt is unabashedly modern, with a
dynamic international population and a skyline dominated by skyscrapers, it has a much-loved historic core, and your
ship docks within easy walking distance of it. Stroll with your guide through Römer Square, bordered by the re-created 15th-century mansions that constitute the old city hall, to the Klein Market Hall, where you'll
sample Frankfurt's beloved apple cider and sausages as you take in the colorful scene:
locals choose produce and
sausage, cider and eggs, and flowers and spices from the covered market's 154 stalls. The city's residents come from more than 200 nations, so you'll find plenty of international specialties, too, along
with regional items. Your next stop is Goethe House, the house museum devoted to Germany's national poet, who was born in this city. Though Goethe's work belongs to the world, Frankfurters take particular pride in their native son; the rooms here display furnishings from the writer's
day, as well as family portraits and the desk where
Goethe completed
Faust
—not to mention a puppet
theater with which the four-year-old future poet played.
You'll encounter the city's bustling present-day economic power as you walk past the Frankfurt stock exchange and continue to Main Tower. Nothing exemplifies Frankfurt more than this lofty skyscraper: The façade of a historic building is incorporated in its base, and 56 stories of glass-encased offices soar above it. Ride up to the viewing platform for an amazing view of the city and its surroundings.
Rembrandt, Vermeer, Van Eyck, Botticelli, Lucas Cranach the Elder—the Städel's collection encompasses a magnificent group of Old Master paintings but is by no means limited to them: Monet, Picasso, Francis Bacon, Baselitz, Yves Klein and many other artists also find space on the walls of the 200-year-old museum, which anchors Frankfurt's Museum Mile, home to a dozen notable art institutions. Explore this collection with a knowledgeable guide, then venture into some of the neighboring galleries and museums. The ship is anchored nearby, so this wealth of artistic treasures is just steps from the gangplank.
Exclusive guided "Go Active" Frankfurt by bicycle
Get a different view of the city via bicycle, pedaling through the old town area that was meticulously reconstructed after WWII (St. Paul's Church was one of the first structures to be rebuilt because of its important place in the development of German democracy—the country's first freely elected parliamentary body met in St. Paul's oval hall), along Museum Mile and down the shady, pleasant Main Promenade, which stretches along both banks of the river.
Jewish Heritage, Frankfurt Jewish Museum and the legacy of the Rothschilds
The Rothschild family fortune began in Frankfurt, along with the family name—taken from the red shield on the family home on Judengasse, the quarter-mile-long street where all of Frankfurt's Jews were required to live between 1462 and 1811. It was a crowded but prosperous community (it had to be prosperous, since the only way Jews enjoyed imperial protection was by paying enormous fees to the emperor). Mayer Rothschild started as a coin dealer, expanded into dealing antiques, and by 1792, he was a wealthy banker with an international clientele. His five sons followed in his footsteps, extending the family business throughout Europe and lending their names to a raft of famous enterprises—and to numerous cultural and charitable institutions in Frankfurt and elsewhere. The Frankfurt Jewish Museum, located in a former Rothschild home that was recently renovated, offers a fascinating look at the family's saga. Though none of the houses on Judengasse are still standing, you can see the foundations of some of them when you visit Museum Judengasse., which outlines the history of Jews in Frankfurt and their relations with the Christian community through the centuries. It abuts the Jewish cemetery and the memorial to victims of the Shoah, listing the names of 12,000 Frankfurt Jews who died in the death camps.
Day 6 Speyer
Expect the unexpected in Speyer, where ancient treasures harmoniously co-exist with modern day innovation. Take it all in during a walk with a local expert, or—for something really unexpected—venture into a spooky, candlelit tasting room to sample flavorful elixirs made from wine vinegars. Utterly unique and (surprisingly) delicious! A third option is our Jewish Heritage excursion to an ancient center of learning and religion.
Join a local expert for a guided stroll through the historic small town of Speyer, famous for its vast Romanesque cathedral, a UNESCO World Heritage Site. You'll also have some free time to wander on your own, perhaps to have a coffee at a sidewalk café on the town's bustling central plaza. If you prefer, head to the nearby Doktorenhof vinegar estate for a truly immersive and memorable cultural experience. Discover how the grapes cultivated on this family-run estate are transformed into unique wine vinegar aperitifs, then don a monk's cloak and sample these rare (and surprisingly delicious) elixirs by candlelight in an atmospheric tasting room. Guests who prefer to take an intimate look at local Jewish history can choose an excursion to Worms, an ancient Jewish center of learning and religion.
Featured Excursions:
Choice of
Speyer walking discovery tour
or
Exclusive Doktorenhof vinegar estate visit and tasting
or
Jewish Heritage excursion to Worms
Speyer walking discovery tour
Speyer—"spire" in English—is well named, since the four red towers of the UNESCO-
designated Romanesque cathedral dominate the Old Town just as the medieval bishops dominated the town itself. Though the bishops ruled the town, Speyer also had a special relationship with the Holy Roman emperors: Conrad II ordered the
cathedral's construction around 1030, and eight emperors are interred in its crypts. Your walking tour will take you along the pedestrian-only Maximilian Street—first
laid out by Roman soldiers—from the last remaining gate of the medieval wall toward the great church. Near the church you'll see remnants of a Jewish community established around 1090 under the auspices of the Bishop of Speyer. Though the synagogue is long gone, the
vaulted ritual baths have been beautifully preserved. (The area is popularly known as the Jewish Courtyard.)
Notice the former mint and Holy Trinity Church, which

were built in the 18th century, following a devastating war,

and stand as masterful examples of late-baroque style. You'll have some free time after your tour: If you're interested in automotive history, trains or aeronautical technology, be sure to drop by the Technik Museum.
Note: Because the Speyer Cathedral is an active place of worship, no tours of its interiors are given.
Exclusive Doktorenhof vinegar estate visit and tasting
For a different spin on the Palatinate wine region, visit the Weinessiggut Doktorenhof estate for a
special vinegar tasting. Yes, you read that right—a vinegar tasting. Founded by Georg Wiedemann some 30 years ago, Doktorenhof produces vinegars from premium wines,
rather than inexpensive ones. Gewürztraminer, Sylvaner,

Riesling and Pinot Noir are aged with a century-old vinegar "mother," as the bacteria that makes vinegar is known, and flavored with a variety of herbs and fruits.

The results make complex and elegant aperitifs, intended to be sipped from a specially designed long-stemmed glass between courses or after a meal. The atmospheric tasting room (think candles, cloaks and choir music) is like no other you'll ever experience.
Jewish Heritage excursion to Worms
Will you leave a pebble on the headstone of Rabbi Meir of Rothenburg? The great medieval scholar was born in Worms and is buried there, in the oldest surviving Jewish cemetery in Germany. In his day, Worms was one of three important centers of Jewish learning and trade in the Middle Ages, along with Mainz and Speyer, and was known as "little Jerusalem on the Rhine." Rabbi Meir taught in Rothenburg for 25 years and died a prisoner in Alsace—and his reasons for refusing to allow anyone to ransom him were cited in discussions in 2011 when Israel exchanged 1027 Hamas prisoners for a single Israeli soldier. Today when you visit Worms' ancient cemetery, with headstones dating to the 11th century, you'll find a peaceful place that bears testimony to the long history of Jews in the region. Your tour will also include the re-created 12th-century synagogue and mikveh, which were destroyed on Kristallnacht.
Day 7 Strasbourg
Strasbourg is invariably described as quaint, a rather overused word that in this case is perfectly apropos. Whether you see it by bicycle, on foot with an insightful local expert or opt to delve into the town's Jewish past, Strasbourg's cobbled lanes, half-timbered homes, giant stork nests and impossible-to-resist pastry shops will win your heart.
Postcard-perfect Strasbourg is the very definition of picturesque, with its magnificent Gothic cathedral, cobblestone lanes and half-timbered homes adorned with flower-filled window boxes. After docking in town, you'll have a chance to discover Strasbourg's many charms with a choice of excursions: A guided "Do as the Locals Do" walking tour of the Petit France district, stopping to try traditional Alsatian treats along the way; a "Go Active" bike tour that covers a bit more ground, including the European district; or an in-depth look at the city's rich Jewish history, which dates back an astonishing 2,000 years. After lunch onboard, spend the afternoon at your leisure, perhaps shopping for handcrafted souvenirs bearing images of white storks—a beloved symbol of the city.
Featured Excursions:
Choice of
Exclusive "Do as the Locals Do" Strasbourg walking tour
or
Exclusive guided "Go Active" Strasbourg by bicycle
or
Jewish Heritage, Alsace's Jewish past

Exclusive "Do as the Locals Do" Strasbourg walking tour
Begin in the German Quarter with a stroll through the spacious green spaces of Republic Square, which is surrounded by stately neoclassical structures—among them is the 19th-century Palace of the Rhine, built at great expense as a residence for the Kaiser, if he ever happened to visit Strasbourg—and cross over the water to Broglie Square on Grande Île. Twice a week Broglie Square is the scene of a lively outdoor market, but there's no shortage of activity on the other days of the week in this area, where impromptu concerts and street performances take place. Wend your way with your guide through the maze of bustling pedestrian streets lined with historic buildings—many of them housing tempting shops—toward the cathedral, whose single spire can be seen throughout the region. Stop for coffee and perhaps a pastry at a patisserie near the cathedral. Your local expert will tell you about the daily lives of the people in the area and introduce you to the delights of Alsatian cuisine before you go off to explore on your own.

Exclusive guided "Go Active" Strasbourg by bicycle
Strasbourg loves cyclists! The city has a great network of bike routes, and more residents use bikes as their primary method of transportation than in any other city in France. You'll soon discover that much of the old city center is car-free, which makes it an especially inviting area to explore via bicycle. Fasten your helmet and pedal with your knowledgeable guide along the charming flower-bedecked lanes of Petite France, which are lined with tall half-timbered houses that date back to the Renaissance, and cross into the European Quarter, so named because of the many pan-European institutions housed in stunning contemporary buildings there. The contrast between the quaint historic district and the glittering modern structures brings home the scope of Strasbourg's place in Europe's history and affairs.
Jewish Heritage, Alsace's Jewish past
Strasbourg's Jewish community was first noted by Benjamin of Tudela, the remarkable medieval traveler and writer who mentioned the Jewish scholars of Strasbourg in 1165. Strasbourg's Jews, like many others in the area, were driven from the city during the Black Death but remained in the area throughout the centuries, a presence reflected in the many synagogues that still stand (not necessarily in use) and in the community's unique dialect, Judeo-Alsatian. Explore the living history of this heritage with a stroll through Strasbourg's old town, beginning at the cathedral, where the medieval Christian view of Judaism is made clear: a statue—Synagoga—is blindfolded, indicating that she has not seen the light of Christianity. The neighboring museum courtyard contains some medieval Jewish headstones, relocated from a lost cemetery on the Place de la Republique. As you head down Rue des Juifs, one of the oldest streets in the city, you'll see the location of the community's oldest house, built in 1270, and 13th-century bakery and, at the end of the lane, the synagogue; restoration work on the mikveh, around the corner, has just begun. Visit the Alsatian Museum for a look at the Judaica collection and its model prayer room, and, if you like, attend a service at the Synagogue of Peace, built in 1954 to replace the one destroyed by the Nazis and the heart of the thriving modern Jewish community.
Day 8 Basel
There's much more to Switzerland than chocolate, cuckoo clocks and snow-capped mountain peaks (although we're big fans of all these things). The cosmopolitan city of Basel is also a hotspot for contemporary art, was once the epicenter of the Zionist movement and has a historic and elegant charm that make it a delight to explore.
You'll have a choice of adventures today in Basel, a refined and cosmopolitan Swiss city synonymous with art and culture. Our "Do as the Locals Do" walking tour is a delightful way to experience Basel's medieval town center. Alternatively, take a guided "Go Active" bike ride along the Wiese River, making a stop at the renowned Fondation Beyeler Museum. The museum's ingenious architecture is reason enough for a visit; inside, the art collection is equally awe-inspiring, ranging from Monet to Warhol. A third option is our Jewish Heritage tour of Basel, a city considered the cradle of modern Zionism.
Featured Excursions:
Choice of
Exclusive "Do as the Locals Do" Basel walking tour
or
Exclusive guided "Go Active" bicycle ride with Fondation Beyeler Museum visit
or
Jewish Heritage, Basel's Zionist legacy
Exclusive "Do as the Locals Do" Basel walking tour
Basel historically has been divided by the Rhine into two sections: Greater Basel, on the south bank, and Lesser Basel, on the north bank—and the Lällekönig has been sticking his long red tongue out at Lesser Basel since 1640. Though the original beaten-copper head with its crown and clockwork mechanism now resides in a museum, a replica still reigns near the Middle Bridge, insulting the grittier side of the city in its time-honored way. It's on your itinerary today as you explore both sides of this most walkable of cities, crossing between them via a traditional ferry that is powered solely by the Rhine's current.
Ramble with your guide through the historic heart of Basel, stopping to nibble some of the city's delectable specialties, including its celebrated honey-almond cookies, and getting a glimpse of the remarkable range of shops, which display everything from designer fabrics, antique books, quirky figurines and, of course, timepieces. Every historic square you see will hold a special charm: The spectacular red sandstone 16th-century town hall faces Market Square; Barfüsser Square is named for the deconsecrated church that now houses the city museum (and the original Lällekönig, as well as a fine collection of
Hans Holbein paintings); and Cathedral Square is dominated
by Basel's 800-year-old red sandstone Münster, where Erasmus is buried. (The great Renaissance scholar lived in the city for the last 10 years of his life; the university, Switzerland's oldest, is named for him.)
Exclusive guided "Go Active" bicycle ride with Fondation Beyeler Museum visit
Fasten your helmet, mount your bike and pedal with your guide along the Wiese River (a tributary of the Rhine) to Fondation Beyeler, a contemporary glass jewel box of a museum designed by Renzo Piano that is set in a gracious green park in the village of Riehen. Some 250 impressionist and modernist works collected by Ernst and Hildy Beyeler are on view under Piano's ingeniously designed glass roof, which can be adjusted to allow in more or less natural light; among the highlights of the collection are paintings by Monet, Van Gogh, Cezanne, Lichtenstein, Klee and Warhol. The Beyeler's special exhibitions are as noteworthy as its core collection is, so be sure to spend some time checking out those display spaces before heading back to the ship.

Jewish Heritage, Basel's Zionist legacy
"At Basel I founded the Jewish State. If I said this out loud today I would be greeted by universal laughter. In five years perhaps, and certainly in 50 years, everyone will perceive it." Theodor Herzl wrote those lines in his diary in1897, at the end of the first Zionist Congress, which he organized. Visit sites associated with this remarkable moment in Jewish history today: the concert hall in the Municipal Casino, where the convention was held, no longer exists, but Les Trois Rois, Basel's oldest hotel, certainly does; Herzl had a corner suite in the hotel, and it's likely he penned those famous words there. The connection between Switzerland and Israel runs deep: Israelis came to Switzerland to study its citizen militia and based its army on that model; modern-day Basel's Israel Park has a lovely grove of 40 trees presented by Israel's sixth president. The city does not have a traditional Jewish district, but your tour will include stops at the Great Synagogue, which dates to 1868, and the Jewish Museum, as well as a look at Les Trois Rois. Basel welcomed a new synagogue in 2012—the first to be built since 1929—which stands at the heart of a resurgent Jewish community.

Tour Map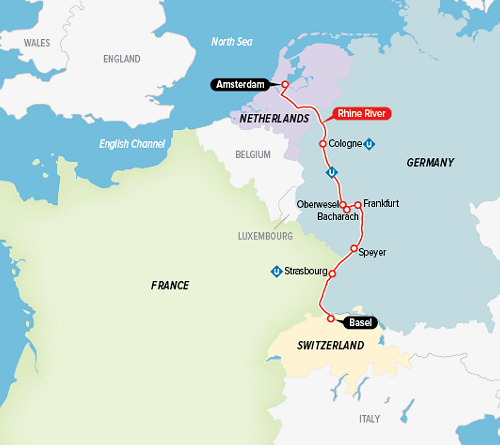 All This Included
All meals onboard, prepared using the finest and freshest ingredients
Welcome and Farewell Gala Dinners
Unlimited beverages onboard, including fine wine, beer, spirits, soft drinks, specialty coffee and tea, and mineral water
Excursions, including "Choice Is Yours" options, all fully hosted by English-speaking local experts
Guided "Go Active," "Do as the Locals Do," "Village Day" and "Gentle Walking" programs
State-of-the-art Quietvox portable audioheadset system on all excursions
Use of bicycles and Nordic walking sticks
Cruise in a riverview stateroom on the exquisite or the elegant River Empress
Lavishly appointed riverview staterooms and suites have handcrafted Savoir® of England beds, high-thread count 100% Egyptian cotton sheets and European duvets, and a menu of pillow options
Free Internet and Wi-Fi access
Services of an experienced Uniworld Cruise Manager
Captivating onboard local entertainment
All transfers on arrival and departure days
All gratuities, both onboard and onshore
Cultural enrichment, including a Signature Lecture
Accommodations on this Tour
Cruising: Cabin on board River Empress
Notes
Cabin upgrades are available.
Prices exclude additional port charges of $180 per person.
Itineraries and vessels may change, and substitute visits to other sites may occur during your trip due to water level fluctuations and other uncontrollable factors.
The order of sightseeing and docking ports are subject to change according to port authority assignments.
Please ask your Vacations To Go travel counselor for more information.
Terms and Conditions
* The prices shown are U.S. dollars per person, based on double occupancy, and subject to availability. Prices quoted for land/cruise arrangements are subject to increase without notice. Once we have received your deposit, land/cruise prices are guaranteed. Air prices quoted via phone or email are subject to increase and are guaranteed only from the time that full payment is received. Also, air prices or air promotions mentioned on this site or on the phone do not include baggage fees imposed by airlines. Sorry, we are unable to offer air from countries other than the U.S. However, for those international customers who are able to arrange their own transportation to the trip origination city, we are able to offer the land/cruise portion of the package at the price quoted.
800-510-4002

OR

Open Mon-Fri 7am to 10pm, Sat 8am-8pm, Sun 9am to 8pm, CST
| | | |
| --- | --- | --- |
| | a division of | |