Enchanting Danube & Prague
(Budapest to Prague)
10 days with Uniworld Rating: Deluxe
Book this River Cruise Now and Save!





Past passengers of African Travel, Brendan, Contiki, Insight, Trafalgar and Uniworld save an additional 5% on this vacation. Click here for eligible departures.

Receive free unlimited alcoholic and non-alcoholic beverages, as well as free prepaid gratuities for onboard and onshore services, on any Europe river cruise. Click here for eligible departures.

Offers subject to change or withdrawal, availability is limited. Some discounts are not combinable.
Day 1 Budapest (Embark)
Arrive at Budapest Ferenc Liszt International Airport. If your cruise package includes a group arrival transfer or if you have purchased a private arrival transfer, you will be greeted by a Uniworld representative and transferred to the ship.

Day 2 Budapest
Located on opposite sides of the Danube, Buda and Pest each has its own distinctive character and charm. Explore this dynamic and multi-faceted city with your choice of tours—see it on four wheels, two wheels or your own two feet.
Featured Excursions:
Choice of
Budapest city tour
or
Exclusive "Do as the Locals Do" Budapest walking tour
or
Exclusive guided "Go Active" Budapest bicycle tour

Budapest city tour
Budapest is an enchanting city that presents a vibrant mix of East and West, medieval and modern. Made up of two parts that this panoramic tour is a wonderful way to get an overview of the city if you have never been here before. It will carry you from Heroes' Square, created in 1896 to honor the thousand-year anniversary of Hungary's founding and its greatest historical figures, past some of the city's most striking architectural sights—Dohány Street Synagogue, the Hungarian National Museum, the state opera house, St. Stephen's Basilica and the truly stunning Parliament Building—to Castle Hill, which has been called the heart of the nation. The city of Buda began here, when King Béla built a strong keep in 1243 as a defense against Mongol invaders; a castle replaced the simple fortress, and over the centuries other castles replaced that one. The current castle is primarily 18th century; a museum dedicated to Budapest's archaeological finds is housed there, and the Castle Hill district has been designated a UNESCO World Heritage Site. You'll go inside the magnificent 700-year-old Matthias Church, named for one of Hungary's greatest kings, and then wend your way on foot to the picturesque Fisherman's Bastion, whose seven fairytale-like towers represent the seven tribes that originally settled the region. It offers a glorious view of the city and the Danube below. t were at one time two separate towns—Buda (the hills) and Pest (the flatlands)—the city, divided by the Danube, is a design-lover's paradise. You have a variety of ways to experience the city: Take a panoramic guided tour aboard a motorcoach, sample the Budapest that locals love on a walking tour, or discover the city's beautiful parks and gardens via bicycle with an expert local guide.
Note: Visits to the interior of the Matthias Church may not be possible on some weekends and Catholic holidays.
Exclusive "Do as the Locals Do" Budapest walking tour
Get ready for a fun immersion in the daily life of Budapest— your local guide will show you how to use the metro (one of the oldest in Europe) to easily reach all the city has to offer. Start with a visit to one of the city's irresistible market halls. Stalls spill over with produce, sausages and meats, festoons of dried paprika, cheeses and jars of honey, all of it authentically Hungarian. After you leave the market, stop for coffee and a sweet treat at Szamos Gourmet Palace, a combination pastry shop, café and chocolate maker in Vörösmarty Square. Marzipan is a favorite confection in Budapest, and Szamos has specialized in making it since the 1930s, so you might want to try some—but the shop's truffle selection is equally irresistible. Refreshed, you'll be ready to hop back on the tram for a visit to the gracious green spaces of Károlyi Garden, sometimes described as Budapest's most charming small park. You'll ramble along the boulevards and pass the Hungarian National Museum, truly getting the feel for this dynamic city, as you head back toward the ship.

Exclusive guided "Go Active" Budapest bicycle tour
Only the Netherlands and Denmark have a higher proportion of people who use bicycles for their daily transportation than Hungary, and you can spot the bright-green bikes that are part of the city's bike-sharing program anywhere. Join an expert local guide to experience another side of green Budapest—the side that's full of beautiful gardens and open green spaces. Wheel along both sides of the Danube, passing the Hungarian Parliament building, and swoop over the bridge to Margaret Island, the narrow strip of land sometimes called the green heart of the city. There are a few buildings on the island but it is primarily parkland. Check out the refurbished Japanese Garden with its musical fountain (the melody it plays is based on medieval Hungarian folk tunes), the art nouveau Water Tower, the petting zoo and the lovely rose garden.
What's a park without a picnic? Sit down beside the ruins of the 13th-century church (the island was named for a king's daughter who became a nun here) for a glass of local wine and some typical Hungarian nibbles such as sausages and cheeses. On the other side of the Danube, you'll stop at the Castle Bazaar, a handsome neo- Renaissance promenade that links the river to Castle Hill, and swing by the legendary art nouveau Gellert Baths before returning to the ship. It's a fun and active way to get out and see the city the way locals see it.
Day 3 Cruising the Danube River, Bratislava, Vienna
Once hidden from the world behind the "Iron Curtain," Slovakia retains an air of mystery and intrigue, and its small capital city has an unexpectedly colorful history. Learn more about Bratislava's past from a local expert, then check out the whimsical street art and sample some only-in-Slovakia treats.
Your ship sets sail from Budapest and heads for Vienna today. You may opt to relax onboard all day, perhaps enjoying a drink on the Sun Deck and taking in the scenery as the ship wends its way along the Danube Bend, which is lined with scenic towns—among them are the oldest settlements in the country—nestled at the foot of lovely wooded hills. On the other hand, the ship stops in Bratislava for those who wish to visit the capital of Slovakia. Although it's not a large city, Bratislava has played a leading role in the politics and culture of the region for many centuries, and it is well worth a visit.
Featured Excursion:
Bratislava walking discovery tour

Bratislava walking discovery tour
Your ship sets sail from Budapest and heads for Vienna today. You may opt to relax onboard all day, perhaps enjoying a drink on the Sun Deck and taking in the scenery as the ship wends its way along the Danube Bend, which is lined with scenic to St. Martin's Cathedral gives you a hint of the impressive history of this surprising city. The Gothic church was built into the medieval city's fortifications; 19 Habsburg rulers were crowned inside it, including Empress Maria Theresa. That's because Bratislava, then known as Pressburg, became the capital of Hungary after the Ottomans conquered Budapest in 1536, a status it retained until the middle of the 19th century. Close to the cathedral you'll find St. Michael's Gate, the last remaining portal of the medieval wall—and your entryway into Bratislava's Old Town, which blends Gothic, baroque and art deco structures with some less graceful reminders of the Communist era. The stately 18th-century Primatial Palace, in the center of Old Town, was the site where the Pressburg peace treaty was signed in 1805, in which Austria ceded a great deal of territory to Napoleon. Another 18th-century palace, Grassalkovich, is now home to the president of Slovakia. Take some time after the tour to browse through the attractive shops in the lovely art deco buildings that line the squares; you can find a wide selection of traditional folk items at the ULUV (Slovak Folk Culture) shop. And you'll definitely want to sample some of the local delicacies.
Day 4 Vienna
Vienna is a cultural treasure trove revered for its art and music (and sinfully rich pastries). Experience the City of Waltzes with your choice of tours, as well as VIP access to an extraordinary collection of art—you'll have an opportunity to view it in complete privacy, an extra special treat reserved solely for Uniworld guests. How to cap off a perfect Viennese day? An evening concert featuring works by Mozart and Strauss.
The grand dame of the Danube, Vienna was the heart of the Austro-Hungarian Empire and remains, to this day, the political and cultural center of Austria. Klimt painted here; Beethoven and Mozart composed here; Freud developed his theories here. It's a treasure trove of splendid architecture, astonishing art collections and inviting cafés—and it's yours to enjoy.
Featured Excursions:
Exclusive "Morning with the Masters" at Vienna Art History Museum
Exclusive Mozart & Strauss concert at Viennese palace
Choice of
Vienna city tour
or
Exclusive "Do as the Locals Do" Vienna walking tour
Exclusive "Morning with the Masters" at Vienna Art History Museum
The Habsburgs assembled an astonishing collection of artistic treasures over the centuries, which formed the basis for the works now on display at the Vienna Art History Museum (Kunsthistorisches). The doors open early especially for you as you join an art historian for a tour of some of the masterpieces gathered here: View a unique group of works by Pieter Bruegel the Elder, Vermeer's Allegory of Painting, Raphael's Madonna in the Meadow, and portraits by Rembrandt, Velazquez, Rubens, Titian, Tintoretto and Van Eyck, among others, in the Picture Gallery. Then move on to the Kuntskammer galleries, where you can see Benvenuto Cellini's legendary salt cellar (the only gold sculpture he created that has survived to the present day) and hear its remarkable story. Your exclusive tour ends with a reception in the magnificent Cupola Hall, perhaps the architectural highlight of the splendid building.

Vienna city tour
Ring Street, the great horseshoe-shaped boulevard lined with many of the city's major landmarks—Parliament, City Hall, the Vienna State Opera, glorious palaces and museums—is a mere 150 years old, practically an infant for a city of Vienna's age. It replaced the walls and fortifications that had protected the city for centuries. Its construction was a testament to confidence, forward-thinking and grand urban planning, and it resulted in a 50-year building spree. You'll pass most of these opulent landmarks on your way to the older section of the city, the area the walls once enclosed.
Later, you'll walk along Kärntner Street, the celebrated pedestrian boulevard that links the State Opera with St. Stephen's Cathedral, past the elegant shops on the Graben and the Kohlmarkt. The neighborhood offers a lively combination of historic architecture, street performances, shoppers' delights and true Viennese atmosphere.
Exclusive "Do as the Locals Do" Vienna walking tour
Year after year, it's ranked as one of the most livable cities in the world. Experience Vienna as the Viennese do and you will quickly see why—it's not just because of its beautiful architecture, peerless cultural institutions and epic history. Vienna's a walkable city, but its public transportation is still excellent. The pleasant parks and open spaces invite outdoor activities. Its cozy coffee houses are the stuff of legend, and so are its pastries and sausage stands. Join an expert local guide for a taste of life as the Viennese live it. Walk along Ring Street, past many of Vienna's landmark buildings: the Museum of Applied Arts, the baroque-era St. Charles Church, Musikverein (home of the Vienna Philharmonic), the Hofburg, Parliament and City Hall, on your way to Volksgarten, Vienna's first public park (thanks to Napoleon, who blew up the bastion that had occupied the location), with its roses and fountains. Stroll along the neighboring streets, then take a break at a coffeehouse for a typical Viennese coffee.
After your break, wander through the narrow lanes of Haarhoff, pausing in Jewish Square, with its tribute to the Austrian Jews who died during the Holocaust, before wending your way to Vienna's oldest square, Hoher Markt, where one of the city's quirkiest sights awaits you: At noon a Vienna Secession (as the art nouveau movement was known in Austria) clock features a parade of 12 historical figures, ranging from Marcus Aurelius to Joseph Haydn, marking the hour. While you wait for the clock show to begin, sample a classic Viennese treat, sausage, from a nearby stand. The adventure ends with yet another very typical Viennese activity—taking the subway.
Exclusive Mozart & Strauss concert at Viennese palace
Experience the sort of entertainment Empress Maria Theresa once enjoyed herself with a private concert of classical music performed by chamber musicians in an exquisite Viennese palace. The music, of course, is by Mozart—but because this is Vienna, it is also by Strauss, and the perfect acoustics in the elegant hall will let you hear their music as if for the first time. Adding to your enjoyment: Beautifully costumed ballroom dancers bring the waltz to graceful life.
Tour Map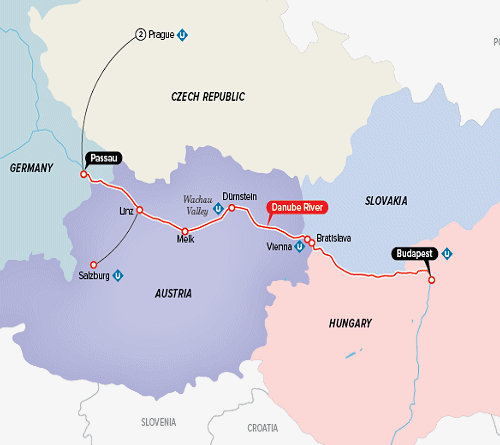 All This Included
The shimmering waters of the fabled Danube River flow for thousands of miles through the very heart of Europe, silent witness to centuries of artistic achievement and historical events. This perfectly composed journey provides an immersive cultural tasting menu of five equally beguiling countries—ideal for first-time river cruisers as well as seasoned travelers seeking to experience yet another dimension of these much-loved destinations.
Our locally-based destination experts will take you well beyond the "must-sees" of each region, offering fresh takes on classic sites, insider knowledge of delightful under-the-radar locales, and VIP access to places only a privileged few will ever experience—such as a private early-morning viewing of the acclaimed art collection of the Kunstkammer Vienna.
A veritable showcase of the best of Central Europe, this new 2018 journey is one any culturally curious world traveler will love, featuring old-world capitals, charming towns and villages, and two nights onshore in the Czech Republic capital of Prague. This well-preserved city, with its fabled skyline of spires and turrets, is one of the most beautiful and romantic locales in all of Europe, a fitting place to conclude your enchanting adventure.
All meals onboard, prepared using the finest and freshest ingredients
Welcome and Farewell Gala Dinners
Unlimited beverages onboard, including fine wine, beer, spirits, soft drinks, specialty coffee and tea, and mineral water
Excursions, including "Choice Is Yours" options, all fully hosted by English-speaking local experts
Guided "Go Active," "Do as the Locals Do," "Village Day" and "Gentle Walking" programs
State-of-the-art Quietvox portable audioheadset system on all excursions
Use of bicycles and Nordic walking sticks
Cruise in a riverview stateroom on the exquisite S.S. Maria Theresa
Lavishly appointed riverview staterooms and suites have handcrafted Savoir® of England beds, high-thread count 100% Egyptian cotton sheets and European duvets, and a menu of pillow options
Free Internet and Wi-Fi access
Services of an experienced Uniworld Cruise Manager
Captivating onboard local entertainment
All transfers on arrival and departure days
All gratuities, both onboard and onshore
Cultural enrichment, including a Signature Lecture
Accommodations on this Tour
Cruising: Cabin onboard S.S. Maria Theresa
Notes
Cabin upgrades are available.
Prices exclude additional port charges of $160 per person.
Itineraries and vessels may change, and substitute visits to other sites may occur during your trip due to water level fluctuations and other uncontrollable factors.
The order of sightseeing and docking ports are subject to change according to port authority assignments.
Please ask your Vacations To Go travel counselor for more information.
Terms and Conditions
* The prices shown are U.S. dollars per person, based on double occupancy, and subject to availability. Prices quoted for land/cruise arrangements are subject to increase without notice. Once we have received your deposit, land/cruise prices are guaranteed. Air prices quoted via phone or email are subject to increase and are guaranteed only from the time that full payment is received. Also, air prices or air promotions mentioned on this site or on the phone do not include baggage fees imposed by airlines. Sorry, we are unable to offer air from countries other than the U.S. However, for those international customers who are able to arrange their own transportation to the trip origination city, we are able to offer the land/cruise portion of the package at the price quoted.
800-510-4002

OR

Open Mon-Fri 7am to 10pm, Sat 8am-8pm, Sun 9am to 8pm, CST
| | | |
| --- | --- | --- |
| | a division of | |