Day 1: New Delhi
Arrive at New Delhi Indira Gandhi International Airport. If your cruise/ tour package includes a group arrival transfer or if you have purchased a private arrival transfer, you will be greeted by a Uniworld representative and transferred to The Oberoi, Gurgaon. The Oberoi, Gurgaon is a lavish urban sanctuary spread over nine lush acres, with distinct characteristics including high ceilings, an expansive reflection pool, open spaces and original modern art.
Day 2: New Delhi, Udaipur, Araveli
This morning, you'll transfer from your hotel to your commercial flight to Udaipur, where you'll then make your way to your home for two nights, the bespoke Araveli Cottages and Tented Camp in Rajasthan. After a brief introduction and orientation about your time with ME to WE, you'll prepare for your interactions with locals with a lesson in basic Hindi phrases. Then, it's off to the local village to mingle with community members.
(Breakfast Buffet, Lunch, Dinner)
Day 3: Araveli
After a blissful night's sleep in your private cottage or luxury tent, wake up to a sunrise yoga session overlooking the pink-hued Aravalli mountain range. Spend the rest of your morning with women in the community and learn what daily life in rural India is like. Enjoy a savory meal and cup of chai as you take in the beautiful surroundings and a traditional jhapki (Hindi for "siesta"). Then, meet a local farmer before venturing to the project site of your sustainable development project. Cap your first full day with a colorful performance showcasing local folk dance traditions.
(Breakfast Buffet, Lunch, Dinner)
Day 4: Araveli, Udaipur, Kolkata
Your time with ME to WE is coming to a close this afternoon, but not before a slew of authentic Indian experiences in nearby Udaipur, often nicknamed "Venice of the East." Explore Udaipur's splendor with stops at the City Palace and Taj Lake Palace, followed by lunch on shore and a visit to a lively Indian market before checking into The Oberoi Grand, Kolkata.
(Breakfast Buffet, Lunch)
Day 5: Kolkata (Embark), Kalna
Settle into your beautifully appointed suite aboard the Ganges Voyager II in Kolkata (the city formerly known as Calcutta), the gateway to your journey along the world's holiest river, the sacred Ganges. This evening, delight in a Captain's Reception Dinner and Welcome onboard.
(Breakfast Buffet, Lunch, Welcome Dinner)
Day 6: Kalna
Kalna, once an important trade port on the river, is best known today for the magnificent Hindu temples built by the maharajas of Bardhaman— which you'll experience today. After marveling at the astonishing Rajbari temple complex, you may opt to walk with your guide through the colorful local market.
(Breakfast Buffet, Lunch, Dinner)
Day 7: Matiari
Your ship serves as a time machine today, transporting you hundreds of years into the past, as we travel to the authentic artisan village of Matiari.
(Breakfast Buffet, Lunch, Dinner)
Day 8: Murshidabad, Baranagar
Today's adventures take you to a duo of Bengali towns—Murshidabad and Baranagar—each one boasting surprising and beautiful architectural monuments closely linked to the ruling families of the area.
This evening, following dinner onboard, take in a lively Bollywood-style show, complete with music and dancing.
(Breakfast Buffet, Lunch, Dinner)
Day 9: The Ganges
One of the world's most sacred bodies of water, the Ganges River flows through a myriad of small villages and highly populated cities throughout India and Bangladesh. Take in the remarkable scenery as you sail and be on the lookout for a rare sighting of the endangered Ganges river dolphin.
Wellness: You may choose to relax and unwind with a body massage or treatment onboard at the soothing Voyager Spa.
(Breakfast Buffet, Lunch, Dinner)
Day 10: Mayapur, Chandannagar, Kolkata
Few places of worship exist on such a head-spinning scale as what you will witness today in Mayapur, the center of the international Hare Krishna movement and home to the new Temple of the Vedic Planetarium, still under construction. Most students of history know a thing or two about the British colonial powers in India, but few are aware that the French had colonies here as well. You'll visit this former French outpost today.
(Breakfast Buffet, Lunch, Dinner)
Day 11: Kolkata
The city of Kolkata is synonymous with the enduring legacies of Mother Teresa and the colonial-era British Raj, both of which you will get better acquainted with today.
Enjoy a Farewell dinner tonight.
(Breakfast Buffet, Lunch, Farewell Dinner)
Day 12: Kolkata (Disembark)
Your incredible Indian adventure ends early this morning, as you disembark and transfer to the Netaji Subhas Chandra Bose International Airport for your flight home or extend your journey with an optional extension to Varanasi.
(Breakfast Buffet, Lunch)
Tour Map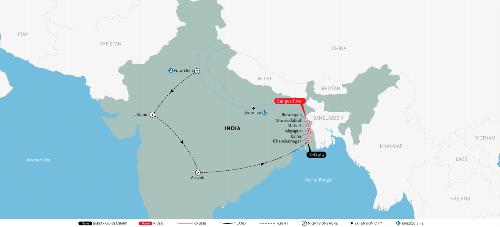 All This Included
Join ME to WE for a one-of-a-kind adventure in India's countryside for the first four days of our traditional India cruise/tour. ME to WE offers an immersive and transformative experience where you'll explore India's vibrant and fascinating culture through unforgettable encounters. In rural Udaipur, you'll settle into the stunning Araveli Cottages and Tented Camp—luxury accommodations boasting Indian décor with a royal Rajasthani flair. Prepare for your time with ME to WE with a lesson in basic Hindi phrases before venturing out to the local village to mingle with community members. You'll wake up the next day to a sunrise yoga session overlooking the pink-hued Aravalli Mountain Range prior to spending the rest of your morning with women in the community learning first-hand what life is like in rural India. After savoring traditional Indian cuisine, you'll meet a local farmer who will lead you to the site of your sustainable development project. Discover the allure of Udaipur, affectionately called the "Venice of the East," on a sightseeing excursion by boat and foot.
When your time with ME to WE ends, you'll board the lavish Ganges Voyager II and head to the site of Kalna's magnificent Hindu temples. Meander through Matiari's authentic artisan village, Murshidabad's and Baranagar's architectural monuments and Mayapur's captivating Temple of the Vedic Planetarium— the center of the international Hare Krishna movement. Discover why the French planted roots in Kolkata with a visit to the former French outpost before exploring the enduring legacies of Mother Teresa. Visit her home, where she lived and worked for decades and marvel at the museum dedicated to her, where her Nobel Peace Prize sits proudly on display.
Onboard, you'll also enjoy our new Wellness Program, centered around the destination's ancient tradition and practice of yoga. Available on every sailing, the complimentary Wellness Program – led by a certified and resident yogi – will celebrate the holistic health benefits of yoga with daily sessions introducing the different types of yoga, group lectures and classes as well as individualized meetings, so that guests at every stage of their practice can participate in this culturally immersive program comfortably. An accompanying "Nutrition and Wellness Food" menu has also been developed especially for this program. Featuring organic items and guidelines for eating healthy, the menu will be available daily during breakfast, lunch and dinner service.
Dining
Meals onboard prepared using the finest and freshest ingredients
11 breakfasts, 11 lunches, 9 dinners
Captain's Welcome and Farewell Receptions
Complimentary house wine, local spirits and beer, soft drinks, tea and coffee will be served throughout the cruise. Onshore lunches include complimentary soft drinks, coffee, and tea. Onshore dinners include complimentary house wine, local beer, soft drinks, coffee, and tea
Excursions
8 days of excursions, all fully hosted by English-speaking local experts
Accommodations
7-night cruise in a riverview stateroom on the elegant Ganges Voyager II
Lavishly appointed riverview suites with private balconies
1 night in New Delhi at The Oberoi, Gurgaon (or similar)
2 nights in Rajasthan at the Araveli Cottages and Tented Camp (or similar)
1 night in Kolkata at The Oberoi Grand, Kolkata (or similar)
Experiences
1 country: India
Services of an experienced Uniworld Tour Manager
Complimentary Wellness Program on every sailing
Cultural enrichment
All transfers on arrival and departure days
All gratuities, both onboard and onshore
Accommodations on this Tour
New Delhi: Oberoi New Delhi
Udaipur: To be determined
Cruising: Cabin onboard Ganges Voyager II

Pre and Post Add-ons
Varanasi
A swirl of color and ritual and oddities galore, Varanasi may very well be the most ethereal and exotic place you will ever visit. Considered the holiest spot on India's holiest river, it is also one of the world's oldest cities—as ancient as Babylon and Thebes. It is the goal of every devout Hindu to come here at least once to purify body and soul in the sacred waters of the Ganges. Your visit includes a fascinating tour of this otherworldly and intoxicating city, followed by a private boat ride to observe a Ganga Aarti ceremony. Led by a Hindu priest at sunset, this spellbinding devotional ritual is performed in honor of the goddess of the river, a spectacle you'll remember the rest of your days. You will also have an opportunity to take a boat ride along the river at sunrise, when hundreds of sari- and dhoti-clad Hindus can be observed bathing, washing laundry, performing yoga asanas, and making respectful offerings to Mother Ganga along the broad stone ghats lining the Ganges. Magical and mystical, surreal and deeply spiritual, Varanasi is a city that is truly unlike any other.
Included in your 3-day stay:
1 night at the Taj Gateway Ganges, Varanasi (or similar)
1 night at the Trident Hotel, Gurgaon (or similar)
Breakfast daily, 1 lunch, 1 dinner
Complimentary house wine or local beer during dinner
All service charges, taxes and porterage
Panoramic city tour of Varanasi
Private boat ride to witness a Ganga Aarti ceremony at sunset
Private sunrise boat ride along the Ganges
All transfers, transportation and intra-India flights

Pricing:
$1,299 per person (for 2 guests)
For solo travelers, there is a single supplement of $349.
Note: This extension is for cruise/tours that end in Kolkata.
Day to Day:
2020 Varanasi Post-Cruise Extension: Day to Day
DAY 1: Kolkata, fly to Varanasi
Included meal: Dinner
Disembark and fly from Kolkata to Varanasi (with a brief stop en route), one of the seven holy cities in the Hindu faith. The faithful believe that dying in Varanasi breaks the cycle of rebirth and frees the soul, and every good deed done here confers special blessings on the doer. It draws an unending stream of Hindu pilgrims, who lend the city a special flavor.

A panoramic tour shows you some of the highlights of the city. As befits a city legendary for its place in Hinduism, temples abound. Vishwanath Temple, dedicated to Shiva and built in 1776, has pinnacles sheathed in gold. Whitemarble Tulsi Manas, erected in the 1960s, stands amid lovely gardens; ocher-stained Durga Temple, sacred to the goddess Durga, is sometimes called the monkey temple because of the many monkeys frolicking on the premises. But perhaps the most famous sights of all are the ghats, the broad steps that offer access to the sacred Ganges. Here the faithful come to wash away their sins in the river and to cremate their dead.

FEATURED EXCURSION: Aarti ceremony
You can experience one of Varanasi's most famous religious observances after you check in to your luxurious hotel. You'll take a private boat out onto the water just as the sun sets and remain afloat for a marvelous view of an Aarti ceremony. This ritual, an offering to the goddess of the Ganges, takes place every evening on the banks of the river. Hindu priests light heavy brass oil lamps and perform a set of highly stylized and choreographed movements to an accompaniment of meditative chants. Though thousands may gather to watch this ceremony, reverent quiet prevails among the spectators, so the ringing of bells and the sounding of horns carries clearly over the water as flame, smoke and incense drift through the air.
DAY 2: Varanasi, fly to New Delhi
Included meals: Breakfast, Lunch
FEATURED EXCURSION: Sunrise on the Ganges
Experience a magical moment on Mother Ganga at morning's first light. Step aboard a rowboat and drift quietly along the serene water as the sun rises, listening to the call of birds and the soft splash of the paddle as it dips into the river. All along the ghats, the faithful bathe in the river, murmur prayers and perform private Aartis. As daylight brightens, more people gather on the ghats, washing clothes, practicing yoga, eating breakfast— gradually the pace of daily life picks up, and the sacred merges into the mundane, showing you how closely the two are linked by the holy river.

OPTIONAL EXCURSION: Silk workshop visit
One of the world's great silk-weaving traditions has flourished in Varanasi for more than 500 years, ever since Mughal rulers first encountered the development of the craft in the 15th century. Varanasi artisans still use traditional Mughal motifs as they weave featherlight silk scarves and lustrous brocades. It can take as long as six months for an artisan to weave the six meters of fabric required for the finest sari, which is often embroidered with gold or silver threads and embellished with beading; brides in particular seek out these gorgeous and unique – and costly – sari fabrics. Discover a range of lush and colorful silks as you visit a silk workshop, where the clack of the Jacquard loom keeps alive a craft handed down from generation to generation, and learn a little about the traditional processes used to create these work of art.

You'll return to the hotel for breakfast and then have time to explore a little on your own, before transferring to the airport for your flight to New Delhi, where you will check into your luxury hotel for your last night in India.
DAY 3: New Delhi
Included meal: Breakfast
You'll check out of your hotel and transfer to the New Delhi Airport. Though your Indian adventure has ended, the memories will last you a lifetime.
Notes
Cabin upgrades are available.
Prices exclude additional port charges of $190 per person.
Single supplement applies for single accommodation.
The itineraries presented are subject to modification due to water levels, closures because of public holidays or other uncontrollable factors. Every effort will be made to operate programs as planned, but changes may still be necessary throughout the cruise. This day-to-day schedule is subject to change. Your final day-to-day schedule will be provided onboard on the first day of your cruise.
Please ask your Vacations To Go travel counselor for more information.
Terms and Conditions
* The prices shown are U.S. dollars per person, based on double occupancy, and subject to availability. Prices quoted for land/cruise arrangements are subject to increase without notice. Once we have received your deposit, land/cruise prices are guaranteed. Air prices quoted via phone or email are subject to increase and are guaranteed only from the time that full payment is received. Also, air prices or air promotions mentioned on this site or on the phone do not include baggage fees imposed by airlines. Sorry, we are unable to offer air from countries other than the U.S. However, for those international customers who are able to arrange their own transportation to the trip origination city, we are able to offer the land/cruise portion of the package at the price quoted.