River Cruise Itinerary
Day 1: Cairo
Arrive at Cairo International Airport. If your cruise/tour package includes a group arrival transfer or if you have purchased a private arrival transfer, a Uniworld representative will be on hand to greet you and escort you to the opulent Four Seasons Hotel Cairo at Nile Plaza.
Day 2: Cairo
The ancient quarter of Cairo is intense—the colors, the sounds, the density of people—and it's likely been this way for thousands of years. Your local expert will show you a 12th-century citadel, the beautiful Alabaster Mosque and an unsurpassed collection of priceless artifacts, including mind-boggling treasures once buried with the boy king Tutankhamen.
Note: Dressing modestly is recommended as a show of respect for the culture and customs of the Egyptian people. In particular, women should ensure that shoulders are covered and legs are concealed at least to the knee on all shore excursions throughout this itinerary.
Day 3: Cairo, Fly to Luxor (Embark) Cruising the Nile River, Dendera
Prepare to be amazed at the legendary Temple of Karnak, a massive and absolutely astounding site, with gigantic columns, broad avenues lined with stone sphinxes and halls of truly epic proportions. This evening, you'll revel in a Welcome Reception and Dinner onboard.
Note: Flights to Luxor depart early in the morning to take advantage of more favorable weather and traffic conditions, and to optimize tour scheduling.
Day 4: Dendera, Cruising the Nile River, Luxor
Like its twin shrine, the Temple of Karnak, the Temple of Luxor stands on the site of ancient Thebes, the once flourishing capital of Egypt's New Kingdom. It was built over hundreds of years and even in ruins it is still an extraordinary place. You'll also visit the Temple of Hathor, dedicated to the goddess of love and beauty.
Day 5: Luxor, Cruising the Nile River, Kom Ombo
The word "colossal" will take on a whole new meaning after today's excursion to the gigantic twin statues known as the Colossi of Memnon. And that's just the beginning—you'll also visit the temple of one of Egypt's rare female pharaohs as well as the Valley of the Kings, used as a royal burial place for nearly 500 years and where the mummified remains of Tutankhamen are on display.
Day 6: Kom Ombo, Cruising the Nile River, Aswan
After visiting a temple dedicated to a crocodile god today (don't miss the display of some of the 300 mummified crocs found in the local area), hop aboard a small boat for a bird-watching excursion along the Nile.
Day 7: Aswan
Today is an epic day, filled with wonders from start to finish. You'll visit a marvel of modern engineering—the Aswan High Dam—as well as the Unfinished Obelisk and the beautiful Philae Temple complex, which was moved from one island to another back in the 1970s. But wait, there's more. You'll also take a ride in a felucca—a traditional Egyptian sailboat—and enjoy afternoon tea at a famous hotel depicted in Agatha Christie's novel Death on the Nile.
After dinner onboard this evening, you'll be treated to an enchanting Nubian show featuring traditionally attired performers, live music and dancing.
Day 8: Aswan, Cruising the Nile River, Kom Ombo, Edfu
Spend the day at leisure or join us for an optional excursion to see the magnificent temples of Abu Simbel.
Day 9: Esna, Cruising the Nile River, Luxor
On today's excursion, you'll learn how the Temple of Esna was buried under debris for many centuries and is one of the last great Egyptian temples ever built. Your Egyptologist guide will share all sorts of fascinating insights about this significant cultural site and show you the façade bearing the last known hieroglyphic inscriptions ever recorded in Egypt.
Later, savor the Nile's majestic scenery as the ship cruises to Luxor.
Day 10: Luxor (Disembark), Fly to Cairo
Disembark in Luxor and transfer to the airport for your return flight to Cairo. Then, check in to the Four Seasons Hotel at Nile Plaza where you'll have time to relax before tonight's Farewell Dinner at the elegant Mena House Hotel.
Note: Flights to Cairo depart early in the morning to take advantage of more favorable weather and traffic conditions, and to optimize tour scheduling.
Day 11: Cairo
It's a day of Bucket List Moments today as we venture to Ancient Memphis, a UNESCO World Heritage Site with a number of amazing monuments to see—including the enigmatic Great Sphinx. After seeing the pyramids from afar last evening, you'll have a thrilling opportunity to view them from an up-close perspective, the only way to fully appreciate their remarkable size and grandeur.
Day 12: Depart Cairo
Check out of your hotel and transfer to the Cairo International Airport for your flight home, or extend your trip with a memorable optional extension in Jerusalem.
Note: Ship schedule and order of sightseeing my change throughout the itinerary. Tour to port of destination by motorcoach and substitute visits to other sites may occur during your trip due to the impact of water levels, closures because of public holidays or other uncontrollable factors.
Tour Map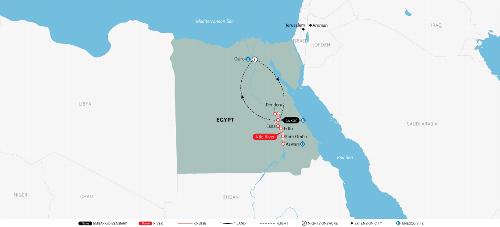 All This Included
Cruise the Nile in a manner once reserved for queens and pharaohs.
For 12 adventure-filled days, experience Egypt and the Nile's most wondrous sites in style and luxury. Wander amongst the towering ruins of the Temple of Karnak, the world's largest ancient religious complex, and the entrancing Temple of Luxor. Visit temples dedicated to Hathor, Horus, and other mythological figures, and pay homage to the country's first female ruler at the Temple of Hatshepsut. Follow in the footsteps of renowned scholars and explorers as you venture forth into the Valley of the Kings, the ancient burial grounds of Egyptian royalty. You will enjoy an exhilarating ride in a felucca, a traditional Nile River sailboat.
This captivating itinerary begins and ends in Cairo, where you'll visit the famous Egyptian Museum and its stupendous and unrivaled collection of pharaonic artifacts, including treasures recovered from the tomb of King Tutankhamun. Journey to Giza to gaze upon the mighty ancient Pyramids and the timeworn, enigmatic Sphinx—iconic images that continue to amaze.
An enchanting land of marvels, myths, and wonders old and new, Egypt is an extraordinary destination no culturally curious traveler will want to miss.
Accommodations on this Tour
Cairo: Four Seasons at Nile Plaza
Cruising cabin onboard: S.S. Sphinx
Pre and Post Add-ons
Jerusalem
Included in your 5-day stay:
• 4 nights at the Orient Jerusalem Hotel, Israel (or similar)
• Breakfast daily and all service charges, taxes and porterage
• Explore Jerusalem – 3 days of excursions with over 15+ sites
• All transfers, transportation and intra-Israel flights
• Services of a local host/guide
Pricing:
$2,499 per person (for 2 guests)
For solo travelers, there is a single supplement of $599.
Note: This extension is for cruise/tours that end in Cairo. A minimum number of participants is required to operate these extensions.
Day to Day:
2020 Jerusalem Post-Cruise/Tour Extension: Day to Day

Jerusalem is a city rich in history, religion and heritage—all of which you'll discover on this 5-day post-cruise/tour extension that will take you to some of the oldest and holiest sites in the world. From the fascinating Old City to the vibrant downtown, there's no shortage of ways to uncover this city's enthralling past and captivating present.

DAY 1: Jerusalem
Upon your arrival in Jerusalem, you'll be greeted by a Uniworld representative, transferred to your hotel for check-in and have the rest of the day to explore at your leisure. As one of the oldest cities in the world, there's plenty to experience—including the Mahane Yehuda Market and its more than 250 vendors.

Please note: There will be a hospitality desk for guest questions at the hotel. During excursions, hosts will be able to assist guests.

DAY 2: Jerusalem
Set out on a half-day tour of this fascinating city, starting with a visit to Yad Vashem. Established in 1953, Yad Vashem is the global center for documentation, research, education and remembrance of the Holocaust. Located on the Hill of Remembrance, you'll also tour the Children's Memorial. Pay a visit to the Israel Museum, the country's largest museum and a leading cultural institution. You'll visit the Shrine of the Book, home of the Dead Sea Scrolls—ancient religious writings that were originally found in caves along the shores of the Dead Sea. On your way back to the hotel, you'll pass by Israel's Parliament House and Supreme Court building and then have the afternoon to explore at your leisure. Your local host will be delighted to provide you with suggestions on the best places to dine and other ways to experience the city like a local.

DAY 3: Jerusalem
You'll begin today's full-day city tour by entering the Old City of Jerusalem through the Lion's Gate—which marks the start of Jesus' trek from his condemnation to crucifixion. As you venture into the Muslim Quarter, you'll visit the Pool of Bethesda, the site of one of Jesus' miracles in which he healed a paralyzed man. From here, you'll head toward Via Dolorosa. Many Christian visitors walk the winding path believed to be Jesus' route to the spot where he was crucified. There are some 14 spots along the way that each mark a different event in Jesus' journey as he carried his cross. Make sure to take in fantastic views of the city from the Temple Mount. It was here that King David captured Jerusalem and made it the capital of the Israelites as well as the spot that would house the Ark of the Covenant.

A visit to what is largely considered the world's holiest Christian site—the Church of the Holy Sepulchre—is up next. The extraordinary church stands on the site where Jesus was crucified and buried. This afternoon, you'll hop on a motorcoach for a short drive to neighboring Bethlehem, Kind David's hometown and Jesus' birthplace. Since we'll be crossing over into Palestinian Authority, you'll be guided by a local Palestinian through Manger Square and the Church of the Nativity. Later, you'll enter the serene site of the Garden Tomb. This rock-cut tomb and holy site is said to be the place where Jesus was buried and later resurrected.

DAY 4: Jerusalem
Start your last full day in Jerusalem atop the Mount of Olives for a tremendous view of the city. Since ancient times, the Mount of Olives has acted as one of the main burial grounds in Jerusalem for all three monotheistic religions. The foot of the Mount of Olives is said to be the location where Jesus prayed following the Last Supper. You'll then embark on a drive through Kidron Valley to Mount Zion, where you'll see the sites of the Last Supper and King David's tomb before entering the Old City through the Zion Gate. One of the holiest sites in Judaism, the Western Wall, beckons here. Visitors will notice that many of the cracks between the blocks are filled with prayers written on paper. The final stop is the Davidson Center and Jerusalem Archaeological Park, which showcases more than 2,000 years of the country's history.

DAY 5: Jerusalem
After a delightful breakfast, you'll check out of your hotel and will be transferred to the airport for your flight home.
Jordan
Included in your 6-day stay:
• 3 nights at the St. Regis Amman, Jordan (or similar)
• 1 night at the Sun City camp in Wadi Rum
• 1 night at the Al Manara—a Luxury Collection Hotel in Aqaba
• Breakfast daily, 4 lunches, 1 dinner
• All service charges, taxes and porterage
• Panoramic city tour of Amman
• Jerash city tour and visit to Iraq Al Amir Women's Cooperative
• Rose-Red City of Petra tour
• Wadi Rum desert tour
• Dead Sea, Saint George Church and Mount Nebo tours
• All transfers, transportation and intra flights
• Services of a Tour Manager throughout your trip
Pricing:
$2,199 per person (for 2 guests)
For solo travelers, there is a single supplement of $699.
Note: This extension is for cruise/tours that begin in Cairo. A minimum number of participants is required to operate these extensions.
Day to Day:
2020 Jordan Pre-Cruise/Tour Extension: Day to Day

Explore ancient ruins and rock-cut masterpieces on this 6-day pre-cruise/tour extension in Jordan. Thousands of years of history are yours to uncover as you wind your way through destinations brimming with archaeological wonders, mountainous landscapes and ancient ruins. This insightful discovery will open your eyes to the magnificence of this not-to-miss country.

Please note: A tour manager will be with you throughout the itinerary to facilitate flights, excursions, hotel changes and any other needs guests may have.

DAY 1: Amman
Upon your arrival at Queen Alia International Airport, you'll be greeted by a Uniworld representative and transferred to the St. Regis Amman hotel for the night.

DAY 2: Amman, Jerash
After breakfast, you'll embark on a panoramic tour of dynamic and multifaceted Amman that will bring you to the Citadel, Archaeological Museum, Folklore Museum and Roman Amphitheater. Marvel at the 6,000-seat, 2nd-century landmark that today is home to the majority of the city's cultural activities. Journey through the residential suburbs flanked by tree-lined avenues and white houses, then head into downtown for a look at traditional life. After your tour of the capital, you'll pay a visit to the Iraq Al-Amir Women's Cooperative. This TreadRight Foundation-supported endeavor is where local women come together and share special skills with visitors, such as traditional weaving, paper making, ceramics and cooking.

Head off to the ancient city of Jerash, which has been inhabited since the Bronze Age. As one of the original 10 great Roman cities, Jerash is now the site of one of the best-preserved Roman provincial towns in the world. After being hidden for centuries in sand and only uncovered in recent decades, the preserved Roman town features some of the finest examples of colonnaded streets, soaring hilltop temples, beautiful theaters, spacious public squares and city walls pierced by towers and gates—all of which you'll see on today's adventure.

DAY 3: Petra, Wadi Rum
Today, you'll explore the "Rose-Red City" of Petra, with its massive red mountains and vast mausoleums. Although much has been written about Petra, nothing truly prepares you for this astonishing city. You'll enter the city through the Siq, a narrow walkway that's flanked by colorful towering cliffs on both sides. As you reach the end, you'll witness the stunning Al-Khazneh, one of the most intricate and iconic temples in the city. Then, you'll enter the indescribable Petra Valley, with its overwhelming natural beauty and outstanding architectural achievements—there are hundreds of elaborate rock-cut tombs with intricate carvings. Here also sits a vast Nabatean-built, Roman-style theater—and high above rests the impressive Ad-Deir Monastery, accessible by a flight of 800 rock-cut steps. Later, you will travel to the Wadi Rum desert where you will check-in and spend the night at Sun City Camp.

DAY 4: Wadi Rum, Aqaba
Climb aboard a Bedouin jeep for a tour inside the desert of Wadi Rum, a place seemingly untouched by the outside world. As you drive through a maze of canyons and rock-scrapes, you'll uncover natural wonder after natural wonder among this sprawling wilderness. After lunch at Sun City Camp, you'll venture to the coastal city of Aqaba, where you can spend your time exploring ancient sites, trying traditional food or shopping at local vendors. Later, check-in to your hotel for the night, the Al Manara—a Luxury Collection Hotel.

DAY 5: Madaba, Amman
Venture to one of the holiest sites of Jordan—Mount Nebo, where Moses was buried. It is here that a small Byzantine church was built by early Christians and was later expanded into a vast complex that held a sermon by the late Pope John Paul II in March, 2000, which was attended by nearly 20,000 people. Next up is a visit to Saint George Church, the home of the Madaba Mosaic Map. The map is the oldest surviving cartographic depiction of the Holy Land and Jerusalem. Only a quarter of the original map, which dates from the sixth century AD, still remains. You'll also see the Dead Sea, the lowest place on earth. Jordan's coastline along the Dead Sea is one of the most miraculous natural and spiritual landscapes in the world and has enticed travelers for centuries. The day ends in Amman, where you will return to the St. Regis Amman for the night.

DAY 6: Amman
Today, you'll check out of your hotel and transfer to the Queen Alia International Airport for your flight to Cairo, where you'll embark on your Splendors of Egypt & the Nile cruise/tour.
Notes
Cabin upgrades are available.
Prices exclude additional port charges of $0 per person.
Single supplement applies for single accommodation.
The itineraries presented are subject to modification due to water levels, closures because of public holidays or other uncontrollable factors. Every effort will be made to operate programs as planned, but changes may still be necessary throughout the cruise. This day-to-day schedule is subject to change. Your final day-to-day schedule will be provided onboard on the first day of your cruise.
Please ask your Vacations To Go travel counselor for more information.
Terms and Conditions
* The prices shown are U.S. dollars per person, based on double occupancy, and subject to availability. Prices quoted for land/cruise arrangements are subject to increase without notice. Once we have received your deposit, land/cruise prices are guaranteed. Air prices quoted via phone or email are subject to increase and are guaranteed only from the time that full payment is received. Also, air prices or air promotions mentioned on this site or on the phone do not include baggage fees imposed by airlines. Sorry, we are unable to offer air from countries other than the U.S. However, for those international customers who are able to arrange their own transportation to the trip origination city, we are able to offer the land/cruise portion of the package at the price quoted.